Taps Rye Knot?
| Taps Brewing Co. Inc.
BA SCORE
84
good
15
Reviews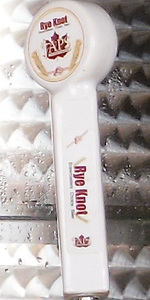 BEER INFO
Brewed by:
Taps Brewing Co. Inc.
Ontario
,
Canada
tapsbeer.ca
Style:
Rye Beer
Alcohol by volume (ABV):
5.00%
Availability:
Rotating
Notes / Commercial Description:
No notes at this time.
Added by Viggo on 12-15-2009
Reviews: 15 | Ratings: 31
3.57
/5
rDev
-3.5%
look: 3.5 | smell: 4 | taste: 3.5 | feel: 3 | overall: 3.5
A pleasant surprise, enjoyed at the brewpub near the Falls. Hoppy aroma, a whit head. White lace. Some citrus and decent hop flavours. A noticeable rye edge. Above average carbonation only distracting flaw. It had flavour and was drinkable. This brewpub is coming alive.
270 characters
3.74
/5
rDev
+1.1%
look: 4 | smell: 3.75 | taste: 3.75 | feel: 3.5 | overall: 3.75
On-tap 5/24/2016 at the brewpub in Niagara Falls, Ontario, Canada, served in a stange glass.
A: The beer is a deep golden brown color, with a large off-white head that fades slowly and leaves a thick lace on the glass.
S: The aroma contains caramelized rye malts, spice, floral hops and some citrus.
T: The taste starts out with a strong breadiness from a hearty rye malt character. Then a strong but not over-powering hops bitterness comes in. Some mild sweetness from spices and citrus create a decent balance. The after-taste is slightly hoppy and slightly bready.
M: Crisp and a little smooth, medium body, medium carbonation, finish is slightly sticky.
O: Tasty, goes down ok, not too filling, mild kick, good representation of style, this is a decent beer to drink for a while.
788 characters
3.21
/5
rDev
-13.2%
look: 4 | smell: 3 | taste: 3 | feel: 3.5 | overall: 3.5
On tap at Volo.
Pours a mostly clear orange/amber, maybe a touch of haze, thick white head forms, slowly settles to a thin ring around the glass, some lace spots stick.
Smell is alright, some rye spice and a bit of citrusy hopping, orange peel, some biscuit, a bit of honey sweetness, not a whole lot going on.
Taste is similar, deep bready character, biscuit, rye, some malty sweetness in the middle, a bit of citrus and floral, light bitterness but mostly balanced.
Mouthfeel is light to medium bodied with low to medium carbonation. Drinkable and nothing really wrong, but doesn't get me too excited. A little too much bready character.
651 characters
3.97
/5
rDev
+7.3%
look: 3.5 | smell: 4 | taste: 4 | feel: 4 | overall: 4
Growler filled yesterday at the Niagara Falls brewpub. Pours a clear orange colour with thick white head that dissipates down to a thin ring. Almost no lacing. Smells of citrus hops and sourdough bread. Pretty much smells like an APA with the rye malt. Small bitterness in the flavour. Medium bodied carbonation. A very nice beer. No issue finishing off my half of the growler.
377 characters

3.85
/5
rDev
+4.1%
look: 4 | smell: 4 | taste: 3.75 | feel: 3.5 | overall: 4
473 mL can from the LCBO - an unexpected find from a brewer that has been around for a while, but has never had much shelf presence. Dated Apr 17 2016 and served well-chilled.
Pours a fairly clear medium amber colour, fitted with a one-inch crown of lumpy, off white-coloured foam. The head deposits a sponge print pattern of sticky lacing as it slowly retreats downward over the next five minutes, soon leaving behind a bubbly cap and generously-sized collar of froth. Looks good to me. No real surprises on the nose - bready malts, spicy rye and toffee sweetness are the main contributors, accented by some leafy, floral hop aromas. Bonus points for not skimping out on the rye.
A mellow, low-key ale that is basically low enough in abv to qualify as sessionable. The tastes follows after the nose - mostly malts, with a generous helping of spicy rye bread that blends together with the grainy, doughy barley malt and caramelized sugar sweetness. English hop strains provide a leafy, floral, earthy bitterness that comes through on the back end, nicely complementing the spiciness of the rye malt. Light in body, with a soft, smooth mouthfeel and relatively light carbonation levels that weakly prickle the tongue. A little thin, but otherwise this is very solid.
Final Grade: 3.85, B+. Rye Knot isn't going to become the next highly-sought-after whale, but it's still one of the better new rye ales that I've tried over the last year or so. If you're looking for a rye IPA then you'll have to look elsewhere - the British/Canadian ale hops used here are more subtle and nuanced than the aggressive ones employed in your average IPA, which may leave most hopheads unsatisfied with this one. However, I find that they also happen to pair extremely well with the rye-focused malt bill, so there's more to this one than meets the eye. If you're a rye lover like me, give this one a look.
1,890 characters

3.44
/5
rDev
-7%
look: 3.5 | smell: 3.25 | taste: 3.5 | feel: 3.5 | overall: 3.5
Just a soft beer all across the board. Rusty orange brew under a moderate head out of a hard pour. Settles to an even film, gives some lace. Nose is subtle, malt and the. Gentle on the palate, slightly bitter, some sweetness, wee dose of the.
Just easy drinking and gentle, nothing in your face. Competent, but undistinguished. Something you could drink serially without harm.
377 characters

3.38
/5
rDev
-8.6%
look: 4 | smell: 3.5 | taste: 3.25 | feel: 3.5 | overall: 3.25
73 ml bottle served cold into a pint glass. Purchased from the LCBO for $2.75 CDN. Appears that this beer is back after a long hiatus.
Appearance – Bright bronze colored beer with middling carbonation. Capped by a big off-white fluffy head with good retention and loads of lacing left behind.
Smell – Mostly sweet malt, plenty of grain, faint traces of a spicy bill. Maybe some orchard fruit as well, plum and pear in the background.
Taste – Grainy with some spice, a strong rye bitterness. Spice lingers for a while as does the bitterness. Intense but more earthy bitterness than I'd appreciate without a tropical kick.
Mouthfeel – Smooth with a lighter than average body. Soft carbonation. Very dry finish.
Overall – Taps Rye Knot? Is a solid well made rye beer that won't apologize to anyone, but with a strong earthy bitterness and sharper rye flavors, this isn't exactly my type of beer to sit down and enjoy multiple of. Worth a try while in stock, but not a beer for everyone.
1,007 characters

3.95
/5
rDev
+6.8%
look: 4 | smell: 4 | taste: 4 | feel: 3.5 | overall: 4
on Tap
Taps a murky turbid light brown, decent rocky cap, great lacing ability.
Sweet and sour sensation in the nose, malty-sourdough with leafy hopping.
Peppery spicy on the tongue, bright grainy character,
Big chew on sour rye in the front with some sweetness (crystal malt?) spicy with a herbal hop flair....finish is clean and dry.
A very respectable, drinkable rye beer, flavorful, quenching and good for a patio session
435 characters
3.5
/5
rDev
-5.4%
look: 3.5 | smell: 3.5 | taste: 3.5 | feel: 3.5 | overall: 3.5
A - Clear copper without much of a head.
S - Nose is light. Slightly sweet with hints of apple and herbs. Impression of mint.
T - Spicy rye notes. Coarse, dry bitterness.
M - Light body with a mild carbonation. Fairly astringent.
D - OK overall. Seems a bit one-dimensional.
278 characters

3.47
/5
rDev
-6.2%
look: 3.5 | smell: 3.25 | taste: 3.5 | feel: 3.75 | overall: 3.5
Purchased at the LCBO for around $2.70 plus or minus. 473ml can served at 4deg C in a draught glass
A- Opens well and pours a tiny head that is gone in seconds. Medium brown colour and filtered clear.
S- Not much
T- Has a malty backbone that is pretty enjoyable. Rye wheat does this brew well. Nice hop presence but it is small and the sweetness kind of kills it right off. Needs refinement but not a lot. Good base to work with.
M- Dry
O- I like this one. Not a great brew but a nice break and it works with many foods so it's a nice one to keep in the cellar
Food Pairing
This nice little brew went well with......... Corned beef hash. I like onions in mine. This brew killed this one
Enjoy
701 characters

3.6
/5
rDev
-2.7%
look: 3.5 | smell: 3.5 | taste: 3.5 | feel: 3.5 | overall: 4
Growler from the brewery, shared with mrmanning. An American-style pale ale brewed with rye malt.
A: pours a deep rusty copper with amber hues and one finger of cream white head that dissipates after a while. Not much lace.
S & T: citrus, very mild tropical fruit, pale and crystal malts, and a moderate, spicy hop bitterness. The rye malt contributes a residual graininess to the body with some chalky dryness in the finish. All of the flavours could be kicked up a few notches though.
M: medium, grainy, tangy bite midway, big parched spiciness to end. The rye becomes more evident as the beer warms.
D: great session pale ale, not too bold, but interesting enough to drink for an evening.
693 characters
3.59
/5
rDev
-3%
look: 2.75 | smell: 3.75 | taste: 3.75 | feel: 3.25 | overall: 3.5
Decent if subtle rye malt on the nose and sip. Lingers on aftertaste. Hop profile feels British to me. Hop bomb. Too sweet. Almost cloyingly sweet throughout. Love everything about the idea but Still think these Canadian craft can in a box cans impart a serious metallic bite to the brew. Unnecessarily complex and a bit of a battle between bitter and sweet where I'm the loser. Quaffable but may be too bitter and / or sweet for a proper session.
448 characters
3.74
/5
rDev
+1.1%
look: 3 | smell: 4 | taste: 3.5 | feel: 4 | overall: 4
On tap at the brewpub.
White, frothy head dissipates cleanly. Smells like artisan sourdough rye just out of the oven. Rye hits your palate like a ton of bricks, then the taste fades neatly to clean
citrus.
Very good beer, but more of a one-and-done than a pounder for me.
276 characters
4.04
/5
rDev
+9.2%
look: 4 | smell: 3.75 | taste: 4.25 | feel: 4 | overall: 4
473ml can from the LCBO. Well-balanced, unassuming ale, clearly showcasing the rye along with a British hop character. Bitter, lingering aftertaste that complements it nicely.
175 characters
4.07
/5
rDev
+10%
look: 4 | smell: 4.5 | taste: 4 | feel: 3.5 | overall: 4
Served in a pint glass at the brewery.
Served a bit cold. Copper/gold colour. Small head, medium head retention. Left lace half way down the glass.
Big hop nose, more hops than I was expecting. Aromas of citrus zest, pine, grass, nice overall.
Tasted citrusy, and spicy. Once again, more hops than I was expecting but well balanced. Decent bitterness. I guess I was expecting more rye flavour, but I was pleasantly surprised with this one.
Mouthfeel was good, if a bit under carbonated. Medium body.
Definately a good beer. I wish they had it in bottles year round.
571 characters
Taps Rye Knot? from Taps Brewing Co. Inc.
3.7
out of
5
based on
31
ratings.