Taps Brewing Co. Inc.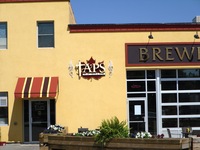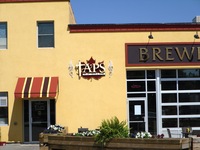 PLACE INFO
Type:
Brewery, Bar, Eatery, Beer-to-go
4680 Queen St
Niagara Falls
,
Ontario
, L2E 2L8
Canada
(289) 477-1010 |
map
tapsbeer.ca
Notes:
No notes at this time.
Added by crwills on 05-08-2006
HISTOGRAM
View: Beers | Place Reviews
Ratings: 11 | Reviews: 7
Reviews by pootz:

4.03
/5
rDev
+6.3%
vibe: 3.5 | quality: 4 | service: 4 | selection: 4.5 | food: 3.5
the remaking of the Taps Virgil brewing operation as a brew pub has produced some wonderful revolving offerings I feel I can recommend to everyone. Yes they're mostly German styles but they are made well in small batches, they're fresh, on style, clean and very very drinkable.
So far the new head brewer (who has an impressive CV for such a young guy) includes a Dortmunder, Munich Dunkel, Bamberg Rauchbier, Roggenbier, Bockbier, Vanilla weissbier and an intense micro IPA. They also have the commercial Taps beers on tap as well as Flying Monkeys Hoptical and Newstadt !0/30. There is also a hand pulled cask engine for special casks they crack on invitation.
http://tapsbeer.com/taps-brewing-company/taps-beer-selection/
The ambiance at Taps is pretty spartan but it's all sparkling new interior furnishings and the theme is unpretentious....like a block party in a small neighborhood brewery with live music and solid (good) unpretentious pub fare...I tried the Buffalo Style Chicken Sandwich on sourdough Focaccia...ample portion, fresh, well made, tasty, reasonable price.
http://tapsbeer.com/taps-on-queen-menu-items/
I was pleasantly surprised to discover Taps has mutated into a comfy decent little local brew pub with some decent on-tap offerings and good pub grub. Worth a destination crawl or a definite must stop in Niagara Falls.
1,349 characters
More User Reviews:
4.35
/5
rDev
+14.8%
vibe: 4.5 | quality: 5 | service: 3.5 | selection: 4.5 | food: 4
3.53
/5
rDev
-6.9%
vibe: 3.5 | quality: 3.75 | service: 4 | selection: 3 | food: 3

3
/5
rDev
-20.8%
vibe: 3 | quality: 3 | service: 3 | selection: 3 | food: 3
3.56
/5
rDev
-6.1%
vibe: 4 | quality: 3.5 | service: 3.5 | selection: 3.5
Niagara Falls, a police state. Cruise the town in a car or truck to find it, but beware as it is heavily policed.Visited here with Cratez on a Monday afternoon.
We were greeted with a very large and well lit warehouse that seated a bar to sit at, a brew house, a dining room, and an open concept kitchen. One can see what is going on in every corner of the restaurant at any time.
We sat at the bar, where we noticed a new addition to the scene here, a cask engine. They were waiting for their next cask to be ready, so it was not available.
Service was fairly standard. Not poor, not great. The basic meet and greet, "what can I get for you?" was about it. We tried to strike up chat with the barkeep but he was more interested with his co-workers and other patrons. Can't say I blame him really, we weren't that interesting. One thing I can say is that the service was attentive at the very least.
There were 10 taps to choose from. I went with the Taps Chuck Norris, Hefe, and 80/-. All were well made and worth ordering again. There were also guest taps from Niagara's best.
One thing I must say about this place is that the value here is unmatched. $3.50 pints on Sunday. $10 burger and 20 oz pint.$19.80 3 LITER "pitchers". It goes on and on. Based on this aspect, the place is a repeat visit for me. Growlers are available to go. Good overall.
1,352 characters

3.8
/5
rDev
+0.3%
vibe: 3.5 | quality: 4 | service: 4 | selection: 3.5
I came here in June 2010 after spending a weekend in Niagara On The Lake for a friend's wedding. My primary objective was to grab a couple growlers of the brewpub's best beers since I was on my way home and short on time.
Despite being in a rush, I took a few minutes to wander around the attractive, sparkling interior. The ten-seater bar overlooks a large and beautiful outdoor patio. There's a sizable dining area behind the bar and the chefs are all decked out in professional garb, so on the surface it appears they take their food seriously.
I was extremely satisfied with the quick and friendly service as the waitress gave me a 4oz sample of the Rye Knot before I purchased a growler of it. I also bought a six pack of the Premium (Dortmunder) Lager. Both were good if unspectacular beers. They didn't have the Chuck Norris IPA ready yet, which was very disappointing, but whatever. Other draughts were the Vanilla Wheat, Charleston Lager, and Rauchbier, with Neustadt 10w30 and Flying Monkeys Hoptical Illusion serving as the two guest taps.
The vibe seems welcoming and unpretentious, as even the patrons were all smiles on my visit. In addition to the quality service, the head brewer was out on the floor chatting it up with some tourists. Certainly a place that I would frequent if I lived in the area.
Basically this brewpub is an up-and-comer in the Ontario beer scene, and if I had more time I would have sat down and ran through every one of their offerings. A great spot that's doing rare yet traditional styles, and I was really impressed with the inviting, professional layout inside.
1,612 characters
3.93
/5
rDev
+3.7%
vibe: 4 | quality: 4 | service: 4.5 | selection: 3 | food: 4.5
Came here on Sunday just after noon, so it was pretty empty at the time. It looks like it is setup for parties/music/events as there was some sort of stage in the parking lot. Huge projection screen too that could be good for watching games. I like that the actual brewing tanks are between the bar and restaurant areas.
They only had 4 beers on tap when we were there, I guess a couple had just run out of a couple and they are soon going to have the rye and pumpkin on tap. Beers they did have were pretty good and obviously fresh.
Food was actually excellent. I had a steak sandwich, ordered rare. It was cooked perfectly, with sliced top sirloin (I think). Good sear on the outside with red/pink in the middle of the strips. Mushrooms and goat cheese on top. My dad had fish and chips and he said it was really good.
Prices were really good. 12 ounce tap beers were about $3.50 and I think it was under $5 for full pints. Food was certainly less than similar quality in Toronto.
985 characters

3.88
/5
rDev
+2.4%
vibe: 4 | quality: 4 | service: 3.5 | selection: 4 | food: 4
Sat on the patio on a warm summer's eve, sipping on beer while talking to locals. It is great to see what was once downtown Niagara having a bit of a resurgence that wasn't just a bunch of chains moving in... It has a big TV if that is your thing too.
The beer was of good quality. Tried 6 of them for free (good sized samplers too :), and then drank 2 x 24 oz beers that were less than $5 each! Fantastic. Service disappeared at times on the patio, but overall was good. Only their beers can be had, but they had 6 on tap, 2 light lagers, a weizen, a rachbier, a red ale & a dunkel lager. All were good for what they were...
Food was good, though a bit overcooked. A few dishes sounded quite different & good, and many had beer in them. As beers go, they are CHEAP for Canadian prices, and better than what BMC will sell you from a keg. Food was pricier...
859 characters
3.45
/5
rDev
-9%
vibe: 4.5 | quality: 3.5 | service: 4 | selection: 3 | food: 2
Just returned from a visit to this brewpub in Niagara Falls, Ontario, Canada.
The first impression of Taps is the wide open, renovated warehouse with the bar in the front-center and a nice atmosphere.
The brewpub beer list was limited. Two lagers, a wheat, a stout, a bitter, a red a seasonal and an off-menu IPA. They had two guest taps - both of which sounded great, however we did not try either of them.
I started with the "Chuck Norris" IPA. It was flavorful, nicely hopped, but not overly hoppy and served icy cold. The beer was appropriately carbonated, however the pour did not have any head. While I prefer very hoppy IPAs, this one did put forth a good showing and would appeal to more of the non-extreme beer drinkers.
I moved on to the "Rosberg" Porter. Like the IPA, this beer was very cold. In fact, it was served too cold, which prohibited many of the flavors from coming out. I let it sit and warm to a more appropriate temperature. While some of the flavors were unlocked, this porter was still quite subtle. Hints of chocolate and coffee came through, but nothing really stood out. It was average at best.
My wife had the Vanilla Wheat beer. Like the IPA and Stout, it was appropriately carbonated, but arrived at our table with no head. The beer had a nice fruity flavor which would rival many of the widely available "micro" wit beers. It would definitely appeal to the average beer drinker.
For food, I had the chili and my wife had a quesadilla. Both were respectable and the prices were very good for this touristy town. Since we did not foray deeper into the food menu, I will refrain from making a stronger comment.
The service was excellent.
Overall, it was a good trip. I would definitely recommend a visit to Taps over many of the other places in Niagara.
1,791 characters
3.64
/5
rDev
-4%
vibe: 3.5 | quality: 3.5 | service: 4.5 | selection: 3
Very decent place to enjoy a drink, they had more wine and hard booze selection than beer here, but will be adding 1-2 guest taps. Decent parking and patio on reviving Queen Street. Very nice wood bar, with 8 spots. Children allowed. Live music on the patio with a family environment. Very clean, with tanks and bar in a boig open environment, Very good service, Taps is putting a lot of effort to make this succeed. Their beer is decent on tap, and brings out different nuances than the bottles. They plan 1-2 guest taps. Exciting to have 2 Niagara Falls brewpubs open in the same week and I hope both will succeed.
616 characters
Taps Brewing Co. Inc. in Niagara Falls, ON, Canada
Brewery rating:
3.66
out of
5
with
158
ratings