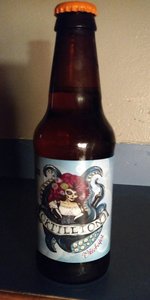 Write a Review
Beer Geek Stats:
| Print Shelf Talker
Style:

ABV:

6%

Score:

Avg:

3.53

| pDev:

11.9%

Reviews:

11

Ratings:

From:

Avail:

Rotating/Seasonal

Wants

Gots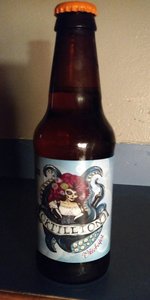 Notes: An intricate blend of American and European malt for a light amber color and soft, bready malt flavor with a crisp finish and no residual sweetness.

GuyFawkes from Illinois
2.84
/5
rDev
-19.5%
look: 2.75 | smell: 3 | taste: 2.75 | feel: 3 | overall: 2.75
Bottled 8/16/16; drank 9/22/16 @ the Yarchives.
See-through dull orange appearance; champagne bubbles throughout.
A rough pour yielded a minimal white head; almost no lace.
Roasted corn, mild caramel & faint baking soda notes in the nose.
Medium thick mouthfeel; syrup-y.
Acorn, mild brown sugar & faint maple syrup flavors; sweet & syrup-y.
This flirts with being cloying; drinkable but not much fun.
Jun 13, 2019

barnzy78 from Illinois
3.65
/5
rDev
+3.4%
look: 4.25 | smell: 3.5 | taste: 3.5 | feel: 4.5 | overall: 3.5
12oz bottle, pours copper in color with a tight & creamy ivory head that holds good retention. Malty aroma with toasty grain, caramel, bread, and spicy hops. Good flavors with notes of sweet caramel malt, grain, honey, and modest spicy & earthy hops. Smooth & very creamy body, clean finish that is more sweet than bitter. Some really good flavors here, but ends up being just a little too sweet in my opinion.
Sep 11, 2018

TMoney2591 from Illinois
3.45
/5
rDev
-2.3%
look: 3.5 | smell: 3.5 | taste: 3.5 | feel: 3.5 | overall: 3.25
Served in a Lagunitas mason jar.
What better way to celebrate leaving a soul-crushing job after four years than with an O-Fest, eh? This one pours a clear brass-copper topped by a finger of off-white foam. The nose comprises light dried caramel, mild bread, mild grass, flowers, and a bit of toasted biscuit in there for the fun of it. The taste is a solid mix of grassy hops and mild caramel-covered biscuits. The body is a light medium, with a light moderate carbonation and a fluid feel. Overall, a solid O-Fest, nothing too outstanding or anything, but highly drinkable.
Aug 23, 2018
MorganJ from Illinois
3.69
/5
rDev
+4.5%
look: 3.75 | smell: 3.5 | taste: 3.75 | feel: 3.75 | overall: 3.75
Poured 12 oz bottle into a half liter Stein. Nice copper color. Good bread, malty taste. More dry and crisp, not super sweet or carmely. Lighter and no after taste. That's not good or bad -- and is why this Octoberfest for me is just "good." Would drink more, however, as I love the marzen style.
Apr 05, 2018

pweis909 from Wisconsin
3.71
/5
rDev
+5.1%
look: 4 | smell: 3 | taste: 4 | feel: 4 | overall: 3.75
Love the look, orange, foamy, and transparent. Nice mouthfeel. A little chalky, crisp dry finish. Each sip creates the need for the next. I'm getting zero aroma from this, which I suppose speaks to good fermentation process. The malts are like a dry crusty bread; there is the barest trace of residual sweetness. Initially I didn't really like the taste, but by the time I got to the bottom of the pint glass, the malty aftertaste really won me over. If.i brewed this at home, I'd be pleased with myself
Nov 01, 2017
bwood06 from Wisconsin
3.7
/5
rDev
+4.8%
look: 3.5 | smell: 3.5 | taste: 3.75 | feel: 4 | overall: 3.75
My father in law bought several different beers to celebrate Christmas with and this was one of them. I've always liked Ale Asylum's offerings and I love Oktoberfests so needless to say, I was very excited when I saw this one in the fridge.
This beer pours a light amber hue that is clear with high carbonation and a frothy/creamy white head that dissipates slowly to a thin lacing that is retained. 3.5/5 The aroma is malty and full of cereal grains with a bit of sweet caramel and a mustiness that is a bit odd. A light grassiness rounds out the aroma, cutting into the grains and sweetness a bit. 3.5/5 The flavor profile is just like the aroma with caramel, toasted malt, and sweet cereal grains really being the showcase. There is a light grass note on the back end that brings a very light bitterness that does not linger after swallowing. There is a slight mustiness that comes through throughout the flavor profile, but not as strongly as in the aroma. 3.75/5 This is a medium bodied beer that is creamy, wet, coating, and smooth. Carbonation comes across as a light burn right up front. 4/5 This is an interesting take on the Oktoberfest style and one that reflects more of what Oktoberfests are becoming over time rather than the traditional style. This is not as sweet as most American Oktoberfests, rather concentrating more on the musty and raw nature of the grain rather than the sweetness of it. 3.75/5
May 25, 2017

dhannes from Wisconsin
2.79
/5
rDev
-21%
look: 2.75 | smell: 3 | taste: 2.75 | feel: 2.5 | overall: 2.75
Purchased at the brewery; poured into a Perfect Pint.
L=Darker yellow and hazy--not at all like a märzen. Rather shallow head.
S=Honey aroma...only somewhat appealing.
T=Rather sweet with a hint of citrus and biscuit, but no malt backbone whatsoever. I would have guessed a hefeweizen over a märzen.
F=Rather drinkable overall, but way too little body for a märzen...modest carbonation.
O=Ale Asylum was either trying to be overly creative or doesn't have a clue how to make a märzen. While a decent offering, this is way too sweet and light for an "oktoberfest" beer.
Oct 17, 2016

Stevedore from Oregon
2.89
/5
rDev
-18.1%
look: 3.25 | smell: 3 | taste: 2.75 | feel: 3.25 | overall: 2.75
12oz bottle of the inaugural bottling. Served in a pint glass.
Pours a slightly hazy light orange body, one finger white head, short retention, bits of lacing. Smells of a lot of nuttiness. Mostly raw peanut, light breadiness, that's about it. It's definitely pretty weird, like peanut bread or something like that. Flavour is also nutty, light breadiness, touch of earthy bitterness. Mouthfeel is lighter bodied, fair carbonation, nuttiness on the finish. If this was labeled as a peanut butter lager, I would have definitely believed it. As far as Marzens go, this is way off the mark and definitely falls below average.
Sep 17, 2016
drpimento from Wisconsin
3.05
/5
rDev
-13.6%
look: 3 | smell: 3 | taste: 3 | feel: 3.5 | overall: 3
Not a bad beer, but not really much of an Oktoberfest. Not traditional and suffers for it. Color is amber. Aroma is fruit, biscuits, crackers, skunk, malt. Flavor's like nose, plus some tang. Sweet up front, with some rotten fruit, bitter in back. Decent body. Ok finish. I'd have most other Ok'fests before this.
Aug 29, 2016

TheSSG from Illinois
3.85
/5
rDev
+9.1%
look: 3.5 | smell: 3.5 | taste: 4 | feel: 4 | overall: 4
Pours a soapy, white head. Soft, floral aroma. Hazy, straw color. Starts with an aggressive flavor; spicy hops and malt, with a good amount of caramel notes. Moves into a more biscuity profile that lingers into the finish to meld with the spicy hops.
This isn't bad. It's an assertive take on the style, and I tend to dislike too much caramel, but this works. It's solid.
Aug 09, 2016

Ri0 from Wisconsin
3.82
/5
rDev
+8.2%
look: 4.5 | smell: 3.75 | taste: 3.75 | feel: 4 | overall: 3.75
Poured 12oz bottle into pint glass. Very nice looking golden wheat color with a 2.5 finger sandy white head. Leaves a collar and swaths of lacing around the glass. Aroma of grains, malts, and sweet bread. Light earthy hops. Lighter amount of malts, grain, sweet bread and hints of caramel. Light herbal and earthy hops give it a bit more, hints of spice. Nice Marzen style. On the lighter side with good carbonation with a dry finish. Smooth, clean and easy drinking even on a warm day. Ale Asylum brewed their first Okto and it is more to the lighter, drier German style compared to the sweeter and heavier American style; delicious!
Aug 07, 2016
Oktillion from Ale Asylum
Beer rating:
81
out of
100
with
45
ratings