Dismiss Notice
BA SCORE
84
good
61
Reviews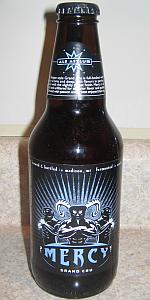 BEER INFO
Brewed by:
Ale Asylum
Wisconsin
,
United States
|
website
Style:
Belgian Strong Dark Ale
Alcohol by volume (ABV):
10.00%
Availability:
Fall
Notes / Commercial Description:
Our Belgian-style Grand Cru is a full bodied winter warmer. A slightly spicy aroma and flavors of dark fruit and caramel are harmonious with the classic Belgian-style finish.
Added by spointon on 11-30-2008
Reviews: 61 | Ratings: 143
3.86
/5
rDev
+3.8%
look: 4.5 | smell: 3.5 | taste: 4 | feel: 3.5 | overall: 4
A nice beer. Essentially a maltier belgian dubbel, but that description doesn't do it justice. Pours a beautiful copper coloer with a frothy head. Aroma of spices and fruitcake. Flavors of classic dubbel, spiciness, some hints of fruit, wrapped around a toffee malt center. Nicely balanced. Just the right alcohol burn, with a slightly sharp fruit finish.
★
355 characters
3.12
/5
rDev
-16.1%
look: 3 | smell: 3.5 | taste: 3 | feel: 3 | overall: 3
I'm a big fan of Ale Asylum, however for a dark strong ale Mercy didn't get my engine steaming. Pretty muddled in flavor & nothing which made it unique. Some decent hints of citrus like banana & orange and warming alcohol finish, yet still nothing to exciting.
★
260 characters
3.12
/5
rDev
-16.1%
look: 3 | smell: 3.5 | taste: 3 | feel: 3 | overall: 3
Limited head retention. Notes of fruit, spicy, plum notes. Toffee flavors, yeasty esters. Easy to drink with alcohol warming notes as it finishes. Drinkable but for a strong it lacks the pinch and stand-out flavors that make Ale Asylum's other offerings so appealing.
★
267 characters
4
/5
rDev
+7.5%
look: 4 | smell: 4 | taste: 4 | feel: 4 | overall: 4
I am a little biest when it comes to Ale Asylum because they are one of my favorite brews. I love there strog aprotch at making a beer that stands out with a strong flavor that really bites the tungue but is very enjoyable at the same time. Mercy is no exception. With a great hoppy taste a smell and a nice rich golden color. Very surprised to find out that it has a AVB of a 10 and still have the smoothness that you look for in a drinking beer. A must try for sure.
★
468 characters

3.28
/5
rDev
-11.8%
look: 4 | smell: 3.5 | taste: 3 | feel: 3 | overall: 3.5
120z bottle that I received as an extra, pour right out of the box it was packed in,into a tulip.
A- Heavy amber color with cloudy characteristics and a foamy khaki head generated by a prompt pour. The head disipates to a 1/4 inch foam that holds like a bubble bath.
S- Dark fruit, molasses and Belgium spice from the yeast. I get some booze, sweet caramel, banana bread and biscuit as well.
T- Lots of sweet flavors with a smooth alcohol burn at the finish. I get dark fruit, dark cherries, banana, biscuit and sugar water (simple syrup). Little to much sweet for me.
M- Heavy. Lots going on, carbonation is good for the style. The lingering booze at the end is a little to much. One I enjoyed but not what i love in a beer.
O- A decent strong. Not my favorite style but I feel this one is done in the opposite fashion of the strong ales you see out west which have a much heavier hop present. This was just a little to sweet for me.
★
940 characters
4.1
/5
rDev
+10.2%
look: 4 | smell: 4 | taste: 4 | feel: 4 | overall: 4.5
Poured from a 12 oz bottle into a Rochefort goblet.
A- Light brown with red highlights and a thin, wispy head.
S- Brown sugar, tangerine, clove, dark honey, plum, light cereal, malt, golden raisins
T- Malt, dark fruit, raisins, dates, the wife thinks there's a Moroccan taste to it (not sure what that means), little bit of wheat
M- Heavy, lingers on the tongue, not much bitterness at all followed by an ever so slight alcohol burn - just enough to let you know that it's beer.
D- At 9.5% it's heavy enough to be a sipper but nowhere near the all day for one bottle drinking session that is The Beast.
★
607 characters
4.35
/5
rDev
+16.9%
look: 4 | smell: 4 | taste: 4.5 | feel: 4.5 | overall: 4.5
The first special release from Ale Asylum. Most of their beers fit pretty well into style categories, but what is "Grand Cru" exactly? Not a style per se, but the biggest beer from a Belgian style brewer. Not sure what to expect then, and excited to see what Dean came up with.
Copper in color, small head, not much lacing on the glass. Smell is caramel with a bit of Belgian phenolic character. Taste is just the same, nice and caramely but dry at the same time, with the Belgian yeast character in there as well. Unlike a lot of Belgian styles, the malt takes center stage in front of the yeast character. Very drinkable.
Great beer, Ale Asylum!
★
647 characters
3
/5
rDev
-19.4%
look: 3 | smell: 3 | taste: 3 | feel: 3 | overall: 3
A - Pours a translucent reddish orange with a thin, quickly fading head. Some carbonation remains as small bubbles slowly find their way to the top and remain in a ring around the surface.
S - A touch of Belgian yeast up front with a sweet hint of alcohol
T - Nice and smooth malty character up front that moves promptly into a cloyingly sweet alcoholic note. Not as much yeast in the flavor as the nose suggests. Hints of banana and clove.
M - Light for the style, and borderline watery.
D - Certainly not a horrible beer, bot not a very good one either. The thin feel, cloying sweetness, and booziness in the finish make this tough to enjoy. The other 5 from this 6 pack may be hanging around a while...
★
710 characters
4.75
/5
rDev
+27.7%
look: 5 | smell: 5 | taste: 5 | feel: 4.5 | overall: 4
The appearance of Mercy is dark amber with a fluffy, creamy head that takes a while to settle. the carbonation is evident by the dancing bubbles at the top of the head. First sip is exceptionally smooth with a warming alcohol presence. The beer holds up well after numerous servings, never getting tiresome. Very complex mixture of malts and hops. Very spicy. A good beer to swish around your mouth and get the full effect of the flavors.
★
438 characters
4.37
/5
rDev
+17.5%
look: 4 | smell: 4.5 | taste: 4.5 | feel: 3.5 | overall: 4.5
On-tap at Monroe Street Bistro in Madison. Very excited to be one of the first to try!
Served in a Val-Dieu goblet/chalice, the Mercy looks like a slightly more ruby-tinted version of your average strong ale. Poured a medium head that drank down fast and was thick rather than wispy.
Initially not a huge mouthfeel as I expected from a 'gran cru', but my initial tastes were positive. The smell was amazing; yeasty, sugar, alcohol, good fruitcake...
Tastes: pear, caramel, honey, citrus, mulling spice and slight hops. Not very malty, and not as complex as most Belgians but extremely drinkable for the abv, and the hops prevented it from being too sweet.
Overall a very nice ale, lacking the serious mouthfeel and complexity of some, the Mercy is a very good alternative to jaded palates.
★
793 characters
4.52
/5
rDev
+21.5%
look: 4 | smell: 4.5 | taste: 4.5 | feel: 4 | overall: 5
I've had this brew on tap at the brewery and have bought a bunch more in the bottle variety as it will soon be gone. I've always been a big fan of the brewmasters creations dating back to the angelic days. pours a nice caramel or copper color. smells quite good with a hint of alcohol. taste is very good..slightly sweet. goes down very well...maybe too well! I would recommend this grand cru for sure..I look forward to more seasonals from the ale asylum!
★
456 characters
Mercy from Ale Asylum
84
out of
100
based on
61
ratings.