Churchill's Finest Hour 2015

Port Brewing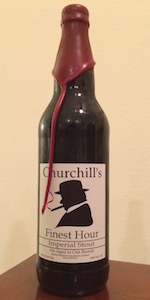 Rate It
Beer Geek Stats
| Print Shelf Talker
Style:

ABV:

14%

Score:

98

Avg:

4.53

| pDev:

6.4%

Reviews:

12

Ratings:

From:

Avail:

Retired (no longer brewed)

Wants

Gots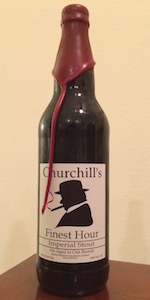 Notes:

The4wills from Colorado
4.57
/5
rDev
+0.9%
look: 4.5 | smell: 4.25 | taste: 4.75 | feel: 4.75 | overall: 4.5
Wonderful BA - one of the first to start growing trend back in 2105. Keeping a bottle still now in 2019, can't wait.
A bit hot in Alc, complex finish
Jan 01, 2019

Tommo from Texas
4
/5
rDev
-11.7%
look: 4 | smell: 4 | taste: 4 | feel: 4 | overall: 4
This is a nice beer, but overall, meh. Lots of booze on the nose and palate. Some raisins and coffee roast. But overall i find it pretty underwhelming with a medium body, not very sweet. Not impressed, this beer is super overhyped, would not buy again
Apr 16, 2017
Keananmichael5 from California
4.4
/5
rDev
-2.9%
look: 4.5 | smell: 4.5 | taste: 4.25 | feel: 4.5 | overall: 4.5
Great ba stout that I have been wanting to have for a while now. Had it at gabf and was one of the hidden gems of the event. Short line for an amazing beer. Very well balanced and great flavors.
Sep 29, 2015
StoutSnob40 from California
4.63
/5
rDev
+2.2%
look: 4.5 | smell: 4.5 | taste: 4.75 | feel: 4.75 | overall: 4.5
Pours an opaque black with a minimal tan head. Smell is smooth oak, with coffee and very dark fruit. Is that.. S'mores? Taste is so smooth, with some boozy barrel and coffee aftertaste. Super smooth, silky mouthfeel.
Sep 17, 2015
ramay86 from Minnesota
4.4
/5
rDev
-2.9%
look: 4.5 | smell: 4.5 | taste: 4.5 | feel: 3.5 | overall: 4.5
Not as black as you'd expect - it's got a chutney edge of clarity with a moment of a khaki head. Great lace, and appropriate legging,
The nose and palate are loaded, and very reminiscent of fresh BCBS - caramel, cocoa powder, sweet bourbon, molasses, vanilla, cake batter...
It's a bit syrupy, a bit hot, but very good nonetheless.
Aug 29, 2015

lupercmda from North Carolina
4.29
/5
rDev
-5.3%
look: 4.5 | smell: 4.25 | taste: 4.25 | feel: 4.5 | overall: 4.25
Poured a dark black color with minimal carbonation. Smells of tobacco and oaky notes with booziness prominent. Slightly thin mouth feel with a distinct alcohol up front taste followed by a rich oak lingering taste.
Aug 16, 2015
cosmicevan from New York
4.66
/5
rDev
+2.9%
look: 4.25 | smell: 4.5 | taste: 4.75 | feel: 4.75 | overall: 4.75
thanks scott, enjoyed from a Churchill mini. watery black thin gray bubbly head. spotty lace. nose is boozy stout, very eclipse, boozy but not overly. taste, however is really balanced. very silky and easy drinker. chocolate is nice and the barrel is immaculate on the beer. some Churchill have been a miss for me, but this is a hit.
Apr 24, 2015

RamboII from California
4.88
/5
rDev
+7.7%
look: 4.75 | smell: 4.75 | taste: 5 | feel: 5 | overall: 4.75
Churchill's Finest Hour bottle poured into a snifter glass
The nose on this beer was very good; marshmallow, chocolate, tobacco. The taste was absolutely spectacular. This was a very rich and complex beer that evolved all the way across the palate. I was blown away by the flavor profile. Each sip was a joy and had to be savored for a minute or two. As it warmed, flavors of leather and tobacco complimented the chocolate and marshmallow. It was like bourbon soaked brownie. I expected to be disappointed considering all the hype, but was absolutely blown away by this beer. Had it next to a Wineification I and the Bruery beer was no comparison. Highly recommend seeking this beer out and wish I had another.
Apr 20, 2015
snipermonkey from California
4.7
/5
rDev
+3.8%
look: 4.75 | smell: 4.75 | taste: 4.75 | feel: 4.25 | overall: 4.75
Certainly on the expensive side! This year is definitely focused on coffee and vanilla notes. I liked this a little more than the '14 although my friend was a much bigger fan of the '14. It was interesting tasting both years side by side to see how much the recipes have changed. I guess my only complaint is the body is fairly thin, otherwise quite tasty.
Apr 07, 2015

CuriousMonk from District of Columbia
4.64
/5
rDev
+2.4%
look: 4.25 | smell: 4.5 | taste: 4.75 | feel: 4.5 | overall: 4.75
This was a '15 vintage (blue wax) that I landed after giving up quite a bit as this beer is extremely limited and difficult to acquire. These annual releases are sold at the brewery through a lottery based system. At one time, the brewery was willing to sell a limited number of bottles online for $150 each with most of the proceeds going to charity. I tried a '11 and '12 in the past and was absolutely blown away with this beer. Pours a powdery brown appearance basked in pitch black darkness along with a thin mocha head. Aromatics of oak, bourbon, brown sugar, anise, slight coffee, and molasses. The flavors picked up the same qualities along with charred marshmallows, vanilla, and caramel. Kind of reminded me of a Central Waters anniversary beer, which could be had at a steeper discount. Medium to thick mouthfeel with a delicious creamy back finish with all the complex undertones. I just wanted to dip a Snickers candybar in there! Excellent!
Mar 20, 2015
Sour_gabi from California
4.67
/5
rDev
+3.1%
look: 5 | smell: 4.75 | taste: 4.75 | feel: 4.25 | overall: 4.5
I was honored to try this out of a vintage 2015 650 mL bottle that was was shared at Churchill's Pub and Grille. The color was a nice motor oil black color with viscous legs that line the glass. Wonderful aromas of anise, dark chocolate, coffee, vanilla, oak, and bourbon are present on the nose. The mouth was delightful; charred marshmallow, oak, vanilla, chocolate, and rich caramel were a few shining flavors from this year's vintage. The only thing I wish was different about this beer is the mouthfeel. Even though it's thick and full bodied, it could have used a little more substance; but it wasn't a deal breaker at all. I highly recommend this year's vintage. I hope I can find a bottle for trade since I missed out on the sale. Cheers to a world class BA stout.
Mar 09, 2015

Ben1001 from California
4.64
/5
rDev
+2.4%
look: 4.25 | smell: 4.5 | taste: 4.75 | feel: 4.5 | overall: 4.75
Had this at Churchill's with the vertical of 13, 14, 15. Strangely I liked this years the best. Thought the later ones were a bit degraded and thin but this years was really filled with bourbon and coffee flavors. The mouth feel was exactly where I'd want it for a beer like this.
Mar 08, 2015
Churchill's Finest Hour 2015 from Port Brewing
Beer rating:
98
out of
100
with
96
ratings