3rd Anniversary Double IPA
| Port Brewing
BA SCORE
84
good
139
Reviews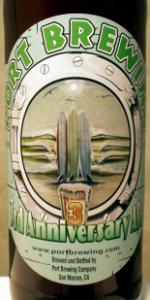 BEER INFO
Brewed by:
Port Brewing
California
,
United States
portbrewing.com
Style:
American Double / Imperial IPA
Alcohol by volume (ABV):
10.00%
Availability:
Limited (brewed once)
Notes / Commercial Description:
No notes at this time.
Added by HopHead84 on 05-11-2009
This beer is retired; no longer brewed.
Reviews: 139 | Ratings: 168
3.92
/5
rDev
+4.8%
look: 3.5 | smell: 4 | taste: 4 | feel: 3.5 | overall: 4
22oz bottle.
Poured a medium and hazy golden/amber color with a smaller sized off white head. Aromas of pine, some floral hoppiness, and citrus. Tastes of citrus, some tropical fruitiness, light pine, and some caramel. Alcohol burn in the finsh with some lacing left on the glass.
282 characters
4.17
/5
rDev
+11.5%
look: 4 | smell: 4.5 | taste: 4 | feel: 4.5 | overall: 4
Had on tap in a 13 oz tulip at the world famous Toronado on Haight in The City That Knows How.
A: Deep honey amber unfiltered appearance with a scant head.
S:Grapefruity - Barleywine like
T: Citrus hops up front , you can taste the 10% abv, some malt in the middle, somewhat bitter finish.
M: Good - the citrus bitterness still dominates, nice carbonation level.
D: Drinks like a very hoppy barleywine. Glad I tried it but moving on through the Toronado new offering for today !
483 characters

3.37
/5
rDev
-9.9%
look: 3 | smell: 3.5 | taste: 3.5 | feel: 3.5 | overall: 3
From a bomber into a pint glass, this brew pours a golden color with a tinge of orange haze. A thin bubbly head doesn't linger and lacing is light.
Piney hops and alcohol on the nose, bit of orange and sweet grapefruit. Esters clear quickly after some agitation. Carbonation is light.
Taste is slick of citrus hops and offers a decent malt backbone, too much so in the end, as the light carbonation doesn't offer much support. Medium bodied and somewhat chewy in the malts compared to what the light color might suggest. Some bitterness on the finish shines through the malt base to offer some balance. Average feel and drink otherwise.
This is a difficult beer and a bit overwhelming from the bottle. Offers much more character and balance on tap where the carbonation and feel are notably improved.
804 characters
3.65
/5
rDev
-2.4%
look: 4 | smell: 4 | taste: 3.5 | feel: 3.5 | overall: 3.5
22 ounce bottle poured into a snifter. No bottling info is given. Abv is 10%.
A-Pours a cloudy orangish amber with a 3/4 finger off white head that dissolves into a small off white layer.
S-Lots of pine and citrus such as pineapple, orange, and grapefruit, are apparent. There is definitely some sweet malt that is picked up. There is a tad bit of booze that is detected and it does get more pronounced as it warms.
T-Like the smell, it tastes fruity and sweet. The pine and the citrus flavors come first. The sweet malt jumps in mid-sip. The hops come back at the end for a decent level of bitterness. The bitterness is not overly agressive for a DIPA. There is booze in the finish. As expected, the second pour yielded more booze flavor.
M-Full bodied and very sticky. A tad bit undercarbonated for the style, but it is not flat.
D-One was plenty. The fact that it is full bodied, on the sweeter side, and has boozy notes limits this one for me. Best to share a 22 ounce bottle with a friend.
Not bad, not great is the best way to sum up this bottle. I always like to try their beers, but next time I am in the store I will pass this up for another West Coast DIPA.
1,174 characters

3.45
/5
rDev
-7.8%
look: 3.5 | smell: 3.5 | taste: 3.5 | feel: 3 | overall: 3.5
On tap at Hollingshead's Deli.
Served in a half liter mug. Poured a cloudy orange, little off white head. The smell is both a little hoppy and a little fruity. The taste is floral hoppiness, a tiny bit of citrus hoppiness, and some fruity sweetness in the finish. It's kinda thick and syrupy in body. I didn't really like this flavor combination a whole bunch, and I didn't like the slickness of the body. Would not get again.
427 characters
3.74
/5
rDev 0%
look: 3.5 | smell: 4.5 | taste: 3.5 | feel: 3.5 | overall: 3.5
Appearance: Pours a cloudy amber color with a modest head that drops to a film without leaving much of a trace behind
Smell: Grapefruit pith and pine, with a discernable whiff of alcohol
Taste: Sweet, grapefruit infused toffee up front, with an increasingly bitter pith and pine dimension growing by mid-palate; after the swallow, the bitterness dominates the flavor profile, but there is plenty of toffee sweetness and alcohol in the finish
Mouthfeel: Thick and syrupy, with moderate to low carbonation
Drinkability: There are some nice elements to the beer, particularly in the bitter flavors that were also detected in the aroma; the syrupy mouthfeel and sticky malt profile were detractions, to my palate
712 characters
4.15
/5
rDev
+11%
look: 4.5 | smell: 4.5 | taste: 4 | feel: 4 | overall: 4
On-tap at Beachwood BBQ,
A: Pours a clear, vibrant orange, with a soft, one-finger white head leaving excellent to style DIPA lace.
S: Grapefruit pith for sure, but evolves with some interesting tropical fruit - guava, papaya and pineapple, a great beer to smell.
T: The white grapefruit really comes out more in the taste, but the hops bring those floral notes out and make the overall flavour much more interesting. Wildflower honey, tropical fruit salad, passionfruit, a really good mix.
S: Smooth, full-bodied, with a long aftertaste which I like in a DIPA.
D: Not as good as Port 2nd which was one of my favourite DIPAs ever, the Port 3rd is a very solid version of the style and one I could certainly have again, good work Port.
739 characters

3.7
/5
rDev
-1.1%
look: 4 | smell: 4 | taste: 3.5 | feel: 4 | overall: 3.5
Had this on a recommendation from seller.
Poured a pretty tawny orange hue with a big white head followed by decent retention and top notch lacing.
Aromas are dominated by pine and citrus and a sugar syrup sweet note towards the end.
Opens up with a nice malt body, and quickly gives way to the hop burst I was expecting. Full of pine resin and citrus tones and a slightly harsh finish.
Mouthfeel was full and viscous from start to finish.
Drinkability would have been higher but the strong alcohol presence towards the end get to me. Good beer, but not me cup of tea.
575 characters
3.47
/5
rDev
-7.2%
look: 3 | smell: 3.5 | taste: 3.5 | feel: 3.5 | overall: 3.5
A: Hazy, ruby/brown, with a thin off-white head. Decent lacing as I moved through the beer. However, this is not what I think a DIPA should look like.
S: Piney and bready notes. Although, there was noticeable alcohol in the nose, which turned me off.
T: Sweet taste; sweet apples with a hint of citrus fruit. This is a well balanced DIPA, but I prefer overly-hopped DIPAs. This beer uses the sweetness of the apples and bread to build a malty backbone upon. All of that being said, this beer got hoppier as I moved through it.
M: Lighter bodied, minimal oils and resin left from the hops - I wanted more. Maybe a hair under-carbonated.
D: While DIPAs are my favorite style, and this is an okay representation, I'd prefer not to drink this beer all night. Also, this reminds me of DFH 120 Minute IPA, which is also not the type of DIPA/ Imperial IPA that I prefer.
867 characters
4.22
/5
rDev
+12.8%
look: 4 | smell: 4.5 | taste: 4.5 | feel: 4 | overall: 3.5
Had on-tap just last night, decided to pick up a bottle when I saw it at my Whole Foods.
Appearance: Pours with a quarter-finger head, barely-there after a minute. Lacing is transient but good, craggy fingers of the stuff. Body is a deep apple cider amber, with some blonde highlights. A pretty good lookin' beer.
Smell: Interesting aromas - a sort of Windex meets pine meets unripe pear meets peach aroma greets you at the front-end. Some rhubarb-y, fermented fruit aroma follows. Alcohol on the back end - too much of it, maybe, followed by malt and candy sugar.
Taste: Red delicious apples on the front end? Followed by malts and grapefruit-pine. This isn't particularly super hoppy, but I think I enjoy its left-of-center quality in that way. Back end is pretty harshly bitter, hops fly up through the nose.
Mouthfeel: Adequately fizzy, not too dry, bitter.
Drinkability: This is a tough one to drink quickly, both due to the ABV and rather odd fruity-maltiness of it. It's a fairly large beer, and it shows. Still, I was imrpessed by this not going the typical DIPA course - it has some really peculiar malt aromas and flavors, almost ester-y or funky.
1,162 characters
3.43
/5
rDev
-8.3%
look: 4 | smell: 3.5 | taste: 3.5 | feel: 3.5 | overall: 3
Pours a dark orange. About an inch and a half of quickly dissipating white foam head.
Smells like pine and booze. Yum.
Taste is inordinately boozy. There's a sweet, almost fruit-extract-esque character to the malt, and there's pine and pink grapefruit to the flavor, but it's just too damn boozy. There's also a medicinal/herbal background to it I don't care for much at all.
Despite the decent head, this was a syrupy, resiny beer that could have used some more carbonation to liven up the noticeable ABV.
509 characters

4
/5
rDev
+7%
look: 4 | smell: 4 | taste: 4 | feel: 4 | overall: 4
750ml. bomber with a great looking, surf inspired label (as was last years). Poured into a chalice a slightly hazed amber gold, with just under a 1/2" of off-white floamy head. A bit mild on the carbonation, but not lax by any means, with decent head retention. On tap at the brewery it was a bit fizzier...on cask it was much less than in the bottle.
The nose is fairly sweet and fruity with a citrusy orange into grapefruit and back into orange and some bisquity maltness. As it warms however, the alcohol begins to take over and definetly lets you know it's a healthy 10% ABV, if not more. The taste is carbon copy of the smell with a mostly sweet orange flavor standing out fot the most part. I wasn't getting the much more pronounced hoppiness of last years Anny brew, which had a noticable piney resinous slap to it. This brew tasting a fair bit stronger and far less hoppy than last years, didn't seem as much like an IPA, much less a IIPA in comparison...honestly more like an American Strong Ale too me. Still tasting good with maltiness and high alcohol, I prefer last years Anny to this one.
Well balanced and a pretty hefty body lend a good full mouthfeel and good drinkabilty, but go easy on this stuff or it will put the hurt on you (potency wise). The first pint I tried of this was on tap which I consumed quickly before it had a chance to really warm...would have never guessed this brew was 10% ABV till I saw it on the bottles labels. Good stuff for an Anniversary Ale, enjoy!
1,497 characters
4.15
/5
rDev
+11%
look: 3.5 | smell: 3.5 | taste: 4.5 | feel: 4 | overall: 4.5
The head retention on this ale is alright the high abv. might have something to do with? The nose has a wonderful tropical fruit mixed with brandy apple aroma. The taste is a full rush of hops that stings like a bee and taste like sweet bliss!! Big sweet pink grapefruit and a splash of mango and kiwi runs into a nice caramel malt backbone. The mouthfeel is very good the natural hop oils and the sweet malts make a nice balance that leaves a long finish. The drinkability is off the hook considering the 10% abv. This DBL IPA is well made. Hats off to Port brewing taking this to the next level!!!
599 characters

3.85
/5
rDev
+2.9%
look: 4 | smell: 4 | taste: 4 | feel: 3.5 | overall: 3.5
Poured into an imperial pint glass. The beer is dark orange. The aggressive pour yielded a one finger, white head. The retention is pretty good and there's some lacing on the glass.
The aroma is of grapefruit and pine. There's an interesting honey character to the nose. The malt successfully balances the hops and is of the caramel persuasion. Celery notes are apparent. The alcohol is quite noticeable. The flavor is initially of sweet caramel malt with some breadiness. The alcohol is potent immediately. The 10% is not hidden. As the beer warms the citrus becomes more pronounced, pine resin is quite noticeable, and the alcohol flavor becomes more apparent. Overall, the flavor is well balanced between malt and hops, leaning toward the sweeter side in flavor. The bitterness is medium for the most part, but becomes stronger in the finish. Ultimimately, the alcohol has the last laugh.
The beer is medium bodied with low-medium carbonation. I definitely would have preferred more carbonation.
1,002 characters
3rd Anniversary Double IPA from Port Brewing
3.74
out of
5
based on
168
ratings.