6th Anniversary Double IPA
| Port Brewing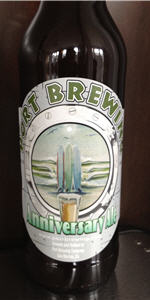 BEER INFO
Brewed by:
Port Brewing
California
,
United States
portbrewing.com
Style:
American Double / Imperial IPA
Alcohol by volume (ABV):
10.00%
Availability:
Limited (brewed once)
Notes / Commercial Description:
No notes at this time.
Added by PeterIngemi on 05-12-2012
This beer is retired; no longer brewed.
Reviews: 64 | Ratings: 187
4.17
/5
rDev
+5%
look: 4 | smell: 4.5 | taste: 4 | feel: 4.5 | overall: 4
On Tap at The Sidecar Bar.
A- I got a 1/2 inch of white fizzing foam that left after time. Some lace tries to stick but does not succeed. This one has a copper orange color to it.
S- A whole lot of hops and a malt backing to counter balance. This gives of a very pungent tropical citrus type of smell. Some alcohol in this 10%er. Getting pine and grapefruit from this with a bit of a sweet backing. Amarillo seems to be bursting.
T- The hop varieties used give off an over whelming grapefruit sense with and and not a lot of earthy flavors to back it, west coast for sure. This is hoppy and very bitter beer with malts to back. 6th while not hot gives off a semi warming sensation with the 10%, while retaining the hop bite and the malt sweet, ya dig. Pine barrens.
M- A step above Medium bodied with some warming quality from this 10% brew. This is extremely hoppy and very malted as well, you know what it is. Port has been stepping up in the carb game even though it's still not greatly carbed, but it is big beer and the yeast may not have been as strong as expected.
D- This is a hopbomb in all sense of the word so if thats not your thing look elsewhere. 6th has a balanced hop flavor came from many varieties of the plant giving citrus and pine. At 10% one draft is good with driving and all, but I could drink more.
1,328 characters

4.3
/5
rDev
+8.3%
look: 4 | smell: 4 | taste: 4.5 | feel: 4 | overall: 4.5
Poured from tap at TJs in Paoli into a snifter glass.
A: A light to medium copper color with a one finger white head. Lacing is full but it does not last.
S: Real citrusy and tropical with grapefruit, pineapple, mango and some lemon zest. Some slight pine and bready malt.
T: The citrus is the show here. Nice blast of grapefruit, pineapple, mango, lemon and slight grassy tones. There is some bready malt there but make no mistake about it, this is all about the hops. Finish is slightly bitter but very dry and prickly. Nice. Alcohol does warm the throat but no way it's 10% warm. I've had prior Port Anny brews that were an alcohol mess, but not this one, the alcohol is blended perfectly. Hop heaven.
M: Medium, prickly, resinous, slightly bitter with some alcohol. Nice lasting finish and nice carbonation (should mention this since it is a Port beer).
O: I thought this was a great beer and a true hopheads dream. I think they are finally learning how to do their Anny beers as they seem to get better each year.
If you want a balance DIPA, stay away. If you want the sheer joy of hops just totally overcoming all aspects of a beer, drink this one. Hops-a-plenty, the way a good west coast DIPA should be.
1,217 characters
2.97
/5
rDev
-25.2%
look: 3 | smell: 3.5 | taste: 2.5 | feel: 3.5 | overall: 3
On-tap at Kelleher's (man it's been a while). 12 oz. in a goblet (wtf) on May 25th, 2012.
A - Standard DIPA appearance, relatively clear golden coloring with a twinge of head and little retention. Good lacing. Totally blame the bar here, the glass is completely incorrect.
S - A bit dank, resinous pine and sap. Some underneath citrus and a little bit of tropical fruit. Peculiar burnt caramel note that seems atypical.
T - A touch of front palate sweetness from the malt bill than bombardment of pine cone bitterness. Cashews transition in a touch of bread and sweetness near the back. Very unbalanced, as I may have expected, but the bitterness seems much more unnatural than what I've had from Port previously.
M - Semi-dry finish, high carbonation, medium body.
D - Not memorable beyond west coast hoppyness, which felt a bit overdone and not complex enough in this instance.
886 characters

4.3
/5
rDev
+8.3%
look: 5 | smell: 5 | taste: 4 | feel: 4 | overall: 4
As promised, reviewing this year's anniversary ale in May.
Pours murky gold, with some light brown and some orange in the light. A huge light tan head leaves plenty of lace, and is capped by fluffy mounts of slowly dissipating rocky foam.
Smells of orange, pineapple, grapefruit pith, and barely detectable malts, which assert themselves more as it warms.
Tastes of great bitterness, pithy and strong, malts almost come through in the middle, but they are pounded into submission by the hops. More pith on the finish.
Feel is medium bodied, with a huge punch, boozy, though not 10% boozy. Drinkability is not high on this one, as it's reminiscent of Hop-15.
This is the first hoppy bear from Port I have tried that didn't have the ugly chunky sediment in it, and I was happy for that. All that being said, the flavor isn't as complex as last year, but still excellent.
DOA
300th review
893 characters

3.66
/5
rDev
-7.8%
look: 5 | smell: 4 | taste: 3.5 | feel: 4 | overall: 3
Bottled 05/16/12. Tulip glass.
A: Pours a medium gold with a finger and a half of beautiful looking, foamy white head, with nice concentric rings of lacing. very good retention and clarity.
S: Big hop aroma is noticeable from afar. Tropical and citrus notes (pineapple, grapefruit, mango, orange). Not much malt to speak of.
T: Watery orange, slightly grassy, moderate bitterness and very dry, which together impart a harsh quality.
M: Medium-full body and medium-light carbonation.
O: Kind of a chore to drink. I think some more caramel and sweetness would really round this out. I remember liking last year's a lot better.
629 characters

4.03
/5
rDev
+1.5%
look: 4.5 | smell: 4 | taste: 4 | feel: 4 | overall: 4
1319th Review on BA
Bottle to Parra Tulip
22oz
Bottled 5-16-12
Purchased at Total Wine in Brea for $5.99
App- Tangarine orange and some peach yellows in the glass. Soft sunset colors. A two finger white head with solid cling and well formed cling.
Smell- Big pungent hops but not bitter. Highly concentrated with damp citrus in the tropical sense. A bit of guava, a bit of mango. Really clean and hoppy.
Taste- I like it. Its a hoppy beer without being a punch in the face bitter. The booze is hidden but still there and a bit of damp citrus with a creamy mango flavor with a small bitter. Not like a tripel but a little thick and a peppery/spicy
Mouth- A full medium body with a medium carbonation level. A ton of hoppy goodness with a bit of a creamy finish.
Drink- I liked it, just needed a bit more to balance it out. The fruit and creamy was a nice addition to this beer. Was glad that it wasnt so bitter I didnt want to drink it.
941 characters
4.15
/5
rDev
+4.5%
look: 4 | smell: 4 | taste: 4.25 | feel: 4 | overall: 4.25
First had: on tap at TJ's, Paoli, PA
It was a choice between this and the Van Viven IIPA for the ending of my lunch session, and the bartender recommended this one. And it was a good choice, plus it kept me in America.
Poured a slightly hazy copper-amber hybrid color with a cap of soft white head that retained well and left streaky lacing on the glass. Great aroma of fresh hops, citrus, tropical fruit, pine resin. There was a definite bready malt background here, but the beer was clearly hop-dominant (expected, of course), with flavors of orange, grapefruit, pineapple, touches of white grapes. Great example of West Coast IPA greatness. Medium body, a bit sticky, alcohol is decently hidden in the taste, but about halfway through, I started to FEEL it. Oh boy. Mellow out before driving. Very nice beer overall.
821 characters

4.03
/5
rDev
+1.5%
look: 4.5 | smell: 4 | taste: 4 | feel: 4 | overall: 4
22oz bottle poured into a snifter; bottle date is 4/19/12
This guy pours a pretty orange body with some golden yellow edges. A thick paper white cap rises to fill the glass and falls slowly, leaving some sticky spider web lacing behind.
The nose is filled with tropical fruit. Tons of white grapefruit rind, tangerines, peaches, pineapple, and apricots. A sweet caramel malt bill stands pretty tall.
Tropical fruits pop first. A burst onto the palate before a wave of caramel malt sweeps through. The finish is a mix of sweet, prickly caramel and white grapefruit bitterness. A very sturdy malt bill props up all of these hops.
The feel is a bit prickly. Medium body, with some prickly carbonation that plays with the caramel in a bit of a funny way. The finish is sticky sweet caramel and a huge dose of bitterness.
A very pretty beer with a good amount of sweetness that is balanced out (and overcome) by a heavy handed hop profile. This is a solid beer, maybe a tad sweet, but that really isn't an issue.
1,012 characters

4
/5
rDev
+0.8%
look: 4 | smell: 4 | taste: 4 | feel: 4 | overall: 4
5/24/2012
On tap at Lost Abbey.
A: Dark orange and slightly hazy. Inch of beige foam.
S: Spicy grapefruit with light mango notes. Orange blends with nectarine and earth. Malt reminds me of sweet bread with a dash of caramel.
T: Moderate piney bitterness with grapefruit rind notes. Orange, tangerine, and grapefruit flesh. A little bread and biscuit. Dry bitter resinous finish.
M: Medium body with moderate carbonation.
Overall: In the vein of the previous anniversary beers. A nice big hoppy Imperial Pale Ale/Double IPA.
529 characters
3.95
/5
rDev
-0.5%
look: 4 | smell: 4 | taste: 4 | feel: 3.5 | overall: 4
On Tap
The Lost Abbey
San Marcos, CA
A deep copper and amber with orange edges. Huge foaming off-white head that lasts and lasts. Not as much lacing as I would have expected.
All sorts of citrus elements in this beer--guava, mango, orange, grapefruit--very aromatic.
A tongue buckling bitter blast of a beer! Hop bitterness galore! Unbalanced to its core--this is hops hops hops! As advertised: delicious and bitter hop bomb! Also some citrus and sweet elements as well, but bitterness steals the show. If that's what you dig, seek this one out!
A relatively heavy mouthfeel and a slight biting alcohol heat on the finish.
A delicious Port DIPA. Big citrus aromatics and huge hop bitterness.
697 characters
4.03
/5
rDev
+1.5%
look: 4.5 | smell: 4 | taste: 4 | feel: 4 | overall: 4
like the bottle states, this is hardly original.
another monster hoppy beer from port brewing. imagine that.
beautiful opaque orange very low carbonation like my recent bottles of hop 15 but i dont think its flat. ill spare everyone the port brews the prettiest beers in the world speech. smells and tastes hugely bitter grapefruit, pineapple and orange. alcohol noticeable, but still drinkable early saturday afternoon. good thing im not going anywhere.
did i say bitter? yes bitter. probably be better in say 6 weeks. you just cant go wrong with any port ipas, though i prefer hop 15 right now.
598 characters

3.95
/5
rDev
-0.5%
look: 4.5 | smell: 4.5 | taste: 3.5 | feel: 4 | overall: 4
Bottled 4/19/12
Pours bright orange with a finger finger pillowy white head. Good retention and some sticky lacing.
Aroma features loads of citrus and tropical fruits with a heavy pineapple whiff. Some sweet bready malt as well.
Good citrus up front although I wish the front of the tongue would receive a bit more flavor. A little sticky pine sap malt going on towards the middle/end. Finishes somewhat dry with pine and pineapple. Alcohol isn't over the top, but present.
A little sticky with medium carbonation levels. Decent job hiding the alcohol although it's still present.
Pretty solid offering although I think I'd still prefer Wipeout and Mongo. It's a bit beyond the ABV sweet spot and there is a touch too much heat for my DIPA preferences. Also expected something less than a month old to burst with a little more flavor and aroma from the hops. Still a great beer though.
890 characters
3.67
/5
rDev
-7.6%
look: 3.5 | smell: 4 | taste: 3.5 | feel: 4 | overall: 3.5
This beer pours a nice pleasant clear orange in color with a small pillowy white head that leaves some decent lacing.
Aromas begin with a nice hop profile composed of citrus and grapefruit, with a lot of tropical notes as well; mainly pineapple with some apricot and peach. Some malty sweetness with a tad bit of alcohol in the background, but pretty solid otherwise.
The taste begins with a little bready/caramel maltiness but immediately you are assaulted with intensely hoppy grapefruit and citrus flavors with some lesser pine notes. Pretty sticky and resinous, with a little alcohol kick in the finish. The malt tries to make more of an appearance as this warms but the hops assert themselves and make sure they are center stage.
Mouthfeel is medium in body with a medium level of carbonation. Dry dry sticky finish from the combination of intense hopping and the high ABV. Alcohol becomes a little prevalent as it warms which detracts a little and is my only complaint for this beer. Bitterness also lingers more than I usually like.
Overall this is a decent Imperial IPA that is better served in a small size servings because it is a tad too astringent and alcoholic. Flavor profile overall is a tad too bitter (in the grapefruit dept) for my preference, not to say it's not a bad beer, it just misses the mark on a few key checkpoints for me to be great.
1,366 characters
4.1
/5
rDev
+3.3%
look: 4 | smell: 4 | taste: 4 | feel: 4 | overall: 4.5
Poured from a 22 oz bottle date 4/19/12 into a duvel tulip.
A: pours a beatiful hazed orange with half a finger of a slightly of white head that dissapates quickly buy leaves nice sticky lacing.
S: tropical fruit.... Pinneapple, mango, grapefruit, a wonderful blend of citrusy hop deliciousness... A touch of grain and hop bitterness as the beer warms. You can also start to pick up the alcohol note through the pine as the beer warms.
T: citrus and pine, delicious.... Much like the nose.... Pinneapple, a touch of orange, mango, mixed with a nice touch of resiny pine on the finish.... An alcohol note in the finish hidden well by the pine but deffinatly there.
M: slick and almost oily with a light/medium tight bubble brisk carbonation that you can feel on the roof of you mouth if you hold it in there long enough... Overall the mouthfeel works very well with this brew. Dry an bitter on the finish... With a bit of a linger, but nothing obnoxious.
O: a great dipa, tons of great hop flavor, all blend together nicley, very well rounded, a must try... I'll deffinatly grab a few more of these.
1,117 characters
6th Anniversary Double IPA from Port Brewing
3.97
out of
5
based on
187
ratings.