Dismiss Notice
Extreme Beer Fest:Los Angeles
Join us December 9th in Los Angeles for the ultimate throwdown of craft beer creativity!
Learn more...
Dismiss Notice
Hood Canal Brewing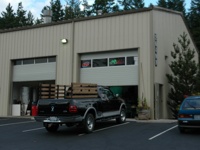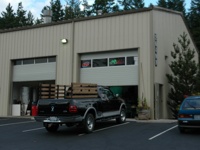 PLACE INFO
Type:
Brewery, Bar
26449 Bond Road NE
Kingston
,
Washington
, 98346
United States
(360) 297-8316 |
map
hoodcanalbrewery.com
Notes:
No notes at this time.
Added by BeerAdvocate
HISTOGRAM
Ratings: 7 | Reviews: 7
Reviews by beertunes:
3.64
/5
rDev
+5.2%
vibe: 3.5 | quality: 3.5 | service: 4 | selection: 3.5
I finally made my first visit to this small brewery on a recent Saturday. Just a few seats at a small bar and about 5 tables, this is a true tasting room, not a pub masquerading as one.
I'd had several of their brews before and, while not in the upper echelon of regional beers, always have found the beers to be fresh and tasty. On my visit I had an ESB, Barleywine and Imperial IPA and found all to be pleasant and enjoyable.
The bartender was friendly and knowledgeable. The owner and brewer were both there as well, and were fun to chat with over a pint.
They sell 12oz, 22oz, growlers and kegs to go. If your visiting the Oly Pen take a few minutes to stop in and have a pint and grab a couple for later.
712 characters
More User Reviews:
3.64
/5
rDev
+5.2%
vibe: 3.5 | quality: 3.5 | service: 3.75 | selection: 3.75
Had a pint and flight of 8 that was all under $20 so a rather inexpensive place. Sort of a small sign by the road so keep an eye out for it. Server was fun and friendly. Kept the place clean and well organized. Rather similar to most breweries in industrial buildings with the big bay door for outdoor seating. Really a decent locale and good people and spot to try a few different styles they have on tap and still close to the Kingston Ferry.
444 characters
3.45
/5
rDev
-0.3%
vibe: 3 | quality: 3.75 | service: 3.25 | selection: 3.5
A: I navigated my way here on a early Saturday afternoon, an hour away from my house out to a rural highway. Walking into a warehouse/industrial spot I spy tanks dead ahead. A turn to the right unveils about six tables decorated with Northwest brewing News papers and a small bar that seats five comfortablly, definietely a locals bar. The tap handles and beer cooler packed with bottles to go was behind the bar. Since I was the out of towner I parked it at a table.
Q: I had previously had the barleywine and honestly i drove out their in serach of, success. It was on draft along with eight other mainstays. My barleywine was great. I took home a growler of Dabob IPA. More to come but I see no quality issues.
S: The lady working was very nice, attentive. Not sure how much beer knowledge she had but the brewer was hanging around the bar so....
S: Good. American Ales ranging from Amber to Bwine. Bottles and growlers to go.
Food, pretzels. While I dont find myself making this trek out here ever again I would recommend this if in the area.
1,050 characters
2.99
/5
rDev
-13.6%
vibe: 2 | quality: 2.5 | service: 4 | selection: 3
Atmosphere : None really. a few tables, and a bar that would look small in someones basement, all in an unadorned warehouse.
Quality : Decent, not great. They did have a Dopplebock on that was just ok, the oatmeal stout was ok I guess, but rather odd and thin.
Service : If you cant get decent service in a place this size you have a serious problem.
Selection : 5 staples on tap, as well as the dopplebock.
Food : Pretzels and peanuts.
Value : $5.25 for a pint of average at best Dopplebock makes this a place I probably wont return to.
To top it all off, one of the customers, who it would appear to be a regular of sorts, could well be the worlds most annoying human being. In defense of the female bartender, she seemed to be even more annoyed at him than I was. This guy was obnoxious enough that I fear he may have tainted this entire review.
Edit 8/2008 Tried Hood Canal a couple of more time since my first review, and nothing much has changed. The beers really are below average, which is a shame. I really hate to rag on a small brewery in a rural area, but Hood Canals beers really need some work.
1,115 characters
3.03
/5
rDev
-12.4%
vibe: 2 | quality: 2.5 | service: 4.5 | selection: 3 | food: 2
Hood Canal Brewing sits just off the main road from Kingston to Silverdale near the turnoff for the Hood Canal Bridge. This is a microbrewery with a tasting room – not a brewpub. Three-fourths of the open, industrial park workspace is devoted to brewing, with a tiny bar and small corridor of tables partitioned off to the side. Though the tasting room enjoys loyal support from the locals, there's little ambiance here to draw out-of-towners. This is not reclaimed industrial atmosphere; this is active industrial. It's not a place to take a date you want to impress. There's no booze or wine and food is reduced to a simple choice: peanuts or pretzels.
Hood Canal's beer quality doesn't make it a necessary excursion in the region either. Of their seven regular ales, only the Breidablik barlewine and the Bywater Bay ESB made strong impressions on me and no guest beers are served at all. House beers would seem to be long term, established recipes and get little seasonal rotation. The barleywine is served all summer long, for example.
All things considered, this is still a real friendly place. They do make a stranger feel at home here and that counts a lot with me. One of the bartenders is a photographer and her work adorns the walls, providing a source of color and conversation. The photos are also for sale. But if you're looking to fill a growler or grab a bomber to go, keep heading towards Silverdale.
1,433 characters
3.84
/5
rDev
+11%
vibe: 4 | quality: 3.5 | service: 5 | selection: 3
I made this a must stop over Super Bowl Weekend February 2006. The power was knocked out by a powefull wind storm the previous 2 days and the effects were still lingering. The brewery and the tasting room are all one big space in the middle of an industrial park, next to a paint shop. No frills, flourescent "Open" sign, and a small Hood Canal Brewing sign on the door.
There is something to be said for simple and down home type atmosphere, relaxing, unpretentious, comfortable. When you walk in you can see where all the brewing magic takes place literally yards ahead. To the right there is a few tables and a short kitchen style bar. A worn down Nascar tire sits up on a shelf. Apparently it was used for a practice run by some racer that I can't remember. Someone will eventually fill in this story. No food is served but you can order and have it delivered or just bring what you like.
Most of the beers were on the light end of the scale. For instance the Oatmeal stout was like a copper color and super easy to drink, not a hack by any stretch. This could be a nice place to take someone with a delicate palate. I really enjoyed the porter and the barleywine was decent. I wasn't huge on the beer but you gotta take into consideration this place probably doesn't give a crap since they remain so busy filling kegs and distributing locally that they can't even take time to brew seasonals very often. I talked with Don today and asked when the next dopplebock would come out, and he said since its a seasonal they would only get to it again if things slowed down. Busy, Busy. Selection was modest, 6 staple beers are a Pale, IPA, Amber, Stout, Porter, Barleywine. All of which are tame but tasty.
This is the type of place you just wanna grab a table and hang out w/ the boys and shoot the shit w/ the brewer with out battling loud music, annoying ambiance, tons of women cackling, etc.
Prices were fair, Growlers seemed to be the best deal not only for price but they have a deal where you by "X" amount and get one free.
On this particular Saturday the bartender was a charming lady that served us till our hearts content.
2,145 characters
3.64
/5
rDev
+5.2%
vibe: 3.5 | quality: 3.5 | service: 4 | selection: 3.5
I figure since I got all up in jreitman's piece about adding the Hood Canal Brewery as a beer bar that I ought to actually review the damn thing as well. Kitsap County is becoming a decent place to go beer touring if you've got an afternoon to spare. Hood Canal Brewery is a decent place to stop in and check out while you're doing it. Located halfway between Poulsbo and Kingston on a frequently traveled highway (307), it's a convenienet stop when you're either on your way from or to the Kingston/Edmonds ferry.
Atmosphere: This is a production brewery in a small industrial park that has had about 1/4 of its space turned over to beer bar. Walk in and there are maybe 8-10 tables for four, along with a small bar that would seat maybe five or six. It's as charming as drinking in a warehouse because, well, you're drinking in a warehouse. That said, the people are always friendly and there are free pretzels. How can you go wrong?
Quality: This is a small brewery that has had some consistency issues in the past. That said, I've not had any issues with their beers the last few times I've had them. I happen to enjoy the amber quite a bit in the summer, and their Big Beef Stout is atypical, but I'm still quite fond of it. BeerPanther can't get enough of the Breidablik Barleywine, so I picked up a couple of bottles to have polskapanda take back to him while she was out this way (that, and I had the guy who brewed that batch autograph the bottles, simply because I thought it was funny).
Service: I don't know what to say here. It's a small place, and you get your beers quickly. All the people behind the bar actually work in the brewery itself, so they know pretty much anything you might want to know. Don Wyatt, the brewer, is also there on a regular basis and is always more than happy to answer any questions you might have.
Selection: My only complaint with Hood Canal is they don't do any seasonals. They have a regular selection of IPA, special ale (which is supposed to be a wheat of some sort), porter, red, stout and barleywine. I'd like to see a wee heavy or an imperial stout, etc. But that's me.
Value: Not as inexpensive as I'd like, but still a decent value. Pints are $2.50 (I think), growlers seemed to be relatively inexpensive. About my only complaint would be that I think the bottles cost too much. I can actually buy Hood Canal beer cheaper at Central Market than I can at the brewery.
Check this place out. If you lived in Kingston/Poulsbo, it'd be a great place to come regularly for a pint. If you live in Kitsap, it's a fun place to stop in at every once in a while. If you are coming from parts beyond, I highly recommend a pint or a sampler here while you make a Kitsap Co. brewery tour.
2,745 characters
Hood Canal Brewing in Kingston, WA
Brewery rating:
3.24
out of
5
with
92
ratings