Whistle Binkies on the Lake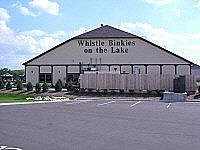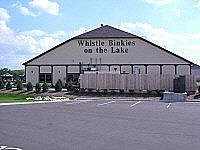 Bar, Eatery
247 Woodlake Drive SE
Rochester
,
Minnesota
, 55904-5530
United States
(507) 424-1227 |
map
whistlebinkiespub.com
Notes:
Reviews by FightingEntropy:

4
/5
rDev
+2.8%
vibe: 4 | quality: 4 | service: 4 | selection: 4 | food: 4
When the first Burton Ale from Schell's came out in a Budweiser glass, I thought that I was at the same old WBL. However, besides that the Burton Ale was extremely good, it was well served and was in great condition. Head was a little thin, but not unexpected at a bar not catering to beer geeks, or it could be the beer as much as the bar. Next, I had a Lagunitas Sucks (yes, that's the name) holiday ale from Lagunitas that I guessed to be a Belgian IPA while tasting it, but BA has it listed as a Double IPA. Either way, it was a very good beer and served in a tulip glass with a nice head. Very pretty in the glass and very tasty. As the afternoon was waning, I ordered one last beer: Odell's Bourbon Barrel Stout on draft. A nice beer to sip to finish the afternoon of chatting. However, the three strong taps took their toll, so those of us left ordered dinner.
I referenced several vegetarian options in the old review, but I don't remember what they were and I definitely don't remember having a veggie burger option last time. At any rate, I tried the veggie patty (black bean burger, I think) as The Bourbon: bourbon glaze, swiss cheese and sauteed mushrooms. Excellent. WBL does burgers that way I wish a lot more places would do it--just offer a veggie burger option with a range of choices. Eight burger choices work with the veggie patty after eliminating the two bacon laden alternatives. Since the burger was enough (calories), I skipped the fries and had the very acceptable coleslaw instead. A testament to the mix of clientele that WBL must cater to in Rochester, there is also a low carb option of no bun and no potatoes.
Rochester is a unique place with an incredible range of people for a small town, and WBL seems to have adapted to both the changing beer tastes as well as offering a range of food options to match the diversity. While I was struggling in 2006 to find a solid craft beer served well, now the beer list kept me entertained for an afternoon and I left some on the menu to try another day. Their beer menu has clearly skewed towards the hoppy end of the spectrum, but they seem to be selling enough of it that the Lagunitas Sucks was fresh and clean even though this seasonal has been on the market for a while. With a veggie burger that I'd return for to boot, Whistle Binkies on the Lake has definitely left me happy that I was able to give them a second chance for a new impression.
Sept 2006 Review
Brand new building on the south side of town. Odd though that the sign is actually on the back of the building facing the freeway. I get why, but not a very pretty building. It's big and monolithic, especially from the front since there is no sign on a blank side except a very small one on the door frame. Neat and clean, feels sorta like a small town country club next to a golf course.
Both Whistle Binkies(Scottish name according to the menu history) are billed as Scottish (English/Irish???) pubs, so the food includes Fish and Chips, Scotch Eggs, Bangers and Mash besides the standard bar food appetizers and burgers. I only had Loaded Potato Skins (w/o bacon--vegetarian), which were fine, a bit bland and underdone, but good. Unlike most sports bars, there were several vegetarian selections, including a pasta special for the day. A bit more enlightened than normal and wish I had been there for lunch to give the special a try.
The beer list is the real selling point. Thirty tap lines from Grain Belt to Erdinger Hefeweizen, and local favorites Summit, Finnegan's, and Rush River. There's the option of a sampler of six beers for five bucks--good price for four ounce samples. I counted about 160 bottles ranging from Smirnoff Ice to Triple Karmeliet, and a lot in between from all over the U.S. and every major beer country. Great place to go for variety when Rochester boasts no brewpubs or other extensive beer bars (that I know of) except O'Neill's Pizza Pub and their own Olde World Pub. Which compared to the other Whistle Binkie, I prefer the new one over the old. Beside the fresh clean feel, it seems a bit more upscale and the menu is a definite improvement over the Olde location--I think I had onion rings there as one of the only veggie options. On the Lake is a bit more TGIFridays.
Overall, it's a nice place that I'll go to again. My Anchor Steam didn't seem to be 100% but the Summit Scandia was good, though still not as good one I had in the Twin Cites a few days ago. I'm a bit of a beer bar skeptic when they have so many, scared of old beers sitting around that the Miller Light and Jagermeister crowd just don't get around to drink, but my initial tastings seemed to be ok. I didn't drink any bottles, so that eval will have to wait for another trip. With whatever reservations mentioned or implied above, it was nicer and better than I expected walking in the door. Worth a try.
4,863 characters
More User Reviews:
4.33
/5
rDev
+11.3%
vibe: 3.75 | quality: 4.5 | service: 4.25 | selection: 4.75 | food: 3.5

3.65
/5
rDev
-6.2%
vibe: 3.5 | quality: 3.5 | service: 3.5 | selection: 4 | food: 3.75
Great beer selection especially when it comes to imports. They have a decent tap selection 20-30...not a lot of highly desirable beers interms of rarity, but good quality everyday taps. Their food is above average for a bar and the atmosphere is decent. I enjoy spending time at this bar with my friends and is a must visit if you are in Rochester Mn, AFTER you visit the Tap House that is
389 characters
3.89
/5
rDev 0%
vibe: 3.75 | quality: 4 | service: 3.75 | selection: 4 | food: 3.75
Nice selection of tap beers and the food has always been good too. Good specials on various days, make your own bloody on Sundays for example.
Really a nice place in the summer, lots of patio space, volleyball courts.
Have been to a couple of good "events" here as well, special tappings, etc.
293 characters

4.08
/5
rDev
+4.9%
vibe: 3.5 | quality: 4 | service: 4.5 | selection: 4
I finally stopped in to Whistle Binkies while in Rochester by myself for once after dropping someone off at the airport. The place is sort of a pain to find if you don't have an idea of how to get there, but I had time to kill and a pretty good sense of direction.
It looks....unattractive to the beer minded. Very old man, imitation ski chalet sort of on the outside, dimly lit on the inside. The bar is huge, I'm guessing it seats 50 or 60 people, and there's also tons of tables. It wasn't empty, but wasn't crowded either, and I got service pretty quickly. The tap list is about 30 beers long and printed on a menu, along with the VERY impressive bottle list.
The beer was served at a good temperature, if maybe a little cold, tasted fresh and soap free. It was a shaker pint, but that's about as good as I was expecting. The tap selection was impressive, at least for the area, and boasted Sierra Nevada Celebration, Erdinger Hefe, Bell's, Rogue, and a host of others I was happy to see, though nothing mind blowing. The bottles included something from just about every desirable brewery available in Minnesota from what I could see. They even had a $2 mystery beer that was all craft/craft import, which I saw people pull out Sam Smith, Schell's, Lake Superior and Young's while I was there. A good deal for sure.
This is definitely a place I will go back to with the wife.
1,382 characters

4.18
/5
rDev
+7.5%
vibe: 4.5 | quality: 4 | service: 4 | selection: 4.5 | food: 4
If I had a choice on which Whistle Binkies I would visit in Rochester, the On the Lake location is the one I'd choose. They've pretty much fixed all the problems associated with the World Pub by creating a facility capable of housing mass amounts of people. Situated on a "lake" (man made) there is plenty of seating inside and outside. Since it is on a "lake," I believe it is stocked with a few fish and I believe you are welcome to bring your fishing pole. They have a beach on which you can hangout on, tan and play bean-bag toss. They also have a fire pit outside for those colder nights. The service is good; many of the servers are friendly and quick. The bartenders seem to know what they are talking about, and are always happy to offer advice. The selection, as with the World Pub, is the best part about this place. They have over 20 taps, again NO Miller Lite, Bud, etc. An extensive beer book is available with beers from all over the United States and around the world. They get new beers in once they are released and either feature them on tap or in bottles. Great specials are available every day of the week (Monday is the best IMO because it is "Mystery Beer Mondays in which you can draw name of beers out of a hat...for $2.00) The food is good; this is more like a restaurant with an awesome beer selection. They have salads, burgers, sandwiches, soups, steaks, pasta, etc. Everything they have there is offered at a very reasonable price. The only down side to this place is if you are not a native of Rochester and not familiar with Rochester, it is a little tricky to get to. But all in all, this is an excellent bar/restaurant and worth checking out if you come to visit Rochester. If you live here, you should already know about it.
1,758 characters
3.8
/5
rDev
-2.3%
vibe: 4 | quality: 3.5 | service: 3.5 | selection: 4.5 | food: 3.5
I visited this place with some coworkers for an informal happy hour while in Rochester on business. I was impressed with the wide selections of brews incuding reginal selections and some rare/new ones to my palate.
The atmosphere has a sports bar/steak house kind of vibe with large wood tables and glossy bar.
Service was medicore, it was really busy, our server did ok, but not the best considering the circumstances. Bartenders were prompt if yoou went to the bar directly.
Food was satisfactory, but not outstanding. Sports bar like menu. TVs, beer variety and free popcorn add to anything that may be lacking. One of the better beer locations in Rochester in my opinion. Top 5 maybe, but definetley does not beat Newt's or Sontes.
738 characters

4
/5
rDev
+2.8%
vibe: 4 | quality: 4 | service: 4.5 | selection: 3.5 | food: 4
This easily the best place to get a beer in Rochester. They have around 30 beers on tap, which include Golden Monkey, Tripel Karmeliet, and many local micros from Wisconsin and Minnesota. There bottle list is quite extensive. There are easily over 100 different kinds of beers to choose from and I've noticed from sitting at the bar that there are several brews in the cooler that are not even listed in their beer menu such a New Belgium selections, and several Rogues.
Food is quite good and moderately priced. Lots of TVs and free popcorn make this a good drinking environment. It's very busy around the dinner hour, but settles down around 9 or 10 when one should make their visit if just to try some new beers.
Impressive inventory. Kwak Belgian Ale in 12oz bottles, Rogue Chocolate Stout in bombers, nice selection of Unibroue's, and plenty of tap beers that you won't get anywhere else in town.
If you want a beer and some pub food in Rochester, this is the place to be!
980 characters
3.43
/5
rDev
-11.8%
vibe: 3 | quality: 3 | service: 3.5 | selection: 4 | food: 3.5
My girlfriend suggested this place the last time we went to Rochester. Getting to it was somewhat of a hassle from the 52, especially for someone not from the area and still getting used to driving in the snow, but when we finally got there there was no way to miss it. As other reviewers have noted, this building is ugly. Inside, thankfully, it is a little better. Sort of a combination between a quasi-European style tavern and a sports bar. Only bigger. Large bar with seating for probably around 25-30 and a huge dining area. There are televisions everywhere almost all on a different sports or news station.
We seated ourselves and our server was there almost immediately. We looked at the beer menus and this was the main selling point. The tap selection looked to be around two dozen different taps, none too impressive. The bottled selection, however, was huge. Probably around twelve pages in all, sorted by origin. Most of the stuff was American micros, with obviously a ton of Midwestern breweries represented along with a few from Colorado and a handful from the East Coast. The West Coast was sadly very slim including about a half dozen in all, mostly Rogue and Sierra Nevada. The import selection was decent with a good selection of English and a decent number of Belgian and German imports.
I finally decided on a Samuel Smith nut brown and my girlfriend opted for the Victory Golden Monkey. Our server was great and seemed fairly knowledgeable on the subject until... he brought us our beers, sans glassware. We walked up to the bar asking for glasses and returned with nothing but pint glasses, acceptable for my Sam Smith's but hardly fitting for her Tripel. Our food came shortly after and it was very average pub fare, but like I mentioned their selling point is definitely the selection.
All in all, not a bad place for a quick lunch in Rochester and an excellent selection for southeastern Minnesota, but nothing special.
1,948 characters

3.18
/5
rDev
-18.3%
vibe: 3 | quality: 4 | service: 3 | selection: 2.5 | food: 3
To start out, the name "Whistle Binkies on the Lake" is a bit misleading. It is Whistle Binkies, but calling the body of water in is on a lake is a stretch. The DNR states that there are 11,842 lakes of 10 acres of more in the state of Minnesota. However, Olmsted County is one of only four counties in the state that has no natural lakes. The "lake" that Whistle Binkies is on is actually a perfectly rectangular retaining pond.
The photo on this site does not do justice to the gaudy awkwardness of the building. I assume it is supposed to look like a Scottish tavern. In reality, it is too big for its design, and far too big to be considered European in style. It sticks out unharmoniously from its surroundings. It is ugly. The inside is quite a bit more pleasant on the eyes than the outside. There is a lot of dark wood all over the place. The bar is long and L shaped, and probably seats two dozen. There is a lot more space in this Whistle Binkies, than there is in the other location. There TVs everywhere, giving it almost a sports bar feel. There is a large patio in back with a volleyball pit for nice summer days.
Whistle Binkies is known my most to have the best beer selection in Rochester. I disagree. They have thirty taps, and twenty nine of them are regularly devoted to beer from either Schott Distributing (Anheuser Busch), or Northern Beverage (Miller/Coors). The problem with this is that the only real craft beer carried by Schott and Northern are Summit, Sierra Nevada, and Unibroue. I like Summit and Sierra Nevada, but you can find those beers almost everywhere in Minnesota. As for Unibroue, Whistle Binkies only puts them on taps once every blue moon (which happens to be on tap all the time). So Whistle Binkies tap list consists mostly of the Bud/Miller/Coors family of pseudo craft beers, along with the Diageo family of pseudo craft imports. If you want to go to a bar and see both Bell's and Victory on tap Whistle Binkies isn't the place. Bell's and Victory are both Hohenstein, and they only devote one tap to none Schott/Northern beers. One good thing I can say about their taps is that I have never noticed anything in the beer that would lead me to believe there was something wrong with the lines. Their bottled selection is only slightly better than there taps selection. Most of the offering still being B/M/C/Diageo, but there is at least of Bell's, Victory, Ommegang, and New Holland. Their Belgian selection is at best mediocre.
Service is consistently average. I've been in dozens of times and cannot recall the service ever being fast or slow. It is always just average. Server and bartender knowledge about the product is lacking. I have been brought the wrong beer two to three times. It has always been something from the same brewery, but not the beer I ordered. I usually order bottled beer when I go here, because of the aforementioned tap selection. I used to order the beer hoping they would bring a glass out with it, and ask for one if they didn't. They rarely did, so now I just tell them I want a glass from the start. The glassware they have is adequate for the beer they serve. Albeit, most of their offerings don't require special glassware, they do serve their Belgian style beers in Unibroue glasses.
The food falls somewhere between Applebee's and Green Mill. The menu is large for a bar, but quite homogenized. They do have nice burgers, and I have heard good things about their walleye from a lot of people. Still, I am not so fond of the food that I would go there just to eat. However, I am not hesitant to order something if I get hungry while having a couple beers.
Overall, I don't consider Whistle Binkies a real beer bar. The tap selection rarely changes, and I have no desire to pay bar prices for bottled beer when the food served with it is average. The population of Rochester is over one hundred thousand, and is in need of a real beer bar devoted to serving a variety of craft beers on tap, and with a unique menu. This isn't that place.
4,023 characters

4.53
/5
rDev
+16.5%
vibe: 4 | quality: 4.5 | service: 4.5 | selection: 5 | food: 4
this is a great big place in comparison to the other one in town there is a huge bar area and a great selection of beer both on tap with 30 lines and a huge selection of bottles over 200 different beers so if it dose not win hands down on that there is its very reasonable price on most beer $2 to $5 on tap and $2 to $10 on bottles depending on what it is service has always been good no complaints there the food is good most of the time it can be hit or miss the atmosphere is what is to be expected of a beer bar i think lots of sighnage and brewry style art work over all a nice place to go and enjoy a good beer with freinds
630 characters
Whistle Binkies on the Lake in Rochester, MN
Place rating:
3.89
out of
5
with
13
ratings