Hop Diggidy IPA
| Port Townsend Brewing Company
BA SCORE
83
good
40
Reviews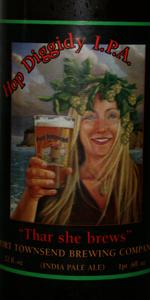 BEER INFO
Brewed by:
Port Townsend Brewing Company
Washington
,
United States
porttownsendbrewing.com
Style:
American IPA
Alcohol by volume (ABV):
5.90%
Availability:
Rotating
Notes / Commercial Description:
A classic NW style IPA, Hop Diggidy has a smooth pale malt background and a full round hop profile. Dry hopping insures an aromatic and lasting hop finish. Our best selling ale.
Original Gravity (OG): 1.060
Terminal Gravity (TG): 1.015
International Bitterness Units (IBU): 70
Added by RedDiamond on 07-23-2006
Reviews: 40 | Ratings: 73

4.5
/5
rDev
+23.6%
look: 4.5 | smell: 4.5 | taste: 4.5 | feel: 4.5 | overall: 4.5
Bomber into an impy pint, Hop Diggidy is a hazy golden blonde with a large, frothy off-white head that leaves heavy lace. I like the lighter colored IPAs.
Smell is fruity and floral, bubblegum and wildflowers, a nice herbal mintiness. Softer, but complex and very appetizing.
Taste is nice and fresh, full of hop flavor, sweet but not cloying, not too bitter with a nice cereal backbone. Really a nice IPA, big flavor without being to aggressive, each sip begets another until the bomber disappears in a hurry. The fruitiness was really nice, great IPA.
Mouthfeel is oily, dry and medium bodied. I appreciate that it's fuller in the mouth then the stomach.
Drinkability is good, this goes down really easily, my kinda of IPA for sure. A good value too, wish I didn't have to go to WA to get these. Wish my fridge was full of them tonight!
846 characters

3.8
/5
rDev
+4.4%
look: 4 | smell: 4 | taste: 4 | feel: 3 | overall: 3.5
pours a cloudy amber-orange with thin egg-shell head, good lacing.
smells of grapefruit hops, some caramel, some floral, citrus, dandilion.
taste is thick, some grapefruit, some orange, caramel, some pine, malt in the back, nice bitterness that grows as you drink.
266 characters
4.2
/5
rDev
+15.4%
look: 4 | smell: 4 | taste: 4.5 | feel: 4 | overall: 4
Appearance: Slightly pale amber. Little head. Tinge of cloudiness.
Smell: Intense gapefruit, orange, lemon aromas.
Taste: Well the bitterness is definitely at the forefront. Tangy and full of fresh fruit flavours. Obviously citrus is predominant. Slight sweetness at the end. Classic PNW style.
Mouthfeel: I'm not sure how to rate this since I opened a 3 day old growler. For what was poured in my glass, it was great. The carbonation wasn't over the top. I just wonder if it is different straight from the tap. Slight alcohol burn after it has gone down.
Drinkability: Well based on taste alone, I would rate this as a greatly drinkable IPA. Great aroma from the dry-hopping and the flavours are spot on. Since the alcohol is nowhere to be listed, I'm not sure about sessionability. I would guess it's around 6% so this growler will take some work.
Overall: I was surprised by some of the reviews passing this off as "average". I found it to be full bodied, aromatic. drinkable and well-balanced with the sweetness at the end.
1,033 characters
3.79
/5
rDev
+4.1%
look: 3 | smell: 4 | taste: 3.5 | feel: 3.5 | overall: 4.5
This was pretty disappointing, but overall a pretty good standard American IPA.
Not too much to note, except for a good pine hop aroma. Like drinking a wreath.
Good summer beer, but didn't excite my tongue. Good clean mouthfeel. Easy to drink. Pretty overpowering bitterness at times. It built up on my palate and made me want to stop drinking at times.
353 characters
3.47
/5
rDev
-4.7%
look: 3 | smell: 3.5 | taste: 3.5 | feel: 2.5 | overall: 4
Appearance is a dark golden in color with a good healthy head. Smell is dominated by hops and citrus. Taste is not a big IPA, would make for a good summer beer with the lighter malt and not an overpowering hopiness and thinner in the mouthfeel. I think of it as an IPA light.
275 characters
3.2
/5
rDev
-12.1%
look: 3.5 | smell: 3.5 | taste: 3 | feel: 3.5 | overall: 3
Big hop aroma, mostly citrus aromas but with some pine & resin hop aroma mixed in. Malt aroma is faint but smells like light crystal malt.
Golden colored but pretty cloudy. Starts with a big head with huge bubbles and fades to a small white layer. Some lacing in the glass.
Initial flavor is hop oil bitterness but not really strong. Then I get malt but also not a strong malt flavor. The follow up is nice hop flavor with citurs and woody varieties. It's pretty good but none of the flavors seem very strong. It just seems a little lacking in character to me.
Medium full bodied with a pretty high carbonation level.
Nothing about the beer is strong or hard to drink so it is pretty drinkable. But it jsut doesn't have anything that makes me want to get it again over most beers in the category.
801 characters
3.7
/5
rDev
+1.6%
look: 4 | smell: 4 | taste: 3.5 | feel: 3 | overall: 4
Bottle courtesy of acertain, (ratebeer) thanks again!
Pours a hazy bright gold color, with a small white head.
Aromas are very citrus like, grapefruit, and some pine notes.
Taste hop dominant, with a slight malty back drop. Pine hop bitterness, tart, and tangy. There is a sweet creamy malt flavor that while is there, the malt profile seems a bit thin.
Mouthfeel is OK. But seems a bit watered down, and kind of weak. Not bad though.
Drinkability is good. Not a great IPA, but a solid easy drinking one in my book.
520 characters

3.02
/5
rDev
-17%
look: 3.5 | smell: 4 | taste: 2.5 | feel: 3.5 | overall: 2.5
A: Pours a cloudy orange color with lots of floaties in it. Large 2 finger width frothy white head, good lacing down the glass
S: Nice hoppy, citrusy smell. Also some ETOH scent
T: Not balanced at all, hops, hops and more hops. I like hoppy beers but this gave me bitter beer face bad.
M: Medium bodied, high amount of carbonation
D: As I said I love IPA's but damn, they could have balanced this one a little more. I could hardly choke this one down. My tastebuds are destroyed.
479 characters
4
/5
rDev
+9.9%
look: 4 | smell: 4 | taste: 4 | feel: 4 | overall: 4
Poured from the 22oz bottle into a pint glass. Body is a slightly cloudy golden color, topped by a small, creamy, stark white head. Aroma of sweet bready malt, sharp bittering hops, and just a touch of astringency. Palate is well-balanced between sweet, biscuity malt and moderately bitter floral hops. Finish is smooth and a touch bitter from the hops. Not a hop monster, but a solid IPA. Body is quite nice, a light creamy texture that keeps the beer from finishing too dry. Not sure how much alcohol is in it, but I think I could drink this all day.
552 characters
3.43
/5
rDev
-5.8%
look: 4 | smell: 3.5 | taste: 3 | feel: 3.5 | overall: 4
thanks to skyhand for sending this my way.
Pours a very hazy orangey amber color with an initial one finger white head. Froth dissipates rather quickly leaving a nice algae like skim on top. Sort of looks like a drawing of the sun. Nice sticky line lacing down the glass. Sweet flowers and slight fruit hop notes. Light and subtle aromas. Not much malt characteristic.
Smooth and quite subtle on the palate. Fruit and floral hop flavors aren't very heavy or biting but just enough to allow the palate to discover them. Melon fruits with touches of grapefruit and pine notes in the background. Bitterness slides in and levels off nicely in the finish. Aftertaste of slight fruit and toasted grain notes. A nice and easy quaffing beverage from the great northwest. Not overly bitter--just nice enough.
806 characters
3.67
/5
rDev
+0.8%
look: 3.5 | smell: 4 | taste: 3.5 | feel: 4 | overall: 3.5
Picked this bottle up at 99bottles in Federal Way. The bottle I bought has a smiling lady with a crown of hop adorned vines and a hop necklace holding up a pint glass of ale. The name is Hop Diggidy.
A - A hazed light golden amber w/ a thin 2 finger white head. The lace sticks quite well and there is a fair amount of it.
S - A sweet and perfumy scent of herbal hops stands out right away. Pine cones and a citrus tangerine-like scent are the most noticeable in a host of hop odors.
M - Bitterness follows sweet pale malt flavors. A varied blend of bitter and a tangy finish w/ a nice full carbonated middle.
T - A host of hop flavor is represented in this ale: grapefruit, pine, tangerine and some herbal flavors. The hops get prickly and pine needle-like as the effervescence recedes. A pleasant malt taste fades into a bitter bite. The malt is a subdued flavor and adds only a skosh of sweetness.
D - A full on bitter brew which would appeal to hop heads. I am not that big of a fan of acid which builds in this ale after a full sampling. A decent example of the style, but I would prefer a bit more malt to support the ample hop flavor and bitterness. The nose is nice w/ floral hop notes. I would sample a Hop Diggidy again for sure.
1,256 characters

2.45
/5
rDev
-32.7%
look: 3.5 | smell: 3.5 | taste: 2 | feel: 2 | overall: 2
06/26/07- Purchased at Bottleworks in Seattle, WA.
Presentation- 22oz bomber with no freshness info listed. Poured into a standard pint glass.
Appearance- Pretty clear amber-golden colored pour. 1/2 inch head forms and fades quickly. Leaves light trails of lace behind.
Smell- Bits of pine needle and bits of grapefruit. Maybe a touch of toasted malt, but not much.
Taste- Hop bomb, well, not a huge hop bomb, but drastically unbalanced. Hops are pine flavored, rather than fruit flavored and pretty damn bitter. Mix that will no malt and you get, not a very tasty and satisfying beer.
Mouthfeel- Bitter flavorless aftertaste with a higher carbonation level.
Drinkability- Not the worst IPA, but needs some serious help in the malt dept to make this drinkable.
778 characters
3.42
/5
rDev
-6%
look: 3.5 | smell: 4 | taste: 3 | feel: 3.5 | overall: 3.5
Bought at Red Apple Market in Silverdale, WA.
Pours hazy light copper. Fizzy head.
Smells of pine needles, orange peel, caramel and grapefruit.
Dull/vegetal cascade hop flavors upfront (orange, grapefruit, and some floral qualities). Harsh bitterness.
Decent IPA there are some qualities that I found to detract from the whole experience.
353 characters
3.43
/5
rDev
-5.8%
look: 4.5 | smell: 4 | taste: 3.5 | feel: 3 | overall: 2.5
This is the ONLY IPA other than Blue Dot that I've seen that has been quite literally opaque with hop particulate. It's almost like an unfiltered cider.
Carbonation is visible, but there is very little head at all, and what forms on the pour fades just as quickly.
The smell is very pungently full of grapefruit, overpowering all else.
This is hands down the single most hop-filled beer I have ever tasted, even more out there than Blue Dot. The start is a fresh, wet-hop flavor of cedar and pine, which is absolutely blasted away with grapefruit, finishing with a small bit of astringency and a healthy wallop of bitterness. Bitter almost to the point of being sour, this is a beer completely dedicated to the flavors of the hop, almost completely ignoring any malt flavors. I'm sure they exist, but there's no way I can taste them through all this citrus.
Mouthfeel is a bit thin, and very drying. A bit more malt would have helped balance things nicely.
I absolutely love this beer and all its hoppy intensity. That said, it is so intensely bitter and hoppy that I'm going to have to take my time just to finish this 22oz.
1,138 characters
3.84
/5
rDev
+5.5%
look: 2.5 | smell: 3.5 | taste: 4 | feel: 4.5 | overall: 4
A limited release IPA, I'm told it's an imperial but couldn't get any specs on it to back that up and it didn't taste particularly potent in the alcohol department. Mine was pumped from one of PT's two active beer engines. I may have gotten a pour from near the bottom of the cask as my server had a hard time drawing up enough beer to fill the glass and the pint I got was full of large yeasty chunks floating about. But that's okay. Although it makes the beer look a bit sludgy, I like yeasties and was in need of B-vitamins that day. The larger flocs dropped to the bottom of the glass while smaller ones stayed suspended.
All the customary properties of a good cask pour were present. I got a fine, soapy head with gripping lace and a soothing, dressed-down mouthfeel. Nothing suggestive of dry hopping made itself known to me. The aroma was an agreeable mix of yeast and hops while the flavor served the style very well with a wilted (in the best sense) hop character. Yellow-gold, medium bodied, clean finishing and easy drinking. I found Hop Diggidy far more agreeable than PT's Bitter End IPA.
Followup: I spelled it wrong. It's "Hop Diggidy", with a "d". ABV=6.3%
1,185 characters
Hop Diggidy IPA from Port Townsend Brewing Company
3.64
out of
5
based on
73
ratings.