Port Townsend Brewing Company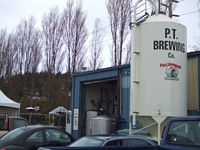 PLACE INFO
Type:
Brewery, Eatery
330 C 10th St
Port Townsend
,
Washington
, 98368
United States
(360) 385-9967 |
map
porttownsendbrewing.com
Notes:
No notes at this time.
Added by BeerAdvocate
Reviews: 11 | Ratings: 14
Reviews by Hobbz:

4.5
/5
rDev
+15.1%
vibe: 4.5 | quality: 4.5 | service: 4.5 | selection: 4.5
Lowdown: That special, amusingly tiny hideaway where perhaps no one style rules but rather where all offerings are sublimely fresh, patrons and staff are nice, and the whole "gestalt" of the place makes all beer taste even better...
Port Townsend, the place – as a worthy vacation stop recommendation on its own I owe gratitude to a particular favorite downtown Seattle bartender; wise to know of great beer to be had I must foremost thank an old east-coast New England friend and his wife who spent approx. 2 years outside Seattle, and who made a journey up that way an absolute must. My fondness for "the tasting room" has led me back with each new trip out to the NW (now 5 times a customer). Gotta refresh those growlers!
This place is pretty darn small – though proprietors Guy and Kim Sands have much expanded the outdoor garden area with a bandstand, extra seating, heating units and torches, etc. Inside, perhaps 12 patrons can manage seats at the bar direct, with more seating and standing room around the perimeter railing. But on tap are quite an amazing choice of draft offerings (they've also considerably expanded what's 'on tap' since their fledgling two styles when they first came online in 1997, since migrating from a 7 bbl to 15 bbl system). The last two occasions featured several styles of IPA, two stouts (a dry and nitro) and a nice winter ale among others. As you sip, peanuts are the staple accompaniment to the beer (and the floor – or footware as my sandals discovered, discarded by the local next to me as I was chatting away with him). And they do wisely provide samples and tasting trays.
When my friends first brought me up this way and turned into what looked like a tiny strip mall before reaching true downtown, I chuckled even more as we pulled behind what looked like a closet space – the house brewery door ajar with a conditioning tank and various equipment taking up near every inch. Once inside, lingering my vacation away, we did have "work" to do (we were making a loop around Puget sound, with another brewery-first for me ahead – Diamond Knot in Mukilteo awaiting next). So eventually it was departure time and decided to fill up a growler (of stout) for me to take back east. Didn't manage to get very far with it, though, as it was emptied promptly on the ferry ride over the sound before reaching on next, also highly worthy place!
So, all in all a unique, cozy place, laid back (like Thomas Kemper in Poulsbo was – R.I.P.). Just love it. Note: There is also the Water Street Ale House just downtown, making a P.T. visit even more worth-while.
2,620 characters
More User Reviews:
3.75
/5
rDev
-4.1%
A basic tasting room, located in the working dockyard of Port Townsend. They mostly feature their own brews, obviously, but sometimes bring in guest taps. The staff is friendly, and the clientele mostly regulars and locals. No food on site, except for some snacks, but you can bring in outside food.
Bottles and growler fills are available to-go, as I suspect kegs are. Located on the far end of the main drag in downtown PT, it's not close to the shopping that the town is noted for, but is near a very nice little bar called the Pour House. There is a water side trail that will take you into the boat yard, just be alert to all the active traffic.
PTB is a must stop when you visit the Oly Pen. Either as a destination, or on your way out to the Olympics or shore.
770 characters
2.7
/5
rDev
-30.9%
vibe: 3 | quality: 2.5 | service: 2.5 | selection: 3
On a Sunday afternoon, I was in Port Townsend to check out the architecture and such that I had read about on Wikipedia. At the grocery store I learned that this brewery across the street. Building was a sort of dingy place, very low lighting and the bar maid made it seem like she didn't want to be there. I tried a sampler and thought their beers were average at best, their darks lacking a malty wholesome goodness and their IPA being run of the mill. Maybe it was a bad day but I was not at all impressed with this place, and considering its remoteness to other urban areas most likely won't be back again.
610 characters

3.16
/5
rDev
-19.2%
vibe: 2.5 | quality: 2 | service: 4 | selection: 4
I'm really kind of surprised that the reviews are this good on this place. Been here maybe 3 times. Atmposphere is ok, its located in the PT boatyard but there is nothing special about the taproom itself, kindof a small place with really no view or anything. I've had all the PT beers and for the most part I would say they are pretty sub par. They do seem to have quite a good selection of beers though. When i was there last they had 2 IPA's both of which i didn't care for. The winter and scotch ale were full of diacetyl. The porter and barleywine were pretty solid however. Service was alright from what i can remember every time i have been there. I would say this place is just ok, wouldn't go out of my way to visit here but if you are in the area they have a quite a selection to try so maybe you might find something you like.
836 characters
3.58
/5
rDev
-8.4%
vibe: 3.75 | quality: 3 | service: 3.75 | selection: 4
A: Pretty cozy place with a small L shaped bar, a long bar table in the center with plenty of seating. Holds 44 people if I recall. Friendly people, locals mainly. Pretty relaxing and quiet
Q: Had the porter, bwine and winter warmer and all were average. They all seem to lack body and character.
S: Guy behind the bar was nice and prompt. No issues
S: It looks like they had about 12 beers on, two seasonals including the winter warmer and bwine
F: Did not have food, did not see a menu
Very good stop if in the area, no other beer stops in Pt townsend that I saw
569 characters

4.3
/5
rDev
+10%
vibe: 4 | quality: 4.5 | service: 4 | selection: 4.5
Yes it is in a boat yard complex but it is easy to find by car as it is across from the Safeway. The brewpub is really a place to have some beers and hang out not to order up a nice meal to go with it. The servers are friendly and the atmosphere is relaxed and full of lots of regulars either in the bar of walking in to fill their growlers. You could go into the garden to drink outside if the weather is nice.
Ordered the taster set and they brought a tray with 13 beers. Ranging from golden ale to barley wine and DIPA. Almost were excellent and the barley wine was so good I had to buy a bottle. Had their beers in bottles about 5 years ago and I must say they have improved.(They were pretty good then). The new IPA is first class and they do a great porter and stout.
Pricing was reasonable and the Safeway across the street also carries a good selection of their beers at the same price as the bar.
907 characters
4.3
/5
rDev
+10%
vibe: 4 | quality: 4.5 | service: 4.5 | selection: 4
Finally getting around to reviewing one of my old standby places.
First off,Port Townsend Brewing is probably the friendliest bar on the Olympic Peninsula. The bartenders are helpful and cordial, the regulars are a lot of fun to talk to. A big plus in my book.
Look for PTB on your right before you head into the downtown area, near the boatyard. A blue building. Keep an eye out, it is easy to drive right past, even if you are looking for it.
Port Townsend Brewing beers are all solid. They are readily available both in bottles, and on tap, all over the Peninsula, as well as other areas of Washington. What I like about PTB, and what keeps me coming back, is that they always have a couple of beers on tap that they do not bottle. On my last visit, 09/09/08, they had an Imperial IPA which was well above average, and a very fine Red Ale. You really cant go wrong with any of PTB's beers, their Amber is one of my favorites ever of the style.
No real food, but you can get a HUGE bowl of local peanuts in the shell for $1.50, a great deal, and some chips and the like.
A very fine Washington State brewery.
1,115 characters
4.84
/5
rDev
+23.8%
vibe: 5 | quality: 4.5 | service: 5 | selection: 5
I stumbled across this beauty while adventuring around the Pudget Sound Islands via ferry rides. We were very fortunate because we got there on a Friday afternoon and the weather was nice. They had live music in an outstanding beer garden right behind the brewery. There was a collection of long-haired local characters hanging out and the atmosphere was exceptional. Friendly people were everywhere. I did take some time to sit inside and enjoy their new (and second) tasting room. It was one of the largest and nicest tasting rooms I have come across. The food rating for this place isn't applicable because all they serve is bar snacks, but the roasted peanuts were local and delicious. Now to the beers. They had a very large assortment of beers. I think I tried 12 different sampler sized varieties. I found that each of the beers was of very high quality. After trying them all the bartender began mixing different combinations of some of my favorites to create a new blend, which they already had clever combination names for. While all of the beers were good, probably the only bad thing I can say is that I didn't find one beer that I thought was outstanding. All in all a great experience and I would definitely go back.
1,230 characters

4.28
/5
rDev
+9.5%
vibe: 4 | quality: 4 | service: 4.5 | selection: 4.5
My favorite of the two breweries in Port Townsend, but doesn't serve food. Well worth the trip to the boatyard to find this place. It is immediately on the right as you pull into the boatyard, the new tasting room being very visible. This was my first trip here in two years and the tasting room is now in the opposite end of the building and much larger, seating up to 44 people. With the old tasting room, it was pretty crowded with about a dozen people in there. I am told the old tasting room and beer garden are open on wednesdays and fridays each week, often with free live music.
Anyway, the locals here were very friendly and sociable. I had a sampler of 12 beers. The brewer is doing a very good job with the beer because they all tasted good. The two standouts were the Hoppy IPA and the Porter. The Rye IPA also tasted pretty nice, but didn't have nearly the aroma that the Hoppy IPA had. A sampler of their 12 beers ran around $8.The brewer, who happened to stop by, was nice enough to go in the back and get me a small sample of the Black Bart Ale, which was currently not hooked up to the taps at the bar. This was also an excellent beer, equivalent in quality to the porter.
Growlers were $4 empty and $7 or $8 with the fill. The biggest disadvantage I saw was lack of food (other than peanuts.) I am told they are selling more beer lately, and with the expansion of the tasting room hopefully they will consider adding food at some point.
A unique setting for a brewpub, instead of looking out onto the water at boats, you get to watch people working on their boats in drydock. You can come over on foot on the Keystone Ferry and take a scenic 15 or 20 minute walk to the pub, or else take the shuttle for an easier and faster trip.
1,755 characters
3.65
/5
rDev
-6.6%
vibe: 4 | quality: 3.5 | service: 4.5 | selection: 3.5 | food: 2
Port Townsend Brewing does not actually operate a brewpub, but I wish they would consider it. They are a regional microbrewery with a small tasting room and beer garden producing a dozen styles of beer for sale in bombers and kegs. To find them, turn off Hwy 20 onto Haines Place and enter the boatyard. They're immediately to your right in a sheetmetal building whose every inch would seem to be occupied by brewing apparatus.
The tasting room is quite tiny and has limited facilities, i.e. no kitchen and just one very popular toilet. Food is limited to peanuts and pretzels except when music is featured in the garden and a rolling BBQ is brought in. Other things you won't find here: booze, wine, neon, TV, bar games, or guest taps. There's simply no room for any of these things, but of course, they're not missed. House beers are limited to American and U.K. styles. Standouts include Chet's Gold – a light, flavorful golden ale that makes for great summertime sessions – and, on the opposite end of the potency spectrum, a 10.5% ABV barleywine of considerable grace. Most PT beers are sold in bombers and growlers and are a staple among the locals.
The garden is a tended lawn with umbrellas, propane heaters, and a small, covered stage framed by hop bines. There aren't really tables here, just a few plastic end tables and bright red benches. Since the garden stretches further than 25 feet from the door, smoking is legally permitted at the far end. Inside the taproom, peanut shells collect on the floor, two beer engines are put to good use, and popular Renoir prints adorn the walls. Be advised that PT Brewing closes early, most nights by 7PM, Friday at 9PM.
Port Townsend is a village of hearty men and inspiring women (see the barmaid) and PT Brewing is as friendly a place as you'd ever care to visit (again, see barmaid). They're very popular with the locals and for this reason I hope they'll consider expanding their seating capacity and their hours. A posted beer menu on the wall might be nice too.
2,036 characters
4.16
/5
rDev
+6.4%
vibe: 4 | quality: 4.5 | service: 4 | selection: 4
Following WA SR 19 into Port Townsend is easy enough; Finding this place is just as easy. Just keep an eye out for the multitude of masts at the boatyard. As soon as you see the entrance to the boatyard, take a right. (It's right across the street from Safeway). Then take another immediate right, and you're there. At first I expected to have to search around, but a large PT Brewing truck caught my eye, and there was the brewery, as pictured.
To your right, the open door to the cramped brewery, gently hissing and fermenting away, with the tools of the trade out in the open for passers-by to see; Through a short gate to the brewhouse's beer garden, a small outdoor area filled with tables and a small covered bandstand, the biergarden was a bit useless on the cloudy Washington state day of my visit, and was thus empty. Entering, there's what appears to be a single small room with stools and a bar wrapping the walls, and the server's bar in the center. It is, shall we say, intimate? It is such a tight squeeze that trying to slip between the barstools and the wall to make your way to the far side of the small, square bar would make most people blush, but the ambiance was right, and the small place was quite full. People seemed to be happily enjoying their beers all nestled together under the barmistress' care.
The interior has a kind of aged-paint feel, which really hits all the right cues. The walls are sparsely, but carefully decorated with pictures of the brewpub's lengthy history, and it's lit by dim light and ambient cloudy light coming in through a couple of small windows. The bar is heavy, light colored wood, as is the ceiling, and the walls are all an aged, cream-colored paint. There's a bell hung above with a very nicely made old bell knot and with a small sign - "Those who ring this bell in jest / buy a round for all the rest".
The barmaid was happy to allow me to sample some brews; I knew I was there for a sessionable growlerfull, and requested a sample of the Boatyard Bitter. From the shotglass taster, I was smitten, and didn't even need to try anything else. One growler at $11.75 including the glass, a thanks and a wave to the other customers, and I was on my way.
Yes, I only popped in for about five minutes - but I would have stayed if there had been a bit more room at the bar. Port Townsend is a lovely town, and this brewery makes me wish I lived there instead of here, an annoying fifty-odd miles away. Great ambiance, friendly staff - a real down-home, customer-commited place.
Edit: This weekend I went back and hung about for a couple of hours. The crowd is very familiar, a somewhat older group who all seem to be regulars, with the occasional mid-twenties chap thrown in. The barmaid Roxanne is attentive and happy to make any kind of conversation. It's a great little pub, and I honestly wish it wasn't a fifty-mile commute to visit. :(
2,909 characters
Port Townsend Brewing Company in Port Townsend, WA
3.73
out of
5
based on
305
ratings.