Forst 1857
| Brauerei Forst AG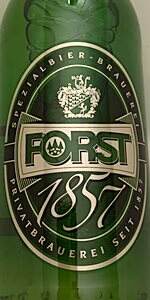 BEER INFO
Brewed by:
Brauerei Forst AG
Italy
forst.it
Style:
Euro Pale Lager
Alcohol by volume (ABV):
4.80%
Availability:
Year-round
Notes / Commercial Description:
No notes at this time.
Added by stcules on 02-06-2008
Ratings: 8 | Reviews: 4
Reviews by Cozzatoad:

3.03
/5
rDev
+17.4%
look: 3 | smell: 2.5 | taste: 3 | feel: 3.5 | overall: 3.5
330ml bottle
A- Perfectly transarent golden. A very effervescent one finger white head disappears in the span of a couple of seconds. No lacing on the sides of the glass. Some carbonation is visible
S- A whiff of pilsner-like aroma right after opening the bottle. Cereal/grainy malts base with a touch of herbal noble hops. Very subdued after pouring, almost undetectable
T- Crisp grainy/crackery malts. Herbal/grassy hop notes on both tongue and palate. Maybe the faintest hint of citric fruitiness. Low hop bitterness, even for the style
M- Easy and clean mouthfeel. Low to medium body with medium carbonation. Lively with some pleasant crispness but still decently smooth
O- This is slighlty better than your average industrial lager, with no metallic flavours or excessive carbonation. Not complex or interesting at all, but still enjoyable and refreshing
864 characters
More User Reviews:


2.53
/5
rDev
-1.9%
look: 3 | smell: 2.5 | taste: 2.5 | feel: 2.5 | overall: 2.5

2.58
/5
rDev 0%
look: 3 | smell: 2.5 | taste: 2.5 | feel: 3 | overall: 2.5
I picked up this 33 cl clear green bottle from the local supermarket. It's a clear yellow colored liquid, with a thin white head. It leaves a bit of lace. Frankly, this one looks like a typical macro. The smell has a pronounced cereal grain quality, backed with a touch of malt. There's a little corn adjunct and a bit of sulfur. There is not much of a hop aroma, and the hop bitterness is considerably low. It's a clean and relatively crisp lager. Low sweetness, and medium to light in body. There's not much else to say about this one...it's essentially everyday macro-like fare.
581 characters

2.94
/5
rDev
+14%
look: 3 | smell: 2.75 | taste: 3 | feel: 3 | overall: 3
2.09
/5
rDev
-19%
look: 3.5 | smell: 2 | taste: 2 | feel: 2 | overall: 2
Golden yellow, very clean. Compact and white head.
In the smell malt, corn, a somewhat old hop.
The corn is evident in the taste too. Nothing to remember. Hop.
Again some hop in the aftertaste. And corn.
It is a new beer for the 150 years of the brewery. One can expect a lot more.
285 characters

2.77
/5
rDev
+7.4%
look: 2.75 | smell: 2 | taste: 3 | feel: 3.25 | overall: 3
Oneway bottle 33 cl, green glass....in bavaria they say that any beer coming in green bottles must be shit. But that doesnt matter, i want to check out the beer that our south tyrolian "neighbours" create. Straw colour, very light in the glass.good carbonation, but the foam doesnt last long, and the aroma is a little thin, i take a sip, and another huge one..tastes very crisp, good mouthfeel, and a nice hoppy note, like citrus and green apples, very smooth, good drinking but very light body and therefore, nothing special;but it depend on beer style (euro lagers got to be light, thin and crisp) and even more for what occasion you drink beer: this beer for example could be an alternative to becks and heineken while being an average jack...drinking 3,4 or 8 beers as watching the world cup semi finals.
809 characters
3.16
/5
rDev
+22.5%
look: 2.75 | smell: 3 | taste: 3.25 | feel: 3.25 | overall: 3.25
Forst 1857 from Brauerei Forst AG
2.58
out of
5
based on
8
ratings.