Arboga Vårlager
| Galatea AB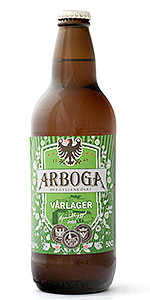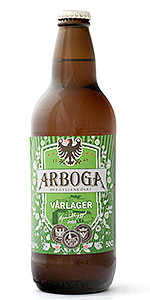 BEER INFO
Brewed by:
Galatea AB
Sweden
galatea.se
Style:
European Pale Lager
Alcohol by volume (ABV):
5.00%
Availability:
Spring
Notes / Commercial Description:
Introduced in May 2009. Brewed by Jämtlands Bryggeri.
Added by bark on 03-18-2009
HISTOGRAM
Ratings: 5 | Reviews: 5
Reviews by Bananaman:
3.58
/5
rDev
+0.8%
look: 4 | smell: 3.5 | taste: 3.5 | feel: 3 | overall: 4
Hmm, when the label says "Arboga", you can't really expect much. Not since Arboga is a label which stand for strong european lagers without character. But hey, you gotta give it a chance! Especially since I've heard rumous about that it's brewed at Jämtlands Brewery (which I really like).
The beer pours a golden/amber color with a nice big, fluffy white head. Looks quite nice actually. There are som small, microscopical, things floating around, I guess it's because it's unpasteurized.
Aroma holds some nice notes of fresh hops, malts, but also that special Jämtlands character. Notes of citrus fruits and some slightly grassy notes can be found aswell.
Taste is about as refreshing as a lager beer gets. Lots of citrus fruits, but there are also a very nice balance between the hops and the malts.
A nice lager, sad that it's temporary.
849 characters
More User Reviews:
3.5
/5
rDev
-1.4%
look: 3.5 | smell: 3.5 | taste: 3.5 | feel: 3.5 | overall: 3.5
Big white head five fingers thick and creamy, lacing. Aroma is malty and with hops present in the nose. Flavour is malty and with a bitter finish. It has a funky acidity that spoils it a bit, otherwise this beer would have gotten a higher mark for its flavour. Mouthfeel is very crisp with medium bubbles. This is a competent brew from a brand that usually stands for the opposite!
381 characters
3.4
/5
rDev
-4.2%
look: 3 | smell: 3 | taste: 3.5 | feel: 3 | overall: 4
Appearance: Arboga Vårlager pours a clear amber accompanied by an airy, and decently tall egg-white crown which falls into a state of decay and vanishes in no time, it actually happened so fast that I almost missed the aspects of it... A rich amount of bubbles ascend during the inspection.
Smell: Strong scents of hop, pretty fresh 'n' floral, somewhat acidic, but with a acridity lurking in the background. A freshly mown lawn with lots of shredded dandelions comes to mind.
Taste: A mild caress of lactose-like sweetness hits the tongue at first in combination with a slightly citric intervening which both long-lasting and strangely resemblant to sodium bicarbonate.
Thereafter the bitterness comes in -- mixed with subtle traces of smoked malt or birch beer for that matter -- and packs quite a punch when compared to how it revealed itself in the aroma, as it gradually blossoms and finish the taste with its characteristics lingering on for as while before fading into complete obscurity.
In between all of this we get buttery notes which seem to exist in a gustatory-state of limbo, where it does not present itself in more than most fluctuating of manners that it makes you wonder whether you really did pick up that trace of diacetyl or not...
Mouthfeel: Pretty high in carbonation, rather smooth (almost oily at times), a wee bit thin in the body, but with a decently warming and slightly dry finish.
Drinkability: I was a bit sceptical at first but I must admit that I'm pleasantly surprised of Arbogas efforts in their most recent outputs, efforts which have shown a remarkable increase in quality in comparison to their "standard concept", i.e; lagers with a generally high amount of alcohol but rather bad taste.
However, this beer's nothing of that, it's a pleasing creation with sense experiences that are of noteworthy character thus leaving it with satisfactory results!
1,900 characters
3.77
/5
rDev
+6.2%
look: 3.5 | smell: 4 | taste: 3.5 | feel: 4 | overall: 4
The colour is gold with a tint of orange. The liquid is a little hazy. The finger thick airy head is off-white; it sinks very slowly leaving no lacing.
The smell is hoppy with a fresh bitter note. Some sweet exotic fruits, hints of yeast and wood.
The taste is moderately hoppy with a clean sweet malty base. Dry notes of herbs and fresh timber and some anonymous fruits. The body is medium. The aftertaste brings a growing bitterness and some vegetables as well as touches of butter, cedar tree and barley flour.
The carbonation is fresh and medium to strong, the bubbles are medium sized. The liquid is mid-smooth.
An archetypical Jämtlands pale lager with some extra punch from an unexpected label.
709 characters
3.48
/5
rDev
-2%
look: 4 | smell: 3.5 | taste: 3.5 | feel: 3 | overall: 3.5
[email protected]
A: Golden copper with a creamy head that vanishes quickly leaving very little lacing on the side of the glass.
S: Fruit of some kind, Floral hops, Grain, Hint of yeast and some grain.
T: Grain, Fresh hops (more than expected!), Herbs, Light touch of caramel and some broth.
M: Balanced malt-base with a decent bitterness at the end. Tastes more than you'd expect from your average lager.
Quite well balanced and very refreshing. Perfect along with a meal or just as an refresher. Could be worse!
513 characters
Arboga Vårlager from Galatea AB
Beer rating:
3.55
out of
5
with
5
ratings