Dismiss Notice
Shipyard Battleground Ale
| Shipyard Brewing Co.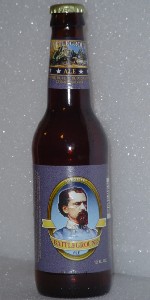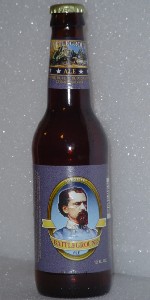 BEER INFO
Brewed by:
Shipyard Brewing Co.
Maine
,
United States
shipyard.com
Style:
American Pale Wheat Ale
Alcohol by volume (ABV):
4.80%
Availability:
Year-round
Notes / Commercial Description:
No notes at this time.
Added by BeerAdvocate on 06-29-2003
This beer is retired; no longer brewed.
HISTOGRAM
Ratings: 14 | Reviews: 12
Reviews by KTCamm:

More User Reviews:

2.88
/5
rDev
-9.1%
look: 3 | smell: 2.5 | taste: 3 | feel: 3 | overall: 3
Drank this one with a picture of the traitor Stonewall Jackson on the bottle in my Chamberlain pale ale pint glass,pours a lighter golden color with hardley no head to speak of.The aroma is almost skunky with a slight bit of wheatiness to it.Taste is very mediocre with some wheat malt flavor with some bubblegum flavor wich is very light.Well got it for the bottle but not much here.
384 characters
2.39
/5
rDev
-24.6%
look: 3.5 | smell: 2 | taste: 2.5 | feel: 3 | overall: 2
12 oz brown long neck bottle with a bottled on date on the label.
Appearance: Dusty golden hue, thin lacing but it stays for a while.
Smell: Over ripe fruit, heavy yeast, buttery and mildly astringent.
Taste & Mouthfeel: Average crispness in the moderate body, light on the malt with a husky grain middle to end. Clean spicy hop bitterness has very little flavour to pass around. Buttery in the back with a vague yeast and dry husk in the finish.
Notes: Buy the bottle if you are into collecting different labels. Other than that this beer is very lackluster and I see this as a weak homage to the American Civil War … horrible to ride on this kind of marketing IMO. To care more about the label and marketing of the beer than what is in the bottle as far as a quality product saddens me about Shipyard and this beer shows it fully.
845 characters
3.53
/5
rDev
+11.4%
look: 3.5 | smell: 3 | taste: 3.5 | feel: 4 | overall: 4
Poured a pale amber with a nice carbonation and a white foamy head. Nice lace, faded wuickly. Smell was grainy with lots of hints of cereal and whete, slight back of a hop presence. The taste was pretty average, lite in both consistency and flavor, nothing too harsh, very nice for a warm summer evening. Overall this was decent, I cannot say anything bad about it, however it is forgettable.
392 characters

2.21
/5
rDev
-30.3%
look: 3 | smell: 2 | taste: 2 | feel: 2.5 | overall: 2.5
Poured a nice copper hue with hardly any head. No head retention and below average lacing.
The smell was subtle with a hint of wheat.
The flavor was unimpressive. A skunked wheat flavor with hints of butterscotch.
The mouthfeel, while dry, was a bit sour.
Overall, a drinkable but not very tasty beer.
313 characters

3.03
/5
rDev
-4.4%
look: 3.5 | smell: 3 | taste: 3 | feel: 3 | overall: 3
Pours with a medium head that goes quickly and leaves no lace. Nice coppery color and light-medium bodied. Labels vary I got one with Stuart on it. Seems more like an amber than a pale. Definitely not hoppy but a good mix of malts and hops. As a collector I got lucky and found a couple of singles @ $1.50 in Wells, Me.
319 characters
3.16
/5
rDev
-0.3%
look: 4 | smell: 3 | taste: 3 | feel: 3 | overall: 3.5
Poured from the bottle to a clear, bright, golden color with an excessive amount of foam, almost half a glass, that generally dissipates to leave good lacing on the glass. Aroma was perfumy and grassy, with a hint of dough, but none of the spiciness I would expect. Flavor was hoppy and grassy, and mouthfeel was slightly tingly, all leading to a medium, slightly sour finish.
Not bad for a novelty beer, but hardly resembled a wheat..
439 characters
3.32
/5
rDev
+4.7%
look: 3 | smell: 3.5 | taste: 3 | feel: 4 | overall: 3.5
Served chilled in a pint glass. A bottle with Sherman on the label was reviewed.
Appearance: Crystal clear yellow with a slight twinge of orane. Minimal white head with no retention or lacing.
Smell: Pleasant herby hop aroma with a pale malt backing.
Taste: Pale malt sweetness with minimal bitterness. Cereal flavors on the finish.
Mouthfeel: Crisp and clean, very palate cleansing.
Drinkability: Nothing impressive about this beerr, to be honest. Good one for the bottle collecter given the different labels. Quaffable, but no real character to this brew.
572 characters

3.3
/5
rDev
+4.1%
look: 3.5 | smell: 3.5 | taste: 3 | feel: 3.5 | overall: 3.5
The beer pours a gold color with a thick frothy white head that slowly fades to lacing. The aroma is decent. It has a pale and wheat malt scent that is a bit dry with some lemon zest along with a semi-fruity yeast aroma. The taste is average. It has a very dry, pale and wheat malt flavor that goes down easy and finishes earthy with some light lemon notes. It's really run of the mill quality. The mouthfeel is decent. It is a low/medium bodied beer with good carbonation. This is a above average brew as far as drinkability is concerned. As wheat beers go, this is one you want to leave on the shelf.
602 characters

3.78
/5
rDev
+19.2%
look: 4 | smell: 3.5 | taste: 3.5 | feel: 4 | overall: 4.5
Poured a crystal clear amber color with modest slightly off-white puffy head.
Smell is very mild with a hint of fruit and wheat detectable.
Taste is also light with a nice wneat sweetness backed by a mild hop bitterness.
Sweet full mouthfeel that is very refreshing.
Would make a nice hot summer afternoon beer.
315 characters
4.1
/5
rDev
+29.3%
look: 4 | smell: 4 | taste: 4 | feel: 4 | overall: 4.5
I sit with the glass in my hand staring at the image of General George Armstrong Custer and wonder about Custer's last keg-stand. Beautiful honey colored ale with the aroma of honey and malt. The first taste brings out a crisp malt and a medium bitterness that creates a refreshing brew with an unmistakable charm and drinkability. Maybe if Custer had some of this at Little Bighorn his opponents may have let him live.
419 characters
2.67
/5
rDev
-15.8%
look: 2 | smell: 2.5 | taste: 3 | feel: 2.5 | overall: 2.5
Pours a medium amber color with a very fizzy, almost
soda-pop type head that quickly dissipates to almost nothing.Smell is of lemons. Mouth-feel isn't too bad, just a little after-taste that isn't too bad. Taste to me leaves a little to be desired; ie,nothing too outstanding. Bottle has some really cool art work on the label that celebrates a very important time in our history; too bad the beer inside doesn't live up to that fact as well.
443 characters
3.03
/5
rDev
-4.4%
look: 3.5 | smell: 3 | taste: 3 | feel: 3 | overall: 3
"I have never advocated war except as a means of peace."
--Ulysses S. Grant
My bottle features the best Civil War general of them all, U.S. Grant (unless you're a Rebel). How is Battleground Ale a 'Civil War themed ale' except with respect to the packaging? Let's hope the beer is as interesting as the labels. Oh, and Shipyard, how about updating those labels so that '03, '04 and '05 aren't the only choices for 'best enjoyed by'. Thanks.
Polished pumpkin with several vigorous streams of bubbles feeding the manila colored head. As far as I can tell, APWAs don't have a consistent look. This one looks like an APA, for what that's worth. The quality and persistence of the foam are largely responsible for the above average score.
The aroma is on the bland side, with only a mild ale yeast fruitiness finding its way to my nose. I can't appreciate wheat, hops or diacetyl. That last makes me wonder if Ringwood was used or if the brewers felt that it would overpower the unaggressive flavors usually found in a beer of this style.
Battleground Ale is unimpressive. Rather than the stated style, it tastes like an underhopped amber ale with only a mild wheaty tang. There's a barely toasted, slightly caramel-like malty sweetness present that is pretty much the sum total of the flavor profile. Maybe a small handful of English hops and a hint of butter, but that's it. It's inoffensive, so I guess that's something.
There's nothing much wrong with the body/mouthfeel. It's both light-medium and firm, with an appropriate amount of carbonation. In the end, it's serviceable and is deserving of the score it has been given.
As a quasi-Civil War buff, I like the idea of featuring a different general on each bottle of Battleground Ale. It's too bad the contents of those bottles isn't up to snuff. My suggestion is to change the style to something more interesting and to make sure the beer is worthy of the theme.
1,938 characters
Shipyard Battleground Ale from Shipyard Brewing Co.
Beer rating:
3.17
out of
5
with
14
ratings