Wheat Ale
| Shipyard Brewing Company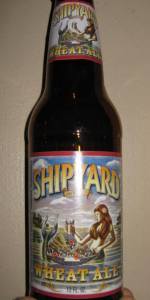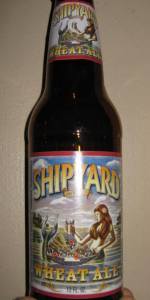 BEER INFO
Brewed by:
Shipyard Brewing Company
Maine
,
United States
shipyard.com
Style:
American Pale Wheat Ale
Alcohol by volume (ABV):
4.50%
Availability:
Year-round
Notes / Commercial Description:
No notes at this time.
Added by Gambrinus1184 on 07-08-2010
This beer is retired; no longer brewed.
HISTOGRAM
Ratings: 14 | Reviews: 9
Reviews by bagpiper2005:
3.35
/5
rDev
+5%
look: 3.5 | smell: 3.5 | taste: 3 | feel: 4 | overall: 3.5
Pour: Clear bright orange in color. A finger of white head that dissipated quickly and left minimal lacing on the glass.
Smell: Mostly honey in the nose with some wheat, citrus, and light hops.
Taste: The taste is, interestingly enough, primarily caramel and roasted malts. Bready/yeasty middle. Finishes up with a light hop bitterness. The wheat notes are barely even detectable.
Mouthfeel: Light, crisp, and clean. High carbonation.
Drinkability: It's refreshing and quenching, but I though this was supposed to be a wheat beer?
Final Notes: If you're going to call something a wheat beer, at least be sure to put some wheat in it and/or make it taste like such. As it is, this beer tastes more like an amber ale to me, and would make a more than decent one of those. Yet another one of those good beers that should be reclassified.
844 characters
More User Reviews:

2.72
/5
rDev
-14.7%
look: 3 | smell: 3.5 | taste: 2.5 | feel: 2 | overall: 2.5
Lunch at Federal Jack's last weekend, then downstairs to the shop. My wife, the wheat beer fan, wanted to try this. She thought it was OK, I was less enthused.
The beer was a gold color with a tiny white head.
Aroma was kind of outdoorsy/grassy. There was a bit of citrus to the nose also.
Lemon and malt in the taste, which was decent enough, but there was something there that left an extremely bitter taste in my mouth.
The bitter feel was pervasive and unpleasant.
Not a beer I want to try again.
500 characters

3.65
/5
rDev
+14.4%
look: 3.5 | smell: 3.5 | taste: 3.5 | feel: 4 | overall: 4
Poured from 12 oz bottle into a pint glass. Picked up in a mix a six at KBC in Maine.
Pours crisp golden color mostly see through w/ fast acting white foam. Thin layer remains. Wheaty smell coupled with citrus. Bready malt taste with a blended citrus. Some sweetness embedded with a tang. lots of bread. Firm carbonation.
Overall - real drinkable, good brew.
360 characters
2.41
/5
rDev
-24.5%
look: 3 | smell: 2 | taste: 2.5 | feel: 2.5 | overall: 2.5
A two to three finger head on the pour with some retention of off white bubbles. Golden and clear but with large bubbles of carbonation. Head doesn't have much staying power and there is minimal lacing.
Smells like weak beer, stale, macro like and some vegetation. Kind of boring even a bit sour, no chew or bread or malt or hops, is this suppose to be a wheat ale? Where is the aroma?
Taste has some chew but weak in nature without much texture or flavor. Virtually no feel, or body making for not much desire to have another.
529 characters
3.3
/5
rDev
+3.4%
look: 3.5 | smell: 3.5 | taste: 3 | feel: 3.5 | overall: 3.5
Poured from a 12oz bottle into a US tumbler pint glass.
A: The beer is a deep gold color, with a large white head that fades quickly and leaves a spotty lace on the glass.
S: The aroma is faint but contains wheat, citrus, light caramelized malts and a little bit of hops.
T: The taste starts out with mildly bready flavors of wheat and a thin malt character. Then a little bit of citrus and caramel sweetness comes in. The hops presence is mild but complementary and brings some balance. The after-taste is slightly bready and slightly sweet.
M: Crisp and a little smooth, light-to-medium body, medium carbonation, finish is clean.
D: A little tasty, goes down easily because it's on the lighter side, not too filling, very mild kick, decent representation of style, it's an average lawnmower beer worth pounding for a while but there are several others of its kind that I would pick first.
895 characters

3.03
/5
rDev
-5%
look: 3.5 | smell: 3 | taste: 3 | feel: 3 | overall: 3
Reviewed from my notes. Poured a chilled bottle into a pint glass. It appears golden orange in color. There are big white bubbles in the head. It settled with little lacing into a skim. Plenty of rising carbonation was visible. The aroma is slightly fruity and sweet, with some yeast grain. It doesn't smell like other wheat ales I've had. I can taste orange fruit, buttery esters and some sweetness that lingers after I swallow. It also leaves a good coat on my tongue. It has a mild level of carbonation and a medium body. It's a pretty drinkable beer; moreso than some Shipyard beers, less than others. It's an interesting experiment to introduce this as a new year round beer and not test it out as a seasonal first, but I prefer their more established offerings.
767 characters

3.5
/5
rDev
+9.7%
look: 3.5 | smell: 3.5 | taste: 3.5 | feel: 3.5 | overall: 3.5
Had this at a local restaurant, nice pour, darker in color for a wheat ale, more heavy than I was expecting. Not alot of carbonation either.
Very malty, almost syrupy, but not a whole lot balancing out the taste. Goes down relatively smooth, but it is all malt, all the way, has almost a sour taste to it. Virtually no hop presence. Not mcuh else going on with it, not alot to describe besides the malt and syrupy quality.
If you like malt, you may like this beer, not really my bag, especially for a wheat ale, pretty average beer, probably would not get this again, but not that bad either. Would not recommend you go out of your way to try it.
648 characters

3.63
/5
rDev
+13.8%
look: 4 | smell: 3.5 | taste: 3.5 | feel: 3.5 | overall: 4
Poured from a 12-ounce twist-off longneck bottle into a Sam Adams pint glass.
A: Pours a pale, coppery golden color with a near two-finger head of light carbonation bubbles which fade to a ring of slightly creamy lace. Carbonation is ample and clarity is very good.
S: Smells lightly of milled grain, wheat husk, and some floral, bitter hops. Slight spicy ale fruitiness in the nose as well.
T: Taste is dry, semisweet pale and wheat malts at first. A slightly sweet caramel malt flavor blends with some dry, fruity ale flavors, throwing off mostly citrus, but a sturdy malt flavor overall. Finishes a little watery, but with a clean, dry, crisp German hop quality.
M: Mouthfeel is light-medium bodied, pretty darn cirsp and refreshing. A little bit of milled graininess to chew on, but very clean all around.
D: A pretty nice session wheat ale for the summer, I'm not sure how it will fare in the off-season though. However, at 4.5% ABV, Shipyard has produced a crowd pleasing, hot weather quenching brew that has enough malt body and interesting hop aromas and finish to make for a nice pick-up for your next BBQ or tailgate.
1,142 characters

2.77
/5
rDev
-13.2%
look: 2.5 | smell: 3 | taste: 2.5 | feel: 3 | overall: 3
On tap last night at The North Star, a bar over by North Station. Served in a standard pint glass. Fizzy yellow color. Lots of carbonation, but no head. Looks like a macro lager. Smell will be rated average, as I found it neutral. Taste was not as good as I was hoping. It had no real flavors of a typical wheat beer. All I could taste was a bit of artificial lemon flavor and that odd but distinct Shipyard yeasty characteristic. I would have assume by sight that the beer's mouthfeel was going to be thin, but it was a bit more sturdy than that. Drinkability was just mediocre, as its abv was low and it gave you no reason to drink this beer slowly. It was a beer I gulped down and forgot. I always like to try a new Shipyard if I see one, but I personally would not buy this beer again.
789 characters
Wheat Ale from Shipyard Brewing Company
Beer rating:
3.19
out of
5
with
14
ratings