Imperial Black IPA
| Brasserie Dunham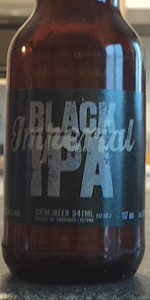 BEER INFO
Brewed by:
Brasserie Dunham
Quebec
,
Canada
brasseriedunham.com
Style:
American Black Ale
Alcohol by volume (ABV):
8.60%
Availability:
Year-round
Notes / Commercial Description:
No notes at this time.
Added by duracell on 03-05-2012
Reviews: 12 | Ratings: 33

3.45
/5
rDev
-10.2%
look: 3.5 | smell: 3.5 | taste: 3.5 | feel: 3.5 | overall: 3.25
A: Very dark black. Nice foamy head thrones on it. Sticky. Cloudy looking.
S: Dominated by hops. Pines + Fruity.
T: Very bitter. Some roasted malts but not strong enough for Imperial Black IPA. Appears to be a little bit unbalanced.
M: Medium body. Some carbonation.
O: A decent beer, but needs some refinement to be great.
327 characters
3.71
/5
rDev
-3.4%
look: 4 | smell: 3.5 | taste: 3.75 | feel: 3.75 | overall: 3.75
From a 12 oz bottle into a tulip glass at basement temp. ( $3.50 canadian in a six pack ) Peluso.
Opaque black with brown head. Evanescent ring left after a few minutes. Some yeast sediments. Some tears appear like when you drink cognac.
Dark malts and toast.
A lot of hoppy bitterness. Espresso and chocolate. Alcohol. Some citrus from the hops. 117 IBU! 8.6 ABV
Feels heavy with an oily coating on the tongue. Very little carbonation. Lots of cereal and lots of bitterness.
I liked the non imperial version more than this one as is was easier and not quite as extreme as this.
Still a complex and interesting beer. I"ll keep some for 6 months and see what happens.
667 characters
3.73
/5
rDev
-2.9%
look: 4.5 | smell: 4 | taste: 3.5 | feel: 4 | overall: 3.5
Poured from a 341ml. bottle, no freshness info.
Appearance: Thick black body, cascading head of a good four fingers, color of dark milk chocolate. Foam is bubbly and insistent, leaving a nice dose of lacing.
Smell: Sharp citrus, mostly grapefruit, hoppy mixed with chocolate/coffee.
Taste: The roast hits first but layer of cedar and grapefruit lies underneath with some ript orange. The hoppy fruit edges out the roasted notes yet still manages to feel less intense than the regular.
Mouthfeel: Real creamy and smooth, low carbonation makes it glide real easy and the astringency is balanced.
Overall: Seems less intense than the regular Black IPA. The hoppiness is there but the flavors don't pop out as much and leaves it less than imperial. Still good though but a little bit disappointed.
798 characters

3.83
/5
rDev
-0.3%
look: 3.75 | smell: 3.75 | taste: 3.75 | feel: 4 | overall: 4
IPA style of beer are not my favorites. The black Ipa are much simpler and have more complexities. This beer will be head and wonder, is done with professionalism and craft. Good beer!
184 characters

3.87
/5
rDev
+0.8%
look: 4 | smell: 3.75 | taste: 4 | feel: 3.75 | overall: 3.75
L: Looks like an RIS in the glass. Opaquely black. One finger of a mocha colored head. Some lacing, and a ring of head around the glass.
S: On the nose I get some grapefruit and cascade-like hop aroma.Floral. Upon closer inspection I get some roasted malts.
T: On the palate it tastes very similar to a RIS, but less sweet. The hops come through slightly as present themselves as they did in the aroma: floral and slightly citrusy. The hops are really fighting with the roast. It's fairly bitter , which is expected at 100+ ibus, and lingers in the back on the throat for a while. Might sound strange but I get a bit of smoke too.
F: It's dry, and I like that. Slightly oily, I'm assuming from the hops.
O: This is pretty decent beer. Nothing I'd buy again, but it's good. It's more hoppy than some other BIPAs I've had, but still not up to where I'd like it. It fringes on a RIS, but with that said it's rather nice overall.
932 characters

3.88
/5
rDev
+1%
look: 4 | smell: 4 | taste: 3.75 | feel: 3.75 | overall: 4
Woo-hoo!!!! 400 and counting!
Service: Bottle
Bottled on: Apr-21-2015
Consumed: Apr-25-2015
A:
Pours pitch black with two to three fingers fluffy tan that settles to a good film. Good retention; a little bit of lacing. (4)
S:
Coffee, chocolate, some bright hops. Toasted nuts, cocoa, caramel, coffee, earth, pine, lemon pith. (4)
T:
Chocolatey with some citrus hops to counterbalance. Immediately hits you with chocolate/roasty malt, not burnt but a bit of char-i-ness in finish, some bitter green hops, less pronounced than in the non-imperial version. (3.75)
M:
Light-medium body, a touch thin and somewhat creamy, drinkable, smooth finish, low-key carbonation. (3.75)
O:
This is a nice beer and I throughouly enjoyed drinking it.
It is less everything than the 'non-imperial' version, paradoxically. But I don't think that makes it bad. If anything I feel like it is more balanced and less harsh in its contrasts than the Black IPA.
Like its cousin, it pours beautifully and maintains a good head. It is really smooth smelling and tasting with layers of thick roasty, chocolaty malt with a subtle but noticeable hoppiness. I feel like it is definitely more 'full' than the other but less extreme in general. I like that the regular Black IPA (which is among the best hoppy black ales I have had) has a really noticeable 'American' hop presence, but I like that this one is smooth and rich and nutty. If it had both it would be spectacular. As it is it is just very good. I feel like this is a pretty hoppy American Brown Ale in some ways, but it is definitely pretty damn roasty. An interesting beer regardless.
Would have again; worth trying. (4)
1,689 characters
3.94
/5
rDev
+2.6%
look: 4.25 | smell: 4 | taste: 3.75 | feel: 4.25 | overall: 4
341ml bottle, another new six-pack recently made available in Alberta.
This beer pours a solid black, with subtle basal cherry cola highlights, and three fingers of puffy, tightly foamy, and rather creamy tan head, which leaves a bit of sudsy surfacing sea monster lace in places around the glass as it slowly sinks away.
It smells of deeply charred caramel malt, smoky toffee, bittersweet chocolate, black licorice, and a slowly-appearing sharp citrus twinge - orange, grapefruit, and lemon pith - with a slightly perfumed booziness showing up shortly thereafter. The taste is a one-two punch of toasted caramel/toffee malt and bitter citrus/pine hops straight-off, before things settle a bit, and the bakers' cocoa, licorice nib, ethereal day-old coffee, grapefruit and lemon pith, and floral/leafy hop notes become evident, sort of on their own, all at the same time, if you know what I mean ('cause I'm not sure I do).
The bubbles are pretty low-key for the most part, kind of lost in the yin/yang struggle going on above them, the body a sexy medium-full weight, and well-rounded in its smoothness, which dovetails nicely into a soft creamy nature. It finishes on the sweet side, that caramel malt shedding some of its roast acridity, but still more than moderated by the lingering bitter hops, kind of singed themselves.
Once again, I'm hardly a fan of the style, but there seems to be a conspiracy amongst the craft brewing cabal to dissuade me of that notion, and this is the latest salvo in their offensive. Big, brash, and yet balanced all around, no one input dominating at any time, this Imperial Black IPA just does everything right, as much as it can, anyway. I still can't fathom drinking more than one of a brew that chooses to muffle an IPA's fresh hoppiness, but that's not this poor beer's fault.
1,819 characters
3.94
/5
rDev
+2.6%
look: 4.25 | smell: 4 | taste: 3.75 | feel: 3.75 | overall: 4.25
Not your conventional black ipa. Deep deep roast. Big roast wafting aroma. Big black colour with thick mocha foamy head and lace. Its hoppy for sure, but its also smokey roasty. Hence the imperial tital. Above average mouthfeel, with a bit of near-astringency at the end of the bottle. From Veux-tu. A big beer, with post-drinking alcohol kick.
344 characters

3.97
/5
rDev
+3.4%
look: 4 | smell: 3.75 | taste: 4 | feel: 4.25 | overall: 4
Thanks seblp for the hook up!
The beer pours jet black with inches of a thick, fluffy tan head that laces. The nose is initially chocolate/carob forward with slowly building notes of cascade as the beer warms. The taste presents that same potent chocolate sweetness upfront followed by a sticky residual hoppiness. It packs a solidly medium body and drinks velvety smooth with a lingering, slightly dry bite from the hops. Negligible alcohol, quite drinkable in fact. The hop character could be a bit more aromatic and distinct, but this is still a tasty black IPA.
566 characters
3.98
/5
rDev
+3.6%
look: 4.25 | smell: 3.75 | taste: 4 | feel: 4.25 | overall: 4
Bottle I got from Rapido in Gatineau.
A - Black pour with a huge three finger creamy brown head. Finger retention, Good chunks of lace.
S - Milk chocolate, roast, earthy hops.
T - Earthy and floral hops with lot's of roast and coffee.
M - Good bitterness, strong carbonation, creamy full body. Goes down easy.
O/D - Pretty smooth and tasty. Not a tremendous hop character but they're present and good. I enjoyed this one.
429 characters
3.99
/5
rDev
+3.9%
look: 4.25 | smell: 4 | taste: 4 | feel: 3.75 | overall: 4
Bottle: Poured a deep pitch-black color ale with a generous dark color head with good retention and some good lacing. Aroma of bitter citrusy and resinous hops is totally dominating with some dry roasted malt also discernable. Taste is also dominated by herbal citrusy hops with some resinous notes and some dry roasted malt. Body is full with somewhat of a creamy texture with good carbonation and no apparent alcohol. Usually not a style that I am very fond of but this one was quite enjoyable.
496 characters

4.21
/5
rDev
+9.6%
look: 5 | smell: 4 | taste: 4 | feel: 4.5 | overall: 4.5
On-tap at the brewery. Served in a tulip glass.
A - Pours a pitch black color with a beatiful beige and very creamy head. Lots of lacing left on the glass.
S - Hop is dominant. I pick out different varieties. The smell is very fresh, floral, herbal, almost earthy. The roasted malt is also present at the back.
T - Hop is definitely upfront with a lot of complex flavors. I find it quite medicinal but in a good way. Malt is also there, in a smaller proportion, but it balances very well the bitterness coming from the hop and adds a hint of chocolate to the taste.
M - Smooth, medium bodied with a perfect carbonation. Alcohol is well hidden.
O - A solid beer, very well thought-out! This is my first black IPA and I'm already very fond of the style. The roasted flavors make a very interesting blend!
817 characters
Imperial Black IPA from Brasserie Dunham
3.84
out of
5
based on
33
ratings.