Saison Rustique
| Brasserie Dunham
BA SCORE
84
good
10
Reviews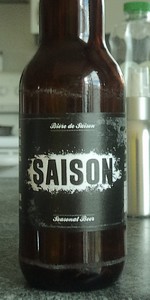 BEER INFO
Brewed by:
Brasserie Dunham
Quebec
,
Canada
|
website
Style:
Saison / Farmhouse Ale
Alcohol by volume (ABV):
6.00%
Availability:
Year-round
Notes / Commercial Description:
No notes at this time.
Added by Sammy on 08-02-2012
Reviews: 10 | Ratings: 41

3.81
/5
rDev
+1.9%
look: 3.75 | smell: 3.25 | taste: 4 | feel: 4 | overall: 4
Golden color with dense activity. Light frothy 2 finger head that last for around 10 minutes, making almost no legs. Flavors of herbal and floral hops, roasted grains, citrus and fruits. Slick full smooth body with the perfect sharp zesty dose of carbonation. Medium to strong finish, ending with a grassy feel, and a little yeasty, with some fruity citrus. Overall very good quality craft offering tasty flavors and a great refreshing feel. The style is more like a cross between a witbier and IPA.
★
499 characters
3.88
/5
rDev
+3.7%
look: 4 | smell: 3.5 | taste: 3.5 | feel: 5 | overall: 4.5
On tap at Vices and Versa. Served in a short pint. Hazy golden body. Small white head. Smells of herbal and grassy hops, some doughy malts, and a banana and clove yeasty aroma. Taste is similar, but with a stonger grassy flavor and less yeast flavor. Slightly sweet. Medium body. Well carbonated. A classic representation of the style. Very nice.
★
346 characters
3.75
/5
rDev
+0.3%
look: 3.75 | smell: 3.75 | taste: 3.75 | feel: 3.75 | overall: 3.75
i have very limited experience with these guys, just tried a couple of their beers, and im not overly impressed so far, but this saison, for being so simple, is pretty darn good. its very pale in color, more yellow than anything else, and while slightly cloudy, its not super thick with residual yeast. head is nice on it too, pure white and very light looking. it smells and taste very similar, light wheat malt, fresh and not overrun with yeasty funk. in fact, the yeast is the most underwhelming feature, its more belgian than anything else, and makes this seem less like the saisons that i am familiar with. its super dry though, and very well carbonated, both features that i really appreciate in the style. mild citrus notes in the middle, and a balancing hop finish, never more aggressive than the soft wheat base. this is nice beer, well made, but not distinct enough to be real memorable for me. looks like they make a ton of saison type beers though, so id be very curious to try more of them. the canadians are getting good!
★
1,035 characters

4.01
/5
rDev
+7.2%
look: 4.75 | smell: 4.25 | taste: 3.75 | feel: 4 | overall: 4
A:
Pours a bright sunshine yellow with a huge creamy, effervescent head that airily flops its way from three + fingers to two. Excellent retention; sticky foamy lacing.
S:
Warm, sweet, and spicy. Dandelions, honey, eraser, baking spices, white pepper.
T:
Dry and hoppy with dirty, earthy flavors. Not tons going on.
M:
Light bodied with good carbonation and a velvet feel. Easy drinking, smooth finish, quenches the old thirst.
O:
Nice dry saison.
Fairly unobtrusive and almost lacking in the flavor department this beer is otherwise pretty good. Indeed, it sends like ss textbook saison to me. Tasty, sufficiently hoppy, pretty, pretty bottle.
Would have again; worth a try.
★
679 characters

3.73
/5
rDev
-0.3%
look: 3.75 | smell: 3.75 | taste: 3.75 | feel: 3.5 | overall: 3.75
A: A nice blonde color topped with a soapy white looking head. Lacing was good as was retention.
S: Spices and belgian yeast.
T: A touch more bitter then I would have expected but that's okay it was still good, just unexpected. The Belgian yeast character is very prominent and provides some interesting spice phenol's. Coriander and clove are most apparent. A bit of sweet malt is around although not that much. Everything is tied together well.
M: Very very thin. This is a good thing for a Saison I suppose though as it makes it very drinkable. Maybe a bit too thin for my liking though honestly. Carbonation is nice and makes for a champagne like body and appearance.
O: A pretty good beer. Not worth the high price point in my opinion but still pretty good. I haven't had too many saisons so its difficult to give an accurate rating but it was good , not spectacular, but still quite nice.
★
898 characters
3.59
/5
rDev
-4%
look: 3.75 | smell: 3.5 | taste: 3.5 | feel: 3.75 | overall: 3.75
Appearance: It has a clear pale golden/yellow color to it. It has a nice thick white head that dies down moderately slow and leaves some nice lacing.
Smell: The aromas definitely give out hints of grass, lemon, peppery spices and some bready yeast.
Taste: Like the aromas, it has a some definite lemon/grass, an earthy bitterness, peppery spices, faint malts and some yeast.
Mouthfeel: It has a med/high carbonation with a nice overall balance and feel.
Drinkability: It's a very smooth drinkable beer accompanied with decent flavors and aromas.
★
552 characters

3.34
/5
rDev
-10.7%
look: 3.5 | smell: 3.25 | taste: 3.5 | feel: 3 | overall: 3.25
On tap at Vices & Versa.
Pours a pale straw colour with mild haze. Bubbly white head decent retention, with foamy lace. Steady bead. Bit pale, but decent.
Smells slightly rustic but mostly vinous. Touch of Chardonnay oak, dried grass and rosemary. Bit simple, but decent enough characters.
Taste is funky, barnyardy upfront. Develops vinous grape notes midway, slightly tart, then a bitter but also slightly yeasty and almost chalky finish. Still retains some funk, but doesn't quite burst with fresh flavours. Alright.
Bit of sizzle, OK body but not great.
Seems a little like a homebrew saison, with a saison yeast strain and not much else crafting wise. Drinkable enough.
★
683 characters
3.84
/5
rDev
+2.7%
look: 4.25 | smell: 4 | taste: 3.75 | feel: 3.75 | overall: 3.75
Bottle: Poured hazy dirty beige color ale with a large foamy head with good retention and some lacing. Aroma of rustic malt notes with some dry floral aroma notes with light peppery yeast notes. Taste is dominated by refreshing and easy drinking rustic malt notes with dry floral notes and a peppery yeast finish. Body is quite full with limited filtration and good carbonation. Easy drinking with just enough complexity and good attenuation with limited residual sugar notes.
★
476 characters
4
/5
rDev
+7%
look: 4 | smell: 4 | taste: 4 | feel: 4 | overall: 4
Thank you montrealbcr89!!
Appearance. Pours a hazy, light straw-gold with a finger of thick white head that leaves some nice bands of lace.
Smell. Lemon, earthy and herbal hops, some light saison yeast and wheat and a faint whiff of banana and spice. So far so good.
Taste. Spicy saison yeast and bitter lemon zest, bitter earthy hops and some very light spice. Lingering lemon zest bitterness.
Mouthfeel. Medium body, perhaps a little lighter than. Medium-strong, fine carbonation.
Overall. Lots of flavour, though maybe a little on the bitter side. One of the best saison's in the country that I've had the pleasure (and more often displeasure) of trying. Nice work Dunham.
★
682 characters
3.43
/5
rDev
-8.3%
look: 3.5 | smell: 3 | taste: 3.5 | feel: 4 | overall: 3.5
On tap at Bar Volo. Orange tinged yellow body, wth some lace. Fresh, though funy aroma. Smooth though medium mouthfeel. Not very complex yet decent drinkability.Some malted down lemon taste, very subtle complexity. Could be more bold. Some hops there.
★
251 characters
Saison Rustique from Brasserie Dunham
3.74
out of
5
based on
41
ratings.