XXX Triple (2)
| Brasserie Dunham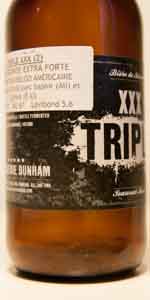 BEER INFO
Brewed by:
Brasserie Dunham
Quebec
,
Canada
brasseriedunham.com
Style:
Tripel
Alcohol by volume (ABV):
8.50%
Availability:
Winter
Notes / Commercial Description:
No notes at this time.
Added by duracell on 02-28-2013
Reviews: 6 | Ratings: 17

4.4
/5
rDev
+11.4%
look: 4.25 | smell: 4.75 | taste: 4.25 | feel: 4.5 | overall: 4.25
Serving: Bottle
A:
Pours a cloudy gold with a lovely 3+ fingers of whipped cream beige head that settles at a rocky half inch if left alone. Excellent retention; arches and spots of lacing. (4.25)
S:
Frangrant floral smell even from a couple feet away. Unripe peaches, flowers tart white wine, citrus, hay, bisquit,pez, real underlying tart twing that kind of made me face twitch. Amazing. (4.75)
T:
Dry 'n dusty. Hay, herbs, bread. dust, grass, underlying floral bitterness, lemon peel. (4.25)
M:
Medium bodied with noticeable-but-soft carbonation; bubbly explosion in the mouth with a slight alcohol warmth that plateaus pretty well and lingers with a potpourri dryness. (4.5)
O:
Absolutely excellent beer.
This is a great beer, although to be honest it just has a lot of things together that I love, so take my gushing praise with a grain of salt. It pours lovely and keeps a good head. It has seriously one of the best aromas of any beer I have ever had. It is ever-so-slightly tart (like Smarties--American ones, though hahaha) but also really prominently features some yeast and hops and booze. The flavor follows suit but ends up being just enough different (it isn't nearly as sweet as it smells) to make it a nice contrast. It feels like drinking velvet and is enjoyable on the whole.
Will look for from here on out; if you like interesting, well-made Belgians, seek this one out. (4.25)
1,414 characters

4.33
/5
rDev
+9.6%
look: 4.5 | smell: 4.5 | taste: 4 | feel: 4.25 | overall: 4.75
12oz bottle into a snifter.
A - A vigorous pour leads to a large, snow-white, and rocky head with large bubbles. Beautiful lacing and good retention. Orange, hazy body showing a moderate carbonation.
S - Massive citrusy and exotic hop character. I pick out some pineapple, mango, peach. Powdery notes from the yeast confirming the Belgian inspiration. Some malty sweetness.
T - Big aromatic hops and fruity flavors. Apricot, peach.
M - Medium, lively carbonation. Some candy sugar in the middle, to finish relatively dry with an medium-high hop bitterness blending nicely with the alcohol notes that add a spiciness to it. Medium to full body.
O - Another exceptional beer from Dunham, showing good balance and great complexity.
733 characters
3.93
/5
rDev
-0.5%
look: 3.75 | smell: 3.75 | taste: 4 | feel: 4 | overall: 4
750ml Burgundian bottle. The way the label looks on mine, this could also be called Triple XXX. Just sayin'.
This beer pours a hazy, medium golden yellow hue, with a teeming tower of puffy, foamy, and fizzy melted marshmallow off-white head, which leaves a few swaths of chunky splattered lace around the glass as it very, very, very, slowly abates.
It smells of sharp, somewhat funky yeast, bitter grassy, citrus, and floral hops, musty free-range honey (?!), gritty and grainy pale malt, white pepper, and further dried tropical fruit (pineapple, kiwi, and blood orange). The taste is big on the Yankee-doodle hops right off the bat - bitter citrus, ethereal pine, and wet grass most prominent - before that funky yeast reasserts itself, on top of a grainy, and kind of dry crackery pale malt, and some nicely sweet, and thus sort of balancing fruitiness - banana chip, pineapple, and ripe pear. The elevated booze is pretty much integrated and barely even noticeable.
The bubbles are rather frizzy, but in a pleasantly soft manner, the body a gentle medium weight, and smooth without much caveat beyond a snooping yeastiness, and equally creamy. It finishes off-dry, the fruitiness kicking the malt in the butt to finally get it going, and the American hop attitude lingers around, posturing like it's itching for a scrap.
A hoppy Tripel? Sure, why the hell not? I've only recently come around on that particular Belgian style as being worthy at all, and now it's being hopped to the nuts, like everything else. What makes this any different than yer average Belgian IPA, one might ask? Discuss, and get back to me, as I take my time enjoying the healthy remainder of this big-ass offering.
1,697 characters

3.86
/5
rDev
-2.3%
look: 4.25 | smell: 3.75 | taste: 3.75 | feel: 4 | overall: 4
Appearance - Poured from a 750 ml bottle into a 16 oz tulip. The beer pours a hazy golden yellow in color with 2 fingers of beautiful white head, Retention is fairly good. This looks like your classic Tripel.
Aroma - Immediately upon opening the bottle I was smacked with a really relaxing floral aroma. This aroma is even stronger when smelling the beer up close from the tulip. It is paired with punjent peaches some hay and a faint citrus on the back end.The overall aroma is fairly floral and tart all at once. Quite interesting.
Taste - Dry and floraly, The taste which immediately hits my tongue reminds me of salad mix. There is also definitely some hay still in there as well as a beautiful fluffy bakers white bread. There is also some lemon rind on the very back end to accompany the soft leafy bitterness. Again this is not typical of Tripels I have had in the past but I do find it more than satisfactory.
Feel - This beer is very medium in body with some soft carbonation just prickling on the tip of the tongue accompanying the floral leafy bitterness. it goes down feeling quite smooth and is rather east drinking overall.
Overall - This one surprised me but in a good way. When I first got into craft beer it was a tripel that got me hooked and I am always seeking out new tripels. Most have a very usual base. They usually have apple or banana with clove and some other fruits. Finishing off with a fresh bready taste from the Belgian yeast. This did not. This was leafy and floral with a lemon citrus and where it came back to being a Belgian style beer to me was that strong white bread from the flavor profile. I would suggest you try this one if you get the chance first of all because it is a great example of a clean beer and second of all because it is the perfect example of how much one can bend a style and still come out with something really good!
1,885 characters
3.84
/5
rDev
-2.8%
look: 4.25 | smell: 4 | taste: 3.75 | feel: 3.75 | overall: 3.75
Received in the CANbif from Peensteen. Thanks man!
Appearance. Pours a very hazy honey-orange with close to 3 fingers of white head that lasts forever and leaves some patchy lace behind.
Smell. Honey sweetness and floral/citrusy hops. There's some tropical fruits as well and a bit of spicy yeast and lightly toasted malts. Smells like a belgian pale with North American hops.
Taste. Floral hops with a little citrus and tropical fruit, some toasted sweet caramel malts, and spicy yeast. Again, more like a sweet Belgian pale, heavy on the hops. Nice stuff.
Mouthfeel. Medium-full body, medium-low carbonation.
Overall. I guess this might be a trippel on the technical side of things, but it tastes like a nice hoppy imperial pale. Good stuff.
748 characters
3.57
/5
rDev
-9.6%
look: 3.75 | smell: 3.5 | taste: 3.5 | feel: 3.5 | overall: 3.75
Very decent Belgium beer, thanks Josh R. More of a funky blonde. Boozy in the finish and also a tad astringent. Just OK drinkability.Good sized head. Average mouthfeel, understated carbonation. A little toasty, I do not think it works in the elements as presented.
264 characters
XXX Triple (2) from Brasserie Dunham
3.95
out of
5
based on
17
ratings.