Dunham / Kissmeyer La Résurrection De Broderus
| Brasserie Dunham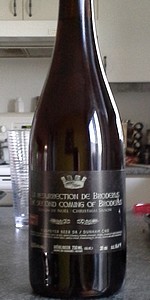 BEER INFO
Brewed by:
Brasserie Dunham
Quebec
,
Canada
brasseriedunham.com
Style:
Saison / Farmhouse Ale
Alcohol by volume (ABV):
6.90%
Availability:
Year-round
Notes / Commercial Description:
No notes at this time.
Added by Phyl21ca on 04-17-2013
Reviews: 10 | Ratings: 32

3.77
/5
rDev
-1.3%
look: 4 | smell: 3.25 | taste: 4 | feel: 4 | overall: 3.75
Look: Pours a maple syrup-tinged marmalade orange, with pleasant bubbles dancing around the surface.
Nose: Metallic, bananas, fruit.
Taste: Tart, pomegranate is certainly evident in this beer. Sweet and pleasant in the middle, likely a balancing act between the maple syrup and the pomegranate. A slight astringency to the finish.
Overall impression: a different saison for Christmas. Some pleasant sips, some disappointing, but overall an enjoyable drinking experience.
475 characters
3.82
/5
rDev 0%
look: 4 | smell: 3.75 | taste: 3.75 | feel: 3.75 | overall: 4
750ml bottle, a collaboration between Dunham and Denmark's Kissmeyer Beer, wherein they made the second version a year after the first, on Broderus Day (name days being a European thing), so hence the resurrection (second coming) theme. A 'Christmas Saison'.
This beer pours a slightly hazy, bright medium copper amber colour, with three zaftig fingers of puffy, finely foamy, and somewhat creamy tan head, which leaves a bit of weird ocean atoll formation lace around the glass as it lazily sinks away.
It smells of white and black pepper, gritty and grainy caramel malt, a lesser edgy wheatiness, dry, yet tangy pomegranate seeds, ethereally funky yeast, a maple essence that is more woody than syrupy, and some tame herbal bitterness. The taste is semi-sweet, bready and doughy caramel malt, damp wheat crackers, testy pomegranate, er, flesh, muddled table-top pepper mill output, a mildly sour and funky yeast/bacterial astringency, and more weedy and herbal bitters (can't be hops, they're not on the ingredient list!).
The carbonation is fairly understated in its generally supportive frothiness, the body a solid middleweight, and mostly smooth, but for a bit of fruity and funky tartness tripping over the petunias here. It finishes off-dry, the mixed malt, purple fruit, and wispy maple carrying us on out past the velvet ropes.
Overall, this comes across as a very heady and engaging version of the style, with the chosen adjuncts adequate in their Yuletide propriety. More sweet than funky, which works well for this reveler, who before today had never heard of this Broderus fellow, but now I shall for evermore associate him with Christmas cheer!
1,667 characters

3.48
/5
rDev
-8.9%
look: 3.5 | smell: 3.5 | taste: 3.5 | feel: 3.25 | overall: 3.5
On tap at Mikkeller and Friends in Reykjavik, Iceland. Served in a sherry glass.
Poured a medium caramel, darker yellow hued body, one finger white head, a bit of lacing, not much retention. Smells of lemon, a bit of leather, cereal grain, a bit of farmhouse funk. Nothing too crazy, but solid. Mild acetic tartness, a bit citrusy as well. Flavour is similarly somewhere in between, with cereal grain and a bit of leathery lemon to go along with it, it is a fairly pedestrian tasting saison, but solid nevertheless. Mild farmhouse funk and acetic tartness. Mouthfeel is a bit thin, although for a Brett beer, this isn't too surprising. Solid carbonation, refreshing and dry. Overall, a solid but otherwise forgettable Brett beer.
730 characters
3.44
/5
rDev
-9.9%
look: 3.5 | smell: 3.25 | taste: 3.5 | feel: 3.5 | overall: 3.5
L:Golden, 1 in head disappears after 1 minute, a few small bubbles.
S:grass (stuffed nose today)
T:It's a season!. Rhubarb or artichokes and sourness.Some sort of smokiness at the back of the throat. Hoppy aftertaste.
F: Easy to drink and refreshing but not my type of beer.
O:It's certainly different.Gets more interesting as it warms up.
339 characters

3.91
/5
rDev
+2.4%
look: 4 | smell: 4.25 | taste: 3.75 | feel: 3.5 | overall: 4
A: Pours a hazy light honey color with a a good amount of a white head. Lacing is decent as well as retention. Expected a more airy foam from a saison but it's not too surprising from a non Belgian brewery.
S: Quite a spicy and sweet smelling beer that's for sure. There is clearly quite a bit of pepper, cinnamon and anise in the smell. The maple syrup clearly comes off in the smell. The pomegranate juice is present in the form of a hard to distinguish fruity smell. Some light barnyard funk from the brett as well as green apple juice and peel. Quite complex smelling, but nothing overly attractive.
T: Taste is sadly not as interesting as the smell. There is a good amount of everything described. There is a good amount of barrel tannins present that throws off a bit the taste balance. Also, the sweetness is much less than in the smell and the maple notes don't come out much. Still, it's fruity and fun.
M: Not airy enough for the genre for sure. I would love if Quebec's breweries would get their hands on a traditional strain of yeast to get the appropriate mouthfeel out of these beers. Still quite light and definitely not super sticky.
O: This is a solid beer that is great for a Christmas party. Not too heavy considering all the food implied but still fun and complex enough to keep your attention. Very drinkable. Recommended.
1,347 characters
3.37
/5
rDev
-11.8%
look: 3.75 | smell: 3.5 | taste: 3.25 | feel: 3.5 | overall: 3.25
A Brett saison brewed for holiday time with pomegranate and maple syrup. Not much maple here, which is obviously a letdown, and very little Brett as well. Not much funk, the yeast makes it seem more like a Belgian golden than a farmhouse, and the pale but mostly clear color agrees. I smell the fruit, and I taste it too. Not sure it would have worked with maple if it was there, do maybe best it's subtle. The fruit is tangy and astringent, and the body isn't full enough to combat it. Weirdly dry, and oddly pale ale like for what it is, happier than expected. I suppose it's a fine use of pomegranate, but I've never really liked it in any beer, so relatively uninspired there. It's a fine idea, but a lousy end product in my opinion. My first beer from these guys, and I have really been digging the Quebec stuff lately, but this was a huge disappointment, and not just because it wasn't very maple flavored, but because it just doesn't taste all that good, and the wild aspect is almost entirely absent. If you could not imagine these ingredients being boring, just try this beer and see how it's possible.
1,111 characters
4.28
/5
rDev
+12%
look: 4.75 | smell: 4.25 | taste: 4.25 | feel: 4.25 | overall: 4.25
750 ml bottle was poured into a large Duvel snifter.
Appearance: This beer poured a puffy two finger head that took a long time to reduce to a small puffy layer. It is a pale orange copper color with great clarity of tiny bubbles coming up through the glass. Spotty lacing down the glass as the beer was drank. I'd like to think the pomegranate gave the beer it's color too.
Smell: Floral, fruity pomegranate, herbal, spices, vanilla, bready malts, pale malts, powdery yeast, and a little funk.
Taste: A nice blend of aromas. You do pick up a little of the maple syrup in the taste. Nice blend and balance of flavors and a little bitterness in the rear.
Mouthfeel: Light bodied, medium to high carbonation, a little dry, tart, slight funk, and a little bitterness.
Overall: Slightly funky saison. Cool stuff and very enjoyable. Only a little over 4 hours from Boston and a slight detour on the way to Montreal. I like their take on this farmhouse style. I have to find more of this brewery in the near future too.
1,020 characters
4.02
/5
rDev
+5.2%
look: 4.75 | smell: 4 | taste: 4 | feel: 3.75 | overall: 4
***My 700th had on BA!***
Poured from a 750ml. bottle.
Appearance: Pours a nice liquid gold, most of my glass is filled with head that looks delicate on top. Frothy, huge chunks clinging and great retention. Excellent.
Aroma: Pungent fruit, little sweet, strawberry aroma from the brett, as well as pomegranate insides.
Taste:: Spices mixed with funk, sharp fruit, brett takes over midway giving it a slight oak edge. Pomegranate seeds and flesh as well.
Mouthfeel: Very lively, high carbonation, bitterness is aggressive for a saison but i can keep up.
Overall: Not your typical saison but different and tasty. Give it a shot for sure.
643 characters
3.75
/5
rDev
-1.8%
look: 3.75 | smell: 3.75 | taste: 3.75 | feel: 3.75 | overall: 3.75
A complex and enjoyable saison, courtesy of Josh R. Fresh yeasty aroma. Big head, lacy. Peppery, funky yeast, a serving of brett, a spot of the pomegranate, and some of the sirop d'erable. A big above average mouthfeel. Good drinkability despite above average carbonation.Not as good second time around, very raspberry.
321 characters
3.9
/5
rDev
+2.1%
look: 3.75 | smell: 3.75 | taste: 4 | feel: 3.75 | overall: 4
Bottle: Poured a hazy dark amber color ale with a large foamy head with good retention and some lacing. Aroma of spicy notes with fruity undertones and medium Brett presence can be detected. Taste is complex mix between some dry and funky Brett notes with some peppery yeast undertones and some citrus/fruity notes also discernable. Body is about average with good carbonation. Complex beer with quite a few different flavours profile with some ingredient shining more then others.
481 characters
Dunham / Kissmeyer La Résurrection De Broderus from Brasserie Dunham
3.82
out of
5
based on
32
ratings.