The Windsor Castle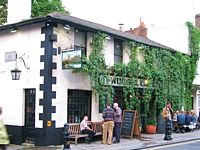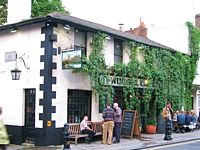 Bar, Eatery
114 Campden Hill Road
London
,
England
, W8 7AR
United Kingdom
+44 871 984 1284 |
map
thewindsorcastlekensington.co.uk
Notes:
Recent ratings and reviews.
Ratings by paulish:

Rated by paulish from New York
4.25
/5
rDev
+1.4%
vibe: 4.25 | quality: 4.25 | service: 4.25 | selection: 4.25 | food: 4.25
Nov 23, 2021
More User Ratings:
Reviewed by JonnoWillsteed from England
4.38
/5
rDev
+4.5%
vibe: 4.25 | quality: 4.25 | service: 4.75 | selection: 4.25 | food: 4.25
I first visited this pub in 1986, when a flat-mate who knew Kensington took me on a mini pub-crawl of this pub, together with the nearby Uxbridge Arms (around the corner on Uxbridge Street), and Churchill Arms (continue in the same direction to Ken. Church Street). Close together, but all different in their own way, historic/trad, and full of character. This pub does not appear to have structurally/cosmetically changed in all those intervening years.
Today I strolled up there from home together with my wife for lunch. It has a pretty good range of beer, on hand-pull, tapped and bottled. A core range plus rotating guest beers. One thing I did miss that I'd have liked given it's winter is an option of a stronger/deeper 'winter-warmer' style of beer on hand-pull - perhaps another time...
Lunch was very good and efficiently served. The bar-staff were very helpful and knowledgable about both their food and drink options. They have the kind of amicable informality you'd expect more out in the country instead of in central London. There was what appeared to be an impressive wine list too.
The pub has the feel of a genuine local pub, something that seems rarer in town these days. I wouldn't be surprised if the majority of patrons had walked there.
The interior is historic and contains the original oak panel partitioning for the various different small bars (public, saloon, and so on), perhaps back in the day to partition of domestic household staff visiting, from their wealthier employers. One of the partitions has a doorway joining two bars, that is (IIRC) no more than about 5 foot high, if that.
There seemed few tourists here today, mid-winter, but there will certainly be more come summer.
There is an amazing feature, a spacious walled beer-garden with tables that comes into a life of it's own in the summer-time. Sitting out back having lunch or dinner in the sun with a drink or two is a very enjoyable/unexpected pleasure in this part of town. In the summer don't be surprised to find yourself sharing a large table out back with others: One time (late '80s) I joined a table and realised I was sitting opposite the electronica/new wave musician Gary Numan. As a teenager I'd been a fan of his, but of course you pretend not to notice; it's that kind of place. Classy in an understated way, which to me reveals authentic class.
We walked in 'on spec' for lunch today (2pm), but several tables were flagged with reservations for dinner. It's busier in summer, but then the garden can also be a viable option.
The pub stands on what might be the highest point in West London, so whichever way you leave on foot it'll be downhill, an added bonus. It is so named as before the adjacent modern buildings, you could see Windsor Castle from this site, a distance of about 16 miles.
ps. well kept/clean bathrooms upstairs too.
Jan 18, 2020

Reviewed by AuntBea from Illinois
4.59
/5
rDev
+9.5%
vibe: 4.5 | quality: 4.5 | service: 4.75 | selection: 4.5 | food: 4.75
We ate here on our first night in London. Our daughter found it on Yelp and it had good reviews. It wasn't far from our flat, so a nice walk. The bartenders were very welcoming and found us a table in the back right away. This pub is cut up in sections. There is also a beer garden but, it was too cold for us to go out to enjoy it. The food was great. We all had fish and chips. It was Hake that night, the biggest piece of fish I have every been served. We tried their desserts too. The sticky toffee pudding was a big hit with everyone at our table!! Not to say that the brownie and apple/almond slice weren't delicious too. There was a decent selection of beers. The barmaid was very helpful in telling us what they had. The bartender asked what we had planned for our trip to London. We were going to a Chelsea futbol game the next day. He gave us a bit of advice which was really nice of him. I look forward to returning to this pub some day.
Apr 10, 2016

Reviewed by innominat from Ireland
4.02
/5
rDev
-4.1%
vibe: 4.25 | quality: 3.75 | service: 4.5 | selection: 3.75
Lovely old pub and worth a visit just to see the inside. Very good service and more than 20 taps. Lots on cask which were solid and a fair price. I would recommend.
Oct 10, 2015
Reviewed by wl0307 from England
3.73
/5
rDev
-11%
vibe: 4 | quality: 4 | service: 3.5 | selection: 3.5
A countryside-looking pub in a decent area of London, close to Notting Hill tube station. The white outlook of the two-storey pub, plus wall-hanging green plants (something like Ivy--I'm not a botanist, sorry) ensures a humble, lovely and idyllic feel of this place.

There are three entraces: the front one leads to the main, multi-roomed public bar; one of the side doors leads to the so-called "sherry bar"; while the corner door leads one into a sandwiched, tiny space called "private bar". The private bar in the corner of the pub connects the other two areas with two very narrow and low (120cm-ish) wooden doors (with shining plaques warning "mind your head" hung on top) as well as separated with two wood-panelled walls, and is made purely with English oak adopted from other parts of England: Hampshire, Dorset, and Berkshire, cut in 1930s. The interior is pretty dark, with dim yellow lights, exposed beam-structure, and some kitchen-wares hung on the ceiling--a bit pretentious to (try to) mimick the kind of country-pub feel, if I may.

The L-shaped bar has 6 handpumps in total, with only three ales on upon my visit (London Pride on two pumps, plus Everard Sunchaser and Hopback Odyssey, while Taylor's Landlord and Adnam's Bitter were goen)--the two guest ales were in good condition. Yet what attracted my eyes was a list of well-selected wines written on the blackboard as well as on display behind the bar, featuring some good-valued Italien red, as far as my limited knowledge is concerned. Not extremely cosy, but everyone in there (mostly loaded upper-middle class locals and wealthy American locals--the same?) as I saw enjoyed her/himself fully in a glass of something, but rarely a pint of real ale... With such a "smart" selection of wines and lagers (incl. Staropramen and Grolsch on tap) in a posh area of London, I guess that's the norm?

Worth a visit when combined with other atmospheric pubs in that area (e.g. Churchill Arms), but don't expect anything stunning beer-wise.
May 27, 2006
The Windsor Castle in London, GB2, United Kingdom
Place rating:
4.19
out of
5
with
5
ratings