Empirical Staught
| Steffans Aldergrove Brewery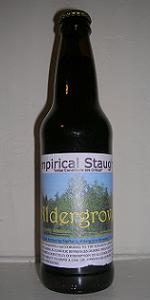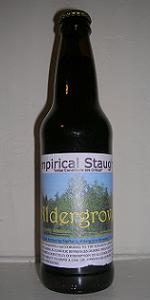 BEER INFO
Brewed by:
Steffans Aldergrove Brewery
Washington
,
United States
Style:
American Double / Imperial Stout
Alcohol by volume (ABV):
7.50%
Availability:
Year-round
Notes / Commercial Description:
No notes at this time.
Added by BeerAdvocate on 05-29-2006
This beer is retired; no longer brewed.
HISTOGRAM
Ratings: 13 | Reviews: 13
Reviews by Brewsmith:
4.28
/5
rDev
+17.3%
look: 4.5 | smell: 4 | taste: 4.5 | feel: 4.5 | overall: 4
Aroma is full of chocolate and plums. Jet black and a creamy tan head. Flavor is big on cocoa with a touch of sweetness to fill out the chocolate flavor. Dark fruits, plums and fig come through. Roast comes through in the finish helping it to dry. Just bitter enough to balance, and a huge, creamy mouthfeel. An awesome beer by maybe the smallest brewery out there.
365 characters
More User Reviews:
3.72
/5
rDev
+1.9%
look: 3.5 | smell: 4 | taste: 3.5 | feel: 3.5 | overall: 4
Appearance – This is dark brown in color with a nice, brownish head.
Smell – The malts are roasty at the nose and mixed with some inviting brown sugar. The sweets are very deep.
Taste – Yes, this is a dark, burnt, roasty malt flavor with some good brown sugaring to balance things out. Nicely done.
Mouthfeel – This is between light and medium-bodied and very bitter with a strong burnt finish. It's a bit thin for what I like to see of the style but otherwise had a nice feel in the cheeks.
Drinkability – I really like the harsh edge to this ADS. It was fun to drink.
Comments – Thanks to skyhand for busting out this beauty at her first annual Raw Sewage Craft Beer Night.
697 characters

3.62
/5
rDev
-0.8%
look: 3.5 | smell: 4 | taste: 3.5 | feel: 3.5 | overall: 3.5
Review from 10/2010 notes. Poured into a Nostradamus flute glass. Pours a near black with a red tint. Minimal head and no lacing. Chocolate and dark malt aroma. Dark malt, dark fruits and chocolate with a bit of roastiness. Finishes smooth with a hint of roast malts. Somewhat thin bodied for an Imperial stout. A good worksmanlike stout, no off notes, but nothing noteworthy either.
383 characters
4.03
/5
rDev
+10.4%
look: 4.5 | smell: 4 | taste: 4 | feel: 4 | overall: 4
Glugs out an opaque black with a frothy chocolate milk head that doesnt die quick. Smells of mild molasses, a little chocolate and fig. Tastes of mild chocolate covered cherries, roasty with a minor hop bite at the end. Medium in the mouth, almost feels like a porter. Drinkable but almost a little too heavy and a little too light.
332 characters

3.27
/5
rDev
-10.4%
look: 3 | smell: 3.5 | taste: 3 | feel: 3.5 | overall: 3.5
06/24/07- Purchased at Bottleworks in Seattle, WA.
Presentation- Very cool homebrew type labeled 12oz bottle with a field of Alder trees. Even lists the calories (270). No freshness info though. Poured into my Duvel tulip.
Appearance- Pretty deep black in color. 3/4 inch tight bubbled dirty brown head upon pour. Quickly dissipates and leaves practically no sign of any lacing.
Smell- Decent nose of roasted malt and roasted coffee beans. A bit of chocolate as well.
Taste- Super deep roasted malts with a heavy smoky almost charcoal taste. Hefty massive dark chocolate flavor as well. The coffee didn't come through at all as compared to the nose. Very large bitter hop background...too large for this beer as far as I am concered. Takes over the malt, which I would think would be hard to do in a stout...apparently not the case with this beer. Maybe the batches aren't the same each time.
Mouthfeel- Caught between watery and thickness. A bit slick. Would have liked it a bit more bold. Have had several 7.5 stout which have been much more food-like. Medium to lower carbonation though. Large bitter aftertaste.
Drinkability- A bit too smoky and bitter for me. Maybe other persons treasure though?
1,219 characters
3.55
/5
rDev
-2.7%
look: 3 | smell: 3 | taste: 4 | feel: 2.5 | overall: 4
Big Fruity aroma, like prunes or ripe plums, dark cherries. Also a good hit of roast Good at first but then I pick up some astringent smells.
Deep black with very little translucency. Very small ring of head around the edge of the glass.
Huge amount of roast flavor. Actually it comes off as a little sour but it's really the bitterness of high roast malt that makes it seem sour. There's some sweet malty backbone in there too. Nice hop bitterness but no hop flavor which is appropriate for the style. Lots of fruity fermentation character and more of that overipe pit fruit character that I got in the aroma.
Full bodied but not what I'd think of as "big". A little low on the carbonation level, not very lively on the palate.
It's a good example of a big but not imperial stout. I think it needs a little fine tuning and then it would be there.
Notes: A new brewery to me and it seems like a very small operation. the label is very low tech, avery lable with a color printer and the six-pack I bought has some off centered labels as if done by hand.
1,067 characters
2.6
/5
rDev
-28.8%
look: 4 | smell: 4 | taste: 2 | feel: 2 | overall: 2
2007 Aldergrove Empirical Staught
Appeared black, with a thin, reddish black head fading into a wispy ring. Smelled pleasant, candied plums with some oak up front; a little burn to the nose. The flavor was dominated by a sour cherry-like acidity with a pungent bitterness in the form of day-old coffee; some lingering oak emerged in the background. My first mistake was not buying 2 for an initial taste prior to cellaring...I don't think this one fared well over the last 2 years. I'll keep my eye out for a fresh version to give it a second review.
551 characters
4.75
/5
rDev
+30.1%
look: 4.5 | smell: 4.5 | taste: 5 | feel: 5 | overall: 4.5
100th Review - have to thank TheBungyo for tossing this into a trade we were working out.
Pour: 12oz bottle to tulip. Comes out with a one finger thick mocha colored head over a black bodied beer. Slight bubbles saunter from bottom to top inside the glass. The head is very thick, like melted ice-cream, and leaves excellent lacings.
Nose: Coffee, chocolate, plums, malts, more chocolate like chocolate icing in a can, slight alcohol character like rum but maybe closer to Kahlua.
Mouth: Roasting coffee and chocolate. This beer is delicious! I was afraid of it having some sour notes that I'd been experiencing in stouts recently, but not at all. This really is a slam dunk. Smoky roasted bitter finish with just a tiny hop presence. The alcohol is barely noticeable in the flavor. Crisp carbonation that's creamy and chewy all at once. Slightly sweet, nutty and caramel notes and a roasty burnt touch.
Excellent!
926 characters

3.18
/5
rDev
-12.9%
look: 4 | smell: 3.5 | taste: 3 | feel: 3 | overall: 3
Poured black as night with a tan head that settles to a ring. Aromas of coffee, port wine, a bit of roastiness andd some sour graininess. Taste is more of the same. There is a nice coffee/chocolate note at the beginning, but this quickly falls off to a a plateau of sour grain and molasses. Lacks a real depth of flavor and sustained bitter and roasted notes to make it interesting. Mouthfeel is a little thin and soapy. Just okay. RIS are a crowded playing field right now, with lots of good examples to be had. No real reason to seek this out. Next time, I'll try one of their session beers.
593 characters
3.98
/5
rDev
+9%
look: 4 | smell: 3.5 | taste: 4.5 | feel: 4 | overall: 3.5
12 oz bottle poured into imperial pint.
A- Thick, darkish head on top of inky black body. Leaves nice lacings throughout.
S/T(both nearly the same): Coffee, bitter dark chocolate, malty, an almost sweet alcohol bite that is rather pleasant.
MF- Smoky, slightly astringent finish. Nice carbonation, that's not too overblown resulting in a thick and creamy stout.
D- Tad too bitter, with enough alcohol coming through to tamper with the overall flavor, but a nice, heavy stout all the same.
492 characters

3.49
/5
rDev
-4.4%
look: 4.5 | smell: 3 | taste: 3.5 | feel: 4 | overall: 3.5
From notes:
Pours pitch black and almost completely opaque with slight mahogany edges when held to a light source and a two finger frothy, dark mocha head. Good retention, slowly fading into a lasting ring that leaves splotches of lacing behind.
Roasted malt aroma with hints of chocolate, coffee bean, oatmeal and licorice. Slightly spicy with a surprisingly prominent earthy pine hop presence in the nose.
Medium bodied and surprisingly hop forward for the style. Lots of bitter earthy pine flavor up front that lingers throughout over the roasted malt body into a lingering bitter, dry finish. There's a slight lactic cream presence that balances things out a bit but the flavor is dominated by the hops and roasted malt flavor. Hints of coffee/espresso bean, dark chocolate and burnt toast.
797 characters

3.36
/5
rDev
-7.9%
look: 4 | smell: 3 | taste: 3.5 | feel: 4 | overall: 3
A vigorous pour into my 25cl tulip glass produces a three-finger thick, frothy, deeply browned, tan colored head that sits on top of an almost black, concentrated, dark brown stained beer that is quite opaque. Quite sweet and fruity smelling, in fact it has some similarities to fruit loops somehow. A light mustiness seems to linger just beneath the surface of the aroma too. The more typical and expected roast notes of a stout are hard to pick out underneath the artificial fruitiness, but if you swirl it nice notes of deeply toasted grain, roasted coffee beans and dusty cocoa aromatics become noticeable. A sort of cheesy note comes out during the swirling as well though.
Amply roasted in the flavor, from a burnt acidity, to lots of roast malt character. Finishes with a slight, burnt vegetable note that I find in quite a few heavily roasted beers these days. Dark espresso flavors and burnt caramel malt notes intermingle at the front of each sip, though these are preceded by a nice, rich chocolate flavor. Towards the middle and finish the beer picks up a touch of sourness that seems to be a bit more than just roast grain induced. This beer is thick, rich and chewy feeling with a definite heft that makes this a sipping brew. The mouthfeel helps to keep the tartness from being too distracting, though it definitely intrudes just a bit. A bit of the funk from the nose makes its way into the flavor, though it has a much lighter impact, though does become more noticeable towards the finish of each sip (a bit of moldiness is mainly what is noticeable above the slightly suspect tartness).
A decent beer, that has most definitely been infected prior to or at bottling. Based on this sample I would say this is a beer to be drunk very freshly bottled, which at first blush seems to be the case with most of their bottled products.
1,846 characters

3.59
/5
rDev
-1.6%
look: 3 | smell: 4 | taste: 3.5 | feel: 3.5 | overall: 3.5
12oz bottle purchased at Bottleworks in Seattle for $1.77. Odd, homemade-looking label that gives both the abv and the calorie count.
Poured a very dark brown, almost black, color, with 3/4 of an inch of tan foam that disappeared quickly. Very modest, spotty lace was generated when agitating the glass but was otherwise MIA.
This gave off scents of roasted coffee, dark chocolate, mollasses and raisins.
The taste was a little less complex than the scent. There's a slightly bitter, coffee flavor that is matched up with a chocolaty sweetness, but it's less interesting than the nose led me to believe it would be. There's also a warming alcohol taste and a brief hop zap to the palate that occurs at the swallow.
While the mouthfeel is moderately oily, this is a little too thin and watery for an impy stout. Definitely would benefit from more body.
An ok attempt at the style. If this was my local micro/brewpub that made this, I'd buy it to encourage them to keep branching out. But next time I go to somewhere like Bottleworks, I'll be buying other imperial stouts.
1,077 characters
Empirical Staught from Steffans Aldergrove Brewery
Beer rating:
3.65
out of
5
with
13
ratings