Kimo's Sports Bar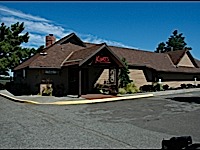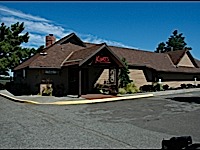 PLACE INFO
Type:
Brewery, Eatery
2696 N. Columbia Center Boulevard
Richland
,
Washington
, 99352
United States
(509) 783-5747 |
map
kimosrmbc.com
Notes:
Formerly: Rattlesnake Mountain Brewing Company
Added by BeerAdvocate
HISTOGRAM
View: Beers | Place Reviews
Ratings: 9 | Reviews: 6
Reviews by bigkingken:
2.65
/5
rDev
-13.1%
vibe: 3 | quality: 2 | service: 2 | selection: 4 | food: 2.5
This brewpub is billed as a sports bar, but it's one of the worst planned sports pubs I've ever been to. Plasma screen televisions are sporadically spaced throughout making it nigh impossible to watch multiple games at once. Not that it matters since every television was tuned to one of two games on the first Saturday of the college football season, meaning there were at least four to choose from. This indicates to me that they don't care enough about sports to actually get a good college football package. So it's no wonder that nobody there was actually watching a game. Hmmmm, local brewpub billed as a sports place with nobody watching the game. That speaks volumes in itself. The one redeeming quality was a gorgeous outdoor patio overlooking the river. It would be a wonderful place to sit and enjoy some beers with a large group of people.
The food was alright, but nothing great. I went with the fish and chips. Breaded with panko crumbs, the texture was quite nice, but the flavor was lacking, especially in the tartar sauce. The beer battered fries were the clear winner of the plate, and the coleslaw was obviously homemade and quite tasty, also a nice touch.
The beers were definitely good but nothing grand. The sampler came with 9 brews, a good selection, but 4 of them had lemon wedges stuck in them. When the place fruits nearly half of their beers, I smell trouble. The hefeweizen was actually very tasty. The honey amber was sweet, nearly overly so, and the pales and browns left nothing in my memory. The other two "light" options tasted nearly identical to the hefe, so much so that I wondered what the difference was in the recipe.
There were two clear winners of the group, however. The IPA was perfectly hopped and balanced, leading to all the wonderful flavors that can be derived from different boiling times, and it came complete with a whole hop floating as a garnish--a wonderful touch! The second was the oatmeal stout. Thick, creamy and full of flavor, it is exactly as an oatmeal stout should be.
The waitress was prompt and the food came out AMAZINGLY fast. So fast I wondered if it hadn't been prepared for someone else who changed their mind and left for me to eat. A superb bartender would have allowed me to substitute a sampler and pint of beer for the requisite pitcher of beer in the Chicago style pizza meal deal. The cost would have been about the same to just ring it all up as the combo, but she said she couldn't, so can't rate the service very highly.
2,506 characters
More User Reviews:
3.8
/5
rDev
+24.6%
vibe: 3 | quality: 3.5 | service: 5 | selection: 3 | food: 4.5
Definitely by go-to place for watching sports if I also want some good food to go with it. Nowhere else comes close. Lots of different fans of different teams, and I've never even been hassled by guys rooting for the other team. There's pool tables, and a nice patio with a view if the weather permits!
302 characters

1.03
/5
rDev
-66.2%
vibe: 1 | quality: 1 | service: 1 | selection: 1 | food: 1.25

2.78
/5
rDev
-8.9%
vibe: 2.5 | quality: 2.5 | service: 3 | selection: 3
Visited 3.26.10 late afternoon. Been in here once several years ago, review based on above date visit.
The location for this Tri-Cities sports bar is quite good, located just across a small access road from the Columbia River, though the deck was pretty cheesy with cheep plastic patio furniture. I could see that as a cool place to hang on a hot summer afternoon. The inside of the establishment was typical sports bar, a number of medium sized flat screens(no big screens) to watch sports events on. A horseshoe shaped bar dominated the middle of the main room, a pool table stuck in the back alcove, and this is a working brewery. I didn't have all the beers, but I did try the IPA and that was alright though relatively low ABV. They also had a Hefe, Saison, Red Ale, Amber, Smoked Porter and an Oatmeal Stout on tap during my visit, but they were all quite low gravity beers.
I didn't try the beer, but what I saw was typical bar style food, except for the quesadilla burger which the bartender thought was quite good, though strange sounding. The people were loud and boisterous locals, the one obnoxious guy sitting next to me lamenting about life, his ex, his job, dropping f-bomb every 4th word while plowing through 3 drinks in 30 minutes, was an annoying loser and detracted from the generally above average environment. To make things worse, he was using his Nextel walkie-talkie, hey dude get a real phone, we don't want to hear your conversations. All in all, fairly pedestrian beer, and a crowd that I'll avoid at all costs-even though the $1.75 a pint happy hour pricing was a real bargain.
1,609 characters
3.53
/5
rDev
+15.7%
vibe: 3.5 | quality: 3.5 | service: 4 | selection: 3.5 | food: 2.5
Aside from the beer, there are several things I came to like about the tri-cities. One is that Kennewick is rimmed with windmills. I love those windmills. Another is that a waterfront park runs for miles on both sides of the river that includes everything from active wildlife areas to frisbee golf courses. The Rattlesnake Mountain Brewing Company, better known as Kimo's, is directly across the street from the park, a marina, and the flat waters of the Columbia River. The restaurant wisely takes advantage of the view with many windows and an outdoors patio facing the river and the scenery beyond.
You probably know what a rattlesnake is and what a mountain is. But what's a Kimo, you ask? Well, that's Kimo von Oelhoffen, a defensive tackle most recently with the Philadelphia Eagles. Kimo has enjoyed a long and productive career in the NFL and now he's part owner of Kimo's, which, not surprisingly, is a sportsbar. Word has it that he spends most of the year playing and training for pro ball, but returns to the tri-cities in the off season.
The first best thing to know about Kimo's is that they have one of the best happy hours anywhere. From 4-6PM on weekdays you can enjoy a pint of Rattlesnake Mountain beer for just $1.25. That's almost impossible to match anywhere for a pint of craft beer. And if you miss happy hour, they have various beer and cocktail specials nightly. Chalet-style woodwork encloses the spacious brewery and forms a backdrop to the gaming area where darts, pool, and video games are available. As you might expect at a sports bar, televisions are abundant. One touch I've never seen elsewhere is that the bar is partitioned against the restaurant by boxing ring ropes.
Don't go out of your way for the food. The nachos are uninspiring and though the menu doesn't mention it, they come adorned with hamburger meat. Those of us that don't eat hamburger meat deserve advance warning and the chance to opt out. The Cobb salad was somewhat redeeming but not enough to compel a return visit. A number of the eight house beers are worthy of attention, among them a smoked porter, an American wheat beer billed as a hefeweizen, and a fresh-hopped pale ale available in October. Avoid the oatmeal stout. No guest taps or casks are offered. Service is friendly and prompt. My glass rarely emptied before a gracious young hostess in a sports jersey emerged and asked if I needed another.
2,430 characters
3.2
/5
rDev
+4.9%
vibe: 3 | quality: 3.5 | service: 3 | selection: 3 | food: 3.5
I am a long-time patron of the establishments that have occupied the space currently the home of "Kimo's." Kimo's is the least favorite of the occupants. There is no character to the place…it could be a sports bar in Seattle, LA or St. Louis. The selection of beers (the home brew, on tap, and bottles) are not noteworthy. The beers are average at best, lacking character and flavor; the ambiance is predictable; and the food and service are milk toast. The location is outstanding, especially on a cool summer evening spent on the deck. Parking is sufficient. Overall, Kimo's ranks behind Ice Harbor and ahead of Atomic (these three represent the dearth of choices for beer lovers in the Tri-Cities).
707 characters
3.5
/5
rDev
+14.8%
vibe: 3.5 | quality: 3.5 | service: 3.5 | selection: 3.5
Technically there is no longer a Rattlesnake Mountain brewpub. It's name is now something along the line of "Kimo's Sports Bar featuring Rattlesnake Mountain Brewing Company." Kimo von Oelhoffen, the defensive lineman formerly of the Pittsburgh Steelers, and now with the NY Jets, is the owner. Apparently he resides in the Tri-Cities in the off-season, despite his not being from the area. The place was gutted and re-built as a sports bar, but with the brewing equipment kept intact and whoever's currently doing the brewing using the recipes of the original owner and proprietor of Rattlesnake Mountain.
The building is located at the northern end of Columbia Center Boulevard in the part of town that seems like it's in Kennewick but due to cheesy small town politics is officially part of Richland. It was formerly a fine dining destination called The Boulevard, and looks out onto the Columbia River and the area where Kennewick Man was found (see, even scientists think they're in Kennewick when they come here). There's a deck on the side of the building facing the river and, looking west, may offer a view of Rattlesnake Mountain itself, whose bald bad self broods over Hanford.
Inside it's a cavernous space with very high ceilings and concrete floors. The bar is located behind ropes made to look like those found in a boxing ring and are to keep the minors out. Past the bar and behind glass can be seen stainless steel fermenting tanks. There are about 8 taps, all of which were Rattlesnake beers. I believe some macros are available as well, but only in bottles. There is hard alcohol available as well.
The beers were mostly of the styles that are usually encountered in brewpubs - IPA, amber, porter, hefe, stout -along with some more esoteric brews like "The Saison" (that's what it was called on their menu) and their honey red ale. They also had their own light beer, for those that think they need such a beer. They were out of the IPA and porter (called the Smoky Porter, one that I had years ago when Rattlesnake beers were still being distributed outside of the brewpub ), so I tried their oatmeal stout and the saison. Both were mediocre - the stout was on nitro, had the usual stout flavors but seemed like it needed a little more oomph, and the saison had a slightly overly-generous amount of orange peel in the recipe and was so earthy and grainy I was almost led to wonder if it was the hefe. Prices seemed uniformly $3.50 per pint.
Service was perfunctory. The waitstaff all wore t-shirts with Kimo's on the front and featured the owner's jersey # (67) on them. Most were green, perhaps reflecting his current team. business was slow, so the bartender didn't leave me waiting, but I could tell he was not a tower of beer information when I tried to ask him about the saison.
I didn't eat any food here. The menu seemed typical for most sports bars, mostly sandwiches and burgers, though there were a few more high-end items as well.
While I appreciated a stout other than Ice Harbor's insipid draft-only Irish Stout, I think I still prefer Ice Harbor over this place, as the latter's beers have a little more character and doesn't have a schizophrenic brewpub/sportsbar identity crisis like this place has. But in the pantheon of Tri-City brewpubs, I'd rate Kimo's/Rattlesnake Mountain ahead of Atomic Ales in terms of beer quality.
3,383 characters
Kimo's Sports Bar in Richland, WA
Brewery rating:
2.94
out of
5
with
19
ratings