Purity Of Essence
| High & Mighty Beer Co.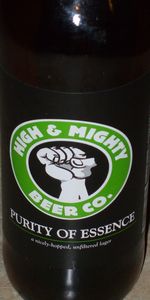 BEER INFO
Brewed by:
High & Mighty Beer Co.
Massachusetts
,
United States
highandmightybeer.com
Style:
American Pale Lager
Alcohol by volume (ABV):
5.40%
Availability:
Rotating
Notes / Commercial Description:
No notes at this time.
Added by fitzy84 on 07-15-2008
Reviews: 49 | Ratings: 77

2.88
/5
rDev
-23.4%
look: 4 | smell: 3.5 | taste: 2.5 | feel: 3 | overall: 2.5
A mighty disappointment from my perspective.
This beer pours a hazy amber with a solid white head and just a bit of lacing. So far, so good. Aroma has solid pine hops and hint of malt. A little light in aroma but not bad.
Taste, though, is just not appealing. Bitter hops all the way through and not much else. I love my hops but this is too deeply bitter for my liking. Mouthfeel is, again, remarkably bitter.
This one was not for me. I don't know that it is classified properly here but I don't enjoy this as an example of any style I am familiar with.
HV
562 characters

3.17
/5
rDev
-15.7%
look: 3 | smell: 3.5 | taste: 3 | feel: 3.5 | overall: 3
The beer pours a cloudy amber color with a thick frothy offwhite head that slowly fades to lacing. There are plenty of yeast floaties to go around. The aroma is decent. It has a relatively bitter scent along with a pretty good smelling malt aroma. It's appears to be pilsner and light crystal malts. The taste is average. It's true. It does have a nice hoppy taste and aroma, but there is nothing else to be celebrated here. The malt taste is not that great and it's a bit too hoppy, because of the lack of balance. The mouthfeel is decent. It is a medium bodied beer with a bit too much carbonation. This is a forgettable beer. It's one and done for me.
654 characters
3.27
/5
rDev
-13%
look: 4.5 | smell: 2.5 | taste: 3.5 | feel: 3 | overall: 3.5
Hazy because it is unfiltered. The color is a light amber. Very impressive, rocky head with superb lace on the glass side.
Strong "refrigerator" smell; mild malt in the background--even milder hop essence.
The flavor is an improvement over the smell. Lots of flavoring hops. Slightly alcohol-ish in the background of the reasonably dry malt. This is a thin beer with lots of carbonation.
It's kind of a one-trick pony--not much complexity here. Still, for a malt liquor, it is better than most.
497 characters

3.45
/5
rDev
-8.2%
look: 3.5 | smell: 3.5 | taste: 3.5 | feel: 4 | overall: 3
22 oz brown bottle with bottled on date (June 4, 2008) poured into an American pint glass.
Appearance: Almost tawny amber hue with nice white head. A very thin layer of white remains after settling. It's unfiltered, but duh, it says that on the label.
Nose: Orange is immediately noticeable, and sweet malt, sarsaparilla, and Indian spices register.
Palate: Carbonation is moderate to high. Agitation reveals a lot of dry-hop characters and a little dustiness. There is an umami character here poking out between bursts of bitter hops (leaning on the pine-y side of things, not the citrus side). Nice and bitter, decent body, with a red kool-ade note right in the mid-palate.
Notes: Although this beer is sufficiently bitter and gets points for that IPA-esque extremeness, it seems to lack something in the middle. I get a strong nose, and an initial bitterness on the palate, a quick mid-palate of fruit and then immediately on to bitterness and dry hops again. I wish there was more in the middle.
1,003 characters

3.88
/5
rDev
+3.2%
look: 4 | smell: 3.5 | taste: 4 | feel: 4 | overall: 4
Another malt liquor from a micro? Hmm.
Pours a dark amber/copper color with a thick and fluffy head that has decent staying power and ample carbonation.
Aroma is thick and citrusy upfront with only a hint of malt sweetness showing through. Doesn't smell like a malt liquor.
Taste starts off with strong hop bitterness upfront followed by a clean malt profile that is somewhat sweet and bready. The bitterness lingers and alcohol warmth is minimal.
Mouthfeel is mainly bitterness with a hint of alcohol warmth. A little dry as well.
Hmm, as for drinkability? As much as it stymies me, I can't get enough of taking sip after sip. Definitely has more body than a macro malt liquor. I'm not even sure if the style is accurate but maybe that's because of all the other malt liquors I've had. Regardless, if you want something that will puzzle you and refresh you at the same time, give this a try. Now, if only it came in 40s. Hmm.
934 characters

3.97
/5
rDev
+5.6%
look: 3.5 | smell: 4 | taste: 4 | feel: 4 | overall: 4
A 650ml bottle, bottled Jun42008. Served in a pint glass, the beer was a hazy orange/brown color. The head was spotty, and dissipated quickly. It had a nice citrus aroma as well as a little malt presence. Orange taste, which persisted. Nice tang to it. Good beer, refreshing.
275 characters
4
/5
rDev
+6.4%
look: 4 | smell: 4 | taste: 4 | feel: 4 | overall: 4
Big thanks to Bill for sending this one my way. I never would have gotten it or even looked for it otherwise! Twenty two ounce bottle served cold, right out of the fridge and poured into a pint glass. Consumed 08/12/2008.
First of this is no malt liquor! The pour was a nice bright amber , very cloudy and hazy with a good bit of carbonation coming up through the bottom of the glass. A nice two inch head of white then came up over the top and settled down to a thin level that lasted about another minute before turning to a rocky crown that coated the sides.
The aroma was bright, lots of floral hops and lemon zest in this one. Hints of tangerine, light bready malts and a hint of grain. The flavor was more of the same with a bright profile. Light bodied, but as it warmed turning a bit toward the chewy side, the carbonation was very good throughout and never really got dull, boring or flat. I was really shocked by the flavor as this tasted unlike and malt liquor I had ever had. It was very much like a nice, lightly hopped pale ale. Everything about it was light and bright, with lots of lemon and tangerine, almost grapefruit but not quite that bitter. Nice drying finish left a lingering taste in the mouth for quite sometime.
Overall I really enjoyed this one. It was an excellent beer to have on a hot night as it was not that filling, nor was it too heavy in profile. Should be categorized as a pale ale I would think, but who am I to judge!
1,459 characters
3.65
/5
rDev
-2.9%
look: 4 | smell: 4 | taste: 3.5 | feel: 3.5 | overall: 3.5
I'm not the biggest fan of HaM brewery in Holyoke, MA. I had a conversation with the brewers from Paper City at the ACBF in Boston and they told me that HaM uses their facilities. The Purity of Essence is a fine looking beer, in that it is an orange tawny fairly cloudy beer, with a creamy foam head that does retain and settles into a more soap like foam around the edges. A bit of lacing too.
The aroma is unique, fairly subdued, and quite enticing. Sweet malts, orange rind, perhaps wet leather, and a very hard to pin down spiciness as well. The taste is respectable, but that's as far as I'll go. It is quite drying in the finish, there is a tea like, sharp hoppiness, some bready malts in the backbone, with some tart florals in the body. The beer is a bit biting, but it lacks the oily hop esters to be especially interesting. The beer isn't particularly sweet, floral, or estery. There might be some spiciness in the beer, a bit peppery. This is a medium bodied beer, unfiltered and not characteristic of an American Malt liquor, which is a good thing. It is better made than that, and it is more like a dark lager. The mouthfeel and aftertaste is quite dry.
1,168 characters

3.85
/5
rDev
+2.4%
look: 3.5 | smell: 3.5 | taste: 4 | feel: 4 | overall: 4
Saw this advertised around and finally got a chance to drink it in its 22 oz bomber. Appearance is a dark, murky brown-amber color with a thick lacing on the sides but a generally thin head throughout. Aromas are rich in malt and hop balances with some grain, bready biscuit, and sugars. The beer is generally sweet with a dry finish. Good mouthfeel makes it crisp and delicious. Overall, a good drink from High and Mighty.
423 characters
Purity Of Essence from High & Mighty Beer Co.
3.76
out of
5
based on
77
ratings.