Rendezvous Porter
| Old Schoolhouse Brewery
BA SCORE
82
good
14
Reviews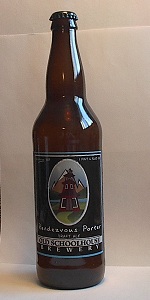 BEER INFO
Brewed by:
Old Schoolhouse Brewery
Washington
,
United States
oldschoolhousebrewery.com
Style:
American Porter
Alcohol by volume (ABV):
6.00%
Availability:
Year-round
Notes / Commercial Description:
No notes at this time.
Added by RedDiamond on 10-12-2009
Reviews: 14 | Ratings: 26
4
/5
rDev
+14.3%
look: 3.5 | smell: 3.5 | taste: 4.25 | feel: 4.5 | overall: 4
Purchased at BevMo. Pure black to dark brown in color with very little head. Smell of coffee grounds. Very dry and bitter aromatics. Flavors are much the same as the aromas but the body of this is outstanding. So creamy and full. Can't say enough about it. Top notch porter from a brewery that's really been impressing me.
322 characters
3.8
/5
rDev
+8.6%
look: 3.75 | smell: 3.75 | taste: 3.75 | feel: 3.75 | overall: 4
Bottle from late Autumn trip through New Jersey. Superior porter, dark and thick with a nice serving of chocolate.A nice moderate roasting. Very good drinkability. A little molasses. Understated carbonation made it taste a little like a fresh cask beer, a good thing.
267 characters

3.72
/5
rDev
+6.3%
look: 3 | smell: 3.5 | taste: 4 | feel: 4 | overall: 3.5
Appears black with a sizeable tan head.
Smells slightly sweet, nutty and chocolate like.
It tastes of semisweet milk chocolate, and nutty caramel malts. The taste is really smooth though it doesn't have the smokiness of most porters. It is a very creamy beer that is very easy to drink.
The carbonation is quite low and it helps create smoothness to the beer.
This is a rich yet smooth beer. It's not that typical of a porter but it is still a very nice beer.
465 characters

3.68
/5
rDev
+5.1%
look: 4 | smell: 3.5 | taste: 3.5 | feel: 4 | overall: 4
From 7/9/10 notes. Had at a local DC tasting.
a - Pours a brown color with one inch of white head and light carbonation.
s - Smells of chocolate, roasted malts, and coffee.
t - Taste follows the nose; lots of chocolate and roasted malts. Also some vanilla.
m - Medium body and low carbonation.
d - A pretty nice porter. Would like to try again.
350 characters

3.67
/5
rDev
+4.9%
look: 4 | smell: 4.5 | taste: 3.5 | feel: 3.5 | overall: 3
22oz bottle consumed on 8/30. Reviewed from notes.
A: Solid black with a thine creme lacing. Looks fairly viscous, actually.
N: Deep whiffs of chocolate/fudge and coffee. Molasses. This is truly rich in the nose with some good bark, leather and earth.
T: Coffee forward with light peppering. As pronounced as the fudge is in the nose, this leans more towards the sharp and bitter in the palate. More of the earth and leather and pine bitterness lent from the hops. This reminds me a bit of Hair of the Dog Adam, actually, only lighter.
M: Acceptable. Dry with a medium level body.
O: A decent stab at the style. Not resounding praise, perhaps, but this is a beer you could have when you just want to drink something without worrying about the profile too much. Average is A-OK.
786 characters
3.6
/5
rDev
+2.9%
look: 3.5 | smell: 3.5 | taste: 3.75 | feel: 3.5 | overall: 3.5
22oz bottle purchased at Mid-Columbia Wine & Spirits in Kennewick, Washington, for $4.85. I think I might have theoretically had this beer when the brewery was called Winthrop Brewing, provided it's the same recipe, which it may or may not be.
Poured into a Selkirk Abbey nonic pint glass, this looked an inky black until held up to light, when it yielded the slightest bit of mahogany-ish highlights. I gave it a somewhat rough pour, but it yielded a fairly minor bit of tan foam that dropped after a few minutes, leaving a light rim of lace near the top of the glass.
The nose was of mildly bitter, roasted malts, giving things a kind of "light coffee" aroma. There was also a sweet, milk chocolaty thing hanging about the workers at the olfactory.
The roasty, slightly bitter aspect of the nose is most present in the initial taste. The sweeter part is more obvious from midway on.
The body was somewhere between medium and full, and the carbonation was a tad bit low, but not to a degree that crippled things. It had a slightly dry mouthfeel.
A decent, no-frills stab at a porter. It's kind of like a bridge between a porter and a brown ale, really. I'd save this for when you want a porter but aren't terribly interested in how it tastes, or maybe an introduction for someone dipping their toe into the style and is a little scared of dark beers.
1,368 characters
3.55
/5
rDev
+1.4%
look: 3.5 | smell: 3.5 | taste: 3.5 | feel: 4 | overall: 3.5
Though OS's menu specifically refers to Rendezvous as a robust porter, the beer never attempts traditional porter roastiness and strays from brown porter sweetness. It is oddly sweet with a punky marshmallow character, making it an anomaly ale.
But the beer does work for simple enjoyment. It is deep ruby with an aroma that mirrors the taste. I enjoyed it, but perhaps for unintended reasons.
398 characters

3.46
/5
rDev
-1.1%
look: 4 | smell: 3 | taste: 3.5 | feel: 4 | overall: 3.5
A: Chestnut brown exit sits a coal black in the vessel. A foamy, golden-bronze head has a sturdy retention supplying a good rate of coverage on the glass.
S: Dark chocolate, light smoldering burnt wood ambers along with some black cherries and dark roast. Overall a light to moderate sense of delivery.
T: Sweet milky chocolate flavor, sweet roast with somd dark fruit. Smooth, charred wet woodiness.
M: Good tingle from carbonation, full body, milky roast texture that provides a smooth roasty charred fade on the way down.
O: Overall a worthy porter, nice flavor, ideal pub style with a strong carbonation, rich sweet body that is drinkable.
651 characters

3.46
/5
rDev
-1.1%
look: 4 | smell: 3 | taste: 3.5 | feel: 4 | overall: 3.5
Appearance: pours a dark brown color with a one inch head that lingers a while before fading.
Smell: very mild aroma as only some malt sweetness comes through to the nose.
Taste: roasted malts, a hint of cherry, dark chocolate, a bit of an earthy quality, and a mild bitterness make up a decent porter.
Mouthfeel: medium bodied. Lightly crisp to start, smoother and a bit dry at the finish. Short lasting aftertaste.
Overall: easy to drink this beer, and basically a porter anyone can have as it is light enough and a bit refreshing.
537 characters

3.38
/5
rDev
-3.4%
look: 3.5 | smell: 3 | taste: 3.5 | feel: 3.5 | overall: 3.5
pours opaque with a small brown head, and a little lacing.
smell is of milk chocolate, and some malt.
taste is thick, milk chocolate, a touch of coffee, and nuts, ends smooth, more like a stout than a porter.
overall an above average porter, more of a stout than a porter.
275 characters
3.21
/5
rDev
-8.3%
look: 4 | smell: 3 | taste: 3 | feel: 4.5 | overall: 3
Very dark brown body, ample ruby highlights, topped by a bright light tan fluffy head.
Pleasant chocolate and coffee aroma, but it could be a bit more assertive.
Light chocolate taste, faint hints of coffee. Mild pleasant hop nip at the swallow.
Highly enjoyable rich chocolately mouthfeel oozes down the tongue.
Overall a tasty porter worth trying, but not one that will push Founders or Smuttynose for a spot in beer rotation.
433 characters

3.16
/5
rDev
-9.7%
look: 4 | smell: 3 | taste: 3 | feel: 3 | overall: 3.5
A - tiny bit of light through the middle of the glass. Near white tall tight head that drops slow.
S - mild malts, chocolate and acidic bitterness.
T - heavy dry malts, some acidic burgers. Flavor drops off fast.
M - not watery but not much coating. Mild tingle on entire tongue
D - easily drinkable, but not a top choice.
326 characters
3.05
/5
rDev
-12.9%
look: 3.5 | smell: 3.5 | taste: 3 | feel: 3 | overall: 2.5
I bought a bomber of Rendezvous porter in a bottle store. $6.99. Poured in to a pint glass.
Pours a black walnut color with deep red hues when held up to the light. Bubbly beige head, is not particularly resilient, but leaves some wispy lacing on the glass.
Smell is sweet with an acerbic bite, like a rum candy. Not a lot of roasted aroma going on here.
The taste of dominated by a liquor or black licorice flavor. There is a hint of coffee and a hint of chocolate, but it's mostly a dark candy flavor. I make the taste more of a holiday seasonal than a sturdy porter.
Mouthfeel is medium bodied and not particularly cloying.
Drinkable but overpriced and not a great representation of the style. There are better porters to be had.
737 characters
2.79
/5
rDev
-20.3%
look: 3.5 | smell: 2 | taste: 3 | feel: 3 | overall: 3
Poured from the bottle into a goblet.
Appearance: Pours a dark brown with some reddish light coming through. There is a finger of light tan head that fades quickly to a ring around the edge of the glass.
Smell: Quite sweet with some malt and dark fruit. There is almost a tart quality to the smell with no apparent roast.
Taste: At least it isn't tart like the smell. Very malty with hardly any roast. Some caramel malt with a slight bitterness in the finish.
Mouthfeel: The body is a bit thin with fairly large bubbles and a dry finish.
Overall: This is a really mediocre beer. No real roast, which I enjoy in my porters. I don't think I'd have another.
659 characters
Rendezvous Porter from Old Schoolhouse Brewery
3.5
out of
5
based on
26
ratings.