Terror In The Wood
| Snipes Mountain Microbrewery & Restaurant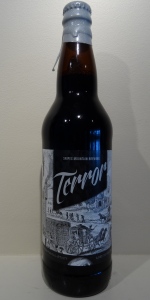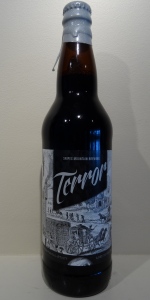 BEER INFO
Brewed by:
Snipes Mountain Microbrewery & Restaurant
Washington
,
United States
snipesmountain.com
Style:
American Double / Imperial Stout
Alcohol by volume (ABV):
10.00%
Availability:
Limited (brewed once)
Notes / Commercial Description:
No notes at this time.
Added by LiquidAmber on 02-04-2014
This beer is retired; no longer brewed.
HISTOGRAM
Ratings: 13 | Reviews: 6
Reviews by Birdlegs:
More User Reviews:
3.49
/5
rDev
-0.6%
look: 3.75 | smell: 3.5 | taste: 3.5 | feel: 3.25 | overall: 3.5
on-tap, bottleworks
From what I can gather, he's the run-down...
"2012 Terror – 13 different malts of 5 grains, with Summit, Palisade and Strisslespalt hops then fermented with French Saison yeast. Finishing additions of molasses, local honey, apples and blackberries.
2013 Terror – 17 different malts of 5 grains, with Summit, Palisade and Hersbrucker hops then fermented with French Saison yeast. Finishing additions of molasses, pears and blueberries.
Terror From the Woods is the 2012 version of the beer, aged in Syrah and Cab Sauv barrels from Gilber Cellars and then blended 60/40 with the minority being the straight 2013 Terror. "
I wish it were as awesome as it sounds but it just doesn't work for me - a lingering mash of bitter char and sweet fruit left me a little displeased. I've had this a few times now and as much as I want to support these guys and jump on some of the bottles they just put out, this didnt work for me.
947 characters

3.69
/5
rDev
+5.1%
look: 3.5 | smell: 3.75 | taste: 3.75 | feel: 3.25 | overall: 3.75
Poured into an Elysian snifter. Pours a very dark brown, appearing nearly opaque in the glass with very little carbonation forming a thin brown ring around the glass. Aroma of dark toasted malt, chocolate, slightly tart dark fruit, oak, faint white wine. Flavor starts with toasted malt, tart vinous dark fruit, mildly acidic oak, transisitioning and finishing with the tart dark fruit and somewhat astringent wood and hop bitterness. Medium bodied with mild carbonation. An interesting saison / Belgian stout hybrid with some moderate finishing hops. There is little overt flavor of the saison yeast, but the profile definitely leans towards a saison, but with the dark malt and dark wood elements; vinous, slightly tart and earthy. Not my style of ale, but I liked the dark earthiness of this one. Could use some more carbonation and malt body. Glad I tried it, but probably a one and done. This is a stout using "French saison yeast and aged in oak wine barrels", so a hard to characterize ale. I chose American stout, but it is more a hybrid between a lightly hopped American stout and a French farmhouse ale. "Belgian stout" may have been close, but it is not a Belgian yeast nor does it have much Belgian character. Interesting and uncategorizable. The bottle still uses the exact same lable as Terror, but has a small bar code label adjacent to identify this as the wine barrel aged and blended version.
1,410 characters

4.31
/5
rDev
+22.8%
look: 4.25 | smell: 4.5 | taste: 4.25 | feel: 4.25 | overall: 4.25
On tap poured into a tulip glass. It has a very dark brown color with low transparency. It has a nice dark fruity nose. It has a very fruity plus citrus taste. It has a smooth and crisp mouth feel with a lightly dry finish. Overall not a bad discovery.
252 characters

3.14
/5
rDev
-10.5%
look: 3.25 | smell: 3 | taste: 3.25 | feel: 3.25 | overall: 3
You have to look for the tiny print by the added barcode label to see "Terror in the wood 2013." Possibly the silvery waxed neck might mean something. The aroma is sharp and promises something winey and woody.
This is dark reddish-brown in the tall goblet with not much head, though swirling the glass will stir up a little liveliness. Quite spritzy on the tongue. But what is this stuff? It tastes like it might be on its way to becoming a sour. It feels quite acidic along with the distinct red wine taste and smell. It seems like it got more of the tannins and less of the woody barrel flavor.
I forgot this was supposed to be some kind of stout. There is a roasted and scorched malt taste under the sharp frutiness. There is a drying tendency which would seem there is a Belgian yeast here. This is an interesting idea and I hope they'll do more experimenting, but is not worth $11 for the modest education. From the 22 oz bottle purchased at Bottleworks in Seattle.
972 characters
2.27
/5
rDev
-35.3%
look: 2.5 | smell: 2.25 | taste: 2 | feel: 2.75 | overall: 2.5
A forced, unfocused mess. "French Provincial Stout", my fanny. If you make something and it doesn't work, give it a groovy name and try to make people think they just don't understand it. Brewed with French Saison yeast, so they say. So what? How did the brewer think French Saison yeast was going to add anything distinctive to a Stout? There have been a fair number of Belgian-style Stouts made in the NW, lately, and most are at least identifiable as Stout; some really quite good. This is thin-textured, undistinguished, wimpy, and built, if anything, more like a British Strong Ale or Old Ale, minus 3/4 of the body and almost all the intensity. I can and probably will ditto these same notes for the Terror Rye version, too. Both are over-ambitious attempts from a brewery that's trying too hard to be a Playah, without the skills to pull it off.
852 characters
3.5
/5
rDev
-0.3%
look: 3.5 | smell: 3.5 | taste: 3.5 | feel: 3.5 | overall: 3.5
4.02
/5
rDev
+14.5%
look: 3.75 | smell: 4.25 | taste: 4 | feel: 3.75 | overall: 4
22oz bomber into a goblet. Pours a small amount of head that dissipates quickly. First smell I thought of red wine and nothing else. So then I started to drink it like a cab. The beer seems somewhere between a cabernet, a grand cru, a saison, and a stout. Certainly not dry and or flat tasting. It's definitely an intersting beer.
330 characters

Terror In The Wood from Snipes Mountain Microbrewery & Restaurant
Beer rating:
3.51
out of
5
with
13
ratings