Snipes Mountain Microbrewery & Restaurant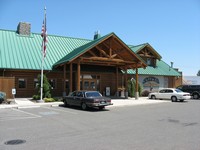 PLACE INFO
Type:
Brewery, Bar, Eatery
905 Yakima Valley Hwy
Sunnyside
,
Washington
, 98944
United States
(509) 837-2739 |
map
snipesmountain.com
Notes:
No notes at this time.
Added by BeerAdvocate
Ratings: 13 | Reviews: 10
Reviews by beerceller99:
3.93
/5
rDev
+5.4%
vibe: 5 | quality: 4 | service: 4 | selection: 3.5 | food: 3.5
About 25 minutes east of Yakima on I-82, Sunnyside is smack in the middle of wine country. There are a half - dozen or so wineries in the area. It's also at the center of the hop universe. The brewery is a stand alone building on the main drag in town. It's a beautiful wooden ski lodge type structure which looks out of place in this bleak, dusty desert farm town. The inside is nicely done with a huge bar, nice booths and a beautiful stone fireplace. We had lunch here and the sandwichs were tasty and reasonably priced. Service is extra friendly here. Most of the beers are quality but neither the Roza or the Imperial stout were on tap when we visited ( too bad ). A small cooler has their bottled beers to go. Definately worth a visit if you're in the area.
763 characters
More User Reviews:
4
/5
rDev
+7.2%
vibe: 4 | quality: 4 | service: 4 | selection: 4 | food: 4
Went for weekday lunch. Good selection of beers on tap. Calzone & fish & cops good. Dinner menu looks good, too.
112 characters
4.28
/5
rDev
+14.7%
vibe: 3.5 | quality: 4 | service: 5 | selection: 4.25
3.78
/5
rDev
+1.3%
vibe: 4 | quality: 3.5 | service: 4 | selection: 3.5 | food: 4.5
Visited coming and going from Yakima, 5/18 and 5/20/12.
Located in the bustling agricultural/taco truck mecca of Sunnyside, 30 minutes east of Yakima in a architecturally stunning (for this town) ski lodge style building, Snipes Mountain is a true beer oasis in the middle of Washington.
The times I visited they had 10+ house beers on tap, their normal selection which is available in bottles, and several brewpub only offerings, including a CDA and DIPA. All of their beers are well-crafted, and the range of beer from blonde ales to strong goldens should please all but the most devout BAs (no sours).
While I certainly enjoyed the beers I had, I was very impressed with the food. On my Friday lunch stop I had a soup, fresh clam chowder and salad and Sunday a chicken sandwich. I believe this place is known for their pizzas, a large wood oven was prominent in the open kitchen. Even if you aren't looking to have a beer, I would recommend stopping here for a meal, the food was top-notch, some of the best brewpub grub I've encountered.
The help was quite nice, even during the busy Friday lunch rush, and we were able to enjoy a relaxed meal Sunday afternoon and our server at a sense of humor that put us all at ease. Prices were reasonable, good value for both beer (offered in 10, 16 and 24 oz pours) and food.
All in all, I was quite impressed, this was a real surprise, and while I don't get through the area very often, I most definitely will be stopping by next time I'm in town.
1,499 characters
3.7
/5
rDev
-0.8%
vibe: 4 | quality: 3.5 | service: 4 | selection: 3.5
I stoped at Snipes Mountain while traveling through the area.
Atmosphere: A rustic lodge style building with exposed log beams and a high ceiling. The place is spacious. Kitchen and a wood fired pizza oven are behind the bar. Seating for 89 throughout, but only for about 10 or so at the bar.
Quality: Average I guess. I didn't try everything, but the hefe was a very average American Wheat Ale.
Service: was good, but the place was not at all busy in mid afternoon.
Selection: Eight micros brewed on the premises. A blonde, two pales, two IPAs, a lager and a porter. There is also a selection of wines but no hard liquor.
Value: Reasonable at $3.75 a pint. $4.25 for a couple of the specialty beers (Porter and IPA).
722 characters
4
/5
rDev
+7.2%
vibe: 4.5 | quality: 4 | service: 4 | selection: 4 | food: 3.5
For a brewpub, Snipes Mountain in Sunnyside, WA is quite an unique establishment. It is a structurer built to be a brewpub not a retrofit into a former restruant or warehouse. It is a giant log cabin wiht a bara, dining area and a separate banquet room on the fist floor and a second banquit room on the second floor. The cathederal ceiling are lined with giant beams and teh entire establishment is reminicent of a mountain lodge.
. We enjoyed their beer sampling try (9 brews from the brewery at 4 ounces per sample for a bargain price of 6.95), as well as several brews from the tap.
The service was great, however, we were there on a Monday afternoon so the place was virtually ours. I was impressed that the waitress told us she had worked there for seven years. Obviously, the establishment treats its employees well to gain that level of loyalty from a non-management employee.
They had a decent selection of the normal bar food (e.g., poppers, fries, wings...etc.) as well as a range of salads, burgers, pizzas and sandwiches. The food arrived within a reasonable time of ordering.
The prices for the beer and food were reasonable.
1,145 characters
3.98
/5
rDev
+6.7%
vibe: 3.5 | quality: 4 | service: 4.5 | selection: 4 | food: 3
As I descended on the Snipes Mountain Brewery I was struck by how starkly the place stood out in contrast to the surrounding community. From a business spur dotted with car lots and taco joints, the brewery emerges as something of a ski lodge built of logs with a green tin roof. It seemed a bit misplaced in this dusty agrarian district.
No matter. You can't call a brewery misplaced in the Yakima Valley. With the tragic demise of Bert Grant's, Snipes is as close to the epicenter of American hops production as they come. It is the only brewpub in Yakima County.
The interior of Snipes is as spacious as the outside suggests and reminds me somewhat of the Cascade Lakes Lodge or Wild River down in Grants Pass. There's a main dining area, two banquet rooms, a patio and the bar. Despite the abundance of space, the brewery itself is cramped and looks a bit like a city skyline with its protruding array of stainless tanks visible behind a glass partition.
I sat down in the shadow of the behemoth stone fireplace and got to work on pizza and beer. Pizzas are baked in a wood fired oven. They don't aspire to gourmet, but are very agreeable. The fish'n'chips I dined on the following day were a better bet - very tender and you can get a baked potato instead of chips if you prefer. On another occasion I suffered through burnt nachos. The atmosphere tends towards corporate informal, with cloth napkins, piped in soft rock, and conventional patterns of interior design. But the clientele are local townsfolk out for a bite with family and friends. The service I received was commendable and sincere.
Beers include six regulars and a vast array of seasonals. Check out the chocolate espresso stout if you can. It's fabulous. The porter and IPA also won't disappoint. Many beers are available in sixers and bombers to go. They may also be found at retail outlets throughout the region. Quality has varied over the years due to a high turnover of brewers, but at present the beers are very satisfactory and the selection of offerings is substantial. And they've got free WiFi.
2,084 characters

3.08
/5
rDev
-17.4%
vibe: 3 | quality: 3 | service: 2.5 | selection: 4 | food: 2.5
Given an essentially complete lack of brewpub action between Boise and Sunnyside, we were excited to stop at Snipes. Unfortunately, it was deeply average in most things.
It's slightly difficult to track down from the interstate: make sure you know which exit *number* you want, since the street names aren't clearly posted on the interstate exit signs. Parking is plentiful in their lot.
Atmosphere: it's an ENORMOUS ski lodge/hunting lodge style building, with soaring vaulted ceilings that must make heating cost a fortune on cold winter days. A smallish bar is in the main room, perhaps eight stools. Lots of tables, and a few booths. An additional huge room seems to be behind a wall on the west side. It was entertaining to watch termites eating one of the poles that holds up the unnecessarily large awning over the front doors.
Service was fine; the apparently sole server and bartender at 3:30pm was a little rushed, but worked it out. She wasn't especially friendly, but also wasn't especially unfriendly. Efficient might be fair.
Selection for beer was solid: six standards, and three or four seasonals. The usual suspects, as well as Roza (barleywine), a "chocolate espresso stout", a pilsner (which was described as "very hoppy"), etc.
The food was kind of bland, and tasted a bit like it all came out of freezer boxes. Filling, but little else. Happily, the 4p-6p happy hour made most appetizers half price. (The exceptions seemed kind of bizarre: the appetizer sampler plate, and just he single nachos?) Happy hour also made mugs pint-prices. (So about $3.50 instead of $4.25?) Overall, the food was a lot like what you find in ski resort cafeterias: just good enough, but relying on being in a monopoly environment.
Quality for beer was, well, unimpressive. The Roza barleywine was somewhat bland, under-powered, and generally underperforming. The IPA was drinkable, but way too balanced and underhopped for the local IPA in the heart of hop growing country. The chocolate espresso stout was nowhere near as good as it name made it sound, and had a chalky, acidic, sour-milk tint to it.
Value: well, happy hour made it fine, but I wouldn't go often and pay the regular prices. You should know that individual sample glass (about 3oz) can be had for $0.75 each, since the ~$5.50 sampler tray is only the standards.
Overall, a decent place to stop and grab lunch, but mostly since it's better than interstate fast food, or as a diversion from a wine country tour. I would absolutely not go as a destination.
2,552 characters
3.55
/5
rDev
-4.8%
vibe: 4 | quality: 3.5 | service: 3.5 | selection: 3.5 | food: 3.5
Snipes is the best place in between Yakima and the Tri-Cities to stop and have a bit and some tasty beers. There porter has won medals at the last two GABF's so I was anxious to try it. I wasn't dissapointed; very tasty.
The food was solid, everything that's hot comes out of a wood fired oven that can be tricky to work properly. All in all the service was good, the food was tasty, the beer was fresh and cold, and the facility is very nice. You should stop by if you're heading down I-82 in either direction.
514 characters

4
/5
rDev
+7.2%
vibe: 4.5 | quality: 4 | service: 4 | selection: 4 | food: 3.5
Located in the center of the valley amongst the well-known Yakima Valley wineries. Stopped in for a quick lunch and beer break. Since the wife was wine tasting and I was just an observer, the site of a brewpub was a welcome site for me.
Signs for the place actually start on the Interstate blue food signs that usually only have fast food joints listed. Its about 4 miles from the exit.
The building is a moutain house / ski lodge type of structure, so it is kind of strange but cool looking in the middle of the warm valley. We were greeted quickly and ushered to a booth. Big stone fireplace stick out in the room. High pointed ceilings. A smallish bar was just past the entrance.
There were 8 beers on tap - Extra Blond, Hefe-Weizen, Sunnyside Pale Ale, IPA, Coyote Moon, Porter, Chipotle Blond, and a Belgin Wit. The beers we had were fresh and decent quality.
The food was OK but nothing to rave about. Service was good and prompt even though the place was very crowded with a lunch time crowd.
Overall a pretty decent place.
1,047 characters
2.35
/5
rDev
-37%
vibe: 2 | quality: 1.5 | service: 3 | selection: 3 | food: 2
Snipes was a logical lunch stop as I drove from Boise to Seattle. After traveling past vineyard after vineyard in the Yakima Valley, I started to wonder what the local beer scene was like, and Snipes provided me with a definitive answer: I should have stuck with the wine.
Right near downtown Sunnyside, Snipes looks like an out-of-place hunting lodge from the outside, and a sorrily underdecorated family restaurant on the inside. Their service was friendly and informative--though unfortunately, that proved to be the best aspect of my experience here.
I won't go on bashing this place for too long, except to say that my food (a wood-fired BBQ chicken pizza) was bland--how can you make BBQ bland?!--and the beer sampler showed a set of about 8 off-flavored and underhopped brews. The lack of hop flavors and aromas was especially shocking given where I was in the country!
Those in the Yakima Valley be warned: don't stop in at Snipes; keep your pedal to the metal and drive the extra 170 miles into Seattle where well-balanced beer flows in abundance.
1,065 characters
4
/5
rDev
+7.2%
vibe: 4 | quality: 4 | service: 4 | selection: 4 | food: 4
The restaurant is very nicely built in the style of a log cabin or lodge. The ceiling's are nice and tall and give the restaurant a nice inviting feeling. There is a private room off the main restaurant that looked like it could be used for events or extra seating on busy nights. The menu was well fleshed out with lots of brick oven cooked foods. All I had to eat was their oven-baked pretzel. The beers are all pretty decent and worth trying. The staff seemed pretty knowledgeable and even though our waitress was handling a large number of tables, she was still quick to help and we felt well attended to. Overall a very nice experience. If you are in the area, I would recommend checking Snipes out.
711 characters
Snipes Mountain Microbrewery & Restaurant in Sunnyside, WA
3.72
out of
5
based on
204
ratings.