Seven Stars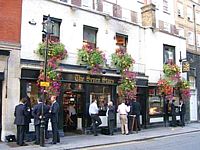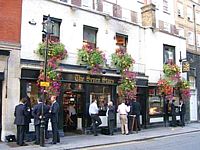 Bar, Eatery
53-54 Carey Street
London
,
England
, WC2A 2JB
United Kingdom
+44 20 7242 8521 |
map
Notes: Opening Hours:
Monday - Friday: 11:00 - 23:00
Saturday: 12:00 - 23:00
Sunday: CLOSED
Reviews by TheLongBeachBum:
TheLongBeachBum from California
4.03
/5
rDev
+1.8%
vibe: 4 | quality: 4.5 | service: 4 | selection: 3.5
Situated right behind the rather imposing Royal Courts of Justice with its grandiose and easily recognized 'World News' frontage, the Seven Stars is therefore easy to locate in general terms, but can be a tad tricky to find in the backstreets on a first time visit. Squeezed between newer buildings and amongst newer more modern construction, it seems like one of those quirky little buildings that should have been knocked down and redeveloped many, many years ago. But the Seven Stars is a Pub with 9 Lives and is a survivor of not just reckless redevelopers, but also both the voracious Great Fire of London in 1666, as well as the Blitz. The hanging sign outside at the far right hand end of the Pub did not swing in the staid warm sun-drenched Friday afternoon air, but I did note that it had seven 8-pointed golden stars set into a circular design, above which sits the date of A.D. 1602 proudly pronounced in gold text.
The outside sits tight against the small stone flagged pavement. From the outside it is easy to see that this is two similar but distinctly different buildings knocked into one. A two storey affair, the upper bricked frontage has character from its aging fading white-wash and luscious hanging baskets, whilst the ground floor is finished with lots of dark black wood clad exterior with white paneling below the windows. 'The Seven Stars' is painted in gold calligraphic lettering above the doors and windows, these too are decorated with painted gold text such as 'Ales & Stouts', 'Wines & Spirits' and 'Gastronomic Pub Food'.
Two separate doors act as the entranceways, and from the outside these seem to demark the ends of the waist high bar which sits parallel to the street inside, and only a few feet from the doorway. In fact, the whole interior is a little cramped, but it has a cozy feel. Basic décor evokes quality from a time past. Solid wood, often twisted and creaky, has a definitive feel especially when set against the well balanced use of glass and mirrors. Odd-ball contributions from stuffed animals and antique articles complete the inside.
Atmosphere is top drawer, the aged (seemingly unmessed with) interior, as well as the laid back feel which I detected whilst ordering the beer, is a definite plus. A sign to the left of the right-hand entrance states: "Ms. Roxy Beaujolais sells ADNAMS FINE ALES from the Sole Bay Brewery Southwold, Suffolk – and her delicious simple food". Yes, that is, Ms. Roxy Beaujolais!! (I kid you not). A legendary character, sadly she was not present during my visit, but an outspoken Landlady whose sharp tongue can cut many an unwary imbiber.
Five Real Ales; three regular Adnams brews and two Guest Beers, including one from Dark Star during my visit. Quality of the Ales was very good. Food is allegedly simple but high quality prepared gastro-pub fare, though I never tried any.
Clientele seemed to be a handful of "suits", all no doubt associated with the surrounding law themed buildings and offices, but many were surprisingly drinking Pints of Real Ale and there whole Pub seemed devoid of yuppie attitude so often encountered in other Pubs in this area.
A little over 400 years old, but this is no "Ye Olde Pub" tourist trap, it is a living, breathing, working backstreet Pub which serves a fine range of Adnams beers supplemented by a well kept range of Guest Ales and some excellent renowned Pub Food. This was the first stop (and beer) on a rather busy weekend stopover tour of London. My partners in crime for the visit, local BA's RichLightWeight and LondonPorter seemed totally at home here, even with the suits, but you know what? so did I despite not having visited London for some 10 years. Standing outside here on the pavement, Pints in hand, leaning against the exterior, chatting away whilst soaking up the gorgeously warm 'just finished work and chilling out looming forward to the weekend' Friday afternoon sunshine rays, was, well, simply sublime.
The Real Deal. Recommended!
Last Visit: Friday 23rd June, 2006.
Jun 29, 2006
More User Reviews:
spointon from Illinois
4.2
/5
rDev
+6.1%
vibe: 3.75 | quality: 4.5 | service: 4.25 | selection: 4
Visited the Seven Stars with my wife while on a recent London visit.
This is a small pub, with a main bar room and a small side room that has additional seating (where we sat). Beware the restroom is in the attic, and to get up there you climb a steep and narrow set of stairs that reminded me of climbing into a loft space in a cabin!
We were there for the last couple hours before they closed and I felt that the bartenders were friendly and accessible. The beer selection was about 8-10 cask ales, with the beers I tried being super fresh and delicious and well presented. I was really a fan of the Adnams bitter that I had there that night. I appreciated that the bartenders allowed the drinkers to buy beers right up to the minute they were closing.
Prices were fair. Atmosphere was pleasant. Nuff said.
Nov 15, 2013
sleazo from New York
4.06
/5
rDev
+2.5%
vibe: 5 | quality: 4 | service: 4 | selection: 3.75
What a quaint old pub. I stumbled on this place just to get out of the rain on a Tuesday afternoon. Little did I know that this was a place w a 400 year old history. This really takes you back without feeling like a tourist trap. The beer selection was good too. A number of Adnams, Sambrooks on cask along w the typical macro offerings.
A smallish place that was laid back in the afternoon I could imagine it getting crowded. All in all a nice place to get some tasty beers.
Jul 30, 2013

Madigan from Ireland
3.88
/5
rDev
-2%
vibe: 4 | quality: 4 | service: 3.5 | selection: 4 | food: 4
I like a pub with history and I like a pub with good beer and this place has plenty of both. On my most recent visit I came in at about midday on a Saturday, ordered a pint and got chatting to the barman - a nice English fella who filled me in on the refurbishment of the interior back in the '90s. Although the building itself has been a pub since the early 17th Century, most of what you see inside is a lot more recent, but it still has a wonderfully authentic old-world atmosphere - helped no doubt by its quiet location behind the Courts of Justice, and by the resident cat, Tom Payne, who struts around the bar like he owns the place.
Anyway, I had two pints that afternoon, Dark Star Hop Head and Bitter, and both were excellent. As was the chicken pie I tucked into. It gets a bit crowded in the evenings but there's plenty of room for drinkers to spill out onto the street. It's a short walk from Holborn tube stop and a number of other very worthwhile drinking establishments. As well as the Dark Star brews they have a number of Adnams beers and the usual macro suspects.
All in all - a gem of a pub, offering good food, good beer, and pleasant service in the heart of London.
Nov 23, 2009
dougnboston from Massachusetts
3.93
/5
rDev
-0.8%
vibe: 4.5 | quality: 4 | service: 3.5 | selection: 4
Finding a seat may not be easy but laws allow the crowd to spill out on the sidewalk. I've been a few times and always found a comfortable spot to enjoy the patrons and a pint. On this visit I had a hand pulled cask conditioned Black Sheep Bitter. Yummy.
As you walk in you'll find a small seating area to the left and past the bar to the right another slightly larger room. The bar has a dozen stools however one will be taken by Tom Paine. He may engage with you, but don't count on it. He's very quite, wears a wide classic white collar and purrs. Yup, he's a cat.
The owner publishes a cook book on simple pub fare. I bought one (10 pounds) and it's full of things I want to try, but haven't had a chance yet.
Upstairs houses an office, bathroom, kitchen, and what looks like a living room beyond the kitchen. A dumbwaiter lowers dishes directly to the bar.
A classic pub well worth a visit.
Oct 21, 2007
Midfielder from Finland
3.53
/5
rDev
-10.9%
vibe: 3.5 | quality: 4 | service: 3.5 | selection: 3
It is situated only a few hundred yards from mercurial London traffic, but smallish Seven Stars is usually quite cozy and quiet. When it is busy, you will see lots of suits. Perhaps too many, indeed.
Beers are usually from Adnams and Harvey's. Good quality but they go to the expense. Oh well, taking into consederation the district, it is not bad.
Although the proprietor and tv personality Roxy Beaujolais is very passionate about food, i have never eaten there. Perhaps i should.
The cat is friendly.
May 28, 2007

JohnfromDublin from Ireland
4
/5
rDev
+1%
vibe: 4 | quality: 4 | service: 4 | selection: 4
I had to purchase an A-Z guide to London to help me locate the Seven Stars. Visited in April 2007. It is located on a quiet street at the Royal Courts of Justice and adjacent to a Medical school (I think). The bar is right in front of you when you enter. Down to the right is a larger room which has a slightly more restauranty feel to it. I sat up at the bar with a pint of Sussex Best bitter. This was a bit pricey at £3.10 for a pint. There was a blackboard menu on the wall showing a varied list of dishes including guinea fowl and the like. The place does have a reputation as a very good eating place.
Apr 23, 2007
wl0307 from England
4.03
/5
rDev
+1.8%
vibe: 4 | quality: 4.5 | service: 4 | selection: 3.5
This was one of my local pubs back in my student days at the LSE. Most clientele here are lawyers and barristers, whereas every now and then there're students from nearby Colleges of Univ. of London (LSE, King's College) and Lincoln Inn Law School at the back of the pub.
The two-storey humble building where the pub is situated has a bigger interior than before, with a rather small extended eating area breaking through the previous left-end wall. Some interesting wig&pen artefacts and animal-specimens are on display in glass boxes on the outside of the pub. The bar serves four real ales regularly, with Adnam's Broadside, Bitter and seasonal ales plus DS HopHead, Harvey's Best Bitter or something else as guest. Bitburger, a German Pils, is also on tap. All the beers are taken good care of, and whenever I go there, most punters consume a pint of real ale more than anything else. The food menu is quite good as well, like simpler gastro pub fair, and is said to be supervised personally by the landlady.
It could get terribly busy after "court dramas" taken place in the High Court next door, but most of the time this tiny pub is at best semi-packed, cosy, and never dead-quiet. The landlady is the spiritual and real leader of the pub, keeping it one of the best-kept and warm-ish gems in Holborn and Chancery Lane area. A lovely real ale watering hole it is, well worth a visit!!
Jun 01, 2006
Seven Stars in London, GB2, United Kingdom
Place rating:
3.96
out of
5
with
8
ratings