Dismiss Notice
Dismiss Notice
Golden Mariner Pale Ale
| Scuttlebutt Brewing Company
BA SCORE
80
good
11
Reviews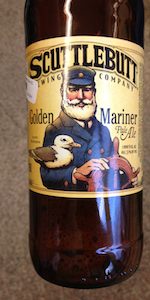 BEER INFO
Brewed by:
Scuttlebutt Brewing Company
Washington
,
United States
|
website
Style:
American Pale Ale (APA)
Alcohol by volume (ABV):
7.10%
Availability:
Rotating
Notes / Commercial Description:
No notes at this time.
Added by hopwave on 09-02-2013
Reviews: 11 | Ratings: 45
2.85
/5
rDev
-15.4%
look: 3 | smell: 3 | taste: 2.5 | feel: 3.5 | overall: 3
12 oz. bottle poured into a Ninkasi Pint Glass at the Bella Mar.
A: Pours golden amber. One finger head. Tight, frothy lacing. Both which last an average amount of time. Light orange-like hues to the body.
S: dirty hops, bright pine, citrus blend. Alcohol has a heavy presence, but not overbearing.
T: not great. All the bad things about the smell hit you in one fell swoop.
AT: at least the after taste is nice. Orange flavor with refreshing afters, but still with the tangy, scratchy onset feel of a pale. almost IPA'ish.
O: been drinking the flip out of Rainier and the like of late, only reviewed a couple beers the last few months. Saw a sixer of this at the Sehome Haggen and decided to snag it. Not great for a local beer, I've had Scuttlebutt before and don't remember it being this much of a turnoff. I'll question grabbing their label again after this little kerfuffle. Not a terrible beer, especially at 7.99/six-pack, just nowhere near a great one.
★
970 characters
3.02
/5
rDev
-10.4%
look: 2.5 | smell: 3 | taste: 3 | feel: 3.5 | overall: 3
22 oz bottle into a pint glass.
A: Pours a murky orange color. The head...well, there isn't much head - not even a finger high. It's off-white shade with terrible retention and almost zero lacing behind. When given an aggressive pour, the head does end up at a finger high, uniformly textured (which is a good indicator of "NEEDS MOAR HOPS"), and still poorly retaining. It actually leaves a touch of lacing behind in this state.
S: This smells extremely malty. There are some hints of citrusy hops, but mostly it's a butt-load of toffee, bread, and earth. Seemingly English-style in approach; this doesn't so much disappoint me as it does realign my expectations.
T: Malts hit first with plenty of toffee and earth. It's hop character is subtle at best, but there is a noticeable citrusy quality to the finish. Once it warms up, its malt backbone just steamrolls over everything. There isn't much complexity or balance to help keep the malts in check, either.
M: There isn't much carbonation here - but hey, it fits the English approach, amirite? Despite its heavy-handed malt backbone, it has a rather dry and crisp feel. While the malts win out over the unfiltered-ness, it's still a pleasant drink.
O: An over-malted pale ale? An under-hopped IPA? Or maybe it's just "English-style"? Whatever it is, it isn't great. But, it isn't bad, either - especially for $2.50 a bomber. While it's too malty for me to purchase again even at its great price, I'd still reckon it's worth purchasing once.
★
1,499 characters
3.12
/5
rDev
-7.4%
look: 3.25 | smell: 3 | taste: 3.25 | feel: 3 | overall: 3
12oz. brown bottle into a standard pint glass...
Golden pour with a small white head... smell/taste is muddy hops with a touch of grain in at the end... feels rather heavy and just okay for me... if your looking for a nice summer sipper pale ale this is not it. and weighing in at 7.1 won't feel like it either... might get a better score from me if it was labeled a IPA but just slightly...
★
394 characters

3.14
/5
rDev
-6.8%
look: 4 | smell: 3 | taste: 3 | feel: 3.25 | overall: 3.25
22oz bottle poured to pint shaker
Pours a nice red-gold, lightly hazed. Thick creamy off white head, maybe a finger and a half that seems more persistent then most PA's. Leaves a significant lacing.
Aroma is yeasty and bready with a few muddled hop points, primarily orange. You can smell the alcohol
Taste is sweet with a nice hop bite in the aftertaste... warm orange danish, a little pine and cedar.
Mouthfeel is a bit heavy for a pale, but that body props up that awesome head, I suppose.
Overall, very good, not great. Appearance is nearly flawless, but the aroma and flavor is a step down. More of a "tweener" brew between PA and IPA... indeed I might have rated it a tad higher as an IPA
★
699 characters

3.3
/5
rDev
-2.1%
look: 3.25 | smell: 3.25 | taste: 3.25 | feel: 3.75 | overall: 3.25
Pours into a standard pint glass a dull medium golden with a thin wispy white head is gone quickly atop.Aromas are fruity with alot of caramel sweetness,faint earthy/leafy hops are there as well.Quite sweet on the palate with caramel biscuit standing out most,some grain in the finish aoong with some sweet alcohol,the hops are light providing some earthiness.To me it's like an amped up English style pale but with even more sweetness.Eh it's ok but not like some of the other Scuttlebutt stuff that I actually liked.
★
518 characters

3.42
/5
rDev
+1.5%
look: 3.75 | smell: 3.5 | taste: 3.25 | feel: 4 | overall: 3.25
12 oz bottle pours slightly hazy golden-amber. Durable off-white head leaves very good lacing.
Aroma: malty and sweet for style but with some hops.
Flavor: somewhat opposite to the aroma, the h follows but is stronger, with a bolder hop presence and eops make their presence known largely through bitterness, but with some frutiy. Meanwhilte, there's some caramel from the malts but not enough to completely tame the bitterness. Herbal/grassy/earthy hop aftertaste. Relatively high ABV is not hidden.
Feel: lively, medium carbonation. Medium body.
O:
★
559 characters
3.43
/5
rDev
+1.8%
look: 4 | smell: 3.5 | taste: 3.25 | feel: 3.5 | overall: 3.5
Poured from a brown 12 oz. bottle. Has a deep golden color with a 1/2 inch head. Smell is kind of malty, a bit of sweetness. Taste is hops, minty, alcohol is present, a bit of malts. Feels medium bodied in the mouth and overall is a pretty good beer, a bit light on the hops though.
★
282 characters

3.56
/5
rDev
+5.6%
look: 3.5 | smell: 3.75 | taste: 3.5 | feel: 3.5 | overall: 3.5
Poured into a Seattle Beer Week pint glass. Pours a medium golden amber with a thin whtie head that dissipates to light patches with no lacing. Aroma of bready malt with buttery toffee and light stone fruit. Flavor starts similarly, with buttery, bready malt, then rapidly develops grassy hops with a bit of astringency, finishing with a long, bitter grassy hop finish. Medium bodied with light carbonation. A malty take on a pale ale, the body starting more like a golden ale, but finishing like a hopped up pale ale. The hop finish is a bit stark, considering the maltiness of this ale. A satisfactory, but unblanced, golden pale ale hybrid.Nothing here to really bring me back. I like Scuttlebutt, but this is a near miss.
★
725 characters

3.75
/5
rDev
+11.3%
My local, frequent in-person trader, tone77, recently dropped this off for me in his latest batch of beer. I am always anxious to see what he has for me when he stops by!
I am an ancient Mariner, having served 15.25 years on active duty in the U.S. Navy aboard four ships and countless underway periods. Does the helmsman on the label have a seagull in the crook of his arm or is it an albatross?!? Only us salty dogs know for sure, but the mermaid on the cap has given the all clear for a Pop!, so here we go. We seamen know of only one way to pour a beer and that is by way of a good, hearty Glug. The resulting pseudo-cascade settled into three-plus fingers of dense, foamy, rocky, eggshell-white head with decent retention. Color was a slightly hazy Golden-Amber (SRM = > 5, < 7). Scuttlebutt has it that we are going to have liberty call in Everett, Washington, but only if behavior stays on an even keel since the Old Man has had a Wild Hare up his ass since our last beer ration. Nose was in keeping with the APA style with hints of pine/mint and citrus rind along with bready malt. My mouth was beginning to water at the prospect. Mouthfeel was medium. The taste was what I expect in the style – slight, but not overwhelming, bitterness, hop driven without venturing into AIPA territory and with a light maltiness to help keep things in check. I am more and more disappointed by that Wild Hare the more that I think about it. Beautiful lacing appeared in its wake. Finish was semi-dry, more hops than malt, but not so intensely hoppy as to be overpowering.
★
1,567 characters
3.81
/5
rDev
+13.1%
look: 3 | smell: 3.25 | taste: 4.25 | feel: 4 | overall: 3.75
Pours a medium honey color with an off-white/light tan head of no great height, 1/4" at most. Retention is poor, dropping to a thin film quickly. No real lace left behind, either.
Smell is a decent blend of malt and hops with the hops leading slightly. Lighter notes of green tea, citrus and wood are teased out eventually.
Taste is hoppy, malty, citrus, and whiskey. Well balanced with a fairly sizable alcohol bloom that gives away the 7.1% ABV and is reminiscent of an Imperial IPA. Nice.
Very nicely warming on a New Years Day (watching hockey at The Big House). Medium + body with a restrained effervescence that still helps keep it from being cloying or sticky. Very well done, folks.
★
690 characters
3.91
/5
rDev
+16%
look: 3.5 | smell: 3.75 | taste: 4 | feel: 4 | overall: 4
12 oz bottle.
A: Cloudy deep gold. 2 fingers high of head but not retained.
S: Tropical fruits: mainly mango and some pineapple.
T: Tangerine and mango. Medium bitterness. Dry. Short finish.
M: Light bodied. Refreshing.
O: Nice pale ale.
★
238 characters
Golden Mariner Pale Ale from Scuttlebutt Brewing Company
80
out of
100
based on
11
ratings.