Vanilla Bean Brown Ale
| Landmark Beer Company
BA SCORE
78
okay
31
Reviews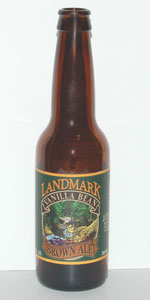 BEER INFO
Brewed by:
Landmark Beer Company
New York
,
United States
landmarkbrewing.com
Style:
American Brown Ale
Alcohol by volume (ABV):
5.00%
Availability:
Year-round
Notes / Commercial Description:
No notes at this time.
Added by John on 05-31-2006
This beer is retired; no longer brewed.
Reviews: 31 | Ratings: 36
3.5
/5
rDev
+6.7%
look: 3.5 | smell: 3.5 | taste: 3.5 | feel: 3.5 | overall: 3.5
A medium mouthfeel brown freshly tapped at Kelly Cole's Improper, with the Landmark rep. A claim that it's pure vanilla, it could be. First sample off the tap was sour, so we will ignore that. A bit milky at first and then carmel body and full carbonation felt in the finish. Decent for what it is.
298 characters
2.93
/5
rDev
-10.7%
look: 3.5 | smell: 3 | taste: 3 | feel: 2 | overall: 3
A- Dark brown/black color, one finger thick tan color head that quickly faded down to a thin layer
S- Nuts, dark malts, coffee, smokey, slightly metallic
T- Smokey, coffee, chocolate, dark malts, nuts, hint of vanilla beans
M- Fairly light feeling on the tongue, heavy carbonation
D- Worth a try but not something I'd buy often
Really fizzy for being a brown ale. Not as much vanilla taste as I was expecting but still worth a try.
436 characters

3.55
/5
rDev
+8.2%
look: 3.5 | smell: 3.5 | taste: 3.5 | feel: 4 | overall: 3.5
This is the second time in a row that my review has been above rohrbachsfan's review. Very strange.
A: Pours a deep brown color with a moderate head, small carbonation bubbles. Short lasting head retention.
S: Prounounced vanilla smell (obviously). The best way I can describe it is this: Take a glass of milk and put some hersheys syrup in it, and stir. It is very similar to that.
T: Tastes like you'd think. A malty brown ale with some vanilla flavoring. The vanilla wasn't too intense for me, but there was a definite lack of complexity to the taste.
M: This felt really good. Just the right amount of carbonation to make this a creamy ale.
D: Would recommend this primarily as a dessert beer. I had it once on tap (i think) and it was slightly better and had a fresher taste to it. I enjoyed this on a summer afternoon and it was still pretty good though.
875 characters
4.24
/5
rDev
+29.3%
look: 4 | smell: 5 | taste: 4 | feel: 4 | overall: 4
Appearance: Dark brown (almost opaque). Tall head.
Smell: Sweet malt, vanilla.
Taste: Sweet malt. Roasted coffee. Fresh vanilla with hints of chocolate. Tasted almost like a vanilla porter. I felt like I was eating a chocolate cake with vanilla icing while drinking a cup of black coffee
Mouthfeel: Creamy with smooth finish.
Drinkability: This is not something I would drink with a meal but it's a great dessert beer or something for a cold winter's night. All the flavors are perfectly balanced. This is a filling beer, but very nice.
551 characters

3.14
/5
rDev
-4.3%
look: 4.5 | smell: 3 | taste: 3 | feel: 3.5 | overall: 3
Nicely tarnished dark brown with a smallish capping of light tanned creamy froth. Keeps a good skim and collar as it leaves minimal lacing in a few big spots.
Aroma is lofty of hazelnut and vanilla extract, slimmer ginger hints with a hint of sweet browned malt. However, it seems alot less then a brown ale aroma then it trying to be a whole mess of Anchor OSAs' that are made from preservatives and over processed bakery goods then the natural stuff that beer is made from. Kinda fakey smelling.
Taste is definately more of the same, extract vanilla weakness in flavor is actually the overbearing character of the overall taste. Too much vanilla here, root beer-like sweetness slacks up the remainder balance, but the vanilla stuff is too much for me.
Feel is clean and simple with a tender carbonation that helps keep the overly settling vanilla sweetness from being sharp. And thank goodness for that. Otherwise this would be over the top by another hurdle not wanting to jump over during the middle of a race. Body is slightly less then medium with a slight dryness in the finish with vanilla extract and cookie dough fluff very lightly wafting about.
For a Brown this just didn't do it for me. Overly vanilla in nearly every manner and not in a fresh, wholesome way. Not sure if extract is actually used in the making of this brew, but man it sure seems to be coated in the fashion that it is. Either that or its just too much of the real thing? Unfortunately, not to my liking either way I put it.
1,517 characters
3.28
/5
rDev 0%
look: 3.5 | smell: 3 | taste: 3.5 | feel: 3.5 | overall: 3
Appearance is dark. Very dark. A brown, almost black. Totally opaque. Couldn't see the sun through this beer from an inch away.
The smell is very feint, almost non-existant. What I could smell was malty, but with a little sweetness to it.
The flavor has a dash of vanilla, but the more overwhelming flavors are of the molasses and licorice variety. It's a thick flavor.
It has a syrupy but surprisingly smooth flavor, but the aftertaste is dry and has a surprisingly nice finish. It's a nice beer to have one or, but too many in a row would be overkill. This would need something to cut through the thickness of it.
624 characters
Vanilla Bean Brown Ale from Landmark Beer Company
3.28
out of
5
based on
36
ratings.