Imperial Brown Ale
| Landmark Beer Company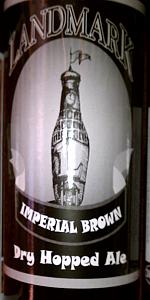 BEER INFO
Brewed by:
Landmark Beer Company
New York
,
United States
landmarkbrewing.com
Style:
American Brown Ale
Alcohol by volume (ABV):
8.00%
Availability:
Rotating
Notes / Commercial Description:
No notes at this time.
Added by DoubleSimcoe on 12-31-2010
This beer is retired; no longer brewed.
Ratings: 7 | Reviews: 4
Reviews by MVotter:

3.05
/5
rDev
-10%
look: 3 | smell: 3 | taste: 3 | feel: 3.5 | overall: 3
A - The Landmark Imperial Brown Dry Hopped Ale pours a hazy, dark tea color, with a thin tan head.
S - Ahhhh malt city. Hints of diacetyl/butterscotch ... wheat, grain.
T - Light roasted malts, some burnt-malt flavors present; backed with metallic hops.
M - Medium body, medium effervescence.
O - Kind of "ho-hum." Drinks like a session beer, but caution must be taken, as it weighs in at 8% abv. I'm not a big fan of grainy alcoholish beer flavors ... butterscotchy, gluey, grainy characteristic in this brew is something that isn't overbearing, but is present enough to taint my experience.
596 characters
More User Reviews:


3.85
/5
rDev
+13.6%
look: 4 | smell: 4 | taste: 3.5 | feel: 3.5 | overall: 4.5
Landmark Imperial Brown Ale on tap at The Pony Bar, Hell's Kitchen, New York.
The bar listed the brewery as being from Buffalo, but it is actually in Syracuse (although it is not a well-known brewery at all, even locals are not familiar with it)
Appearance: Served in a standard 16-oz pint glass. No head, just a fizzy bubbly mantle. Deep auburn color, almost brown. A little transparent. No lacing, barely any retention.
Smell: Nutty attack! Hazelnuts, lots of malts. Barely any hops. Some sweet chocolate.
Taste: Milk chocolate, sugar. Some caramel. More nuts. Somewhat bland, but just flavorful enough. Hardly an "imperial", though.
Mouthfeel: Low carbonation, medium body. Well balanced, albeit a tad thin. Dry and slightly bitter finish.
Drinkability: High! The winning aspect of this brew. Chuggable and sessionable, 8% but drinks like 5%.
Not an exciting beer (then again, are brown ales ever exciting?), but just plain "good".
959 characters

2.86
/5
rDev
-15.6%
look: 4 | smell: 3 | taste: 2.5 | feel: 3 | overall: 3
An imperial brown? Ok...
Pours a predictable reddish-brown color with a huge head into my glass. Wait? What? A huge head? I certainly did not expect that.
Grassy hops mingle with just a hint of brown sugar. The dry hopping seems to obscure the true aroma of the style.
Blast of grassy/piney hops with not much else underneath. Where's the brown ale? All I taste are hops.
Lingering grassy/citrus hops at the back of the throat.
Ok, here's my problem with this beer: A brown ale is NOT meant to be imperialized EVER, especially if it's dry-hopped. As a hophead, this is delightful. However, as someone who enjoys the occassional brown ale? It's awful. I'm sorry. I can't rate this as I would a normal brown ale.
Now, if they had scaled back on the dry hopping, it might be a different story.
798 characters
4.41
/5
rDev
+30.1%
look: 5 | smell: 4 | taste: 4.5 | feel: 4.5 | overall: 4.5
Think this was a fresh sample: got a refrigerated bottle today @ Beer City in North Babylon. Apparently Neil from Superstar (LI's biggest beer distributor/retailer chain, which owns Beer City) is LI's only distributor of this brewing co.
This beer looked great... great head, nice brown ale color. Couldn't really ask for more.
This beer smells just like an American brown ale should, albeit a bit more intensely. I wish American browns had the tad bit of fruitiness that their across the pond cousins usually do. Dry hopping (which was advertised on the label) seems a bit weak.
On the palate, I have to say that this beer rocks. It's got all the flavors that we expect from an American brown, plus a bit more hop than too many American brewers are accustomed to employing in their beers of the style. Really like this one a lot. A bit of alcohol, but it adds to the overall impression by helping to dry out the malt sugars (not too sweet mind you, esp. for what you'd expect from an 8% brown, however infrequently anyone might come across one of those...).
The mouthfeel was nice: certainly not too heavy, but actually pleasantly light. This imperial brown definitely kept to the way the style should feel as it goes down the gullet, esp. being that it's an American imperial version. Kudos to you Landmark Brewing.
Overall, I'd have to say that this was a thoroughly enjoyable bomber of a beer. Surprised me a bit in a good way. I'd seek it out if you like what I described in my review and not too much time has elapsed from when I wrote this review to when you've read it. G'night.
1,591 characters
Imperial Brown Ale from Landmark Beer Company
3.39
out of
5
based on
7
ratings.