Red God
| Cambridge Brewing Company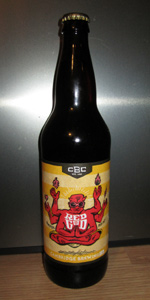 BEER INFO
Brewed by:
Cambridge Brewing Company
Massachusetts
,
United States
cambridgebrewingcompany.com
Style:
American Amber / Red Ale
Alcohol by volume (ABV):
9.00%
Availability:
Rotating
Notes / Commercial Description:
No notes at this time.
Added by Longstaff on 10-29-2003
Reviews: 63 | Ratings: 177
3.91
/5
rDev
-4.2%
look: 4.5 | smell: 3.5 | taste: 4 | feel: 4 | overall: 4
Big creamy 1.5 finger head that fades at a med pace with some nice lacing, slight hazy copper reddish orange color.
Nose light creamy toasty malts with some caramel and toffee, hint of esters I think, then light earthy grassy spicy hops.
Taste starts with a hint of booze, light toasty reddish malts with touch of caramel and toffee and juicy malt. Then earthy light spicy hops with decent bitterness. A hint of orange zest comes through with the hops and a slight candied orange peel. Light creamy feel on the finish with lingering bitterness and spicy earthy hops light chewy even fairly dry but light sticky.
Mouth is med to slightly bigger bodied, decent carb, just a hint of warming booze.
Overall not bad. Interesting malts and hops, pretty much what I expected. Nose had a slight possible off-flavor like yeast touch but barely if at all.
849 characters
3.88
/5
rDev
-4.9%
look: 4 | smell: 3.5 | taste: 4 | feel: 4 | overall: 4
Appearance: deep reddish brown
Aroma: weird funky smell reminded of a wet dish rag
Taste: starts malty and sweet then finishes dry with the hops lingering. got a touch of smokiness very faint though
Mouthfeel: full body nice carbonation
the aroma of the beer was not in the taste which was good. Not as hop forward as I like. The malt backbone really comes through in this beer.
Cheers
390 characters

3.88
/5
rDev
-4.9%
look: 4 | smell: 3.5 | taste: 4 | feel: 4 | overall: 4
Poured a 2.5" beige head of medium life. The body is a truely lovely deep amber red, especially held to the light. It smells mildly of malt. The taste has medium citrusy hops and a little dried fruit including fig. Medium long finish. I'd say it's a classy, quality, well-rounded red.
284 characters

3.85
/5
rDev
-5.6%
look: 3.5 | smell: 3.5 | taste: 4 | feel: 4 | overall: 4
My first review didn't save properly for some mysterious reason, so here's the Cliff Notes version:
A: Nice look, brick/orange as expected, clear and clean.
S: Spicy malts, but it moves into the realm of wet dog.
T: Nice representation of the style. Dirty, spicy malt with a good deal of accompanying bitterness to round out. The malt bite is quite potent, and could use a more emphatic hop presence to balance.
M: Really just dirty all around. There's a bit of booze on the finish, and the malts just drown out any hop resin that might want to stick around.
O: Good, solid representation of the style. This would be a huge beer with a greater hop presence, but as currently constituted, it is a good example of the style and tasty.
737 characters
3.78
/5
rDev
-7.4%
look: 3.25 | smell: 4 | taste: 3.75 | feel: 3.75 | overall: 3.75
Thanks to GRG1313 for sharing this one at his tasting.
Pours a clear copper with a foamy khaki head that settles to wisps of film on top of the beer. Tiny dots of lace form around the glass on the drink down. Smell is of malt, caramel, and citrus zest aromas. Taste is much the same with caramel and citrus zest flavors on the finish. There is a mild amount of hop bitterness on the palate with each sip. This beer has a lower level of carbonation with a slightly crisp mouthfeel. Overall, this is a pretty good beer with a solid citrus forward hop presence.
561 characters

3.73
/5
rDev
-8.6%
look: 3.75 | smell: 3.75 | taste: 3.75 | feel: 3.5 | overall: 3.75
CBC - Red God, poured into a DFH Spiegelau IPA glass.
Look - Pours a dark cloudy caramel amber red hued with a small head and good ropey lacing.
Smell - Piney hops, amber/red malts with some breadiness. Somewhat faint aroma, not bad. Some alcohol in the nose.
Taste - Hoppy and piney with definite alcohol, pretty good balance.
Mouthfeel - Heavy-medium bodied with low carbonation. Hot and boozy. OK drinkability, starts to falter a bit here.
Overall - Not bad, a little over the top. Alcohol content detracts from the quality here slightly.
546 characters
3.73
/5
rDev
-8.6%
look: 4 | smell: 3.5 | taste: 4 | feel: 3.5 | overall: 3.5
First beer review for the new year and pours a hazy copper hue with a thick creamy three finger head and lacing everywhere,the smell is fruity with aromas of nectarines,candied oranges,passionfruit and sherbet,the mouthfeel is full bodied with moderate carbonation and has tastes of candied oranges,lemon sherbet,toffee,boiled candy,passionfruit and finished with a pine hop bitterness and overall its nice and drinkable but i think the one is enough for me cheers.
465 characters
3.7
/5
rDev
-9.3%
look: 4 | smell: 4 | taste: 3.5 | feel: 4 | overall: 3.5
Bomber into a snifter, the brew appears a clear ruby color with a finger cap of off-white head. Some spotty lace sticks to the glass.
The smell is fruity and floral with a bright hop quality. A bit of toffee mixes with minerals and an edge of cheese quality sometimes found in quite hoppy brews. Not bad, just interesting. While the hoppy bouquet is enjoyable and inviting, I could do without the mineral components.
The flavor is hoppy with fruity and floral aspects upfront before the onset of mineral character that was also found in the nose. More sips reveal hop character that is herbal to pulpy and rind-like. A bit musty across the back and as it warms up with a perfume-like inclusion of alcohol.
This is a medium bodied brew with a modest amount of carbonation. It has a big perfume alcohol character and an oily hoppy bitterness. The alcohol is not hiding at all in this offering. Overall not bad.
911 characters

3.6
/5
rDev
-11.8%
look: 3.5 | smell: 3.5 | taste: 3.5 | feel: 4.5 | overall: 3.5
On tap at CBC, served in a teardrop glass
A: Red and hazy with about an inch of off-white head. Leaves many rings of lacing.
S: Dank herbal hops, citrus (grapefruit and tangerine mainly), and slight herbal aromas. Smells sweet and malty. Alcohol is noticeable.
T: Just like the nose, I get an overload of very dank herbal hops, bordering marijuana dankness. The citrus and floral hops battle the herbal dankness and do take over the middle. There's pine resin, but mainly in the background. There's a decent bit of bitterness, but nothing extreme, though the heavy helping of sweet malt probably hides quite a bit. The middle is loaded with toasted grains and caramel, approaching barleywine territory. Finish is wet, slightly bitter, with the herbal dankness and citrus coming back for a final pop. Alcohol gives a little on the finish as well.
M: About as full bodied as a DIPA can get, moderate carbonation. Very sticky, wet, resinous, with a lot of residual sweetness. A touch boozy on the finish.
O: This wasn't what I was expecting, but I did enjoy it. I'm normally not a fan of overly dank herbal IPAs, but this had just enough balance to make it palateable.
1,171 characters
3.48
/5
rDev
-14.7%
look: 4 | smell: 3.5 | taste: 3.5 | feel: 3 | overall: 3.5
not a bad beer by any stretch, but something just didn't sit right with me for this one overall. i think it's main problem may be that it was a bit thin and watered down at times. it pours a very nice deep amber colour with a slightly off white head that is nice and sticky. odors present include a sweet fruitiness, alcohol, caramel, malt and hops, though the hop smell was not as dominant as one might guess here. as for flavour, i found that once again, malt and caramel dominated, with a sweet but earthy flavour overall. hops presence is definitely felt, but is scattered about more than a full on hit. as mentioned earlier, this one is seemingly a tad watery at times too. i'd sample it again, but it falls toward the bottom of the list brews i've sampled from the cbc.
775 characters
3.31
/5
rDev
-18.9%
look: 4 | smell: 3 | taste: 3.5 | feel: 3.5 | overall: 3
Pours a mostly clear red tinged amber, billowing thick cream colored head, big splotches of thick lace on the glass. Smell: big caramel, fruit note, little leafiness and pine. Sweet, malt dominated aroma. Taste: alcohol hit, caramel, dried stone fruit, hops start to cut through the sweetness... pine and a little citrus rind. Sugary. Syrupy into creamy then bails into hop soup and thins out into a bitter end. Bitter, sure, but muted hop flavor and aroma. Not so good.
470 characters
2.8
/5
rDev
-31.4%
look: 3.5 | smell: 3.5 | taste: 2.5 | feel: 2.5 | overall: 2.5
If Tabasco was looking for a beer companion this is the beer for them. This beer is very red and the look gives a window to the true spicyness of the hops. Also it smells just like it tastes. Very hoppy with some of the hops balanced with malt. The alcohol (8.5%) is quite hidden behind the bitterness. I would definetly see Bodb Derg the famous red skinned god of the ancient Irish drinking this.
397 characters
2.15
/5
rDev
-47.3%
look: 4.5 | smell: 2 | taste: 2 | feel: 3 | overall: 1.5
on-tap at CBC in late may 2009. served in a teardrop stemware glass.
initially served WAY TOO COLD. my brother and i had to take turns rubbing hands to warm them back up, as we each tried to warm up this single glass.
dark brown amber. hazy. 1-finger light tan head, fades to wisps and ring. great curtainous lacing.
very fruity aroma. tropical, almost banana peel, plus candied citrus underneath. approaches mint as well. very weird. caramel underneath, but those weird fruity esters and minty phenols really dominate.
taste is similarly overwhelmed by the tropical esters and near-banana character. there's still some detectable citrusy, piney hop, with bold resinous bitterness, plus underlying malt and caramel character. but honestly, these weird esters are just too much.
medium body, somewhat smooth, but also lots of resins and astringency. carbonation is moderate, tingly, and helps with body, but also just accentuates those annoying artificially tropical esters.
dunno what happened here...
1,007 characters
Red God from Cambridge Brewing Company
4.08
out of
5
based on
177
ratings.