Sierra Nevada Bigfoot Barleywine Style Ale - Barrel-Aged
| Sierra Nevada Brewing Co.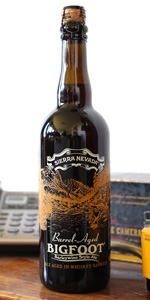 BEER INFO
Brewed by:
Sierra Nevada Brewing Co.
California
,
United States
|
website
Style:
American Barleywine
Alcohol by volume (ABV):
12.20%
Availability:
Rotating
Notes / Commercial Description:
No notes at this time.
Added by Callenak on 12-05-2006
Reviews: 239 | Ratings: 1,249

4.29
/5
rDev
+3.4%
look: 4.25 | smell: 4.5 | taste: 4.25 | feel: 4 | overall: 4.25
Maybe I shouldn't have drank this two hours before the U-M vs Indianer game,whoo it knocked me back a little.Poured into an oversized wine glass a deep burgundy with a nice tight one finger white head atop,great rich clarity.Big hop resins mixed with toasted oak in the nose,as it warms whiskey gets bigger and bigger.The whiskey barrel is really big on the palate but the powerful hops acts as a counter balance wich doesn't happen much with barrel aged beers,vanilla and dark fruit round out the flavor profile.This is a deeply consentrated flavorful beer,the hops are HUGE for something that has sat for a year,but the aging makes it complex to the hilt.Thanks to Roger at Bestway for hookin me up this,it was a pleasure to drink...to say the least.
★
752 characters
2.81
/5
rDev
-32.3%
look: 4 | smell: 3.5 | taste: 2.25 | feel: 3.25 | overall: 2.5
I cannot simply use the "Had" feature for this one. I personally find this beer far different than several reviews and figured I'd put forth a voice with which some others may agree.
Pours a clear brownish red with a khaki head and is nice looking.
Nose is a juxtaposition of fresh "IPA pineapple" hops and malt and burnt sugar. Neither is proper for style - both "mixed together" makes for one of the really few terribly unbalanced noses I've smelled. The hops character is great; the malt/carmel character is great - they do not marry well.
Mouthfeel is creamy, rich and nicely carbonated but relatively meaningless when fighting with the nose, flavor profile and finish.
Flavors are citrus/pine hops overlapping and fighting with burnt-sugar/carmel and malty tones. There is no one following the other; there is no "over tone" or "undertone." These are just two conflicting, unbalanced, disjointed flavor profiles that make for a conflicting and confusing drink. There is a character of "carbonated whiskey," . .strong whiskey, that is pervasive and not appealing. There is such an assertive alcohol presence that some of the sweetness in the nose is clearly the alcohol and the actual taste of the whiskey/alcohol seems much more than 12.2% abv. (Not that 12.2% is low....it just tastes like its about 80 proof! i.e. 40% abv!)
The finish follows the flavor profile - same comments - very confusing.
This one is just not for me. JMO
★
1,445 characters
4.68
/5
rDev
+12.8%
look: 5 | smell: 5 | taste: 4.5 | feel: 4.25 | overall: 4.75
Bigfoot aged in whiskey barrels
A: Clear amber, with a decent off-white head
S: Amazing... whiskey (Jack Daniels comes to mind but in the best way possible), oak, toffee, caramel, dark fruit, citrus, mint, with an underlying barleywine aroma that brings it all together.
T: Starts off with whiskey and toffee, then transitions into a barleywine taste with lots of oak and dark fruits, finishes with more of a bitterness than I was expecting, though it is not at all unpleasent. It has a nice stickiness about it that allows the flavors to linger for a bit and it only gets better with every sip.
M: Decent, though the carbonation is a bit much for this beer in my opinion.
D: Great, I had to keep reminding myself that this was 12% ABV
Overall this beer was amazing, everything I had hoped it could be, definitely gonna try to seek out more of this to see how it is with some more age on it.
★
897 characters
3.66
/5
rDev
-11.8%
look: 3.75 | smell: 4 | taste: 3.5 | feel: 3.75 | overall: 3.5
750mL bottle, bottle states "Aged in oak whiskey casks for over a year." Dark amber in color, with a vigorous pour yielding a 1-finger head that dissipates quickly and leaves little lacing. Surprisingly muted aroma - light woody characteristics, and a hint of fusel alcohol. Flavor is overwhelmingly barrel and booze-dominated; tons of wood and alcoholic heat with sweet malt flavors only making a cursory appearance. No hop flavor to speak of. Mouthfeel is rich and creamy, though there is very little carbonation.
Bottom line: if you like booze-bombs, open one of these ASAP. Otherwise, I'd suggest sitting on this for a while before opening. Definitely has potential.
★
671 characters
4.03
/5
rDev
-2.9%
look: 3.25 | smell: 4.5 | taste: 4 | feel: 3.5 | overall: 4
Thanks to AndresR for sharing this one at jmgrub's tasting.
Pours a clear dark orange with a foamy beige head that settles to an oily film on top of the beer. Small dots of lace form around the glass on the drink down. Smell is of malt, brown sugar, toffee, whiskey, and wood. Taste is much the same with a hoppy finish and an alcohol kick. There is a mild amount of hop bitterness on the palate with each sip. This beer has a lower level of carbonation with a slightly crisp and medium bodied mouthfeel. Overall, this is a good beer with a great smell and a hoppy flavor I wasn't quite expecting from a barrel aged beer.
★
622 characters
4.59
/5
rDev
+10.6%
look: 5 | smell: 4.75 | taste: 4.5 | feel: 4 | overall: 4.75
Hoping i am in the right place for this beer as it it appears i am the first to review the newly released 750 bottled version. A slow hiss as i pull the cork, this brew pours a brilliant amber ruby hue with a beige finger of creamy foam - stunning looking. The nose is a beauty as well, bourbon barrel booze esters, caramel, nougat, vanillin. Also bright sugar plums and sticky toffee along with dates and booze soaked figs. Very complex on the nose with a lot of booze as well. The taste is not quite to the level of the nose with the alcohol hiding up some more of the noses nuanced characteristics. Brings oloroso sherry, rye whiskey as well as irish whiskey, somehwhat grainy and drying. The finish is somewhat tannic and very boozy, cannot imagine how amazing this will be in two years after having time to mellow and all the flavors to integrate.
★
852 characters

4.77
/5
rDev
+14.9%
look: 4.5 | smell: 5 | taste: 4.5 | feel: 5 | overall: 5
Meadhall in Cambridge for 12 Brewers of Christmas on 12/19/12.
A: Amber-brown with a decent sized off-white head that fades quickly. A bit of lace and retention. As it should look.
S: Crazy amount of bourbon & whiskey, booze, butter, butterscotch, brandy, sour, apple, wood, earth, dark fruit, brown sugar. So complex. I could probably add more but I need a sip.
T: Everything a BA American BW should have. The sweet booze and wood are there as are a great hop presence and bitterness to balance the sweetness. Great barrel presence but also plenty of roasted sweet malt. Each sip gets better. The last big swig was perfect. Tons of barrel and malt with the right touch of hops.
M: Massive flavor, smooth as hell, and dry like it should be.
O: I came to this event specifically for this beer (and to donate $ to Toys for Tots). It was totally worth it and this beer surpassed my expectations which were already high. A very special beer. Talked to the local SN rep who said this is the beer that is going into bottles in early 2013. Went into barrels in 2010. Specifically Stranahan, Jim Beam, and Heaven Hill. Supposedly a mistake but they went with it for the 30th Anniversary of Bigfoot this year. Amazing stuff.
★
1,221 characters

4.05
/5
rDev
-2.4%
look: 4 | smell: 4 | taste: 4 | feel: 4.5 | overall: 4
12 ounce bottle into dog faced mug (2009)
A: Decent head over a ruby body.bits of lacing on the tip up.
S: Almost reminds me of a stone brew with serious hops aromas going on, but under that you get dark dried fruit smells and caramel bourbon.
T: Like Arrogant Bastard kinda not really like the other barley wines I have had but a really good beer nonetheless. Hoppy-caramelly sweetness just for a split second that goes straight to bitter hoppiness. Then these two meld pretty good and it ends with ultra dry hop juice finish.. this one is hoppy the whole way through.
M: very nice
D: Strong, but strong is good. If you wanna go to a kegger and dont wanna drink shit beer but still be on the same wavelength as the other folks. A sixer of this will suffice. You'll be wankered without the bonging or beer games... drink up! I actually moved back to my small home town and this is the best beer they have to offer at the LQ.
★
930 characters
4
/5
rDev
-3.6%
look: 4 | smell: 4 | taste: 4 | feel: 4 | overall: 4
Outstanding for the style. Pours a slightly cloudy brownish-red with a small layer of foam with a complex malty aroma with hints of hops as well. Tastes rather astringent with lots of fresh hops and a nice bitter finish. Strong with good carbonation, great body. Hearty and drinkable, great for sippin.
★
302 characters
3.75
/5
rDev
-9.6%
look: 4 | smell: 4 | taste: 3.5 | feel: 4.5 | overall: 3.5
Shocked to see 'Aged Bigfoot' on the tap list at the Beer Engine in cleveland. 5 bucks a snifter. A steal if you ask me.
Talking to the bartender, turns out this 2 year old is barrel aged.
Being a monstrous Bigfoot fan, and especially aged bigfoot, I
obviously could not resist. (Of all nights, I was wearing a bigfoot tee shirt, i was virtually obligated)
The barrel comes off very strong. The beer is incredibly smooth, which has been my experience with older vintage bigfoots. Especially for the alcohol, major smooth here.
The barrel seemed to overpower the beer a bit, to me, and obviously when you're talking barleywine, thats not a minor thing.
Overall the beer was very good, would definitely drink it again, it just was a hair off of what I would have really liked in this beer.
To me, and I love huge, huge flavorful beers, the barrel just needed to be turned down a notch so this exceptional brew gets to show itself off a bit more.
★
952 characters
4.27
/5
rDev
+2.9%
look: 4 | smell: 4.5 | taste: 4.25 | feel: 4 | overall: 4.25
Sampled last night at Sheffields with EehaiCJ.
Small snifter, around 8-10oz. pour. Dark crimson highlights, with a compact head of light tan foam.
Aroma is big on the bourbon. Plenty of vanilla, tobacco, and mild whiskey vapors when swirled. It lasts for the half-hour duration of the tiny globular glass. Some sprucey hops squeeze through underneath, reminding me of the original Bigfoot character.
Big boozy whiskey dominates, plenty of vanilla bean, maple syrup, caramel toffee, and peppery alcohol at the end, with a lingering hop bite. It feels viscous and syrupy a little, but with some carbonation. This was very enjoyable, but the high ABV put the brakes on another one. Very potent in small doses.
2013 bottle: whiffs of coconut, big brown sugar and caramel, wet wood, lingering bitterness. Lots of dry oak, traces of dry piney hops from the base beer.
★
867 characters
4.6
/5
rDev
+10.8%
look: 5 | smell: 5 | taste: 4.5 | feel: 5 | overall: 4
The Sierra Nevada Brewery is an amazing place to sample beers. They always have ones that you have never seen in the store or have never heard of. Last night I had wood barrel aged bigfoot. It was aged in a whiskey barrel so it ended up being 12.5% and it had a nice taste of whiskey at the end.
★
295 characters
4.43
/5
rDev
+6.7%
look: 4.5 | smell: 4 | taste: 4.5 | feel: 5 | overall: 4.5
On-tap at the Brewkettle, Strongsville, OH 3/11/07
Listed as "Sierra Nevada Bourbon Bigfoot". Listed at 11% ABV on the board, but I assume that this is the same beer.
A: Pours a reddish-brown with a dense creamy head. Lots of lacing.
S: Fruity and malty with a noticable bourbon presence.
T: Big flavor. The same old familiar hoppy Bigfoot taste but with a strong taste the evolves from potent bourbon to a soft and complex vanilla flavor as your palate adjusts.
M: Big, thick, and silky smooth with light carbonation.
D: There are many beers that don't do well with bourbon aging. This isn't one of them. If you like Bigfoot, then you should buy copius amounts of this if given the chance.
★
711 characters
3.97
/5
rDev
-4.3%
look: 4 | smell: 4.5 | taste: 4 | feel: 3.5 | overall: 3.5
Sampled at the 10th Annual Pizza Port Strong Ale Fest. More than shocked to see this, never knew SN did barrel aging but boy was I happy to see it. Bigfoot is one of my favorite barleywines, and to have it barrel aged….man I love this place. Is the strong ale fest what dreams are made out of?
Pours a deep amber with a slight head that dissipates quickly. Color, of course, resembles regular Bigfoot.
Smell is all Barleywine. Rich caramel with a hint of roast malts. Hops are a little toned down compared to a newly released Bigfoot, but still present. The three C's (cascade, columbus, centennial) are still in full effect though. A mellow citrus zest associated with such. A solid oak presence but don't pick up to much of the whiskey. Was only my 3rd sample at the fest so my palate and nose was still pretty fresh.
It was served a little on the cold side but the warm SoCal day warmed it up quickly for me to get the full effect. Taste was warm and soothing. The normal Bigfoot properties, hoppiness, toasted malt, caramel. The alcohol is more apparent than the regular BW. It was labeled at 12.3%, which is considerably higher than the standards Bigfoot at 9.6%. I know a slight ABV budge can come the barrel, but not that much. I imagine SN brewed a stronger version of Bigfoot for this, maybe to take the test of time better. 9.6% seems like plenty for that though. It had a strong oak taste but not much of the whiskey. I think the high ABV and full flavor of Bigfoot might have drowned it out a bit. It didn't seem to have been aged for that long though. Maybe a year tops, but who knows.
I was very excited to try this so maybe my expectations were a little high and I'm a little over critical. I always dreamt of what Bigfoot would taste like barrel aged, probably more so than any other beer. I think if it would have stayed closer to the original ABV and maybe a little longer in the barrel it would have reached perfection. As it was though, it was an amazing beer that I was more than glad to have consumed. I hope I get a second chance with this one some day.
★
2,089 characters
Sierra Nevada Bigfoot Barleywine Style Ale - Barrel-Aged from Sierra Nevada Brewing Co.
92
out of
100
based on
239
ratings.