30th Anniversary- Charlie, Fred And Ken's Bock
| Sierra Nevada Brewing Co.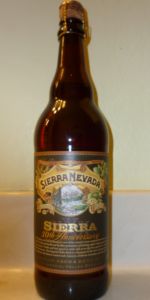 BEER INFO
Brewed by:
Sierra Nevada Brewing Co.
California
,
United States
sierra-nevada.com
Style:
Maibock / Helles Bock
Alcohol by volume (ABV):
8.30%
Availability:
Limited (brewed once)
Notes / Commercial Description:
No notes at this time.
Added by IrieJackalope on 05-29-2010
This beer is retired; no longer brewed.
Reviews: 341 | Ratings: 524
3.95
/5
rDev
+0.3%
look: 4 | smell: 4 | taste: 4 | feel: 3.5 | overall: 4
Pours a gorgeous gold with a touch of amber. A nice two finger head leaves a small amount of lace down the glass.
Smells of earth and grass with a sweet undertone, maybe caramel.
Tastes a little like a stronger version of their Glissade (not that this is a problem for me) with a bit more of a malty background. Nice bitterness on the finish. A little on the sticky side for me, carbonation gave me the hiccups so that was a little high as well.
A very enjoyable part 2 to their 30th anniversary series.
503 characters
3.75
/5
rDev
-4.8%
look: 3.5 | smell: 3.5 | taste: 4 | feel: 4 | overall: 3.5
Although we prefer other styles, this Bock holds up pretty well and is surprisingly smooth and mellow
Appearance: Hazy golden with minimal head
Smell: Mostly malt; faint
Taste: Malty with very light hops
Mouthfeel: Smooth and creamy
Drinkability: Very delicate despite the 8.3% ABV and may be paired with a meal to bring out more flavors
342 characters
3.71
/5
rDev
-5.8%
look: 4.5 | smell: 3.5 | taste: 3.5 | feel: 4 | overall: 4
A- Poured into my New Glarus stemmed pilsner. It looks quite nice. Its a bright toasty tan beer with superb clarity. The head gets pretty big but its nothing unmanageable. It sticks around a while but not much lacing is left. There are tons of little bubbles effervescing to the top.
S- Weak nose. It really just smells "typical" and plain to me. Just like a normal Maibock or oktoberfest or something. Bready, toasty malts with floral hops. Well balanced and delecate, just not special.
T- The taste is a little better than the smell, but I still think its sorta ordinary or basic. It does hearken back to its traditional German roots but it does kick it up a few notches. Alcohol is much more prevalent that in a traditional lager of this style.
M- Light but not too light. The alcohol is not hot but you can just tell this isnt an ordinary lager.
852 characters

4.63
/5
rDev
+17.5%
look: 4.5 | smell: 4 | taste: 5 | feel: 4 | overall: 5
Sierra Nevada Brewing Company--SIERRA XXX 30th Anniversary--Charlie, Fred & Ken's Bock--Imperial Helles Bock--A Collaboration of Pioneering Brewers #2--2010 25.4 oz. Bottle. 8.30% ABV. 41 IBU's. (4.5 / 5.0) Helles--Imperial. Rich thick lacy white head. Clear brilliant amber color. Aromatic sweet malt mild floral Noble hop front. Rich smooth creamy mild sweet crusty toasted caramel malty mild fruit delicious Helles body. Smooth tangy hint of hop spice crisp clean end. Flavor gets even better as Brew warms. Penultimate Bock! Sampled 6/12/2010. 2 @ $10.79 Each.
564 characters

3.65
/5
rDev
-7.4%
look: 3.5 | smell: 3.5 | taste: 3.5 | feel: 4 | overall: 4
Served in a becher at ChurchKey.
After a nice surprise with the previous anniversary brew (the stout, baby), I was a little excited to get this on draught at CK while Ken was in the building. It pours a clear pale light amber straw (deal with that succession of adjectives, you pansies!) topped by a finger of quick-dying white foam. The smell is an interesting combination of caramel, maple, and light hops; it's like a lighter bock being brewed in a flowery lea. These notes return in the taste, joined by further greenery (I'd expect there'd be a decent amount of grass in that meadow, after all) and a touch of honey. The body is a light medium, with a bitingly active carbon and a crisp finish. All-in-all, not the best thing out there, but tasty enough and a good brew to have during these really humid DC summer days.
825 characters

3.93
/5
rDev
-0.3%
look: 3.5 | smell: 3 | taste: 4 | feel: 4 | overall: 5
Served on draft, beer is yellow, clear, no real carbonation, no lacing, weak thin nothing for a head.
Beer smells like a marzen or something. Overall kind of weak.
Beer is super simple. Light on the flavor but completely clean and clear on the palate. Its like special water. Very quenching. Pretty good. Drinkability high.
326 characters
4.06
/5
rDev
+3%
look: 4 | smell: 3 | taste: 4.5 | feel: 4 | overall: 4.5
Another Sierra Nevada worth some comments.
Imperial Hellas Bock style 30th Anniversay.
Pours a beautiful clear dark orange/amber with a white head that quickly fades but nice color and good looking.
Floral cooked pear, light stone fruit nose. Nice perfume character although not real assertive; somewhat elegant in nature.
Medium bodied; creamy and rich mouthfeel. Bright enough and with sufficient body and charm that you want more.
Flavors are more elegant in character with a rich "sweet toast" quality and a nice bitter light black coffee than the anniversary stout. Nice lightly sweet malt character underlying the initial bitter coffee/pine hop character. A hint of bitter orange/bitter carmel underlying it all.
Finish follows the flavors with the bitter coffee, hint of bitter orange character that's pleasant and a bit "burnt toasty."
Really well balanced and drinkable. Not one to age too long I would guess.
928 characters
3.31
/5
rDev
-16%
look: 4 | smell: 3 | taste: 3 | feel: 4.5 | overall: 3.5
On-tap at Beachwood BBQ,
A: Pours amber with a nice white head, good lace.
S: Very malty, heavy husky grain aroma.
T: Sweet pilsner type malt, definitely a bit boozy - the beer can't really hide it. Light noble type hops.
M: Smooth and creamy, medium/full-bodied, very nice structure.
D: A good bock in not my favourite style. Still too boozy, needs 6 months to mellow out. A beer to check out where it's at around the holidays.
433 characters
4.13
/5
rDev
+4.8%
look: 4.5 | smell: 4 | taste: 4 | feel: 4 | overall: 4.5
Sierra Nevada 30th Anniversary Charlie, Fred & Ken's Bock.
"Bold yet balanced with distinct toasted malt character, moderate sweetness, and clean floral hops."
750ml bottle poured into pint glass.
Poured 05/30/10
A: Corked bottle pops loudly and menacingly, but the beer does not foam out of the bottle. Pours a rich light brown color and clean. Classic beer look like you would expect from the craft brewing standard bearers at Sierra Nevada.
S: Malty aroma with hop accents, though the hops are far more subdued than a typical offering from SN.
T: Much lighter than SN usually offers, which is refreshing, but the malt flavor finishes it out and reminds you that this is a professional beer despite the fact that it celebrates the home brewing aficionado.
M: Enjoyable drink to toss around the mouth on a summer day. It doesn't try to be anything complicated.
D: Highly drinkable. This is the type of beer that you know you love but you can't describe because it's like so many you've had before, but different. On any level, not quite as good as the Fritz & Ken stout.
1,078 characters
4.4
/5
rDev
+11.7%
look: 4.5 | smell: 4.5 | taste: 4.5 | feel: 4.5 | overall: 4
Picked this up at the COOP today... Cool to see this one so soon after the release. Poured into my 30th Anniversary goblet...
When the cork popped... it scared the hell out of the cats and woke the Wife up a coupla rooms away... seriously... like a '22 pistol shot.
1" white head.. good retention and crusty lace dries down the glass with each sip ... the brew is crystal clear deep golden... very pretty.
Nose shows very clean pale malts punctuated by some deep toast.. hints of spicy hoppiness... and maybe some floral hops too... again.. clean and no yeasty residues to speak of.
Flavor makes me question the big ABV... wow.. to push a 9% Maibock and still have things finish so cleanly, I'm pretty impressed... malts are deep pale with good toast and no real "caramel" ... I dig it ... appreciated floral hoppiness joins in toward the finish and helps keep the end from getting muddy.... also getting the spicy hoppiness but that could be the EtOH talking...
Medium plush body... smooooth.. everpresent velvet small bubble carbonation....
** This is one of the best American made "big" lagers I've ever had ... I love well made German style lagers and the freshness shows, but I think this will have a descent shelf life; that said, drink this one NOW and refrigerate other bottles cold until needed ... the near perfect balance is only going to go South. Wonderful and worthy of my lofty numbers.
4.5/4.5/4.5/4.5/4
1,429 characters
4.43
/5
rDev
+12.4%
look: 4.5 | smell: 4 | taste: 4.5 | feel: 5 | overall: 4.5
Managed to track this down just a few days after it shipped out from Chico.
The packaging is equally as beautiful as what was seen with the Fritz and Ken's Ale, a very special marketing plan for a special line of beers. Cork comes off with a huge pop and immediately I'm greeted with a wafting, crisp hop aroma. Poured into a small snifter somewhat vigorously to get a sizeable head that dissipates somewhat quickly. Minimal lacing left behind.
In all fairness, I should admit that helles lager typically isn't a style I enjoy, but this beer is different. The taste is amazingly crisp and clean, but at the same time fantastically flavorful. Toasty malts really shine through, and are perfectly balanced by the slight hop bite I caught in the nose earlier. The finish and overall feel of the beer are probably some of its strongest facets. Smooth, clean, and extremely drinkable. There's a slight hop tingle as the beer goes down. Highly recommend this one, although after the last release I doubt anyone will need to be persuaded to track it down.
Jack & Ken, bring on round 3!
1,085 characters
30th Anniversary- Charlie, Fred And Ken's Bock from Sierra Nevada Brewing Co.
3.94
out of
5
based on
524
ratings.