Best Of Beer Camp: Imperial Red Ale - Beer Camp #65
| Sierra Nevada Brewing Co.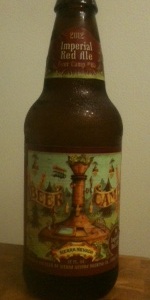 BEER INFO
Brewed by:
Sierra Nevada Brewing Co.
California
,
United States
sierranevada.com
Style:
American Amber / Red Ale
Alcohol by volume (ABV):
8.10%
Availability:
Rotating
Notes / Commercial Description:
Duplicate of http://beeradvocate.com/beer/profile/140/82083
Added by flexabull on 08-04-2012
This beer is retired; no longer brewed.
Reviews: 32 | Ratings: 143
3.76
/5
rDev
-2.3%
look: 4.5 | smell: 3.5 | taste: 4 | feel: 3.5 | overall: 3.5
This brew pours a dark red/brown color with a one finger mocha head which lasts for a few minuets. Lacing stays on the glass throughout.
The smell is roasted malts, grapefruit, pine, melon.
The taste starts with citrus hops, grapefruit, melon, moves to heavy roasted malts with a bready taste, then finishes with piney resins which linger on the tongue. There is also a carmel or toffee taste.
The mouthfeel is smooth but a kind of watery.
Overall this brew is well balanced. The mixture of hops and malts is one that you do not see everday. There is also strong alchohol presence which has the usual "warming" effect.
This is more hop forward than most Red Ales; it is worth trying if you would like to taste a hop forward Red Ale.
736 characters

3.76
/5
rDev
-2.3%
look: 4.5 | smell: 3.5 | taste: 4 | feel: 3.5 | overall: 3.5
12 oz stubby bottle into a shaped pint glass. Julian date puts it at a June 27 bottled on date.
A - Dark red clear body. One of the densest foams formed after pouring, so dense that as I tried to pour the last few ounces it just trickled over the head and down the glass. After it settles down its a thick cap of off white foam with large bubbles. Loads of lacing and retention.
S - Cocoa powder initially. Crystal malts, piney hops, light citrus and dusty cocoa powder. Seems weird, but its prevalent and has been mentioned in other reviews.
T - Piney hops with just a touch of bright citrus. Very malt forward with some bread and spice, almost rye like. Well balanced with a bitter finish.
M - Medium bodied with nice creamy carbonation. High abv is very well hidden.
O - Not an amazing red ale, but still very delicious.
830 characters
4.2
/5
rDev
+9.1%
look: 4 | smell: 4 | taste: 4.5 | feel: 4 | overall: 4
A - I believe this was bottled 6/19, at least that's what the date on the 12 pack said. For something planned for August release that seems a bit older than I'd like but whatever. Anyway, Pours out a deep copper red with a sticky tan head. Looks enticing.
S - Smell is resinous hops, some grapefruit and pine. A faint tropical hop scent is detected and some caramel malts.
T - Taste is complex and interesting. Big resinous hops coincide with caramel malts, with layers of toffee and citric hops. Has some alcohol warming too. Some sweet fruityness such as apricot coming forth on second sips.
M- Mouthfeel is smooth and fine.
O - Overall another impressive brew from masters Sierra Nevada. Whomever put this together did a great job. WOuld probably be my pick of the pack and would even buy regularly if officially released.
830 characters
4
/5
rDev
+3.9%
look: 4 | smell: 4 | taste: 4 | feel: 4 | overall: 4
Part of Best of Beer Camp 12-pack, consumed 8.27.12, poured into UCLA shaker pint glass.
Two fingers off-white tan head, medium dissipation with above average lacing over clear garnet red body several trails of medium size bubbles rising from bottom of glass. Significant malt presence in the nose, crystal fruitiness, balanced by spicy and citrusy hops. Taste mirrors nose, fairly malty and hoppy. Mouthfeel medium, decent effervescence. A pretty good imperial red, taste a lot like Laurelwood Deranger used to taste. Worth a try.
532 characters
4.6
/5
rDev
+19.5%
look: 4.5 | smell: 4.5 | taste: 4.5 | feel: 4.5 | overall: 5
I don't think I have had a better red ale.
This one really defies classification. It's definitely American - over the top bitter, hoppy and malty, yet well balanced.
It has a stronger than usual aroma. Somewhat hoppy and sweet smelling - very nice. It's pretty in the glass as would be expected. The taste is very bitter - perfectly over the top.The aftertaste lingers nicely too with nothing nasty. This is an excellent ale.
427 characters
3.53
/5
rDev
-8.3%
look: 4 | smell: 3.5 | taste: 3.5 | feel: 3.5 | overall: 3.5
2012 Beer Camp Bottle poured in to Bruery tulip. Bottle date code of 2178210. Poured in to tulip glass.
A - Poured a very dark amber colour, almost opaque. One finger of cream coloured head formed and receded to a thin layer. Good lacing.
S - Caramel and toffee aromas up front with some citrus hop aromas in the background. Not an overly robust nose but an inviting one.
T - A big bitterness at first that is immediately followed up a sweet caramel/toffee malt backbone. Some grapefruit and pine notes are present but are in the background. A dry and bitter finish.
M - Medium body, somewhat creamy. Moderate carbonation.
629 characters

4.5
/5
rDev
+16.9%
look: 4.5 | smell: 4.5 | taste: 4.5 | feel: 4.5 | overall: 4.5
Poured from the bottle into a clean pint glass.
This beer pours a beautiful dark cherry red with a khaki head that leaves pretty lacing down the side of the glass.
Smell - Let this one warm up slightly - The nose on this beer is wonderful, starting with some roasted, faint coffee, dark chocolate and fig like notes.
Taste - This beer does not let down - Starts off sweet, as it rolls over the palate, the hops make their presence known and combat the sweetness. This brings us to the finish, which then appears a bit of alcohol, probably because of the 8.1% abv, however it doesn't last long till a coffee like aftertaste is left on the palate.
Mouthfeel - Very good medium bodied. Not light yet not heavy.
Overall - I think this is a solid brew. Lots of flavors for the enjoyer to figure out and keep you wondering. Not boring by any means. Sweet, bitter, roasty with enough alcohol warmth. What a great brew this is!
928 characters
Best Of Beer Camp: Imperial Red Ale - Beer Camp #65 from Sierra Nevada Brewing Co.
3.85
out of
5
based on
143
ratings.