Sierra Nevada Audition Double IPA
| Sierra Nevada Brewing Co.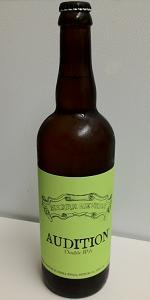 BEER INFO
Brewed by:
Sierra Nevada Brewing Co.
California
,
United States
sierranevada.com
Style:
American Double / Imperial IPA
Alcohol by volume (ABV):
8.50%
Availability:
Rotating
Notes / Commercial Description:
This beer is a true West Coast-style Double IPA made with huge amounts of hops - both in the kettle for flavor and later in the torpedo to impart a massive hop aroma. The light malt body and dry finish hide the power in this immensely drinkable hop-bomb.
Added by Philousa on 09-28-2012
Reviews: 15 | Ratings: 99
4
/5
rDev
-3.1%
look: 4 | smell: 4 | taste: 4 | feel: 4 | overall: 4
Thanks to Tieman for sharing this one at his tasting.
Pours a hazy yellow with a foamy off-white head that settles to wisps of film on top of the beer. Foamy swaths of lace form around the glass on the drink down. Smell is of malt, citrus zest, and tropical fruit. Taste is much the same with a medium hop bitterness with each sip. This beer has a good level of carbonation with a crisp mouthfeel. Overall, this is a good beer that is tasty and easy to drink.
461 characters
3.73
/5
rDev
-9.7%
look: 3.75 | smell: 3.75 | taste: 3.75 | feel: 3.5 | overall: 3.75
Dirty gold color with the lightest of hazes. Leaves two rings of lace initially, spotty thereafter.
Straight up bitter nose with a light grapefruit find touch.
Starts with traditional pale malt, but this quickly leads to a strong earthy hop bite. Lip puckering swallow and a long bitter aftertaste. No detectable alcohol. Leans to the thin side body wise with a good carbonation level.
389 characters

3.75
/5
rDev
-9.2%
look: 3.75 | smell: 3.75 | taste: 3.75 | feel: 3.75 | overall: 3.75
On tap at Sugar Maple in Milwaukee, Wisconsin. Served in a snifter glass.
Lighter golden-orange body, one finger white head, fair retention and little lacing. Smell is primarily pine, citrus, caramel, light cereal grain. Flavour follows, with a good balance of caramel and floral notes, finishing with a bit of pine and cereal graininess. Mouthfeel is medium bodied, good carbonation, slightly sticky but otherwise not too bitter. A solid DIPA, it won't blow minds away but it'll fill you up nicely.
501 characters

3.86
/5
rDev
-6.5%
look: 3.75 | smell: 3.25 | taste: 4 | feel: 4.5 | overall: 4
750ml bottle purchased at the Torpedo room in Berkeley. Poured into a tulip.
A: Pours a pale golden color with three fingers of greasy, thick, off-white head that stuck around forever.
S: Bitter, leafy, but lighter than expected. Lemon and hints of pine as well. Actually not very fragrant. There's maybe a touch of peach as it warms.
T: Sweeter than expect with notes of candied fruits, caramel, passion fruit, peach, apricot, tangerine nectar, and honey. The finish has a solid bitterness and a touch mint, but the aftertaste falls off and this beer is forgetful after the swallow. What flavor is there is good. Minty, fruit nectar, and tingly.
M: Full body, tingly wintergreen mouthfeel, slick and greasy body, tingly but soft carbonation. Drinks well, numbing minty mouthfeel.
O: I was expecting more, but what's there is great. Hoppy, but not crazy. Drinks much better at room temp.
888 characters

4.25
/5
rDev
+2.9%
look: 4.25 | smell: 4.25 | taste: 4.25 | feel: 4.25 | overall: 4.25
i am not usually a big fan of SN's pales or IPAs with the exception of Hoptimum but this one nailed it. Nice big DIPA with fruity hops and a nice sweet malt balance to it without tasting malty. I hope this becomes a part of their normal lineup.
246 characters

4.32
/5
rDev
+4.6%
look: 4.5 | smell: 4.25 | taste: 4.25 | feel: 4.25 | overall: 4.5
Pours a crystal clear golden color in the class.
There is not a pronounced aroma on this; I get a touch of something earthy, with a hint of herbal spice, but nothing I can pinpoint.
The flavor has a pleasing hop bitterness but the flavor comes across on the finish. There's a great drying character on this that contrasted with a light malt body.
The straightforward moniker belies a straightforward beer.
411 characters
3.87
/5
rDev
-6.3%
look: 4.5 | smell: 3.75 | taste: 3.75 | feel: 4 | overall: 4
2015-07-25
1 pint 9.4 fluid ounce bottle poured into a large mug.041615 appears to be the date on the bottle.
Pours clear golden barely fading into copper, with a massive head that fades moderately slowly. Lots of carbonation. Pretty beer. Smell is piney, fresh, very slight floral.
Taste is bitter, piney, resinous, again with a slight floral sweetness. Mouthfeel is dry and resinous. Overall, good beer.
407 characters
4.51
/5
rDev
+9.2%
look: 5 | smell: 4.5 | taste: 4.5 | feel: 4.25 | overall: 4.5
Purchased yesterday at the source in Chico.
Bottled 4/16/2015. Best IPA/DIPA they've ever offered. Resinious, Dank, and mind blowing Citrus profile that Torpedo is lacking for DAYZ., or rather the citrus profile I wish Torpedo offered. Pineapple, Tangerine, Mango deliciousness!!! Epitome of juicy citrus, dank pine & resinous West Coast IPA.
For the record, let this beer warm up. Served near ice or very cold really is night and day opposed to when this warms and truly opens up.
SN - Stop wasting your time with Torpedo & Hoptimum and replace it with this batch of Audition DIPA.
Is this beer AWESOME? Yes. Is a 22oz bomber worth $10.75, uh.....NO. 4-pack this beeeatch.
679 characters
4.21
/5
rDev
+1.9%
look: 4.5 | smell: 4 | taste: 4.25 | feel: 4.25 | overall: 4.25
A - CLear gold body with a huge fluffy white head. Fades very slowly. Leaves medium lacing.
S - Pine resin, orange rind. Light caramel.
T - First some light sweetness followed quickly by some juicy citrus hops. Tastes very light at first bitterness builds as an aftertaste and continues in between sips.
M - Medium/light body, medium carb. Dries out the palate big time.
O - This is a great west coast DIPA. Aboslutely worth it, if you see it. I got it from the brewery in NC in a 750ml, so I am not sure if it is distributed. 8.9% isn't a monster (especially compared to some triple IPA') but the alcohol is very well hidden.
628 characters

3.67
/5
rDev
-11.1%
look: 4.5 | smell: 5 | taste: 3 | feel: 3 | overall: 3.5
Pours a clear metallic golden color with a finger of very dense white head. Looks a little like a Czech Pils against the light. Laces quite nicely. Appearance isn't to style, but attractive none the less. Good amount of pine and resin, but it's not super strong. I also get sweet fruit: strawberry, cherry, and raspberry to name a few. I get a hint of earthy grass as well. The hops are actually quite subdued. A light aroma of saltine cracker (without the salt) comes through in the nose. There is a touch of sweetness in the malt, a saccharine confectionery sugar or honey-like aroma but it's faintly there. These two coalesce into a graham cracker type aroma as it warms. A sweet nectar-like flavor starts things off but quickly fades to a french bread flavor. I get a little bit of a boozy flavor in the middle followed by tree bark & hop stems. Maybe a little Douglas fir in there as well. The bitterness is far back on the tongue and stays for a good while. This is definitely dry. This hides the ABV well at first, but comes through as it warms.
At some point this thing gets pretty boozy, but it calms down after a certain point. I really can't ignore this though. It's an interesting experiment that seems have been hatched when someone asked "how light can we make a malt that has lots of hops in it?" My answer would be that this went a little too far. It is a bit imbalanced, but only by the amount of alcohol. I can tolerate all the IBUs you can muster, but this malt is just too weak for the amount of ABV that's thrown at it. That said, the hop schedule is divine and I really don't know how they got the fruit characteristics in the nose. I'm ambivalent.
1,673 characters

4.57
/5
rDev
+10.7%
look: 4.5 | smell: 5 | taste: 4.5 | feel: 4 | overall: 4.5
A: poured a golden amber wheat color, very typical from the double IPAs I've had, bottle was next in back of fridge and I think got a little too cold, but still had a finger worth of head
S: ohh my goodness this smells great, very west coast style IPA, lots of floral and citrus coming from the hops. Almost like smelling an orange or tangerine
T: very well balanced. Malt bill is soo well blended with the hop bitterness. Has a little bit of alcohol bite to it. One of the better dipa that I have had drom Cali
M: nothing to complain, maybe a little high carbonation side, kinda prickly feeling.
O: a good west coast dipa, kinda surprising I think this SN only dipa. This is definitely a hop bomb worthy of SN
711 characters

3.88
/5
rDev
-6.1%
look: 4.5 | smell: 4 | taste: 3.5 | feel: 4.5 | overall: 4
Poured from a 1Pt. 9.4 Oz bottle into a tulip glass.
A: Pours a clear, light orange color with a creamy pearl white head. Vigorous sheets of carbonation bubbles rise to the top. The head sticks around for a while, but slowly fades to a thick film across the top. Spotted lacing is left behind.
S: Typical DIPA aromas of tropical fruits, citrus and some pine. Nothing really spectacular, but still very pleasant.
T: Significantly more piney in the taste than the aroma. A light toasted malt background creates an enjoyable backbone.
M: Medium bodied with a perfect amount of carbonation. A moderately bitter bite towards the end provides a crisp, refreshing finish.
O: A very solid DIPA and a fine example of the style. Unfortunately, this style has become over saturated and it takes more than what this has to offer to stand above the crowd. Nevertheless, this one is quite enjoyable and worth picking up if you can get your hands on it.
943 characters
4.68
/5
rDev
+13.3%
look: 4 | smell: 4.75 | taste: 4.75 | feel: 4.5 | overall: 4.75
Pours a fine golden color with a two finger silk white head. The aroma is very nice. Almost entirely hops. Pine, slight citrus, grass. Very traditional. The flavor is also quite impressive. It's a shit ton of hops, but not overly aggressive. This is a very solid ipa. The more I drink the better it gets.
304 characters

4.6
/5
rDev
+11.4%
look: 4.5 | smell: 4.5 | taste: 4.75 | feel: 4.5 | overall: 4.5
Pours a light copper color with a just-right off white foam. Aroma moderate to strong, floral mostly with pine/citrus. Awesome flavor, hop dominance but malt easy to pick up. Good balanced body.
194 characters
4.42
/5
rDev
+7%
look: 4 | smell: 4.5 | taste: 4.5 | feel: 4 | overall: 4.5
A - Nice golden color, looks more like a pale ale and not a DIPA. Nice head with great lacing all the way down the glass.
S - hop, citrusy, orange aroma. Slight malt and alcohol smell but the hops mostly dominate the nose.'
T - slighty better IPA than the torpedo. Great hops and citrus flavor that really opens up as the bottle warmed up. Has a nice bitter aftertaste that doesn't stay long or make you want to get rid of it.
M - medium body. Actually a little lighter and more carbonated than I expected. Particularly for a DIPA.
O - great west coast DIPA. At first I thought it was good but not great but the more I drank it the better and better it became. Really good hop forward IPA that is well balanced and hides the alcohol well. The malts definelty take a back seat in this IPA. Would buy it on a regular basis if it was available.
847 characters
Sierra Nevada Audition Double IPA from Sierra Nevada Brewing Co.
4.13
out of
5
based on
99
ratings.