Hop Bazooka
| Southern Bay Brewing Company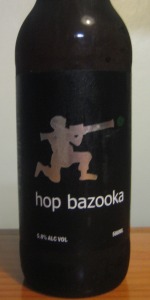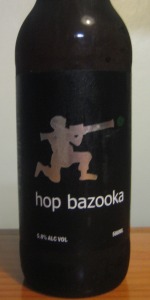 BEER INFO
Brewed by:
Southern Bay Brewing Company
Australia
southernbay.com.au
Style:
American IPA
Alcohol by volume (ABV):
5.80%
Availability:
Year-round
Notes / Commercial Description:
No notes at this time.
Added by spicelab on 10-17-2012
Ratings: 12 | Reviews: 7
Reviews by admiral:

More User Reviews:

3.74
/5
rDev
+0.3%
look: 3 | smell: 4 | taste: 4 | feel: 3 | overall: 3.5
Pours amber with a fading head.
Nose shows lots of floral and some tropical hops. Also some grassy notes and a fair bit of sweet clean malt underneath.
The grassy note follows as a flavour, too much dry-hopping perhaps? Other than that there's a fair bit of sweet malt and tropical fruit.
Could use more carbonation.
316 characters

3.5
/5
rDev
-6.2%
look: 3.5 | smell: 3.5 | taste: 3.5 | feel: 3.5 | overall: 3.5
3.54
/5
rDev
-5.1%
look: 2.5 | smell: 3.5 | taste: 3.5 | feel: 3.5 | overall: 4
500mL bottle from
[email protected]
Bay. Lets see if it lives up to its name..
Rather turbid apricot with a modest near-white head. No real lacing to speak of as it falls over a couple of minutes to a slight ring.
Nose has decent measures of fruit-salady hop character, as well as a marmaladey sourness that I don't usually get from an IPA. It's relatively sweaty, with lots of candied sweetness, suggesting a fairly solid malt backbone. Not bad at all.
Ripe tropical notes of orange-mango and passionfruit initally gradually transition into mellow resinous pine and clean herbal freshness. Nicely balanced.
Tingly carbonation spreads the lightish body nicely. Bitterness is not particularly challenging, and mainly plays out in the mid-palate.
Although it doesn't exactly deliver the impact its name suggests, this is interesting, coherent and plenty drinkable. I really hope this is a year-round affair, as it would be a very respectable addition to the Australian APA/IPA category.
994 characters
3.57
/5
rDev
-4.3%
look: 4 | smell: 3.25 | taste: 3.5 | feel: 4 | overall: 3.75
A: Very cloudy honey coloured beer, one finger head which is a distinct cream colour. Moderate carbonation, really fantastic lacing.
S: Fruity- peach, little bit of sultana. Sharp and sweet on the nose.
T: Bit of toffee sweetness, bitter aftertaste is really pleasant. Nice and hoppy.
M: Has a slightly silkier quality than other IPAs I've had, which I found to be really enjoyable.
O: A really enjoyable IPA, rich in flavour and really satisfying too.
458 characters
3.83
/5
rDev
+2.7%
look: 4 | smell: 4 | taste: 3.75 | feel: 3.75 | overall: 3.75
3.6
/5
rDev
-3.5%
look: 3.5 | smell: 3.5 | taste: 3.5 | feel: 3.5 | overall: 4
Nice name lets see if it lives up to it and it pours a hazy apricot hue with a fluffy,creamy three finger head and lacing everywhere,the smell is peaches,passionfruit,guava,piney hops,oranges and lemon sherbet,the mouthfeel is medium bodied,creamy with light carbonation and has tastes of pineapple,oranges,fruit tingles,lemon sherbet,bubblegum and finished with a kiwi fruit bitterness and overall its nice and very drinkable and would love to try on tap cheers.
463 characters

3.66
/5
rDev
-1.9%
look: 3.5 | smell: 3.75 | taste: 3.5 | feel: 3.5 | overall: 4
Amber - one finger head, dies quickly.
Peach on nose is a good start, but taste is then overly bitter, too much pine and not enough citrus balance. Moderate taste overall, not long lasting.
Solid if not spectacular.
215 characters

3.8
/5
rDev
+1.9%
look: 4 | smell: 4 | taste: 3.75 | feel: 3.5 | overall: 3.75
330ml bottle poured into tulip glass
L - amber, hazy, pours 1 inch thick off white head
S - toasted white bread with a pineapple and passionfruit touch
T - bready malts carry over into the taste, with grapefruit and citrus. The finish is dominated by resin like bitterness - more bitter than most aussie IPAs - and a hint of honey.
F - medium to light bodied, dry texture, carbonation is on the low side.
O - definitely more hoppy than I was expecting - good amount of dry hopping. But then again a bazooka isn't the most subtle of mascots. . Maybe a tad more carbonation to be truly excellent
603 characters

3.55
/5
rDev
-4.8%
look: 3.25 | smell: 3.75 | taste: 3.5 | feel: 3.5 | overall: 3.5
I had a 330ml bottle. This beer won a bronze medal in class 1K Pale Ale - American Style Strong Pale Ale. My bottle / batch is 5.6% ABV.
Appearance: mildly cloudy Amber colour, not overly cloudy. Not much head retention, a little disappointing in this area.
Aroma: excellent aromas for this beer. Very evident upfront sweetness of citrus, passionfruit and melon hit you. One of the best IPA aromas I've come across.
Flavour: fruitiness flavours follow through on the the front of the palate. There is a nice mouthfeel almost creamy with good carbonation. Very good bitter finish, not too strong but it grips you after a mouthful and stays with you a while.
Overall: A very enjoyable beer here. The hops aromas are a real highlight and just as good to drink. I'll be having this again.
785 characters
Hop Bazooka from Southern Bay Brewing Company
Beer rating:
41.7%
out of
100
with
12
ratings