Kings Park Beer & Soda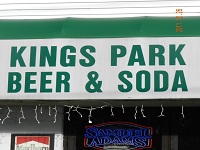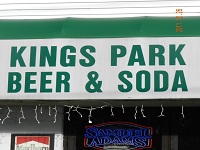 Store
165 W Main St
Kings Park
,
New York
, 11754-2603
United States
(631) 544-0488 |
map
Notes:
Reviews by KristenM:
4.71
/5
rDev
+7.3%
vibe: 4 | quality: 4.5 | service: 5 | selection: 5
Kings Park Beer and Soda is one of the best places on the North Shore of Long Island for finding craft brews (Smithtown to Huntington).
Kings Park Beer and Soda has a wonderful selection of individual bottles, packs and cases. Always interesting tap selections too. Used to go to Commack for those unusual finds, but the assortment here is great. They've got selections from all overthe world. Can always find something from Dogfish, Allegash, Brooklyn, SixPoints, etc.
Very friendly, knowledeable and helpful ownership.
523 characters
More User Reviews:

4.32
/5
rDev
-1.6%
vibe: 4.25 | quality: 4.25 | service: 4.25 | selection: 4.5
Doesn't look like much from the outside. ON the small side with beer crammed into every nook and cranny, all the way up to the ceiling.
Boutique beers, hard to find stuff, huge selection of all the good stuff. Locals, regionals, national and international heavy hitters. Don,t look for bargains, but do expect to find more then ample items of interest. They have tons of interesting bomber options and they fill your growler. Well worth a visit
450 characters
5
/5
rDev
+13.9%
vibe: 5 | quality: 5 | service: 5 | selection: 5
I look forward to every Friday or Saturday for the visit to see "B" and the crew, in most cases you will be able to go in and discuss different brands and flavors with "B" and the locals who have knowledge and passion. As for the store "B" and the crew work hard to maintain the newest releases and keeping a solid inventory of the standards, they are more than willing to order something they don't have or have not heard of. Going into the store there is a vibe and energy for beer, most often lacking in the other establishments. Support your local merchant! Support your local merchant you will not be disappointed. Thanks "B" you are on the front of the USA micros revolution.
686 characters
4.33
/5
rDev
-1.4%
vibe: 3.25 | quality: 4.25 | service: 4.75 | selection: 4.5
Bharat, the owner, is extremely knowledgeable on the newest beers. He always has a great selection of beers and constantly tries to obtain the newest and greatest. He is a great guy and this is definitely one of the best local beverage stores around.
250 characters

4.85
/5
rDev
+10.5%
vibe: 5 | quality: 4.75 | service: 5 | selection: 4.75
Kings Park Beer & Soda is a great little place. If you drove by it you might think it's a hole in the wall place so once you step foot in the door then you will be shocked. I've lived out here for 7 years and the owner ("Mr. B") and his son and staff are always extremely nice and helpful. Atmosphere is always welcoming, never rushed and it feels like they invited you into their home. Sometimes I go in to see what is coming in and don't buy anything and there is never pressure to purchase as Mr. B knows how to deal with people and especially his loyal customers, one of which includes me.
The quality here is what counts because this place is about the size of a garage; the cases are stacked up and the large format beers are mostly near the counter on shelves, and there are rarities along with all the huge macro brands mixed among the outstanding craft selection. True to its name, there is soda as well. Words can't describe how crowded and packed with good beer this place is so unless you are claustrophobic then go check it out.
As stated above, the service is top notch and they treat loyal customers very well; service is not just for craft customers, but the regulars who come in for a case of Coors or Bud get red carpet treatment. They will stop filling a growler to ring somebody up so they don't have to wait, which is always cool with me as I wouldn't want to wait for the head to settle in a growler pour before getting my case of macro paid to get home to drink it. Additionally, they provide recommendations as well as trying to research beers online on the spot, and will keep beers aside for the regulars.
Selection for such a small place is excellent. Great mix of brands, seasonals, large bottles and macro brews so that everyone can walk out happy. Last time I was there the growler station had Anderson Valley Hop Ottin, Oskar Blues G'Knight, Weyerbacher Pumpkin and Anchor Steam Big Leaf Maple Ale so there was a nice variety there as well. Lots of IPA's and always plenty of Founders, Stone, Dogfish Head and local beers. The selection for the amount of space is remarkable.
I know my prices and some are high, but most are fair and average for the craft market. At the end of the day it is a business so they need some margins and I'm happy to help contribute because they treat me well and it so close to my house that I'm there at least a few times per week. I suggest that anyone driving on Route 25A in Kings Park should stop in and pick up a good beer or six.
2,501 characters
5
/5
rDev
+13.9%
vibe: 5 | quality: 5 | service: 5 | selection: 5 | food: 5
a very reasonable beer distributor located on easy to access main street! if your a beer guy/gal you will love this place! they have everything from alagash to bud! they even have a decent soda selection. if your looking for something new to drink come here the owner bharat is friendly and knowledgeable and will find you something you never heard of before. overall stop by if u have a chance! its worth it!
409 characters

5
/5
rDev
+13.9%
vibe: 5 | quality: 5 | service: 5 | selection: 5
I truly LOVE this beer distributor!
This beer distributor is one of the best on Long Island. It carries a great selection of microbrews. Do not let the size of this BD fool you. The owner, "B" is very intelligent and knows A LOT about beer. I have been in there and customers ask him on numerous occasions, "B what kind of beer should I buy??!!" That is how GOOD and knowledgably he is, that he knows how to satisfy his customers' beer thirst. Simply AMAZING!!
The main thing that comes to mind is the amazing selection of German imported beers and the IPAs that are KP Beer and Soda. (My favorites, because B is always bringing in a new/highly rated beers)
Not only do they have a great selection of craft beer, they have 4 rotating taps that add to this BD. The growler station- is always changing and has a new selection. B always carries the best local and non-local brews on tap. The staff- B and his son, are super friendly and educated, and assist you and help you with any questions you have. I love, chatting with both of them!
The prices are very reasonable, and I use to go 30-45 minutes away to another BD, until B and his family took over KP Beer and Soda, but there is no need for that anymore.
Great Selection, great growler fills, great staff, nothing else to say!!! Cheers!
1,305 characters

3.74
/5
rDev
-14.8%
vibe: 3 | quality: 4 | service: 4 | selection: 3.5
A small place overall, but they do have a good craft beer selection. A lot of selections are overpriced though. He carries all the main craft breweries, Southern Tier, Dogfish Head, Ommegang, Rogue, so on. Sometimes you'll find something rare right on the counter probably because not many people go here, for example he had bottles of Founders KBS for months which is just absurd. There is a growler station with 4 different taps of usually good beer. The owner is a nice guy, don't really think he knows much about beer though, just says everything is "amazing!" Basically, if you live in the area it's a nice place to have to fall back on if you don't have the time to get to Shoreline or Big Z which are definitely the better option.
737 characters
5
/5
rDev
+13.9%
vibe: 5 | quality: 5 | service: 5 | selection: 5
I have been going to Shoreline and Bullseye for years....until I went here. The place is small but the selection is nicely varied and always changing. The growler station is great, the 4 beers on tap have the style and ABV posted which is always helpful. The owner really knows his beer and I sometimes walk in when he's browsing BA too haha! There's also a good selection of some hard to find single bottles behind the counter, some a few years old. Overall, if you want quality beer, go no further!
500 characters
5
/5
rDev
+13.9%
vibe: 5 | quality: 5 | service: 5 | selection: 5
This place is what every beverage center should strive for, both large and small... The owner, Bharat, is very knowledgable, courteous and honest and is always looking for ways to improve upon his already impressive selection of fine craft beers, 4 rotating taps, and more. If you have any questions.. just ask. The owner runs the operation, is always there, and really cares about his business. Until he took over Kings Park Beverage, I always had to drive a minimum of 30 minutes to find a place that carries excellent beer....sometimes further. No need anymore. This beverage center is all you can ever ask for. As a beer enthusiast, I honestly believe this place deserves an A+ rating.
689 characters
4.15
/5
rDev
-5.5%
Definitely much better than it used to be. The owner, who is always there, seems committed to offering craft beer with a new growler system and some really decent offerings from Stone, Southern Tier, Lagunitas, Sixpoint (on draft) and others.
It's a smallish beverage store, but it's conveniently located on 25A between Smithtown and Huntington. Far enough away from Shoreline, Superstar and Big Z to make it a go-to stop if you are in the Kings Park or Smithtown area and you don't want to take the time to get to one of those bigger stores. Sure, the offerings aren't as varied, but they seem to be making an effort to improve.
630 characters

3
/5
rDev
-31.7%
Small beer distibuor locate on Main Street in Kings Park.
The selection included Sleeman's, several Saranac varieties, several SA varieties, several SN varieties, several Blue Point varieties, several Broklyn varieties, Buffalo, Mendocino, Beamish, Murphy's, Guinness etc.
There was a decent selection of imports as well. Not much Belgian or English ales to speak of. Plenty of macros.
Decent selection of sodas and seltzers as well.
Its a small place, so space is limited. Not a bad place to quickly pop in and out.
528 characters
Kings Park Beer & Soda in Kings Park, NY
Place rating:
4.39
out of
5
with
13
ratings