Chaucer's Pub / Marienbad Restaurant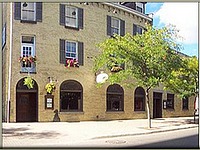 PLACE INFO
Type:
Bar, Eatery
122 Carling St
London
,
Ontario
, N6A 1H6
Canada
(519) 679-9940 |
map
marienbad.ca
Notes:
No notes at this time.
Added by mrmanning on 06-04-2006
Ratings: 12 | Reviews: 10
Reviews by cratez:

3.45
/5
rDev
-13.5%
vibe: 4.5 | quality: 3.5 | service: 3 | selection: 3 | food: 4.5
EDIT - JUNE 2011: on a recent visit with mrmanning, they had Triple Karmeliet and Lindemans Cassis in bottles and Delirium Tremens and Pilsner Urquell on tap. I'm glad that they're keeping things going despite lacking knowledgeable management and staff.
---
Chaucer's has declined ever since the departure of Milos Kral to Gambrinus, and it has yet to find an adequate replacement. Granted, some of the bar's better attributes remain, but it's now a mere shadow of what it used to be.
Atmosphere is the main attraction with an inviting sit-down bar, plenty of wooden tables and chairs, a cozy fireplace, and strange, Old World memorabilia on the walls. Crowd is mostly academics, single malt drinkers, and beer geeks.
Service is acceptable in that the waitresses are friendly and relatively quick, but they don't know much about beer. The servers also tend to close the bar long before its purported closing hours, one of the drawbacks of employees running the show.
Chaucer's beer selection is mostly solid LCBO offerings with a few hard-to-find imports. American beers are Brooklyn Lager, DFH 60 Minute, Southern Tier Porter, and Victory Prima Pils. Good taps include Hacker Pschorr Munchner Gold, Palm Amber Ale, Mill Street Tankhouse, and Caledonian 80. The Belgians are Maredsous 6/8/10, Chimay Blue, Floreffe Dubbel, St. Bernardus 12, Tripel, and Wit, and the Rochefort line. They also carry regular and seasonal beers from Railway City Brewing, the region's local micro brewery.
Marienbad is the restaurant next door to Chaucer's and, luckily, pub patrons can enjoy its stellar food. The menu is Central European dishes like schnitzel, goulash, and chicken paprikash, all of which are delicious. These items certainly give Chaucer's a leg-up in the food department. In terms of value, I would say everything is 'reasonably' priced.
Overall, it remains the case that Chaucer's is a lovely place to enjoy an appetizing meal and quality beer. The bar is probably the 6th best beer spot in the London area, but the Marienbad owners could do a lot more to differentiate their bar from other places in the city. Hopefully some new management can restore this place to its former greatness.
2,197 characters
More User Reviews:
4.8
/5
rDev
+20.3%
vibe: 5 | quality: 4.5 | service: 5 | selection: 5 | food: 4.5
One of the more low-key places in London, best suited for sitting and drinking with friends or having a hearty meal. The ambiance is very unique for London, relying heavily on old-world charm and more of a "classy" vibe. They have a relatively small but well thought-out draught selection featuring tried and true options like Delirium Tremens and Pilsner Urquell. Their recent turn towards local craft feature kegs is a welcome development, especially the new Anderson options. Overall a very cool place with great food and great beer, would definitely recommend to anyone looking for an alternative to your typical overly casual bar scene.
641 characters

3.65
/5
rDev
-8.5%
vibe: 3.5 | quality: 4.5 | service: 3 | selection: 3 | food: 4.5
3.78
/5
rDev
-5.3%
vibe: 4.5 | quality: 3.5 | service: 4 | selection: 3.5 | food: 4
Located in downtown London, this place is the city's best kept secret. A warm fireplace and old wooden fixtures make you feel at home. The bottle list includes some hard to find belgians for this area, some american micros including dogfish head. Also bottle from Unibroue. On tap are some quebec micros like Unibroue, and lots of belgians like Affligem Blond and Hoegarrden. I was suprised to find the forbidden fruit there too. The food is awesome, and you should try the schnitzel, really. Worth a visit! Feb 09 2011- A new review reveals less beer selection, smaller menu, and a staggering decline overall. Still good, but not what it once was.
648 characters
3.2
/5
rDev
-19.8%
vibe: 3.5 | quality: 3 | service: 4 | selection: 2.5
This place has had it, but the early reviews inflated its rating. Years ago, Milos (now General manager of Chauncey Smith down the road)established a mostly very good (for Ontario)bottle selection. Some of the bottles remain, but it is a shadow of its former self as time passes and noone is at the helm in the beer department. Decent size, though not huge. Bar is tiny. Only the one Mill Street Tankhouse tap, though a couple of imports including fullers made this a little oasis. Walk over to Chauncey Smith.
510 characters
3.58
/5
rDev
-10.3%
vibe: 4.5 | quality: 3.5 | service: 3 | selection: 3.5 | food: 4.5
Chaucer's is a truly world-class pub nestled in the heart of provincial Canada ... our little, old London. It has been my pub of choice for the past two years, and it has never let me down for quality, service, or selection.
The atmosphere in Chaucer's is rustic and reticent. The walls are decked with Central European paraphernalia ... swords and steins and carved figures. And on bleak winter nights, there is usually a large fire roaring in the hearth. An old piano sits quietly in the corner -- occaisionally played once someone has drunk up enough courage to do so -- but there is otherwise little noise except the friendly conversation (and rapping upon the tables) of other patrons. The crowd at Chaucer's is diverse; pensive university students and jolly old-timers alike seek out its homey comforts. Rarely is the place over-crowded, and just as rarely is it empty. It is a place that inspires attention and devotion from a healthy group of aficionados.
The quality and selection of beer, at least for London, is unparalleled. While the draft selection is fairly pedestrian, though not without a few occaisional delights, the bottle beer list is staggering. The publican has lavished special attention on Belgian beer, and trappist/abbey offerings abound. There are usually a few magnums on hand as well, with names like Chimay and Gouden Carolus on the label ... perfect for a special treat to share with friends. The Canadian and US craft selection is smaller, but of no less quality, and there are often a few surprises from the UK to be found as well. The management here works closely with private importers to ensure you can sample beers unavailable from the Ontario liquor stores.
The servers are friendly and knowledgable, and the food is excellent. Central European fine dining with prices to match -- but considering the quality, there is still good value. A trip to London would not be complete without a stop here. Cheers!
EDIT:
Things have gone downhill here in the last year or so. The decline is a disturbing trend likely brought about by the departure of Milos Kral, the previous manager who is now doing fabulous things in his new digs, Chancey Smith's Steakhouse (see barfly review). Beer selection is dwindling and the list is now, frankly, boring. They still manage to keep a good selection of Trappists, but everything else is lacklustre; every beer here and many more can be had down the road at Chancey's.
Some of the more beer-savvy servers have also moved on, and their replacements have nowhere near the knowledge or interest in the beer as the old guard did. The beer list is never up-to-date, and no one seems to know what is in stock at any given time. This bar is becoming quite obviously less beer-focused.
The place is still notable for its ambiance and the food, and so these ratings remain unchanged. It's still worth visiting from time to time, but I am sorry to say that it is merely a shadow of its former self.
2,965 characters

4.33
/5
rDev
+8.5%
vibe: 4.5 | quality: 4.5 | service: 4.5 | selection: 4 | food: 4
This refers to Chaucer's - Marienbad was having a Murder Mystery Night when I was there.
If you're ever in London, Ontario this is the place to go for craft beer. Tap selection is pretty standard for Canada, although I was surprised to find Brooklyn on-tap. They had a feature of Christmas brews (Gouden Carolus, Wychwood, etc.) and also have a very good selection of Belgian and UK bottles (although they were out of Thomas Hardy's...)
Had a St. Bernardus ABT 12, a Cuvee van de Kaiser, and a Samichlaus - all were resonably priced, especially for Canada, and served in the appropriate glassware.
Food was very good - loved the Stilton chicken, and my family enjoyed the mushroom penne, Schnitzel, and chicken Marsala.
Service was good, although in the afternoon there was only one server and she was a little too busy. Both servers I've experienced have been very friendly and knowledgeable - they clearly like beer too.
Basically, if this were in Chicago it'd be a pretty average place, but in London, Ontario this is top-notch.
1,036 characters
4.53
/5
rDev
+13.5%
vibe: 4.5 | quality: 5 | service: 4.5 | selection: 4
This place is a great for a lot of reasons. Very old style, fireplace, no music, reminds me of Cheers. Good cross section of people, some are very classy, old people and a few students too. Beer menu is pretty long and has descriptions. They also way cases of some pretty sick beer that they constantly change. Some is not available at the LCBO. Uh, good glassware, knowledgable staff. Great place to go and have a few pints. I can't really say enough good things about this pub. Its definately what London needs. Has a nice patio in the summer and a fire place for the winter nights when ur downing oatmeal stout. It's on Carling, across from Up
646 characters

4.68
/5
rDev
+17.3%
vibe: 5 | quality: 4.5 | service: 5 | selection: 4.5 | food: 4.5
This definitely is the cities best kept secret! As soon as we walked in we were serenaded by violinists, what a great atmosphere. Beers I've never heard of line the shelves, lots of beers on tap including Hacker-pschorr, Caledonian, Leffe, Brooklyn and the best : Tankhouse Ale.
The selection on tap is not huge but it is the best variety in London for sure. The selection of bottles is very extensive, many you cannot get in the LCBO including Westmalle, Southern Tier and many others.
The outdoor patio is nice, the service is great, I will return here sometime to try their food. Very impressive!
602 characters
4.8
/5
rDev
+20.3%
vibe: 4 | quality: 5 | service: 5 | selection: 5 | food: 4
CHAUCERS
As noted previously, the city's best kept secret. Crowd is generally either university students and 40+. Awesome selection with a focus on providing the best of many countries and lots of styles. Small but cozy patio, nice wood paneled interior with a large warming hearth. Specializes in Belgians (my favourite) and has some real gems in that category especially as an Ontario bar (selection generally around 52).
Examples unavailable at the LCBO include aged (04,06) Chimay Blue (yes!) (and unaged Blue), various magnums, St Bernadus, Rochefort (8 & 10), Maredsous(6, 8, 10), Achel, and other awesome picks including Koenigshoeven, Dogfish Head, and Southern Tier.
However they are picked on a rolling basis so don't go in expecting all of the above. Consistent selection of generally available Belgians (Chimay Red and White, Duvel, Unibroue) and some handpicked Canadian craft and microbrews. Also rolling local selection.
There is also a decent scotch selection and a stellar menu including lots of savoury Czech dishes. I recommend the red cabbage, fish and chips, Wenceslas cheese, and steak tartare. Although the value on the food isn't spectacular, every food I've had I've been very happy with.
Service is good and reasonably prompt, waiters are very friendly. They don't know a ton about the beer they serve but make decent recommendations and understand and are patient with the beer geek segment. They have a 'Beer Passport' event in which you try one beer from each country they offer (not in one night).
They lost their Czech bartender a few weeks ago, so its future is uncertain. I will update if changes occur.
In short if you are a beer fan (especially Belgians) who happens to be in the area Chaucer's is a necessary visit.
Edit May 08: Had many imported Belgians available... Gouden Carolus, St. Bernardus, Chimay Blue, and a bunch of Southern Tier's lineup. Always something new in bottles.
In my opinion one of the best bars west of Toronto, and although it lacks the superb Ontario selection of some of Toronto's finest, it has a great atmosphere, friendly staff, and most importantly, a carefully chosen bottle selection.
2,164 characters

4.22
/5
rDev
+5.8%
vibe: 4 | quality: 4 | service: 4 | selection: 4.5 | food: 5
They have 12 taps. Ten of them are fairly standard, but two the specialty taps get some nice stuff rotated through. They had Hacker-Pschorr Dunkle Weisse in the spring.
By the bottle they have more than 20 Belgians and an assortment of other brews from around the world.
The service as the Marienbad is exceptional, Chaucer's is a little more average.
This Czech restaurant has some really nice continental cuisine (portions are a little smaller than what you find in Europe). Last night I had Jager Schnitzel and finished it off with Amoretto palačinky for dessert.
581 characters
Chaucer's Pub / Marienbad Restaurant in London, ON, Canada
3.99
out of
5
based on
12
ratings.