Minerva Colonial
| Cervecería Minerva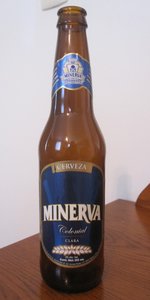 BEER INFO
Brewed by:
Cervecería Minerva
Mexico
cerveceriaminerva.com
Style:
Kölsch
Alcohol by volume (ABV):
5.00%
Availability:
Year-round
Notes / Commercial Description:
No notes at this time.
Added by moonman00 on 05-14-2008
Reviews: 9 | Ratings: 28

2.5
/5
rDev
-21.4%
look: 2.5 | smell: 2.5 | taste: 2.5 | feel: 2.5 | overall: 2.5
Grabbed this at a supermarket instead of the usual Mexican offerings
A: Pours a golden color with a small head that dissipates to nothing. No lacing to speak of. Reminds me of apple juice.
S: Some malts and wheat, but not much going on here.
T: A faint citrus component and some malt, but overall plain and boring.
M/D: Thin to medium bodied with little carbonation. Not good and won't buy it again. Would rather drink some of the Mexican macros than this.
463 characters
2.61
/5
rDev
-17.9%
look: 3.5 | smell: 2.5 | taste: 2.5 | feel: 2 | overall: 3
A bad imitation of a kolsch beer style;
is poor in general, rare style in my country, its taste has reminiscences of a kraeusened style.
Good for a sunny day.
drink from the bottle, good for "Aguafrìa cheeses" a region from the metro of my city, famous for its cheeses.
40% recommended
290 characters
2.77
/5
rDev
-12.9%
look: 2.5 | smell: 3 | taste: 2.75 | feel: 2.5 | overall: 2.75
L- Clear yellow body and white head.
S- Fresh malt aroma and a hint of lime.
T- Very fresh malt-citrus flavor.
F- Light, watery.
O- Just a simple refreshing pilsner, nothing special about it.
191 characters
2.85
/5
rDev
-10.4%
look: 2.5 | smell: 2.5 | taste: 3 | feel: 3 | overall: 3
Light golden color with a thin head with short retention.
Aroma with predominant notes of honey, lemon and bread.
Flavor with notes of mild spices, lemon, white grapes, minerals, herbs, spices and Kolsch yeast. Dry aftertaste with a mild bitterness.
Light body with appropriate carbonation.
Faithful to style and well done Kolsch, no thrills as usual for style though.
368 characters
3.01
/5
rDev
-5.3%
look: 2 | smell: 3.5 | taste: 3.5 | feel: 2.5 | overall: 2
A: Dull yellow color, ephemeral head and some sediments at the bottom;
S: Sweet malt, toffee and cherries;
T: Toffee with a finish citric;
M: Fizzy, sweet bitterness and medium body;
D: There are some mexican macro beers better than this craft beer.
253 characters
3.31
/5
rDev
+4.1%
look: 4 | smell: 3 | taste: 3.5 | feel: 3.5 | overall: 3
Light fizzy ½ finger head fades at a med pace, crysal clear golden light lager color
Nose is more like macro swill, skunked lager, light metallic, a light wheat and pilsner malt, hint toasty. A bit of decent malt that saves it but it seems like it was mistreated.
Taste is a bit better, toasty malt and bready taste kick in at first, plenty of wheat, and a whole grain pasta like taste. Light lager fruits and pilsner malts, just a hint of skunk and metallic taste. Little juicy malt, and faint touch of grassy hop. Finish is a bit more bitter, more grassy hops, dry, semi crisp lager finish, light toasty malt.
Mouth is lighter bodied, decent carb.
Overall not bad, but kinda meh. The other two from them were much better, but this still beats almost all the other lager beers from the area.
797 characters
3.48
/5
rDev
+9.4%
look: 4 | smell: 3.5 | taste: 3.5 | feel: 3 | overall: 3.5
A much more complex and enjoyable taste profile than the lagers offered by the macros. I'm not traditionally a lager fan, so perhaps I'm biased, but I found the malty, bready sweetness quite refreshing. Surprisingly representative of the style and my first Mexican koelsch!
I have a full respect for anyone who is able to manage a business based on the 1516 Rheinheitsgebot, especially in this southern environment where corn seems to be the (inexpensive) principle ingredient of their competitors.
I wish Minerva full success!
529 characters

3.49
/5
rDev
+9.7%
look: 3.75 | smell: 4 | taste: 3.75 | feel: 2.5 | overall: 2.75
Pours very pale, clear and whit a very wide white foam head. Smell is malty, sweet and grainy from pilsner malt., no hop aroma. Taste is malty, grainy like cracker bran, almost no hops and low bitterness. Body is very low and carbonation is extremely high, like champagne. Overall a very carbonated lager I would occasionaly drink.
331 characters
3.8
/5
rDev
+19.5%
look: 3.5 | smell: 3.5 | taste: 4 | feel: 3.5 | overall: 4
Another beer from Guadalajara's Minerva Micro. It is said to be inspired by Kölsch style.
This is a yellowish beer with fair head when poured in a glass.
Smell is good, from strong malts and a little fruit.
Taste is very nice, some caramel along with citric.
A very refreshing beer for those hot summer nights.
323 characters
Minerva Colonial from Cervecería Minerva
3.18
out of
5
based on
28
ratings.