Sedici Gradi
| Birra Del Borgo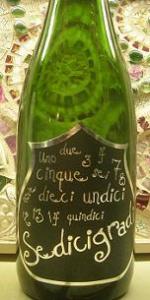 BEER INFO
Brewed by:
Birra Del Borgo
Italy
birradelborgo.it
Style:
American Barleywine
Alcohol by volume (ABV):
16.00%
Availability:
Rotating
Notes / Commercial Description:
"Sixteen Degrees"
Added by HopHead84 on 12-25-2008
Reviews: 10 | Ratings: 21

4.44
/5
rDev
+3.5%
look: 3.5 | smell: 4.5 | taste: 4.5 | feel: 4.5 | overall: 4.5
Bottle shared by westcoastbeerlvr. Thanks, Teddy.
This is a bit of a gusher, though I opened it near room temperature. Pours a dark chestnut brown with a tall head that rapidly dissipates. Vinous, fruity, umami aroma. Huge fig notes. Some pleasant nutty oxidation. Smells great. Palate is full-flavored but not too heavy, especially given the supposed 16% ABV. Some great fruit flavors here, fig being dominant, though there's a bit of tart berry and zinfandel-like wine notes. It's got an intriguing mix of sweet and sour. Tannic, oaky finish, with a little lingering tartness and soy sauce. Surprisingly good stuff, I'd gladly drink this again.
★
647 characters
4.03
/5
rDev
-6.1%
look: 4.25 | smell: 3.75 | taste: 4 | feel: 4.25 | overall: 4.25
Bottle: Poured super cloudy dark brown color ale with a small foamy head with minimal retention and some light lacing. Aroma of brown sugar with some dried fruits notes is quite intense. Taste is also dominated by loads of sugar with some dried fruits thought still balanced by a solid malt backbone. Body is full with limited filtration and medium carbonation with no apparent alcohol. This is quite sweet but never gets into gross territory and stays somewhat drinkable with a good amount of complexity.
★
505 characters

4.27
/5
rDev
-0.5%
look: 4 | smell: 4.5 | taste: 4 | feel: 4.5 | overall: 4.5
Thanks to xpimptastikx for the trade. Served in a Russian River tulip at Jason's place.
A - Off-white foam settles to a thick collar, a big splotch of of bubbles on-top, and minimal lacing. Dark almond body with slight transparency visible when held to the light.
S - A great mix of oak, nuts, jammy red wine, caramel, brown sugar, and a touch of sherry-like oxidation. Alcohol is shockingly well-hidden; didn't catch if this was the 2008 or 2010 vintage, but I'm guessing it's the latter.
T - Taste is similar, with super smooth caramel, dark fruits, red wine grapes, nuts, and dry oak in the finish. Doesn't quite pop as much as the aroma, but still quite good. Alcohol is again well-concealed as I'd never guess this was above 11-12%.
M - Low carbonation, smooth, full body, chewy texture, and negligible alcohol. I'm shocked that this is 16%, as it goes down really easy.
D - One of the most crushable 16% beers I've ever encountered. If you like vinous barleywines and old ales, you'll really dig this; evocative of BA Decadence '08 but not as tart. I'd definitely purchase another bottle if this were available locally
★
1,129 characters

4.54
/5
rDev
+5.8%
look: 4 | smell: 5 | taste: 4.5 | feel: 4 | overall: 4.5
A vigorous pour from this 37.5 cL bottle yields a creamy, one finger, off-white head. The head recedes in under a minute. The beer is deep amber, nearly brown, and the lacing is scattered.
The aroma is very complex. It initially smells of dark fruits like dark cherries, plums, and currants. There is an underlying sugary sweetness to it, and it is slightly tart.
The taste is of sweet plums, and mildly tart dark cherries. There are notes of dark grapes, but I'm not knowledgeable in the area of wine so I won't venture a guess as to which type. The malt profile is very sugary sweet. Hops take a back seat to the big malt and dark fruit character in this barleywine. Very vinous. For a 16% beer, the alcohol is slightly hidden, but such a high % can only be hidden so well. The alcohol is very noticeable in the long, fruity finish. As the beer warms the alcohol becomes more apparent.
Medium full bodied with good carbonation and a viscous and vinous mouth feel. A big, complex, and fruity barleywine. This is a very interesting and enjoyable sipper. If I had another bottle I would put it away for a few years because I think it will get even better with time. This is my first experience with a Birra Del Borgo and I will actively seek out their other offerings.
The name Sedicigradi means 16 degrees. I assume this is representative of the upper end of the recommended 14-16 degrees Celsius serving temperature on the bottle. A quick translation of the Italian on the bottle informs me that the beer was aged for 12 months in new French oak. It was also limited to 500 bottles and the date on my bottle reads: 29 SET 08
★
1,629 characters

3.65
/5
rDev
-14.9%
look: 3.5 | smell: 3.5 | taste: 3.5 | feel: 4 | overall: 4
Pour is a murky dark brown with a light brown head. Nose is chocolate malt up front with yeast behind. Sweet chardonay notes, meaty with big smokiness in back accompanied by a tinge of alcohol. Malt notes up front, sweetness is very strong with dark fruits and decent vinous notes. Lingering chocolate bitterness in the finish. Medium body with soft juicy feel and good crisp well carbonated finish.
★
399 characters
4.63
/5
rDev
+7.9%
look: 4.75 | smell: 4.75 | taste: 4.5 | feel: 5 | overall: 4.5
On tap at Open Baladin in Rome, Italy. 15cl for €5. It's almost 100% flat. It's dark and murky brown. No lacing. Smell is very heavy dark fruits. Very much raisins, figs. It tasted similarly. Like a wine version of a belgian quad. It was 16%. If I was given a few sips and not told it was a beer, I could be fooled into not knowing it had any alcohol in it. Possibly the most well-hidden alcohol in an beer I've ever tried.
Interesting beer. Very tasty, but different. I loved it.
★
483 characters
4.42
/5
rDev
+3%
look: 4 | smell: 4.5 | taste: 4.5 | feel: 4 | overall: 4.5
A: Hazy brownish amber with a small ivory-colored head. Surprisingly plentiful lacings considering the ABV.
S: A wonderful smell of tart fruits pop up from the glass making the smell rather refreshing. Some funk, oak barrel and dusty cellar.
T: The taste is sweeter than the smell would lead you to expect, with the tartness playing second violin. Lots of dried fruits and some sweet caramel malts, but most of all here is plenty of barrel flavors (oak and a general woody taste). Notes of vanilla. The finish is dry and vinous with lots of oak character. The alcohol is very well hidden and only delivers a gentle warming sensation in the finish.
M: Medium, smooth texture, low carbonation and dry finish.
D: A very original and interesting beer which I really enjoyed. Complex and surprisingly easy to drink. A semi-tart barleywine aged over a year in oak barrels is a rather risky and strange experiment, but I think this one is actually quite successful.
★
965 characters
4.49
/5
rDev
+4.7%
look: 3.5 | smell: 4.5 | taste: 4.5 | feel: 5 | overall: 4.5
375mL bottle in to the new CBS snifter.
Served at ~53F.
A - Pours a dark hazy amber (root beer-ish) with 1cm of khaki head and minimal lacing. I wasn't expecting much with the abv.
S - Tart cherry, fig, caramel, grapes, slight oak.
T - Sweeter than the nose. Starts sweet with oakey caramel and vanilla and then finish with a strong dark fruit element(dates, plums, over ripe figs). A nice balance with just enough depth.
M - Smooth and creamy carbonation and the french oak leaves a nice tannic finish.
O - This was a damn fine "Barleywine", although I think it fall might fall more along lines of an Old Ale. The closest thing I could relate it to would be BA Decadence 08' blended with BB4D... The alcohol is well hidden for a 16% beer, slightly warms you from the gut, but no outright alcohol smell or taste. I'm very glad to have another bottle of this!
★
864 characters
4.61
/5
rDev
+7.5%
look: 3 | smell: 4.5 | taste: 5 | feel: 4.5 | overall: 4.5
Appearance is near black with murky brown edges.
Smells of perfumy alcohol and oak, also some dark overipened fruit... Wow this is rediculously smooth for the abv, booze hardly even present in flavor. Big stout flavor of raisens prunes and vanilla.Warm finish but no solvent alcohol flavors at all
★
297 characters
4.55
/5
rDev
+6.1%
look: 4.5 | smell: 4.5 | taste: 4.5 | feel: 5 | overall: 4.5
This beer was sampled at the Walk The Line On Barleywine commercial competition.
A: clear mahogany with small white head that disappates quickly
S: dark fruit, woody, caramel, light floral
T: oaky, caramel, plums
M: moderately full body with lots of supporting malt, slight residual sweetness, smooth
O: Wow - this is 16%? (according to bottle) It is smooth and does not have any significant alcohol heat, although there is some alcohol warmth. A very cleanly made extremely high alcohol beer - amazing! And the woody/oaky character adds some nice complexity.
★
564 characters
Sedici Gradi from Birra Del Borgo
4.29
out of
5
based on
21
ratings.