Demon Hunter
| Birrificio Montegioco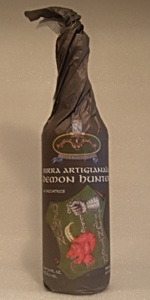 BEER INFO
Brewed by:
Birrificio Montegioco
Italy
birrificiomontegioco.com
Style:
Belgian Strong Dark Ale
Alcohol by volume (ABV):
8.50%
Availability:
Year-round
Notes / Commercial Description:
No notes at this time.
Added by Todd on 10-11-2006
Reviews: 37 | Ratings: 72

4.29
/5
rDev
+10.9%
look: 4 | smell: 5 | taste: 4 | feel: 3.5 | overall: 4.5
(Intriguingly) Paper Wrapped 750mL bottle precisely like the photograph here on BA. $15,99 Arbor Place Beverage Douglasville, GA USA
Okay, let's be honest. I bought this because of that terrific label, and no other reason, and I'm certainly glad I did. I thought this was corked and caged, but removal of the paper wrapping revealed a standard pry-off bottle top. Removal of the top resulted in a very loud "pop" which actually startled me. Also, there is a plastic bit that protrudes off of the cap down into the mouth of the bottle about half an inch. I've never seen that feature before.
Anyway, onto the beer. The pour was a somehwat murky bronze-red colour with more of an orange colour around the edges. Lots of fine particulates toward the bottom of the glass can be seen when held to a lamp. Head was moderately creamy with moderately knit bubbles. Nonetheless, it faded into a light frost over the liquid's surface in a few moments after pouring. Decent lacing of the glass. A nice looking beer IMO.
Smell was terrific. Loads of sweet toasted cereals/malts and loads of fruit nuances, as well. Perhaps a bit of pear? Some red apple or cherry? Even a trace of freshly sawn timber, I think. Nice indeed. So much so, I felt a 5 was in order.
Sadly, the taste isn't quite as spectacular as the smell, but *is* quite good nevertheless. Taste is dominated by the roasted malt one detects in the nose with the fruit profiles asserting themselves to a much lesser extent. What trace of hop bitterness that *is* present here is detectable only on the finish, and modestly so at that.
To be the style of beer that this is, and to be 8,5%abv, I felt that this was wonderfully drinkable, with the alcohol virtually non-detectable. A mastefully crafted ale that I will certainly spend $16 for again. Brilliant!
1,808 characters
3.11
/5
rDev
-19.6%
look: 4 | smell: 3 | taste: 3 | feel: 3.5 | overall: 3
A kicker for our tasting on 3/29/08 brought by Avryle
Obviously the artwork on the bottle requires that you try this beer. Amber/reddish body that is crystal clear. There is no head at all. The aroma is straight apple juice. The flavor is sweet apples initially but fades into a slightly more bitter apple cidery flavor. Fairly thin bodied, but that kinda works with the appley feel. Decent drinkability.
405 characters
3.52
/5
rDev
-9%
look: 3.5 | smell: 4 | taste: 3.5 | feel: 3.5 | overall: 3
3/22/2007 $14.99 750 mL 8.50% No best by date.
Appearance:
Nice paper wrapper with a picture of a severed demons head covers this noncorked 750 mL bottle. Pours a hazy medium brown with a thin film of tan head that rapidly settles.
Aroma:
Loads of fruity esters in this one, with some caramel apple, pear, kiwi and lemon present.
Taste/Mouthfeel:
Nice smooth mouthfeel with flavors of raisin, plums and figs with a touch of bready yeast kick things off. A bit of alcohol burn on the palate, though not too distracting. A pleasant, though unexceptional interpretation of the style, especially with the price factored in.
640 characters
3.85
/5
rDev
-0.5%
look: 4 | smell: 4 | taste: 4 | feel: 3.5 | overall: 3.5
Amber color and big off white head. The nose gives honey, chestnuts, plum, red wine, caramel, pepper. The taste confirms everything from the nose, mostly honey, but big and clean tasting. A decent mouthfeel, medium carbonation. Has a pretty big finish, clean.
259 characters
4.83
/5
rDev
+24.8%
look: 4.75 | smell: 4.75 | taste: 5 | feel: 5 | overall: 4.5
May very well be the best beer I ever tasted. Taste is so rich and flavorful, no strong alchohol taste even though this beer sports a great 8.5 ABV. Pours heavy, nice lasting head, almost as dark as a stout with still an amber color. Very full body, can not see through at all. One taste and you will be hooked. The only thing that held down my rating (which I did under overall) was the cost. WOW! Very pricey, but so damn good. Wish I lived near a source to get this reasonably priced. It would then become a regular staple of mine. For now it will just be a rare treat.
Try it once, you will not regret it!
609 characters

4
/5
rDev
+3.4%
look: 4 | smell: 4 | taste: 4 | feel: 4 | overall: 4
A: Slightly cloudy, reddish-brown beer. Not much of a head on this beer, but there is a constant stream of bubbles rising from the bottom of the glass which keeps a thin layer on the very surface.
S: Belgian yeast and candy sugars. Very estery and heady.
T: Sweet, the alcohol is very prominent. Lots of fruits, which bring a tartness, a slight peppery spice and lots of earthy yeast. There is a woody, almost oaky flavor on the end of the beer which pulls it through to the end. A complex beer to be sure.
M: Moderate body, a fair amount of carbonation in the form of small bubbles. Creamy, and slightly sticky.
O: An interesting beer. lots of Belgian characteristics, and in many ways it almost seems like a white wine mixed with a barleywine. Probably not worth the $25 that I paid for the 750, but good none-the-less.
825 characters
3.7
/5
rDev
-4.4%
look: 3 | smell: 3 | taste: 4 | feel: 4 | overall: 4
Demon Hunter | 750 ml. | 8.5% ABV | 2010
Brewer: Birrificio Montegioco
Style: Belgian Strong Dark Ale
Glass: Duvel tulip
Appearance:
Muddy amber with an off-white head.
Aroma:
Surprisingly fruity for a BSDA--strawberries, blackberries, currants are prominent. There's some mild spicing and a dominant barnyard funk.
Taste:
Rich, ripe fruits--strawberries, prunes, plums--and a light sprinkling of coriander. The body has a musty, or is it funky, characteristic about it, that I've never had in a BSDA. The end is sweet and then it dries up and puckers with a twinge of bitterness.
Mouthfeel:
Middle of the road body with ample carbonation.
Harmony:
A most unusual brew--though Birrificio Montegioco is known for it. It's fresh and light, at least as far as BSDA's go, which is an unsettling, but ultimately pleasant change.
Would I get it again?:
No, but I'm glad I tried it once.
Bottled: ?
Served: January 16, 2010
Price = $18.50 at Public Beer
964 characters
4.1
/5
rDev
+5.9%
look: 4 | smell: 4 | taste: 4.5 | feel: 4 | overall: 3.5
I think I paid around $15 for this beer. Pour is average enough, no lace, reddish orange color. Vinous malt and hop aroma.
Tastes pretty good, no hint of the alcohol. Lots of caramel malt, dark fruit and nuts. The hops taste pretty fresh, and there are more of them than I am used to in this style of beer. They are earthy, and ready the palate for another sip. Or gulp in the case of this beer. Mouthfeel is nice and light.
This beer lacks the complexity to make me want to just sit and contemplate what I'm drinking, but it has that quality that makes you want another sip right away. The price is the reason for my low drinkability score.
649 characters

3.83
/5
rDev
-1%
look: 4.5 | smell: 4 | taste: 3.5 | feel: 4 | overall: 4
Brought as a kicker to our "Night in the Woods" tasting on 3.29.08. It had seemed that everyone had walked by & seen this beer at Oliver's (the label is catchy!) but the 17.99 price tag had turned them off. This was the perfect opportunity to satisfy our curiosity...
A- pours a clear golden-red.
S- Apples. Didn't expect that. with some slight hoppiness
T- Sweet apples are very dominant in the flavor. Finishes with a hop bitterness
M- Medium bodied. Nothing spectacular though nothing bad.
D- Glad I was able to satisfy my curiosity. Its easy drinking but at 17.99 for the bomber, its unlikely that I'll ever have it again. not worth that price tag.
658 characters
3.83
/5
rDev
-1%
look: 4 | smell: 3.5 | taste: 4 | feel: 3.5 | overall: 4
A: Pours nicely with a decent amount of white foam head
S: Tons of fruity flavors and light floral aroma. Has a strong aroma that is close to a white wine
T: Very smooth and refined. Can taste the chocolate mixing perfectly. The taste is really surprising from the smell.
274 characters
4.35
/5
rDev
+12.4%
look: 3.5 | smell: 4 | taste: 4.75 | feel: 4.25 | overall: 4.25
Appearance- deep orange color when held to the light, somewhat murky big head leaves quickly little lace
Aroma- apple, fruity, a little musty somewhat like a lambik
Taste- caramely sweet malt, with plenty of fruit flavors and a crispness somewhat brett like dry finish, bitterness is firm and well balanced. alcohol is warming but not tasted.
Mouthfeel- surprisingly drinkable, good carbonation
394 characters
4.03
/5
rDev
+4.1%
look: 5 | smell: 2 | taste: 5 | feel: 4.5 | overall: 4
All of Birrificio Montegioco's beers have gorgeous packaging and labels. Check out importer B. United website for pics and descriptions of their other offerings. Aside from the better known "Belgians", Italian's are known for producing some of the finest, most subtle beers in the world. This one is no different.
Poured 750 mL into a Westmalle goblet. At first, it gave off a terribly stinky, barnyard stench. Borderline repulsive, and as such, I expected a nose-pinching mouthfull to follow. To my surprise, the taste was nothing like its smell. Smooth & malty without the yeasty edge of most Belgians. A perfectly balanced hint of bitterness that tightrope walks to the finish. It doesn't go this way and that and then back again for a dramatix finish. It's focused . . single-minded, and yet manages to be complex. I describe this beer as a "laser beam" to my customers. It doesn't try to do too much. It stays within a strict confine of flavor, but manages to weave its wonder without overwhelming the palate. Imagine a Belgian dark ale married to a German Pilsner. Simple & defined. A few component flavors, perfectly executed. Subsequent bottles lacked the off-putting flavor of the original, but in a way, I miss the extreme contrast between what I expected and what it delivered. Definitely a unique brew that a wide range of beeraholics can appreciate. Sessionable, if only it wasn't so expensive. . .
1,413 characters
Demon Hunter from Birrificio Montegioco
3.87
out of
5
based on
72
ratings.