Draco
| Birrificio Montegioco
BA SCORE
80
good
32
Reviews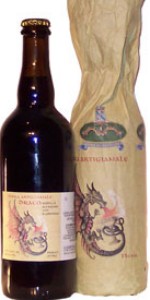 BEER INFO
Brewed by:
Birrificio Montegioco
Italy
birrificiomontegioco.com
Style:
Belgian Strong Dark Ale
Alcohol by volume (ABV):
11.00%
Availability:
Year-round
Notes / Commercial Description:
Belgian-inspired ale brewed with fresh blueberries.
Added by Todd on 10-11-2006
Reviews: 32 | Ratings: 50
3.42
/5
rDev
-1.7%
look: 3 | smell: 3.5 | taste: 3.5 | feel: 4 | overall: 3
It pours a fair ruby amber, but it looks murky and unkempt. A very sparse spray of white head dinks to nothingness in no time, and any ensuing lacing is minimal and purely incidental.
The aroma is cidery apples with a dash of blueberry syrup in tow. A wheaty tang and estery cloves flit about, and the alcohol is a loud, breathy exhalation.
Upon sipping, A dusky wheat grain sweetness is peppered by a general spice note that fades to a hint of clove. The blueberry is more a rumor here until it warms considerably, and then only damned close to room temperature. The alcohol is hot, and it combines with the spice and green apple crispness to lend a mulled cider reference to the mix. The finish is quite dry, and abrupt in its rapid progression. It's not so much blended as mixed with high hopes, but it struggles to be much more than just okay.
Medium bodied, the carbonation and poignant dry crispiness actually entertain the palate, at least on this level.
For my money, no beer that carries within a fruit presence should need to warm so close to body temperature to give up its berry bounty. Sure, it has some redeeming qualities, chief among them the Belgian yeast component and the resultant esters, but I want more than just that out of a beer. The ABV is big, brash, hot and distracting, which bodes poorly for anything more than a glass. And at this price, I sure as hell want more value for my money. So it goes.
1,441 characters
3.49
/5
rDev
+0.3%
look: 3 | smell: 4 | taste: 3.5 | feel: 3.5 | overall: 3
Appearance-Pours a juicey-juice amber red with a very light tan head. Light bubbling and ends a thin ring of foam that is asymetrical.
Aroma- Hints of Jonathan Apples and cider in an alcoholic punch with a shot of blueberry syrup thrown in for effect. A litte vinous even.
Taste- Reminds a bit of spiked fruit punch with a lot of focus on apples and a little on blueberries. If the bottle didn't say it was brewed with blueberries, I wouldn't be able to tell.
Mouthfeel- Punchy on the alcohol, but good with the fruit flavors. Not too "Belgian" in flavor though.
572 characters

2.95
/5
rDev
-15.2%
look: 3.5 | smell: 3.5 | taste: 3 | feel: 2 | overall: 2.5
Rediculously expensive bottle of Italian beer (18.99). But hell everything is worth trying once.
If I were to guess what was in the glass I would say apple cider. It looks much like apple cider. Opaque, thick cloudy, dirty muddy water brown with an off white seperated head that is large bubbles and less than a half inch on a hard pour. This one is highly carbonated as well. Upon swirling a trailed comet of bubbles sing in tune with one another.
I definitely get blueberry in the nose. Not immense amounts but sufficient enough to recognize what your smelling. Dried blueberries in fact. Blackberry as well as other berry fruit and some figgy hints. Belgian yeasty qualities as well as some other dried fruits and slight malt.
Medium mouthfeel feel, yet somewhat watery. Blueberry flavors as well as other dried berry. Spicy belgian qualities with a malt backbone. Otherwise not much going on.
Will try again if they lower the price too 3.99
957 characters
3.85
/5
rDev
+10.6%
look: 4 | smell: 4 | taste: 3.5 | feel: 4.5 | overall: 4
Pours out a dark reddish brown, slightly hazy with an interesting tan color of head. Head seems small, but quite dense.
Smell. My first impression is yeasty and a bit earthy. I keep thinking to myself if this was a blind tasting, i could easily see myself thinking this is a german dark wheat ale. I get a lot of characteristics a dark wheat would have; spices of cloves mostly. If i really think about it, i can get a blueberry aroma, but really not much of one. I guess it does bring a nice fruitiness to the beer, but not enough to make it a fruit beer.
Taste. First off, i get some fruity sweetness, but no blueberries. Cloves are present though. Again, i could mistaken this for a german dark wheat. Alcohol gives it a pepperness that is numbing to my tongue. Aftertaste has just the slightest hint of blueberry.
Mouthfeel. I find this the most interesting part of the beer. It's quite heavy on my tongue and has less carbonation than many others in this style. The alcohol really fills up this beer. Does have a chewy quality, but frankly it seems more like i have food in my mouth than beer.
Overall. This beer was a bit pricey at $17, and it is easy to say you can get one of equal quality for half the price. But i do think this beer has enough unique characteristics to make it worthy of trying, and sets itself apart from others in the style. I like the heaviness of the body and the lower carbonation. The flavor was around average though. So in short, i say give it a go if you have the money and no others beers you want to try, but jsut to let you know this beer probably wont wow you.
1,612 characters
4.11
/5
rDev
+18.1%
look: 4.5 | smell: 3.5 | taste: 4.5 | feel: 4 | overall: 4
Appearance: A beautiful hazy golden auburn. Thin, persisting white head.
Smell: Upfront alcohol, carmel sugars, saaz hops?, and a hint of blueberry.
Taste: Initial fleeting spicy/peppery followed by sweetness of the malt and blueberry. A faint lingering hop bitterness.
Mouthfeel: Warm alcohol, full bodied with a slightly dry finish. Drinks much more smoothly than its 11%.
Drinkability: Although it is not an easy drinking beer, it is an pleasant sipping beer. It took me a half hour to have a .4l glass, although it was never a chore.
550 characters
3.5
/5
rDev
+0.6%
look: 3.5 | smell: 3.5 | taste: 3.5 | feel: 3.5 | overall: 3.5
Presentation: Tall 750ml brown glass bottle sealed with a large crown cap. The main label is split vertically in half; the left hand side has a mottled pale green background with a very colorful picture of a dragon warming a goblet of ale with some fire-breathing antics. This side of the label lists the beer in a red scripted font as 'Birra Artigianale Draco'. Described as a 'Beertilla Ale Brewed with Blueberries' and the Product of Italy, if you had not guessed by now. Listed at a whopping 11% Alc./Vol. The right hand side of the label has a white background and is dedicated to the Nanny state Government Warning and lots of other useless bollocks. All this is nicely wrapped in a highly decorated paper wrapper that looks just like the one in the BA Avatar.
Appearance: Horse chestnut brown body, light haze with a somewhat murky look, but it clears with some stagnant rest. A gentle hint of feint purple buffs the tanned head. Formed into a streamlined 3mm thick cap when at rest, blotchy smattered lacing. Conditioning is super fine and highly attenuated.
Nose: A strange affliction of pugnacious sour caramel toffee, rotting apples, damp wicker baskets, pale malts and yeah….Blueberries, but they seem to be fleeting in their contribution to the overall nasal experience.
Taste: Dark Ale with a spiced Malt base that seems to be accentuated with a grainy middle. The Bouncers let the fruits out to play once in a while but they are in the fenced off Kindergarten for most of the time until the Bell rings and it Schools Out….the finish has a signature bitter blueberry trail which barely raises a goodbye. Diluted Ribena-esque trickles into a warming but stern alcohol malt base. As the fruits die quickly the bitterness lingers and steals the show here.
Mouthfeel: Heavy feel with a honey malt texture. Smooth with a lightly rough around the edges acidic malt base which resonates with a tame fruit ending, this in turn never seems to exhibit anything more than a flash of blueberries though.
Drinkability: Quenching dark ale with a spiced nature. A hint of blueberry helps to edge the 11% alcohol and drop the heat a little. Hard to sweep the alcohol below the carpet or stick it underneath the cupboard beneath the staircase, yet the warming dark ale tones dominate, as does the lingering bitterness. Thought I would have polished this one off a long time ago though….drags a bit.
Overall: Well I have to confess to not noticing the "price" on this one until it was too late, but what the heck it's only money right? So yeah, it is not cheap, in fact, to put it mildly, this one is fucking expensive, as they say in Milano over Cappuccino. Aside from its cost, and focused on the brew, it is a barely above average effort - throw in the cost into the holistic appraisal (lets face it you can't ignore it) and it is one to avoid, unless you have more Benjamin's than sense, erm like me...I'm so dumb.
2,946 characters
3.53
/5
rDev
+1.4%
look: 4 | smell: 3.5 | taste: 3.5 | feel: 3.5 | overall: 3.5
Pours out a nice reddish brown cloudy color with a nice off white head with a tiny amount of red. Has a decent nose, honey, caramel, and a bit of fruityness ot it as well. The taste complments the nose, but also gives off some pepper, and alcohol, with the tiniest amount of hop bitterness. Strange how it's the hop bitterness that lasts longest in the finish.
360 characters
Draco from Birrificio Montegioco
3.48
out of
5
based on
50
ratings.