Bran Raven
| Birrificio Montegioco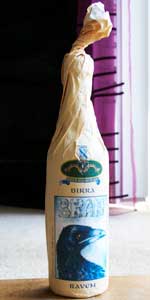 BEER INFO
Brewed by:
Birrificio Montegioco
Italy
birrificiomontegioco.com
Style:
English Porter
Alcohol by volume (ABV):
8.50%
Availability:
Rotating
Notes / Commercial Description:
No notes at this time.
Added by Amalak on 01-03-2009
Reviews: 12 | Ratings: 20
4.55
/5
rDev
+17.9%
look: 4.5 | smell: 4.5 | taste: 4.5 | feel: 4 | overall: 5
I went to a distributer in Connecticut and asked for an Italian Micro Brew. He actually had this in the back. It can wrapped in a fancy paper with a picture of a Raven on the front. He said it was different from the Reserva, which he said was only distributed in about six cases in the States...but I don't know if that is true or not. Anyway...
This had a dark black color (i.e. traditional porter) and a great, brown head. The smell was a nutty hazelnut with a kind of licorice to it.
It had a smoky, rusty aftertaste, again, why I think it is more of a porter than anything, though I am not 100 percent sure. It was smooth as hell yet did not have the kick that some other similar tasting beers that I've had.
Very good, though expensive, over $10 for 25 oz.
770 characters

4.16
/5
rDev
+7.8%
look: 4 | smell: 4.25 | taste: 4.25 | feel: 4 | overall: 4
750ml purchased in Rome.
A: Pours a brownish black with a coarse light tan head.
S: Aroma brings plummy sweetness, coffee bean, roasted grain.
T: Taste brings a nice mix of fruity sweetness and roasted malt. Pleasant flavors of dark fruit (grape, fig) along with bitter cocoa and ground coffee.
M: Medium-bodied with light carbonation.
O: A very good strong porter with some nice dark fruit flavors to balance the roastiness.
430 characters
4.15
/5
rDev
+7.5%
look: 4 | smell: 4 | taste: 4.5 | feel: 3.5 | overall: 4
I got this in a mixed case of Italian Beers for Christmas from my wife. She didn't care for it, but it's not a style she likes.
I find it interesting that people are calling this a Porter, we both like porters, but this (at least this bottle... I have one more) is more of a Belgian Quad in my opinion.
There was not a lot of head when poured, I was able to force a bit, but it quickly settled and had virtually no lacing.
A pronounced smell and taste of raison, which I like.
Some carbonation on the tongue. At 8.5% the alcohol is well balanced, no burn.
I like this beer. Looks like I'll be having her glass too, as she poured herself a Fort Collins Chocolate Stout.... Fine by me ;)
689 characters
4.08
/5
rDev
+5.7%
look: 4 | smell: 3.5 | taste: 4.5 | feel: 4 | overall: 4
Thanks to ibrew2or3 for this treat.
A: Pours a nice dark flat blackish brown hue with a 1/4 finger brown head. The retention was so so with the head quickly dying to a ring. The carbonation was working in this one as it creeped up the bottle prior to being poured.
S: Nice dash of smoke up front. Tones of dark fruit with bold roasted caramel malt.
T: Bold roasted malt up front with lots of dark fruit and light bitter chocolate. Hints of coffee, and earth meld into a bit of booze and nuts.
M: Medium in body, smooth with very good carbonation.
D: This beer is very stouty for an old ale. Wonderful flavors that really meld well together.
646 characters

4
/5
rDev
+3.6%
look: 4 | smell: 4 | taste: 4 | feel: 4 | overall: 4
Got a bottle of this at the Bethlehem Speakeasy. The beer pours out as a deep brown color. Almost black but has a reddish color to it. The head was decent, but didn't have too much lacing. The smell of the beer is roasted and has a good amount of malt on the nose. The taste of the beer was roasted and malty. Not too much other flavors that I picked up. Perhaps a little fruit but is so, it was very light. The mouthfeel of this beer was smooth and semi-thick. Overall I enjoyed the beer, very glad I tried it. I would drink again if I found it cheaper somewhere.
564 characters
3.99
/5
rDev
+3.4%
look: 3.5 | smell: 4.5 | taste: 4 | feel: 4 | overall: 3.5
Pours chestnut with a tawny film. Nose is red berry, bark, chocolate, port - each sniff is different. Stout-like cocoa, smoke and licorice malts with sarsaparilla hops. Cherry finish, tingly vermouth bitter leave. Medium to full, big and chewy, with some burn.
Porter, old ale... I might say BSDA, but definitely lots of stout-like characteristics. But really behaves like a port: one before bedtime.
402 characters

3.7
/5
rDev
-4.1%
look: 3.5 | smell: 3.5 | taste: 4 | feel: 3.5 | overall: 3.5
Courtesy of RomanW70. B. United distributes this beer in the US and describes it as Strong Brown ale; however, it's listed as an Old Ale on the Birrificio Montegioco website. Paper-wrapped 25.4 oz. bottle with an illustration of a raven's head on the wrapper. Poured a deep brown with ruby highlights. Head dissipated almost immediately. Clarity was somewhat murky. Nose was light, revealing dark fruit and a vinous quality. Taste was wine-like - dark fruit and malt. Mouthfeel was medium-bodied with a light effervescence and a mild burn towards the back. Interesting beer - enjoyable, but a little too close to wine for my liking.
632 characters

3.67
/5
rDev
-4.9%
look: 3.5 | smell: 4 | taste: 3.5 | feel: 4 | overall: 3.5
Pour is a dark syrupy brown with very little tan head. Nose is very sweet cherries up front, notes of dry chocolate and rain, more fruit sweetness and notes of boozy rum faintly behind but well put together. Taste is chocolate and dark malt up front, raisins and cherries followed by head and rum, a bit stronger than the nose would lead you to believe and a bit less integrated. Feel is creamy and almost full bodied with a soft carbonation and semi dry finish. A little sweet but not bad.
490 characters
3.67
/5
rDev
-4.9%
look: 3.5 | smell: 4 | taste: 3.5 | feel: 4 | overall: 3.5
cl 75 consume before 31/12/11
pitch dark color, lots of foamy tan head. leaves behind good lacing.
smells of chocolate, black licorice, coffee/mocha.
taste was malty, slight fruit/sweet taste, and a coffee aftertaste.
well carbonated. overall it was an okay porter.
269 characters
3.57
/5
rDev
-7.5%
look: 3 | smell: 3.5 | taste: 3.5 | feel: 3.5 | overall: 4
Almost black. Half finger of beige foam, quickly falling down.
Malty smell, caramel, and toasted, and cacao.
In the mouth liquorice too, and chicory, longstanding. On a good and present malty base.
Then even some root-like bitterness, and a light fruitiness, white grapes.
In the aftetaste malt, toasted and liquorice, herbaceous end.
Average body, sugary, with berry fruits.
375 characters

3.49
/5
rDev
-9.6%
look: 3 | smell: 4 | taste: 3.5 | feel: 3.5 | overall: 3
75cl bottle of brown glass and classic pressure cap served into a trappist westvleteren goblet in Belfort, France. Served pretty cold out of the refrigerator. Bottle acquired in Rome, Italy last week. Reviewed live. Note that my bottle shows 8% ABV, not 8.5%. Best before date is 31/03/13 (March 31st, 2013).
A: One finger head of nice tan colour, great looking cream lacing, and average retention. The retention suffers from the wide goblet mouth and high ABV, but holds up well. Black colour is solid and nontransparent. Very appealing to a stout/porter lover like meself.
Sm: Chocolate, vanilla, cream, and a light roast that also includes a touch of coffee. Marvelous. Caramel creeps in but doesn't seem too significant. Scent is of mild strength all around.
T: Cream and vanilla are dominant, with some lopsided chocolate on the open and climax but not in-between. Very imbalanced but built with attention to flavour. It's a bit simple - especially compared to the expectations garnered by the scent and appearance, but it's pleasant.
Mf: Smooth, wet, and nicely creamy. A bit too wet for the style, but complementary of the flavours.
Dr: She drinks easy and costs a lot. I expected more depth from an English porter, but I suppose the Italian brewers wanted to "table-ize" the style. Beer culture in Italy is very different from other countries; beer is for drinking at the table while enjoying conversation, food, coffee, and cigarettes. Beer consumers (especially Yanks!) enjoying this alone with a notepad at a bar would feel very out of place.
1,563 characters
3.45
/5
rDev
-10.6%
look: 3.5 | smell: 3.5 | taste: 3.5 | feel: 3 | overall: 3.5
Robust and full of character, this dark ale fuses many of the elements found in Porters, Browns Ales, and Belgian Dark Ales.
The beer pours an black onyx color and completely opaque but without being hazy. A thin and short lived cream colored head forms on the beer in a relatively dull fashion. Light legging is evident.
Fruity with plumbs, blackberries, red grapes, and black cherries- the nose is balanced toward the esters with mild coffee notes in the background. A light vinous tartness/tanic quality lingers behind the fruit.
Bold flavors of burnt fruits- those mentioned in the nose along with charred currants, toast, embers, and bitter coffee. The fruity tartness gives the impression of dark Belgian ales. Sweetness is also reminescent of residual sugars left behind in Belgian ales.
Medium-full textures lean heavily on the tongue because of the low carbonation: never creamy or froathy. A grainy astringency grows going into the finish, leaving a cola-like sugary coat on the mouth. Alcoholic warmth increases as the beer warms.
A quite unusual beer that has some formitable qualities in the ester and toast profiles. But the lack of carbonation and odd sweet-fruity balance leaves the beer seeming incomplete.
1,228 characters
Bran Raven from Birrificio Montegioco
3.86
out of
5
based on
20
ratings.