3rd Anniversary Ale
| Kern River Brewing Company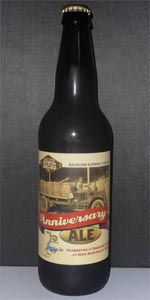 BEER INFO
Brewed by:
Kern River Brewing Company
California
,
United States
kernriverbrewing.com
Style:
Tripel
Alcohol by volume (ABV):
not listed
Availability:
Limited (brewed once)
Notes / Commercial Description:
No notes at this time.
Added by Solomon420 on 08-26-2009
This beer is retired; no longer brewed.
Ratings: 10 | Reviews: 8
Reviews by jlindros:
4.4
/5
rDev
+16.1%
look: 4.5 | smell: 4.5 | taste: 4.5 | feel: 4.5 | overall: 4
Got this interesting looking gem from Solomon420. Damian rated this with an A so I can only imagine it's good. Pourin this into my Allagash tulip glass, and here goes.
Before I can even pour to get the appearance, I have to say that just popping the top off this guy unleashed a fury of yeast and Belgian malts and almost farmhouse saison aromas.
A: So not I can pour it and say that it pours with a nice 1.5 finger head that fades somewhat quickly to a nice head covering that sticks around for a while. The light haze adds to the bright pale orange yellow color, and plenty of bubbles rising.
N: The Belgian malts really open up now, with a little more yeast, farmhouse saison like crispness. It's got a touch of sweet Belgian candi sugar. A touch of lemongrass and banana round off the fruity side, which is also pretty prevalent. Actually, nosing this deeper, past the Belgian malts and candi sugar I get a shitton of banana. I'm really enjoying the yeast of this so far, the idea of culturing it has crossed my mind, if it wasn't so late already.
T: The aroma and nose has built up for what is expected to be a great taste. Annnddd, it doesn't disappoint. Great Belgian tripel taste, a light Belgian malt quality and touch of light Belgian sugar and sweetness. More banana and lemongrass for fruit. A strong alcohol presence as well that really warms the mouth. As for the spice tree, I don't really get much at all, perhaps a touch of clove but that is even pushing it. I do get a slight vanilla pudding like taste, also probably from the yeast or perhaps Vienna malts.
M: Great carbonation, semi thick with a touch of syrupiness, and a slight alcohol burn that warms the mouth ever so gently but then adds a light sting that reminds you of the high alcohol content and great Belgian tripel.
F: Finishes pretty dry, especially for the slight sweetness it started with. As it dries off really quickly the alcohol burn really kicks up but then fades quickly. A little more banana and vanilla seem to fade the slowest from the other flavors making it linger slightly on the tongue. The carbonation also helps clear off the palate well as it dries and seems to suck the burning from the tongue. I think the alcohol just absorbed right through my tongue, and with the combination of Belgian style beer, yeast, and bubbles, I think this is already getting to my head after about 6-7 sips.
Final thoughts: A great beer, Damian was not wrong. Almost a perfect Belgian Tripel, great malts, great yeast, some banana and vanilla, great carbonation, high alcohol with some warming and burn, and with it all coming together, this beer is a whole experience in itself. I wouldn't mind some more of this.
2,704 characters
More User Reviews:
4.5
/5
rDev
+18.7%
look: 4.5 | smell: 4.5 | taste: 4.5 | feel: 4.5 | overall: 4.5
Wow, this brewery keeps impressing me. This beer is almost what the postarchild for Tripels is. Its malty, sweet backbone and floral taste are awesome.
The appearance was golden honey hued with nice off white laced head. Smell was aromatic of flowers and candi sugar.
Taste was very good, sweet, and citrusy in the end.
Mouthfeel was light and bubbly, with a nice sweet dry finish.
Overall drinkability was very high. Ranked up there with some of the best Tripels I have had in my days.
498 characters

3.41
/5
rDev
-10%
look: 4 | smell: 3 | taste: 3.5 | feel: 3.5 | overall: 3.5
Dark gold beer with a billowy head that has plenty of retention and lace. Slightly cloudiness. Nice looking tripel. Smells include some estery yeasts, bananas, dry grains. Tastes lightly sweet, bananas, somewhat peppery. Alcohol presence is there. Nice tasting beer, actually tastes somewhat like a hefeweizen, but a lot more light fruits. Medium bodied with a smooth, creamy carbonation that seems a trademark of Kern River. Tasty, though nothing that sets my heart a flutter.
477 characters
3.4
/5
rDev
-10.3%
look: 4 | smell: 4 | taste: 3 | feel: 4 | overall: 3
Yet another generous extra from Solomon420. Reviewed from notes.
Glowing amber color with a finger of head in my tulip. I hadn't even actually looked at the style when I stuck my nose in the glass, but holy cow this one wasn't playing around. I quickly found out that it was a Tripel, and damn it is a boozy one. Rubbing alcohol dominates the aroma, with spices relegated to the background. While that may seem very unpleasant in words, it actually wasn't too bad.
The alcohol burn doesn't really carry over to the taste that much, but unfortunately neither do the other flavors. A toasted biscuit base with some yeast and faint spices, but overall somewhat flavorless for the style. Easy drinking, yes...but I guess I was looking for more based on the potent stinging nose. Nice medium body that stays fairly heavy on the tongue. Average tripel, but not offensive.
867 characters

3.7
/5
rDev
-2.4%
look: 4 | smell: 4 | taste: 3.5 | feel: 4 | overall: 3.5
From old notes.
A: The pour is a fairly clear golden orange color with a nice big white head to go on top.
S: Fairly sweet with lots of fruit notes. I get pears, apples, and banana for the most part. There's a nice spiciness of nutmeg, coriander, and clove. Sweet malts and a substantial sugar component as well.
T: Lots of sweet apples and bananas on the tongue. Sugary sweetness along with some sweet malts. The yeast and spice notes are there, giving some coriander and clove type flavors.
M: Medium in body with a full carbonation that really fills the mouth nicely.
O: A good beer and tripel, but definitely a bit too sweet for me.
641 characters
3.53
/5
rDev
-6.9%
look: 4 | smell: 3.5 | taste: 3.5 | feel: 3.5 | overall: 3.5
22 ounce bottle purchased from Hi Times. Poured into a Chimay chalice. No bottling info or abv info is provided.
A-Pours a clear golden yellow that has a touch of brown. It does not have much of a head when it is poured. A decent amount of bubbles can be seen rising from the bottom. Minimal lacing is left in between sips.
S-Lots of the usual suspects for the style. I get apples, candy sugar sweetness, yeast, cinnamon spice, banana, and clove. It also has an aroma that reminds me of freshly baked sugar cookies. Alcohol comes out as it warms.
T-It starts out with plenty of sweet fruit, particularly apple and banana. The yeast used is also very upfront. The clove and cinnamon spicing are more apparent in the middle and in the back. As it warms the alcohol does come out and it gets some phenolic band aid flavor.
M-Medium bodied and creamy. A tad undercarbonated for the style.
D-Not bad when cold, not great when it warms. I found the booze and band aid flavor to be a little off putting.
This is my least favorite of their beers. I would stick with their JO IPA.
1,077 characters
4.08
/5
rDev
+7.7%
look: 4.5 | smell: 4 | taste: 4 | feel: 4.5 | overall: 4
22 oz. bomber, I've actually been sitting on this for a few months, I don't know why I haven't popped it yet,
A: Pours a very clear orange with a creamy white head, good Belgian lace.
S: Pear juice and yellow apple esters, yeasty, the Belgian yeast is surely in effect here.
T: White pepper, clove, the beer gets really spicy immediately. Pear and apple as with the nose with a definite medicinal ethanol, but is well within the style. Good flavours even if it's not as complex as the better Belgian Tripels ala Westmalle or St. Bernardus. Bit of an earthy hop character in there too with a hint of banana in the finish which I liked.
M: Smooth and silky with ethanol apparent on the palate. Crisp carbonation is a nice effect immediately, but soft over the rest of the drink. Medium-full body.
D: One of the better American made tripels I've had. Perhaps the extra aging smoothed it out, I really don't know since I didn't have it fresh in the summertime.
961 characters

3.35
/5
rDev
-11.6%
look: 3.5 | smell: 3.5 | taste: 3.5 | feel: 3 | overall: 3
Picked this up at once again, Hi Times in Costa Mesa. Poured and thought I was just getting a ale and ended up with a trippale and loaded, crap monday night and now my lady is pissed. Pours a nice amber, has a head, smelled super but besides all that, this was a sweet boozy mess. I guess it was well made but not my jam, too boozy.
332 characters
3rd Anniversary Ale from Kern River Brewing Company
3.79
out of
5
based on
10
ratings.