Pumpkin Ale
| Kern River Brewing Company
BA SCORE
84
good
62
Reviews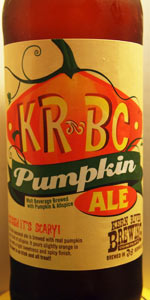 BEER INFO
Brewed by:
Kern River Brewing Company
California
,
United States
kernriverbrewing.com
Style:
Pumpkin Ale
Alcohol by volume (ABV):
6.00%
Availability:
Rotating
Notes / Commercial Description:
No notes at this time.
Added by HopHead84 on 09-14-2009
Reviews: 62 | Ratings: 145

4.2
/5
rDev
+12.9%
look: 4 | smell: 4 | taste: 4.5 | feel: 3 | overall: 4.5
poured into a duvel green tulip.
huge white head that leaves slowly. lots of bubbles along the glass.
the nose is a ton of fall spice right in the front of the nose. with a bit of pumpkin in the back of the nose.
the taste is very similar. the spice is less then I was expecting which works out well. with a bit of pumpkin working it's way through t the palate in more of the mid and back of the mouth. as it warms the pumpkin comes through a but more.
I feel that the carb could be a bit less and it would help the beer a bit more.
Pretty solid pumpkin beer IMO.
568 characters
3.35
/5
rDev
-9.9%
look: 4 | smell: 4 | taste: 3 | feel: 3.5 | overall: 3
Received as yet another generous extra from Solomon420. Reviewed from old notes.
Orange/golden color with two fingers of persistent head. Pumpkin spices seem mostly relegated to the background stuck behind a nice orange zest aroma. Taste is somewhat watery, the pumpkin is there but if this was a blind tasting I would have a hard time picking it out. Still, pleasant overall. Mouthfeel is medium with a boatload of carbonation, probably too much so but luckily it is fairly soft. Nothing offensive in this beer at all, but it may be a bit mundane.
549 characters
3.65
/5
rDev
-1.9%
look: 3.5 | smell: 3.5 | taste: 3.5 | feel: 3 | overall: 4.5
In my never ending quest to try all the Pumpkin beers I could this year, I made a nice little trade with Solomon420 for some west coast pumpkin beers, and get more Kern River as I really enjoyed their 3rd Anniversary. This beer hits both categories, so here comes a review.
A: Pours a bubbly 2 finger head that fades as quickly as it rose. It's semi clear with some haze and the golden orange yellow color reveals the copious number of bubbles rising.
N: Hmm, not too bad. An obvious pumpkin aroma, with some toasted malt and toasted pumpkin. A slight sweetness and citrus, with some light spices. A big of malt as well.
T: Meh, its not bad, but nothing spectacular. Starts as a nice light ale with some toasty malts and crystal malt flavors. Some fruit and obvious pumpkin shine through, and bring a slight spice flavor with it. It's semi watery taste as well. Some pumpkin pie tastes shine through nicely. Some other juicy fruit flavors come through, but otherwise very light.
M: Pretty light with tons of carbonation.
F: Finishes pretty dry and still light. The huge number of bubbles helps clear off the tongue well. A light spice flavor comes through a little more. Pretty clean finish, and it would go well with spicy foods, esp Indian food.
Final thoughts: Very light ale, some nice pumpkin flavors, light on the spices (thank GOD!) and some juicy fruit flavors. Pretty light and crisp and airy. Way too watery though, could use more flavor and body (just not spices).
1,482 characters
1.84
/5
rDev
-50.5%
look: 4 | smell: 2.5 | taste: 1.5 | feel: 2 | overall: 1
22oz bomber split with oglmcdgl, an extra in a recent trade out west.
Kern's pumpkin ale has a nice bold bright orange look. It is joined by a 1/2 inch off colored head that fades to nothing quickly, just some faint skims here and there. The aroma is not to shabby, some pumpkin, spice and a bit of a vegetative smell which is off putting. The taste goes downhill with a off flavor, kind of like rotting fruit or rotting pumpkin for that matter. After time a old tomato taste came up reminding me of that rotting fruit taste. Whatever it is it's not fresh although I think this beer is as it's the season and I believe this brewery is new. With that off putting (and im saying that nicely) taste there is some spice with nutmeg and sweet malt. The feel is light and carb makes for a crisp feel, the taste makes me want to wash my mouth out though, a odd and awful aftertaste. The drinkability on this went down the drain im afraid. Perhaps next year, Kern River, on this style, I loved your Isabella Blond.
1,007 characters
3.32
/5
rDev
-10.8%
look: 3 | smell: 3.5 | taste: 3 | feel: 3 | overall: 4
GLASS: Sam Adams Perfect Pint Glass
TEMP: Cellared @ approx 50 degrees
Pours a very lightly orange tinted, golden yellow color. The two-finger head of off-white foam is loose and frothy. Retention is okay. Lacing is minimal.
The allspice is the strong standout, in the smell department. Notes of pumpkin pie filling are close behind, together with cinammon. A mild earthy (wheaty?) quality.
The pumpkin flavor is sharp. Happily, there is enough presence of allspice and cinnamon to give it a hint of balance. All of these flavors are light, mild and unremarkable.
A light-bodied beer. Very crisp and clean. Too bad I like some thickness to my beers.
This is designed for mass consumption. Very crisp and light and easy to drink alot of, without feeling like you've drank anything at all.
792 characters

4.05
/5
rDev
+8.9%
look: 4 | smell: 4 | taste: 4 | feel: 3.5 | overall: 4.5
22oz bottle received in trade with vurt. Thanks! Poured into a Bruery goblet.
A - Pours a clear amber. Small white head. Head dissipates pretty quickly. Leaves a thin collar.
S - Lots of pumpkin character, pumpkin itself, nutmeg, cinnamon. Lots of fruityness and spicy Aromas.
T - Sweet and spicy. Sugary malt sweetness, balanced amount of spices - nutmeg, cinnamon. Not much hop character, bitterness just there to offset the other flavors. Good, well rounded pumpkin beer.
M - Thin to medium body. Low to medium carbonation. Very smooth...lingering pumpkin spices in the aftertaste.
D - Very drinkable pumpkin beer. Good blend of pumpkin spices...not overpowering, but definitely present. Very good pumpkin beer, might be my current favorite.
749 characters

3.62
/5
rDev
-2.7%
look: 3.5 | smell: 4 | taste: 3.5 | feel: 3.5 | overall: 3.5
Poured from a 22 oz. bomber into a pint glass. This brew pours a hazy golden in color with a full inch of almost white head. Decent and artsy lacing follows, settling to a surface ring.
Smell is less of pumpkin than of such fall spices associated thereof. OK there is pumpkin, and cinnamon, allspice and orange, bit of pepper as well. Pumpkin notes are well spiced, pretty interesting.
Flavor is moderate and with a cooked pumpkin and spice flavor that follows the nose. Interesting gruit notes on the nose and tongue truly override the pumpkin flavors and not in a negative way.
Offers a smooth feel and decent drinkability. Light in body, the aromas of this brew give it some substance indeed.
699 characters

3.82
/5
rDev
+2.7%
look: 3 | smell: 3.5 | taste: 4 | feel: 4 | overall: 4
Got a bomber at Hi-Time.
Pours a fairly light orange, some floaties, average looking light tan head with low retention. Appears fairly highly carbonated. Smells pretty similar to some real pumpkin pie: cooked pumpkin, allspice, slightly spicy vegetable smell that is reminsicent of beets for me, all topped with a little light caramelly sweetness.
The taste has a cooked pumpkin flavor with a nice amount of allspice to it. To me this is lightly sweet, and I appreciate how the bitterness kept fairly low in order to highlight the pumpkin flavor. I am not a fan of brews that just load up on spices and intensity instead of going for a real pumpkin flavor. Slightly spicy, again sorry but it sort of reminds me of beets, but is pretty tasty. In my book, one of the nicer pumpkin beers. Light in body with a smooth medium carbonation that adds a creaminess. Finish is pretty similar to the flavor, the spice sticks around.
923 characters
3.82
/5
rDev
+2.7%
look: 3 | smell: 3.5 | taste: 4 | feel: 4 | overall: 4
Got this as an extra from Solomon420 in a recent trade. Thanks, Damian! I split this 3 ways last night.
The pour is orange with a thin white head that recedes to nothingness rapidly. The nose is simple, but I really dig it - allspice and pumpkin, with there being a touch more allspice than I'd care for. These flavors are replicated on the palate, with the spice dominating the pumpkin. The base flavor of the pumpkin does carry through, and is enjoyable. Mild sweetness is present. Light in body with creamy carbonation and a great, spicy finish make for a thoroughly enjoyable beer. I'd definitely drink this again, my 8oz weren't enough.
642 characters
3.37
/5
rDev
-9.4%
look: 3 | smell: 3.5 | taste: 3 | feel: 3.5 | overall: 4
22 ounce bottle purchased from Hi-Times in Costa Mesa for four dollars and some change, drank during the USC loss, poured into a flute glass, color was very light, golden yellow with some orange tones, two inch foamy white head, decent retention, minimal lacing, aroma conists of pumpkin, pie crust, sweetness, various spices, cinnamon, and cream, flavor starts with sweet pumpkin, cinnamon and nutmeg in the middle, finish has more sweet pumpkin along with a lactic flavor, gets sweeter and harder to drink as it warms, not much complexity in the spice category and pumpkin is very pronounced, sweet, spicy, and creamy mouthfeel, thin to medium bodied, too much carbonation, taste lingers, too light and sweet, expect this style to be crisp but this was creamy, no alcohol in the flavor, smoother when colder, not one of the best pumpkin ales I have tasted, the Midnight Sun porter still takes that honor quite easily, would drink this seasonal again, pretty good for its price, worth trying
992 characters
3.7
/5
rDev
-0.5%
look: 4 | smell: 4 | taste: 3.5 | feel: 2 | overall: 4.5
22 oz. bomber, blog says 4% ABV,
A: Pours orange with a solid fizzy off-white head with great retention for the style.
S: Nice aroma of pumpkin and allspice. An intriguing cinnamon bread note comes out as the beer warms.
T: Light on the pumpkin flesh flavours. The brew is heavy on the fall spices, allspice in particular, nice enough.
M: Very fizzy, light-bodied, needs a little more oomph.
D: This is pretty much a middle of the road for pumpkin brew for me. Very easy drinking as I find this style to be usually. Probably the best of those available in the Southland, but nowhere near as good as the stuff back east. At least a Southern California brewer made this style, I have to give them props for that, it's rare enough out here.
742 characters

2.53
/5
rDev
-32%
look: 4 | smell: 3.5 | taste: 2 | feel: 3.5 | overall: 1.5
What could be better than a crisp refreshing beer on a day like this? Consumed on 9/13/2009 and poured into my Alesmith anniversary snifter. The beer is medium golden with a creamy one inch head.
As I expected, the nose is of pumpkin pie. I get a lot of allspice but not much cinnamon or nutmeg. It's slightly sweet, and no alcohol is noticeable.
The flavor is of allspice and pumpkin. Again, I don't get any other interesting holiday spices. There's a somewhat strange vegetal flavor that I find a bit off-putting. Alcohol is noticeable. The beer has a moderate level of sweetness. Not my favorite of the style, but not bad. Actually, I'm not enjoying this anymore. The vegetal flavor has become overbearing. I'm halfway through my first glass and I don't think I'll be finishing this. Abort! Abort!
803 characters
Pumpkin Ale from Kern River Brewing Company
3.72
out of
5
based on
145
ratings.