Gravity Check
| Kern River Brewing Company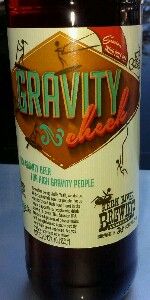 BEER INFO
Brewed by:
Kern River Brewing Company
California
,
United States
kernriverbrewing.com
Style:
American IPA
Alcohol by volume (ABV):
5.00%
Availability:
Rotating
Notes / Commercial Description:
A Session IPA.
Added by UCLABrewN84 on 08-12-2013
Reviews: 13 | Ratings: 124
3.61
/5
rDev
-10.6%
look: 3.25 | smell: 4 | taste: 3.5 | feel: 3.5 | overall: 3.5
On tap for The Full Pint 6th Anniversary Celebration held at 38 Degrees in Alhambra, CA.
Billed as being brewed with all Mosaic hops.
Pours a murky light yellow with a foamy off-white head that settles to a film on top of the beer. Small dots of lace slowly drip into the remaining beer on the drink down. Smell is of malt, citrus fruit, citrus zest, and some berry aromas. Taste is much the same with citrus zest and berry flavors on the finish. There is a medium amount of hop bitterness on the palate with each sip. This beer has a lower level of carbonation with a slightly crisp mouthfeel. Overall, this is a pretty good beer that is tasty but I think the hops come through much better in the aroma.
★
712 characters
3.94
/5
rDev
-2.5%
look: 3.75 | smell: 4 | taste: 4 | feel: 4 | overall: 3.75
maybe not the most complex of beers out there, but this really pale session ipa is just what i like in the style, with juicy robust citrusy hops and not much grain weight to get in the way. its a real pale base, light in both flavor and body, allowing a clean and zesty hop bill to be punchy and fresh. my guess is most of the hops came real late and in the dry hop stage, because this has basically no bitterness to speak of. its carbonation is high and gives a little prickle to the citra (must be) hops. very light body makes it an all day drinker for me, although i dont think its as good as something like an all day from founders, which does everything this one does, but does it a little bit more jazzy. Clean and on the drier side, light but not at all watery. i prefer the bigger ipas from kern river, but enjoyed this one quite a lot. refreshment value is through the roof and the hop profile is fantastic when it's fresh. Better on tap than in the bottle in my couple of experiences with it.
★
1,002 characters

3.12
/5
rDev
-22.8%
look: 3 | smell: 3.5 | taste: 3 | feel: 3 | overall: 3
On-draught @ Toronado San Francisco. $5 per pint.
Body is turbid and hazy. Pulpy yellow-orange colour. White head.
AROMA is wonderful. Fresh citrus pulp, dank herbal character redolent of Cannabis, floral notes, tangerine. Aromatic intensity is above average. Suggests a killer IPA with a great hop profile.
Coating texture accompanies the yogurty hop character, with pale malts keeping any hop bitterness checked. Floral and fruity, tending towards muted tangerine. Not a juicy brew, but tasty.
I did hope for a more interesting more pungent hop profile, but this is pleasant. Depth of flavour needs work.
Smooth, wet, refreshing, medium-bodied, highly carbonated. Complements the taste nicely. Somewhat soft.
Overall, it's a refreshing restrained expression of an IPA, but it's not the world class fare one might hope for given Kern River brewed it.
C+ (3.12) / ABOVE AVERAGE
★
888 characters
4.73
/5
rDev
+17.1%
look: 4.75 | smell: 4.75 | taste: 4.75 | feel: 4.5 | overall: 4.75
wow.... added august 2013 and still not 10 reviews...
bunch of sediment on the bottom of this bottle . very nice aroma, great color... "Pliny in a lower ABV".... yes, I'm calling it this, with a bit of fruity addition....
this one is DELICIOUS!!!!! a funky bedsheet-smell to it at first (if anyone else 'gets' this, let me know) but this is an excellent brew...... I'm 1,372 beers into this BA thing, so I'm not a rookie exclaiming "Pliny" cuz Pliny is just getting 'old'. still great, but 'old'. this one, however, is exceptional, and tastes like Pliny but with a lower ABV.... very well done!
★
594 characters
4.74
/5
rDev
+17.3%
look: 4.5 | smell: 4.75 | taste: 4.75 | feel: 4.75 | overall: 4.75
One of the best session IPAs I've had. Dank hoppiness without the bitter finish. Smooth, sweet and tasty. Aromatic tropical, melon notes. Expected the least of this but might be the favorite of the three Kern River IPAs I found in Bakersfield this July.
★
257 characters

3.51
/5
rDev
-13.1%
look: 4 | smell: 4.25 | taste: 3 | feel: 3.5 | overall: 3.5
650ml bottle poured into a Kern River pint glass.
The beer pours a fairly clear, though certainly cloudy and hazy golden copper color, hues of orange and light amber with a thick, finger of white, soapy head that has nice retention and leaves large swatches of lace behind. The aroma is wonderful, juicy and fruity hops, pineapple, passionfruit, grapefruit, resinous pine, wildflower with just a hint of light pilsener malt, very pleasant and aromatic. The flavors are really a dud, the bitterness is there, in spades, which I didn't expect, piney hop, earthy and dirty spice and grassiness with a substantial amount of chewy malt. The mouthfeel is okay, vibrant carbonation, lively and zippy without being abrasive or prickly, medium body though lower on the spectrum that coats decently well and finishes with a bitter and dry kick.
Verdict: What started as a promising Session IPA left a lot to be desired in the end. The aroma really the stage, juicy and enticing that the flavors never caught up to, a disappointing beer really, but at the same time, crushable and very sessionable as described on the bottle. A style I still haven't fully embraced outside of Pop Up and All Day, and this is just another example of a beer I'd rather see at 6.5% with a full hop and body experience.
★
1,291 characters

4.04
/5
rDev 0%
look: 4 | smell: 4.25 | taste: 4 | feel: 3.75 | overall: 4
On Tap at the Brewery – 11/15/2014
Taster from flight
A: Light goldenrod hue with a touch of cloudiness across the body. Smallish lip of ivory foam settles up top before slipping out to a thin crown. Light dots of stick but not much lace produced from this one.
S: Smells a bit grainy at first like wheat malt would or maybe even a little Pilsner in use here followed by some intensely tropical hops. I get exotic florals, gooseberry, and ripe melon with a skunky herbal cat likeness. Crazy interesting hops. Has me thinking Mosaics here maybe. Either way smelling real nice.
T: Tropical citrus with musky melon, gooseberry, and subtle dank weed. Super light and dry as to be expected with just a hint of malty cracker to it. The beer has a rather high level of bitterness hitting the palate for such a small session. Rather impressive how much hop flavor they packed into this one. Definitely some newer world or NZ type hops. All catty and tropic. Me likey.
M: Very light and super dry with a high level of peppery bitterness. Finishes out dry and crisp with some noticeable hoppy linger.
D: Gravity Check is a solid Sessions IPA with some real funky new hops at play. Kern did a nice job with this one. Lots of flavor packed into a crushable sesh.
★
1,287 characters
4.16
/5
rDev
+3%
look: 4.25 | smell: 3.75 | taste: 4.25 | feel: 4.5 | overall: 4.25
From growler to pint glass
A: Straw-yellow, opaque, with a marshmallow-y head that almost never fully recedes. Lacing all over the place.
S: Hop-forward with distinct grass and citrus notes. Crackery backdrop as a slight touch of honey rounds the bouquet.
T: Cracker-y, slightly earthy notes hit right up front along with citrus rind and lemon pepper, fairly pronounced for the style. Malty sweetness gently rolls in, honey-like with a subtle note of vanilla. The rind-y aspects from the hops carry throughout the sip, finishing dry and slightly bitter.
M: Light on the palate, as expected, but the brew has a pronounced oily slickness as you throw it back.
A refreshing brew hovering between a pale and an IPA. Lots of flavor for such low ABV, this is satisfying easy to quaff. Glad I brought home a growler of this because with Citra on tap there wasn't a lot of room to drink anything else.
★
899 characters

3.84
/5
rDev
-5%
look: 4.25 | smell: 4.5 | taste: 3.5 | feel: 3.5 | overall: 3.75
Received via trade from @soughtbygod and poured into my SN IPA glass.
Apearance: Nice light golden hue with a fluffy one finger thick head. Thick lacing
Smell: Fruity florally hops.
Taste: Plenty of fruit up front and the taste falls off. The secondary flavor is grassy Not much in the way of malt or complexity
Feel: Not much carbonation, no alcohol burn. Very easy drinking.
Overall: In the top 1/3 of session IPAs. Easy drinking and would be great on a hot day.
★
474 characters

4.34
/5
rDev
+7.4%
look: 4 | smell: 4.25 | taste: 4.5 | feel: 4.25 | overall: 4.25
A perfect session IPA in my opinion. Slightly hazy (if you pour the sediment), light and crisp, and oozing Mosaic goodness. Just wish it can in a 12 pack can format! Cheers!
★
176 characters
4.15
/5
rDev
+2.7%
look: 4 | smell: 4.5 | taste: 4 | feel: 4.25 | overall: 4
Enjoyed from a growler with two days of age on it.
A: Pours a vibrant and hazy golden with 1/2 finger of bubbly white head.
S: Prominent malt sweetness, fresh squeezed citrus juice and a hint of fresh hop dankness. Really juicy aroma. Normally I get something a little spicy from mosaic hops, but I didn't get that this time... just tons of juice. Really great aroma.
T/M: Crackery pale ale malt with hints of wheat leads into a mid-sip bitter fruit juice. Cracker flavors swell into the finish, which is lightly bitter and slightly drying. Mouthfeel is thin to medium with moderate carbonation.
O: Smells a bit better than it tastes. The malts are much more prominent in the flavor than in the aroma. A really nice, very drinkable beer.
★
741 characters
4.33
/5
rDev
+7.2%
look: 4 | smell: 4.75 | taste: 4.25 | feel: 4 | overall: 4.25
Best session IPA I have had. Huge mosaic notes in the aroma that come through in the taste. Very drinkable and not overly bitter. Balanced enough to enjoy.
★
155 characters

4.73
/5
rDev
+17.1%
look: 4.75 | smell: 4.75 | taste: 4.75 | feel: 4.5 | overall: 4.75
appearance: 1st glass from fresh bomber: very light, clearish, very light golden / yellow. looks a little but like fresh urine to be honest.
2nd glass from fresh bomber: really cloudy / hazy. slightly foamy off-white small-medium head. glass lacing is minimal but visible for a session IPA.
aroma: fresh fucking mosaic hops bursting from the glass. blueberry / mild general berry notes. organic honey drooped on top of piney dank resinous forest after a night of fierce rainfall.
taste: earthy / metallic blueberry notes. slight honey sweet bread baked with generous amounts of marijuna. fruit juice blend. passion fruit juice. semi tart berry on the side of the tongue. This damn ale has the mosaic hop intensity & concentrate of a single / regular IPA or even a light IMPERIAL IPA.
mouthfeel: It's fine and dandy. what more can you expect from a beer that is 5 % ABV?!
overall: It is killer. what a finely brewed offering from KRBC. For example, I just had piny the elder and the newest offering from the Hop Concept and i genuinely enjoyed this beer more than those two. yep.
★
1,083 characters
Gravity Check from Kern River Brewing Company
4.04
out of
5
based on
124
ratings.