Sweet Nikki Brown
| Half Pints Brewing Company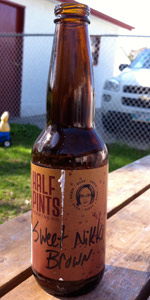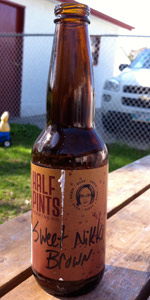 BEER INFO
Brewed by:
Half Pints Brewing Company
Manitoba
,
Canada
halfpintsbrewing.com
Style:
American Brown Ale
Alcohol by volume (ABV):
4.90%
Availability:
Fall
Notes / Commercial Description:
This beer has been brewed especially for my wife, Nicole. Just like her, it's a little sweet, and a little bitter. This hoppy ale is nut brown, just like her hair and eyes. The addition of crystal malt gives the beer a sweet flavour while melanoidin and chocolate malts lend a complex nutty character (draw your own conclusions) to the finish. We've used Centennial hops to add a citrus finish to the beer.
27 IBU
Added by fisherman34 on 10-28-2006
This beer is retired; no longer brewed.
HISTOGRAM
Ratings: 40 | Reviews: 32


3.97
/5
rDev
-3.2%
look: 3.5 | smell: 4 | taste: 4 | feel: 4 | overall: 4
660ml Bomber ( Thanks Kris)
Pours a deep dark chestunt brown turbid, ale in the glass with a glorious sticky-rocky mocha-colored 3 finger cap.
lasts and laces the glass sides.( lots of malt protiens in this brew kids)
Wonderful American ale aromas...pungent cascade floral-citrus in the nose is balanced by sweet crystal malt tones and a bit of cocoa from the black malts...delicious!
Light in character but rich and medium bodied with a distinctive balance.
Flavor starts well balanced between chewy nutty malts and fruity esters in balance with sturdy floral bittering from the hops....mid palate the savory impressions develop as the flavors mingle on the palate: walnut skins with biscuit, chocolate, tobacco, tart fruits cedar bitters...then the finish breaks clean with increasing metallic bittering from the hops mingling with the astrigency from the "char" of the black malts....in a blind taste I bet a lot of people would say this was a porter.
A delicious dark brown ale in the American style ( which almost comes off as a porter)...I envy the brewer if his wife has the character this beer displays ;-)
1,130 characters
3.88
/5
rDev
-5.4%
look: 4 | smell: 3.5 | taste: 4 | feel: 4 | overall: 4
On tap in my basement. yahoo. Been looking forward to the second go round of this tasty seasonal. Pours out a deep chestnut, with frothy off white head. Nose- nutty, and some mocha. Taste- very nutty and biscuity with a woody finish. Some hops come out and play giving a cirtrus flavour. Seems slightly less hoppy than last years, but could be just me. Very rich in flavour, but still light bodies and highly drinkable. Excellent brown ale.
440 characters
3.85
/5
rDev
-6.1%
look: 4 | smell: 4 | taste: 3.5 | feel: 4.5 | overall: 4
660ml Bomber poured into a pint glass.
Pours a deep, deep thick brown colour, nearly opaque. Hazey and unfiltered, mild carbonation, with a 1/2 inch brown head subsides to 1/4 inch, some nice lacing. Smell is quite delicious. Cookie dough, chocolate, floral hops in the nose. Citrus in the background.
Taste starts with a slight sourness which quickly gives way to the big bready malt character. Chocolate, a slight caramel sweetness, but the grapefruity hops take over quickly afterwards. Finishes very bitter and dry, asserting the unsweetened chocolate and sesame flavours again. Definitely a huge brew, balls out in its presentation leaning on the side of bitterness in the balance. Carbonation is near perfect, very mellow, and very thick in the mouth giving away the big malt presence. I think I'd come back to this one, it's a good sipper for a Winter evening.
874 characters
3.8
/5
rDev
-7.3%
look: 4 | smell: 4 | taste: 3.5 | feel: 4 | overall: 4
Pours dark brown with a large tan head. Aroma of sweet caramel, citrus hops, and nuts. Taste is malty and nutty with a hint of bitterness; body is medium-light. Well balanced and quite drinkable, this is a pretty nice brown ale from Half Pints that can potentially be a great session beer.
289 characters
3.72
/5
rDev
-9.3%
look: 3.75 | smell: 3.5 | taste: 3.75 | feel: 3.5 | overall: 4
I finally caught up with this one. A very decent brew for a brown, but not a top rated beer from Canada at all. Starts as a nice chocolate malt, and ending with a decent hoppiness, which surprised because it was not evident in the nose. Good drinkability. Dark brown body with abundant white head. refreshing.
309 characters
3.7
/5
rDev
-9.8%
look: 3.5 | smell: 3.5 | taste: 4 | feel: 3.5 | overall: 3.5
Bottle courtesy of Oakbluff: Poured a deep brown color ale with an average foamy head with good retention and some lacing. Aroma of deep caramel and toffee malt is quite interesting. Taste is a nice mix between some caramel and toffee malt notes with a medium dry hoppy finish. Full body with some good carbonation. Very well done over all but was hoping ( and would have like) a hoppier finish.
395 characters
3.62
/5
rDev
-11.7%
look: 3.5 | smell: 4 | taste: 3.5 | feel: 3.5 | overall: 3.5
Very dark brown in colour with medium carbonation. Surprisingly hoppy aromas, with some notes of pine and grapefruit (must be the Cascades) mixing with elements of milk chocolate and mildly spicy rye bread. The rye bread (caraway seed) flavors assert themselves first, then evolve into a sharper toasted sesame seed, hops, and white grapefruit attack. The mouthfeel starts out fairly thick (not too sweet), but dries out leaving no residule sweetness on the tongue. This is unlike any brown ale I've had before, because it is so dry. Against the grain style wise, but I'm the type of person that can appreciate that. Definitely worth trying again.
649 characters
3.61
/5
rDev
-12%
look: 4.5 | smell: 3.5 | taste: 3.5 | feel: 3 | overall: 4
Dark oak brown with a foamy tan head that erupts over the top of the glass and threatens to cascade on to the counter. Great retention and some nice lace streaks. Really quite a looker. Nose is a bit soapy, with light citrus, malty brown bread, dusky nuts. Not bad, but I've come across better.
Flavour is rally quite good - subtle at first, but building up to a nice creamy nuttiness. Again brown bread plays the role of the lead, but is cut by a slightly acidic citrus character. Some herbal notes too. Nothing crazy and out there - just nicely made. Body is on the lighter side, but is bulked up slightly by the carbonation.
Not a bad brown ale, and one of the better ones in Canada. It's subtle and drinkable which I like, but doesn't have the strength of flavour to put it into the big leagues. Still... a very capable AAA team.
Thanks Colin!
850 characters
3.57
/5
rDev
-12.9%
look: 3.5 | smell: 4 | taste: 3.5 | feel: 3 | overall: 3.5
Thanks to wordemupg for this one.
Poured from a 341ml. bottle.
Appearance: Massive light mocha foam fills the whole glass, like many HP beers i've had. It takes a while to settle (and see the brown-red body) but it has amazing lacing.
Smell: Chocolatey, resiny hops and a strong roasted aroma which is real nice.
Taste: Thick malt edges the piney hops though they do leave a bit of their mark. Roasted flavors and cold coffee are also present. Good, but not as much as aroma.
Mouthfeel: Some bitterness and easy to drink but i found it wanting overall. I don't want to say watery but somewhere along those lines.
Overall: Pour this one very carefully and even then, it still might fill up your glass. The aroma is great but the taste doesn't match. Good but nothing more.
777 characters
Sweet Nikki Brown from Half Pints Brewing Company
Beer rating:
4.1
out of
5
with
40
ratings