Phil's Pils
| Half Pints Brewing Company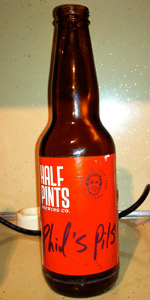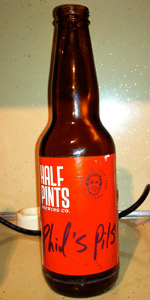 BEER INFO
Brewed by:
Half Pints Brewing Company
Manitoba
,
Canada
halfpintsbrewing.com
Style:
Euro Pale Lager
Alcohol by volume (ABV):
5.20%
Availability:
Summer
Notes / Commercial Description:
No notes at this time.
Added by fisherman34 on 05-16-2007
HISTOGRAM
Ratings: 32 | Reviews: 26
4
/5
rDev
+1%
look: 4 | smell: 4 | taste: 4 | feel: 4 | overall: 4
Bottle courtesy of Piscator 34: Poured a deep golden color pils with a nice medium foamy head with good retention and some good lacing. Aroma of crisp hops and floral malt is quite sublime. Taste is a well balance mix between some floral malt and some light dry (maybe a tad too dry) crisp hops which provides a very refreshing taste. Body is quite full for the style with some good carbonation and nice creamy texture. Very well done and something that I would love to have more often in the summertime.
504 characters
4.19
/5
rDev
+5.8%
look: 3.5 | smell: 4.5 | taste: 4 | feel: 4 | overall: 4.5
A tasty and interesting brew. Thanks to chonyr for bringing this east, and thanks to rudge75 for making this fine brew.
A clear bright amber lager capped by a half finger off white head. Somewhat mildly carbonated. Not much for head retention or lacings, although some fine intricate lacings present intitially.
The scents of and from this lager is where things first start to get interesting. Mild, bready aromas from the pale malts, and a clean, almost toasty, nutty quality from the crystal malts. Hints of rich and dark fruits from the melanoidin malt also present and add an interesting nuance to this beer. In spite of the complexities inherent in the malts the hops shine and take centre stage. Pronounced floral character, with grassy and hay like aromas, as well as zestier scents that hint at peppery spice and lemon.
A tasty malty and hoppy treat. Bready with heartier accents of crust and toasted nuts. The richness from the melanoidin plays a subtle supporting role that adds depth without being assertive. The hops, on the other hand do a great job of asserting their presence with their green flavours of fresh cut grass and alfalfa, a mild pepperiness, and mildly pungent flavour of citrus zest.
Somewhat malty, but this almost medium bodied brew finishes refreshingly clean and somewhat dry with a mild yet persistent, lingering and almost peppery hop finish. More carbonation would have been appreciated, but certainly not required to enjoy this beer.
A great summer beer. Very drinkable due to its quality craftmanship and its inherent clean, crisp, refreshing and flavourful qualities. Approachable yet has great depth, a great and highly recommended beer that would fit nice at any social gathering.
1,735 characters

3.95
/5
rDev
-0.3%
look: 4 | smell: 4 | taste: 4 | feel: 3.5 | overall: 4
650ml bomber Thanks Trev.
Poured a shimering lightly hazed honey gold with a big puffy white cap. Good head retention and wonderful lacing ( lotsa protiens in this drink)
Aromas are a wonderul balance of floral hops and bready pale malts with light mustiness...nice!
Profile: delicious biscuit malts in the front are joined by a perfect balance of herbal hops which do not swamp out the subtle malt tastes...mid palate subtle complexity with some musty-earthy woody tones joining the herbal hopping and chewy pale malts give faint suggestions of biscuits and honey...finish is smooth and mellow with the herbacious hops comming a bit more forward...light bready after taste.
Impression: a well crafted delicate Pils that profiles the malts and has a judicial use of hops..very smooth, mellow and drinkable...Dave If I didn't know better I'd swear you abstracted Brickman's Pils recipe.
897 characters
3.95
/5
rDev
-0.3%
look: 4 | smell: 4 | taste: 4 | feel: 3.5 | overall: 4
Thanks to oakbluff for muling this HP out to TO!
Pours a pretty clear golden, fluffy white head forms, big bubbles, some lace spots, settles to a thin ring. Smell is sweet and grassy, some caramel, bit of citrus, like a normal euro lager, except you can smell the malty backbone. Taste is very malty, caramel, sweet fruits, little bit of bready wheat, some floral hopping, actually very nice. Mouthfeel is medium bodied with low to medium carbonation. Mouthfeel isn't as light for a pils, but theres a lot of flavour. Nice effort rudge!
539 characters

3.75
/5
rDev
-5.3%
look: 3.5 | smell: 3.5 | taste: 4 | feel: 4 | overall: 3.5
Mid gold with a nice head this lager has a fruity nose coupled with a big mouthfeel. Not totally euro in style this beer is tasty but not full on Saaz on the finish. I like this beer in that unlike most other Canadian pils it has some malty substance in the midbody. What it lacks in crisp cleaness it makes up for in flavour.
326 characters
3.85
/5
rDev
-2.8%
look: 4 | smell: 4 | taste: 3.5 | feel: 3.5 | overall: 4.5
660ml bottle bought at the Osborne MLCC. Poured into a Pilsner glass...
Loving the look of this one... big 1 1/2 inch frothy head caps a unfiltered hazed straw coloured brew, lots of sticky lace. Lazy and mild carbonation. Aroma is delightfully hoppy, a bit peppery and spicy with some floral notes as well, heathery. Definitely a hefty malt presence here, with a biscuity/doughy note, not sure how it fits in, but we'll see when we take a taste.
Heavy malt bill in the taste, this is a big bodied pilsner, more so than I expected (maybe because the style usually dictates lighter bodies?). Hops are dominantly herbal, spicy, and floral. The Saaz shine through in the finish, it's very light, grassy, and heathery. Malt is grainy at first, then that thick doughiness that I'm a little confused about kicks around. There's a bit of arrowroot cookie sweetness as well. Make no mistake, this is a full-bodied, almost creamy pilsner, most likely the heaviest beer I've ever had in this style, which puts me off a bit, I'd like something a little lighter. The carbonation is dead-on though, even if it's not nearly as dry as I'd like. There is a dryness in the finish, but it's no match for the creaminess of that heavy malty body. Nonetheless, flavour-wise I'm enjoying this very much, lots of balance, which I appreciate, and it's easily the best lager available in Winnipeg right now. A good effort even if it pushes the style boundary a bit.
1,446 characters
3.5
/5
rDev
-11.6%
look: 3.5 | smell: 3.5 | taste: 3.5 | feel: 3.5 | overall: 3.5
Gold in colour with moderate carbonation. Malt dominant aroma, but a good amount of grassy and spicy herbal hops are in there too. A bit of sulfur (in a good way), and perhaps a hint of citrus as well. In the mouth it's more bready malts going forward with some green Hallertau hops. Grassy Saaz notes round things out on the somewhat dry finish. This strong bready malt character seems to be the signature of this brewery, and it's definitely present here. There's a good amount of hop character in terms of aroma, flavor, and bitterness, but it seems to struggle a bit to show itself through the specialty malts. A good crowd pleasing beer, but I wish it was a little leaner.
677 characters
Phil's Pils from Half Pints Brewing Company
Beer rating:
3.96
out of
5
with
32
ratings