Black Scrapper IPA
| Half Pints Brewing Company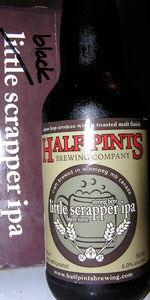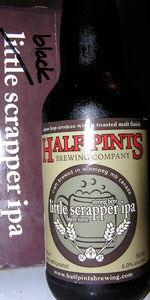 BEER INFO
Brewed by:
Half Pints Brewing Company
Manitoba
,
Canada
halfpintsbrewing.com
Style:
American Black Ale
Alcohol by volume (ABV):
6.00%
Availability:
Limited (brewed once)
Notes / Commercial Description:
120 cases of 24 brewed & released on June 19, 2010. Bottles are labelled with normal 'Little Scrapper IPA' labels, but the sealed 6-packs have the word 'Little' crossed off the top with black felt marker and 'Black' written beneath it.
Added by kjyost on 06-20-2010
This beer is retired; no longer brewed.
HISTOGRAM
Ratings: 14 | Reviews: 13
Reviews by SFLpunk:

3.39
/5
rDev
-16.5%
look: 4.5 | smell: 3 | taste: 3 | feel: 4 | overall: 4
Thanks to freud for this awesome bonus!
11.2oz "twist-top" brown glass bottle.
Pours a thin black with HUGE amounts thick creamy dark tan head. Nose is rather muted with some general citrus notes and a faint whisper of smoke.
Palate is bright and crisp with nice bittering hops (not overly bitter though). Roasted black malts come through in flavor but not a lot of body. Hops are mostly leafy and herbal on the palate, not a ton of citrus.
A decent Black IPA, but I wish there was more citrus on the palate. As per my discussions with my fellow BA's in Canada, the Canadian brewers have not quite ramped the hops up to the level that the American brewers have. That being said, this beer has a great sense of balance and class.
732 characters
More User Reviews:
4.33
/5
rDev
+6.7%
look: 4.5 | smell: 4 | taste: 4.5 | feel: 4 | overall: 4.5
Props to my boy andrenaline for sharing his latest Winnipeg haul, and shout out to the folks that brought it in
A - poured into a tulip, a deep dark amber with a tall creamy mocha head leaving sticky lacing as it receded
S - floral and lemon zest, roasty malt and light coffee with a hint of cedar
T - floral and citrus hops balanced with a smoky woody malt character, some light coffee on the finish
M - little carbonation, smooth start hop bitter and a smokiness
D - Little Scrapper is a common go-to beer for me, and this is a nice little smoky malty twist on it, still a hop bomb what I thoroughly enjoy
607 characters
4.12
/5
rDev
+1.5%
look: 4 | smell: 4.5 | taste: 4 | feel: 4 | overall: 4
Picked up a few bottles of this from kyjost while I was out in Winnipeg. Thanks Ken! Black Scrapper is fittingly black and opaque with a good cover of foamy, tan-coloured head. Good lacing and retention.
Smells like tons of hops. Like a great IPA with roasted malt added. Grapefruit and caramel, some chocolate. I'm pretty into this.
Lots of roasty, chocolaty malt with a solid amount of hopping (grapefruit rind and slight pine). No alcohol. This would almost seem like a hoppy porter if the body was a little thicker. As is, it's a pretty great black IPA.
Medium body with maybe a little too much carbonation.
Oh yeah, this is drinkable. I wish I had more of this stuff, I definitely prefer it to the regular Little Scrapper.
735 characters
4.45
/5
rDev
+9.6%
look: 4.5 | smell: 4.5 | taste: 4.5 | feel: 4 | overall: 4.5
Thanks to kjyost for this one. Got this one mixed up with a few Little Scrappers and since the label is the same on both I didn't know which was which. So this one ended up being a nice little surprise when I thought I was pouring a little scrapper.
Poured in to Duvel tulip.
A - Poured black, filtered, with a a lot (3 fingers) of bubbly cream coloured head.
S - Bitter citrus hops and dark roasted malts in a nice balance. Some like cocoa and caramel notes come through.
T - Dark roasted malts and bitter hops in a nice balance. Notes of cocoa, citrus and caramel come though. A very nicely well rounded black IPA.
M - Medium body, light to medium carbonation.
670 characters
3.96
/5
rDev
-2.5%
look: 4.5 | smell: 3.5 | taste: 4 | feel: 3.5 | overall: 4.5
341ml bottle brought back from Winterpeg for me from eat - thanks for the generosity man! Ghetto labeling with 'Little' crossed out in blue Sharpie and labeled 'Black'.
Pours a surprisingly dark shade, just the faintest chestnut hues around the edges. Loads of bubbles, a good four fingers building up in my tulip and leaving good rocky head and sticky spots of lacing down the glass as it slowly recedes.
Nose is burst of piney hops with a hint of citrus rind - wishing they were a little more vibrant here. Mixed with a nutty roast and a dash of cold coffee grounds.
Somewhat dull piney and citric hopping followed by a pleasant middling bitterness that has quite the lingering affect. Nutty almost husky roast, not the full roast of a porter, coffee grounds, a hint of almost earthiness, slight caramel (think English brown ale) malt sweetness. All of this and I am struck by the fine integration and subtlety of this beer - fine craftsmanship. Slightly oily and slick mouthfeel, carbonation is there but not detracting (disagree with the over carbonated remarks), slightly thin body. Immensely drinkable, not a hint of the ABV yet quite bold, especially on the bitterness front.
Perhaps not as vibrant as I would like but a well-crafted beer that, while not giving the best first impression, you warm to and are struck by the fine balance and drinkability. One of the Black IPAs that clearly distinguish themselves from a hoppy porter. This is a fine brew that Rudge should by proud of. Would be delightful on cask.
1,523 characters
3.68
/5
rDev
-9.4%
look: 4 | smell: 3.5 | taste: 3.5 | feel: 4 | overall: 4
Thanks to kjyost for this one. Split with my wife last night.
Poured from a 341ml. bottle.
Appearance: Again with the excessive foam. Easily 4-5 fingers though it does recede and lasts quite a bit of time as it bubbles and sticks a bit to the glass. Body is cola-colored bordering on brown.
Smell: Roasted malt mostly with some hops. Something raw about it.
Taste: Lots of roasted notes. Reminiscent of charcoal at first but as it warms i seem to associate it more with a light espresso flavor. It leaves a kind of raw bitterness in the finish mixed with a hint of spiciness.
Mouthfeel: Bitterness wins out, carbonation is just right (not too high) and the body feels good.
Drinkability: At first i was hesitant but i warmed up to it after. I could get this again.
Overall: Certainly not your typical IPA but i'm glad i was able to try this hybrid style.
862 characters

4.07
/5
rDev
+0.2%
look: 4 | smell: 4.5 | taste: 4 | feel: 3.5 | overall: 4
Viggo brought this one over. thanks eric! and thanks to oakbluff for continuing to hook us up with half pints goodies.
12oz bottle. sampled oct 2/2010.
pours deep dark brown, not quite black, with a big fluffy dark tan head. the head drops slowly and leaves thick lace as it falls.
aroma is great. grapefruit and tangerine. orange. bit of pine. light roast. bit of coffee. dark toasted whole wheat bread. hint of alcohol.
taste is good. grapefruit and orange. tangerine. pine. dark roast coffee, strong but not to espresso levels. roasty. dark toasted whole wheat bread. light alcohol. slightly resiny hop presence. just over medium bitterness level. light caramel. slight earthy/herbal character too.
mouthfeel is nice. medium-high carbonation is a bit much. medium body with a fairly drying finish from the hops.
drinkability is good. nice balance. a tasty black ipa.
875 characters
4.05
/5
rDev
-0.2%
look: 4 | smell: 4 | taste: 4 | feel: 4.5 | overall: 4
12 oz bottle, big thanks to oakbluff for hooking us up.
Pours a dark reddish brown, a touch of dark orange, thick medium sized head forms and settles down to a thick layer and ring around the glass, some lace chunks stick, looks good.
Smell is nice, very fragrant, almost soapy, grapefruit, some chocolate, nice roastiness, almost porterlike, caramel, a bit of pine, some biscuit, a bit of cherry fruitiness.
Taste is nice, big roastiness up front, a bit of charred wood, some caramel, floral, lightly fruity, grapefruit, very toasty/biscuity, pretty big roasty bitterness, nice floral and perfumy notes.
Mouthfeel is medium bodied with low to medium carbonation. A nice black IPA, maybe a touch too roasty but still quite nice. Thanks Scott!
746 characters
4.33
/5
rDev
+6.7%
look: 4.5 | smell: 4 | taste: 4.5 | feel: 4 | overall: 4.5
I was super pumped to get my hands on some of this.
A - Pours black, but is a nice dark amber colour in the light. Two fingers of huge bubbly mocha head, great retention and thick bubbly lacing. Great appearance.
S - Even though it's a bit dated, the hops are still quite strong, its also got some cedar and pine bark and bitter rye.
T - Very reminiscent of Little Srapper, with floral citrus and pine hops, followed by some faint espresso and chocolate malts. Definitely struck a nice balance between the hops and malts on this one.
M - Nice medium bodied ale, goes down smooth and finishes nice and wet.
D - This absolutely lived up to my expectations and is another quality beer by Half Pints. Wish this stuff was a part of their regular line-up as it strikes a nice balance between the hops and malts. So glad I was able to try it!
840 characters
4.12
/5
rDev
+1.5%
look: 4 | smell: 4.5 | taste: 4 | feel: 4 | overall: 4
From notes
Misleading bottling. Didn't know it was a black scrapper until I poured it. Half pints uses the same bottles and labels for the Black Scrapper and only marks the 6pk holder with marker.
A- Opaque black pour. Two finger tan head, slowly recedes to a soapy finger width cap. Lacking is sticky goodness.
S- Sweet roasted malts, fresh citrus, grapefruit, orange peel, mandarin and strawberries with a touch of brown sugar and vanilla poking through.
T- Bitter roasted coffee up front. Hop bitterness is more bitter than taste in this one. There is a slight pine and citrus but nowhere near what the nose leads you to believe. This has to be more IBU than it's supposed to be.
M- Dry and bitter, thin bodied with a slight carbonation prickle.
O- Very good black IPA would definitely revisit.
802 characters
4.04
/5
rDev
-0.5%
look: 5 | smell: 3.5 | taste: 4 | feel: 4 | overall: 4.5
Bottle from kyjost. Thanks!
A - Poured pitch black with no visible carbonation. Rocky beige head is quite nice. Great chunks of lacing around and great retention with a full finger on top. Can't get better.
S - Really roasty and really hoppy. Well balanced. Good amount of coffee.
T - Roasty, some light coffee. Strong hop profile with fruitiness. Strong malt presence up front with fruity hop finish and a light bitterness. Good.
M - Medium carbonation and body. Good chocolate/bitter hop finish.
O/D - Nice beer. I've always liked black IPAs but this is a good example. Well balanced, tasty, and drinkable.
614 characters

4.28
/5
rDev
+5.4%
look: 5 | smell: 4.5 | taste: 4 | feel: 4 | overall: 4.5
Pours a dark porter / stout with a 1 cm mocha head that descended slowly leaving very strong lacing the entire trip down the glass. Can't ask for more than that in a look.
The aroma initially kicks you hard with citrusy hops on the nose, but upon further olfactory inspection there is definite nutty roasty undertones that play into the smell also. You get both the black and the IPA. Enjoyable.
The taste of the ber itself is an interesting pairing of roasted and nutty notes that are battling it out with hop aromas. The bitterness in this beer that lingers seems to be from the roasted barley rather than the hops. Most times the beer tastes fully like an IPA and then lingers in a stout-like fashion on your palate.
The mouthfeel is nice, if not a little over-carbonated, with a good lingering bitterness which sticks with you.
Drinkability? It's father's day and I came home from the lake to a case of these beers bought for me on release day by my loving wife. If I have any will power they will last me to the end of June... :)
1,046 characters
3.97
/5
rDev
-2.2%
look: 3.5 | smell: 4 | taste: 4 | feel: 4 | overall: 4
12 ounce bottle poured into a Duvel chalice. Murky brown/black with a huge four finger head that settles down to a chunky soapy standing head. Nose is roast, dark chocolate, woody hops. Taste- woody/pine hops are strongly present with some light roast and caramel following behind. Finish has a lingering hop bitterness on the tongue.
334 characters
Black Scrapper IPA from Half Pints Brewing Company
Beer rating:
4.06
out of
5
with
14
ratings