Queer Beer 2011
| Half Pints Brewing Company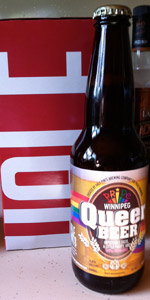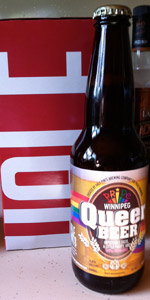 BEER INFO
Brewed by:
Half Pints Brewing Company
Manitoba
,
Canada
halfpintsbrewing.com
Style:
Munich Helles Lager
Alcohol by volume (ABV):
4.80%
Availability:
Limited (brewed once)
Notes / Commercial Description:
Created by Half Pints for Pride Winnipeg
"Impeccable Taste, a Little Fruity, and 100% Fabulous!"
A soft German Pale Lager with a light touch of organic raspberry juice. Serve in a glass at 4º C. Pair with Shrimp on the BBQ or a Green Curry Soup.
10 IBUs
Added by kjyost on 05-17-2011
This beer is retired; no longer brewed.
HISTOGRAM
Ratings: 3 | Reviews: 3

3.09
/5
rDev
-6.6%
look: 4 | smell: 2.5 | taste: 3 | feel: 3.5 | overall: 3.5
Some people may believe that sipping on Craft beer is always a political statement. Regardless, this beer clearly is. Picked up from the brewery a day after bottling, chilled to ~5C and poured into a beer mug.
A: I really know nothing about Helles lagers, save what I have read up on here (most of which was after the sample no less) and my first reaction is "Holy, hella pale beer" Light straw yellow with fizz white head. The head descended quickly but kept a solid, non-lacing ring about the glass for the session.
S: A very light aroma, initially I caught cooked vegetal aromas and a bit of bready malt. The same almond aroma comes to play later in the session in the nose. Perhaps appropriate, just not what I was looking for.
T: A decent balance with a light bread malt playing with a spiciness from the hops, though little apparent hop flavours and aromas. An odd flavour persists throughout the session that is reminiscent of almond extract... Certainly nutty, and in a stronger than desired level in this light a lager.
M: Crisp, no discernible bitterness in the finish. Stronger than average carbonation.
O: I could see this beer with the almond dialled down a notch or two being a perfect beer to replace a BMC, which is what I think the brewer was aiming for. It would be a beer that goes down very easily on a hot sunny day. That said, it is just not the type of beer I am generally looking for.
1,413 characters

3.52
/5
rDev
+6.3%
look: 3 | smell: 3.5 | taste: 3.5 | feel: 4 | overall: 3.5
Picked this up today from the brewery. Poured into my Half Pints pint glass.
A: Pours a pale straw colour with a half finger worth of fizzy white head. A few spots of bubbles stay on top but it didn't leave any lacing.
S: Grainy and bready malt for the most part but at times I do get a bit of the raspberry juice they put in this beer.
T: Faint Bready malt with some hints of raspberry. It's raspberry in the after taste initially but then it seems to change to a weird taste I can't describe.
M: Medium carbonation with a light body.
O: It's not a bad beer. It seems like it could be a transition beer for someone getting into craft beer. I would probably drink this before having their St. James Pale Ale or Bulldog Amber Ale.
749 characters
3.33
/5
rDev
+0.6%
look: 4 | smell: 3.5 | taste: 3 | feel: 3.5 | overall: 3.5
I gotta say im proud of the folks at half pints for this effort. Im just going to assume the description on the bottle was written by the pride committee, cause "100% Fabulous" is giving this beer a gay man's cliche image when i think it deserves more from the name itself.
A: My current grading for lighest lager ever is if i can see the simpson's in full rich color through it! This one passes. Unbelievably light straw pale. poor head retention, but plenty of carbonation.
S: Grain, yeast, sweet fruity aroma.
T: Banana at the front with a sweet bready character. Cant grab the raspberry though.
M: Smooth throughout, and finishes with a lacquer of light malts on the palate.
D: Light! Surely this will go well in the sun at pride.
742 characters
Queer Beer 2011 from Half Pints Brewing Company
Beer rating:
3.31
out of
5
with
3
ratings